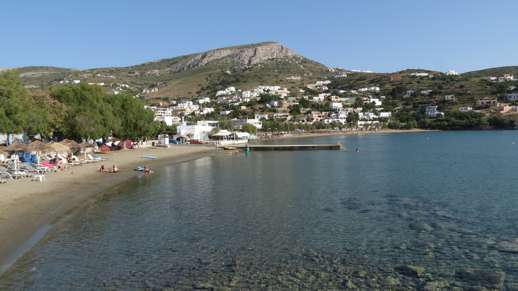 Harbour view of Kini, a scenic beach resort area on the west coast of Syros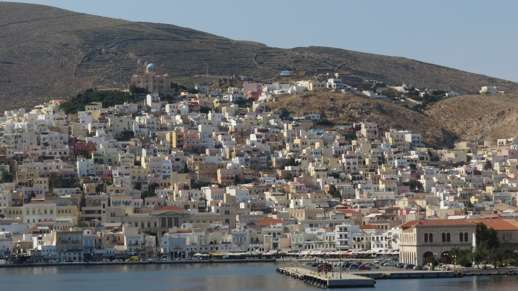 Ermopoulis, the marvellous port city and capital of Syros
Hits the spot: Our Greek holiday in May included a long-overdue first-time visit to Syros, an island in the Cyclades that has piqued our curiosity and been on our must-see list for the past 10 years.
We got our first quick peek at Syros back in May 2004 when the highspeed ferry we were riding from Athens to Mykonos stopped briefly at Ermoupolis, the port and capital city of Syros. We managed only brief glimpses of the city's grand neoclassical mansions and its hundreds of colourful houses seemingly stacked one atop the other on the two steep hills behind the port, but we were intrigued — especially by Ermoupolis's stark contrast to the brilliant white "sugar cube" architecture we saw everywhere else in the Cyclades.
We have briefly seen Syros during a couple of ferry rides since then, and also got a great bird's eye view of it during a flight from Athens to Naxos in May. We finally got to set foot on Syros soil on May 24, and almost instantly fell in love with the island.
We spent our first two nights in the enchanting port city, Ermoupolis, followed by four nights at Kini, a village and beach resort on the west coast. We thoroughly enjoyed Ermoupolis, but we particularly loved Kini, and wish we could have spent more time in both places. In fact, we now consider Kini one of our favourite beach destinations in Greece.
I'll be telling and showing you a lot more about Ermoupolis, Kini and other parts of Syros soon. In the meantime, I have posted a few more photos of Kini Bay below. Click here to see hundreds of additional Kini photos, and click here to see my Flickr albums for Ermoupolis, Ano Syros, Lotos beach, Delfini beach, and other places on Syros.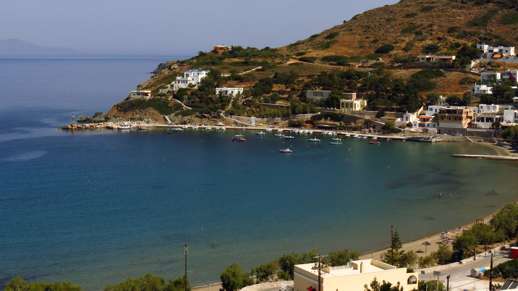 Hillside view of the Kini Bay harbour (top) and beach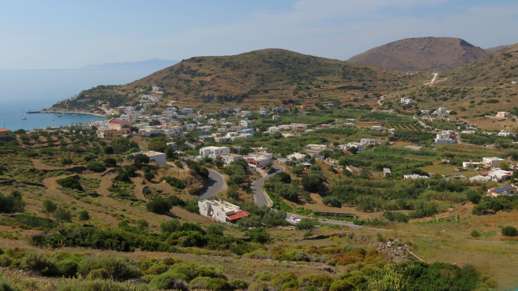 A view of the garden- and farm-filled valley behind Kini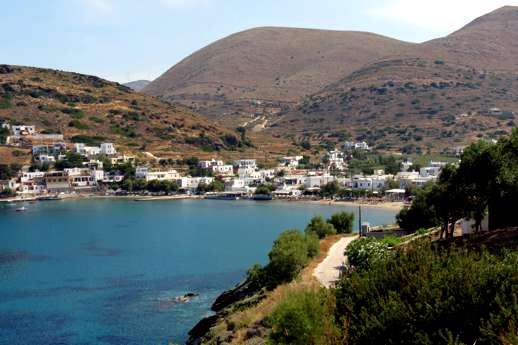 A view of Kini Bay from a hillside near the hamlets of Dani and Chrisonisos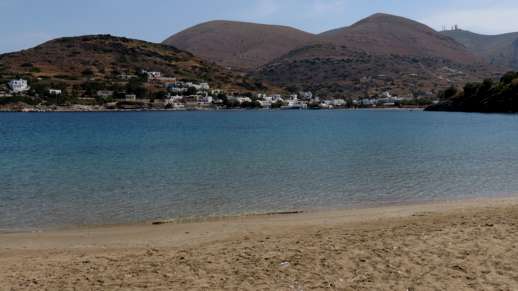 View from peaceful Lotos beach on the west side of Kini Bay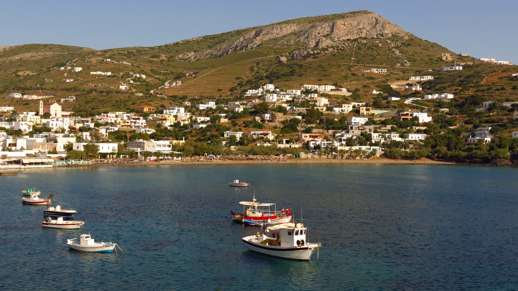 Evening view of Kini village and beach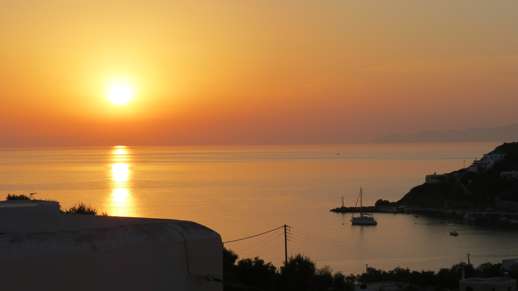 Sunset view from our terrace at Kini Bay Rooms and Apartments on May 27