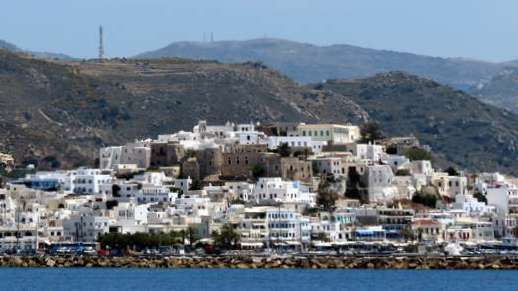 This was one of our final views of Naxos Town on May 24 2014, as we departed Naxos on the Aqua Jewel ferry …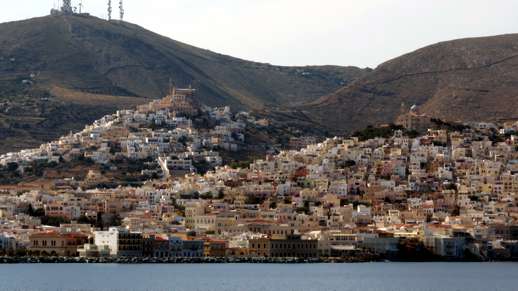 … bound for Ermoupoli, the port and capital city of Syros island …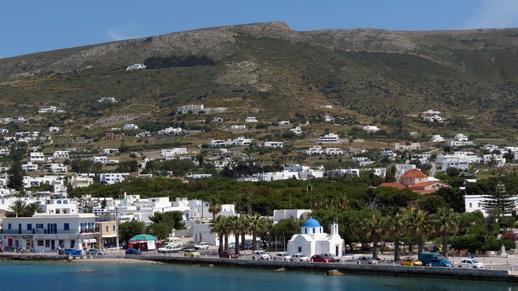 … with a brief stop en route at Parikia. the main port and town on Paros
[Editor's note: This is the sixth instalment in an ongoing series of photo reports about our 2014 spring vacation in the Cyclades and Athens. The previous posts reviewed our 5 days on Naxos. To see any or all of the earlier reports, click on the following underlined links:  Part 1 ; Part 2 ; Part 3 ; Part 4 and Part 5 .]
Saturday May 24
Moving on: It was another sunny morning, but we wouldn't get to enjoy the beautiful weather. After breakfast, we had to pack, take a taxi to the port, and ride a ferry to Syros for the next leg of our 2014 Greek holiday.
We didn't want to leave Naxos. After three consecutive visits here in the past 12 months (and three others in previous years), it almost feels like a second home, and the island has become our favourite holiday destination. And why wouldn't it be? Naxos has everything we want for a vacation — Wonderful scenery, unpretentious attitude and laid-back ambience, friendly and hospitable local residents, delicious food, reasonable prices, and plenty of things to see and do. 
But it was time to move on and, much as we love Naxos, we were equally eager to visit Syros. We have heard countless good things about it during the past 10 years — including lavish praise from people who live on Naxos, as well as from other regular Naxos visitors. In fact, I can't recall ever hearing anything bad about Syros. By all accounts, Syros could well be another island we would fall in love with and want to revisit again and again. And if, for some reason, Syros didn't strike our fancy, Naxos would still be there for us.
Please click on the link below to continue reading the report on our journey from Naxos to Syros.
CONTINUED ON PAGE 2