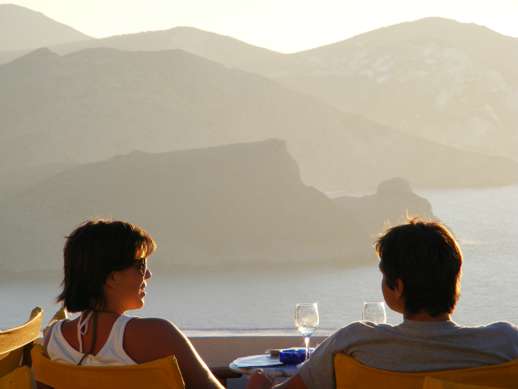 A couple relaxes with wine while enjoying the sunset views from Plaka village on Milos. With their superb sunsets and spectacular natural scenery, the Greek Islands are ideal destinations for honeymoons and romantic getaways.
Guest post by Jane Robert
 Greece has more than 6,000 islands which are mostly huge chunks of rock located in the eastern Mediterranean Sea. Only about 230 are inhabited, with just 80 having a population of more than 100 people.
The islands are grouped into six basic clusters:
♦ the Ionians to the west of Greece include the islands Zante, Kefalonia, Lefkas and Corfu;
♦ the Cyclades in the central Aegean contain Mykonos, Santorini, Paros, and Naxos;
♦ the Dodecanese chain in the east, near Turkey, comprises such islands as Rhodes, Kos, Symi and Patmos;
♦ the Sporades group in the northeast of Greece includes Skiathos and Skopelos;
♦ the north Aegean group, home to Samos, Lesvos and Thassos; and
♦ the Saronic Gulf islands, which include Aegina, Hydra, Poros and Spetses.
And of course there's Crete, the biggest Greek Island of all, situated on its own to the south.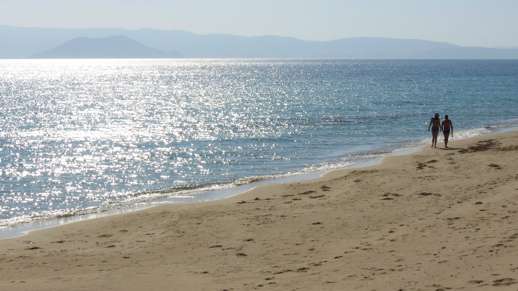 A couple takes a romantic pre-sunset stroll along Plaka beach on Naxos
Click on the link below to continue reading  Jane's article
 CONTINUED ON PAGE 2