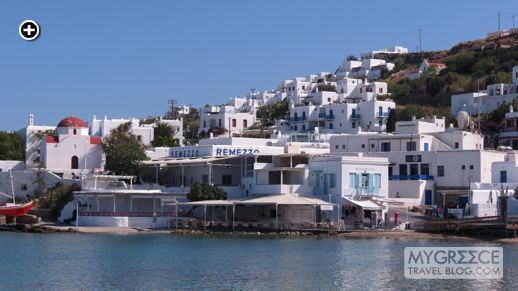 All quiet on the northern front: Even though it was a gorgeous morning, very few people were out and about when I walked past the Remezzo area of Mykonos Town at 10 a.m.
[Editor's Note: This is the latest instalment in a series of reports on my 2012 vacation. Those of you who have already read Part 1 and Part 2 may want to go back and take another look through those posts — I have added several videoclips to each part.]
Thursday May 17
Sounds of silence: My fourth day on Mykonos started off with brilliant sunshine and plenty of peace and quiet.
The breakfast room at Hotel Tagoo was almost empty, with just a handful of guests showing up during the time I was there. It seemed like most people were sleeping in to recover from either a late night on the town or too much fun at the beaches the day before.  Two guests who did make it down for breakfast told me that a friend of theirs from Mykonos would be taking them on an early afternoon driving tour around part of the island. They had room for a fourth person, and invited me to tag along. They planned to visit some beaches I had not seen in a few years, plus at least one I had never been to before, so I jumped at the opportunity to join them.
Since I had a few hours to fill before the island drive about, but didn't feel like laying in the sun by the pool, I took a walk into town. The streets were surprisingly quiet and empty with practically no vehicular traffic and pedestrians. It was incredibly serene — and almost surreal  — hearing only birdsong and sound of my shoes on the pavement. I didn't expect that, at 10 a.m., I would have most of the Tagoo area and much of Mykonos Town all to myself. A cruise ship was docked at Tourlos, so I fully expected to run into groups of tourists wandering around, but the parking area next to the Old Port (where the cruise ship shuttle buses drop passengers off) was eerily quiet. I passed fewer than a dozen people during my 10-minute walk between the port and Taxi Square.
CONTINUED ON PAGE 2