Without question, the restaurant getting the most buzz this past spring was Joanna's Niko's Place on Megali Ammos beach. I had heard some positive comments about this beachside Greek taverna a few times in the past, but this year its popularity suddenly soared. It became a regular subject of questions and recommendations in online travel forums, and it was the restaurant people mentioned most often while we were on Mykonos in May. Quite a few of the people staying at Hotel Tagoo went there, and the feedback I heard was all good. We didn't get to dine there ourselves, but we did stop in to take a look at the menu on a day we hiked from Mykonos Town to Ornos and Agios Ioannis beaches. The taverna offers a standard selection of reasonably-priced Greek dishes, and Joanna told us the restaurant serves daily specials that vary depending upon the cook's whim and the food they have in stock. (If regular or new customers inquire early enough in the day about the availability of favourite dishes for dinner, Joanna said the chef does his best to satisfy those special requests.) There is seating both inside the restaurant and on the beach outside; customers dining at the outdoor tables get superb direct views of the sunset. Joanna's Niko's Place has been getting rave reviews on TripAdvisor.com all summer, and from what I've heard first-hand, it sounds well-deserved. I really wish we'd been able to eat there in May.
Two restaurants right in Mykonos Town were getting good word of mouth amongst guests at Hotel Tagoo. People were praising the Mexican food at Appaloosa, as well as the international and Greek cuisine at Avra Garden Restaurant. I've been hearing good things about both restaurants for several years. We haven't eaten at Appaloosa yet, but we did have a superb dinner at Avra while celebrating my birthday in 2009. Avra actually changed locations this year. It's still situated on Kalogera Street, but now it's slightly farther down the road under Chez Maria's rooms (across from the Zorzis Hotel). The new Avra has ample restaurant seating in a charming tree-shaded courtyard, on an upper-level terrace, and in an air-conditioned interior dining room, and also has a small bar area. As usual, Avra continues to get good reviews on TripAdvisor.com. The former Avra location is now home to NiSa (short for Nikos and Sarah, who operate both restaurants). In the spring, I heard several good comments about NiSa, which describes its menu as "Greek with a fusion twist," but the restaurant wasn't yet as popular as Avra — probably because it was still so new and unfamiliar. But in the months since, it has received primarily positive reviews on TripAdvisor.
Several restaurants outside of Mykonos Town were highly popular with guests at Hotel Tagoo.The one getting far and away the most buzz was Oregano Cook & Grill on the main Tourlos-Mykonos Town highway; I described our own experience there in my August 25 2011 post. Another nearby restaurant that people at the hotel kept talking about was Matthew taverna at Tourlos (the new port area of Mykonos). We had heard a lot of good things about Matthew taverna when we stayed at Hotel Tagoo in 2009, but never got a chance to go there that trip. This year, Matthew kept coming up in conversations between groups of guests who stay at Hotel Tagoo every year. They were dismayed because Matthew had not yet opened for the season and they had been anxious to return. We were disappointed, too, because we had wanted to check it out. It finally did open up during our visit  — but on our last day on the island, so we didn't get the chance to go. Maybe next time!
Restaurants at two beaches got glowing reviews, too. Quite a few of the hotel guests had enjoyed Ithaki at Ornos beach, which I described in my August 25 2011 post, while the family-run Kiki's taverna at Agios Sostis beach was another big hit. We didn't get to dine at Kiki's because we got there just as the family was preparing to close for the day, but they kindly let us in for a few minutes so we could check out the view from their dining terrace — and see what we had missed by arriving too late. Unlike Ithaki, which is a large, slick commercial establishment by comparison, Kiki's is rustic, romantic and cozy with an authentic Greek family taverna look and feel. It's situated on a hillside above Ag. Sostis, one of the few beaches on Mykonos that isn't covered end-to-end with rental lounge chairs and umbrellas.  (There aren't any, in fact, probably because Ag. Sostis is a remote beach off the beaten tourist path, and doesn't have local bus service.)  Sheltered by tall walls on three sides, and shaded by large trees, Kiki's small dining terrace overlooks a quiet cove near the mouth of Panormos Bay, with views of the broad body of water, the mountain on the far side, and the two red-domed churches next door. There is seating for perhaps two dozen people at most, and because there's no electricity, the restaurant closes just before dusk. Also because there's no hydro, all cooking is done on an outdoor grill, so it was no surprise to hear that fish and meat dishes are the house specialties. People who were lucky enough to get there earlier in the day told us Kiki's freshly-prepared salads are excellent, too. Some of the outstanding reviews on TripAdvisor describe Kiki's as "a hidden gem," and it certainly looked like it to us. But word is out and the place isn't so secret anymore; long lineups apparently can be common. We'll see if we can get in to Kiki's next time we visit Mykonos.
Avli Tou Thodori at Platis Gialos is another beach restaurant that has been garnering great reviews this year; in fact, it has been the #1-rated Mykonos restaurant on TripAdvisor this summer. I keep hearing raves about their Greek cuisine as well as their pizza and pasta, and would have liked to check it out. But we had our hearts set on going to Nicolas taverna at Agia Anna beach this trip (as I recounted in my August 25 2011 post), so we'll have to leave Avli Tou Thodori for another holiday.
We'll also have to wait another time to revisit our favourite Mykonos taverna, To Ma'ereio (also known as Maerion) on Kalogera Street. Like Kiki's, it's another tiny family restaurant with limited seating — and growing popularity. We went to Maerion for the first time in 2007 on the recommendation of a Greek friend in Athens, and enjoyed a fabulous meal featuring the house specialty, Asimina's meatballs, as well as other delicious Myconian dishes. We've dined at Maerion three times since, always managing to snare our favourite table — the one on the step outside the entrance, which is great for people-watching. The food has been wonderful every time, and the service has always been good, too. I get hungry just thinking about the place!
Below are photos of the restaurants I've mentioned above.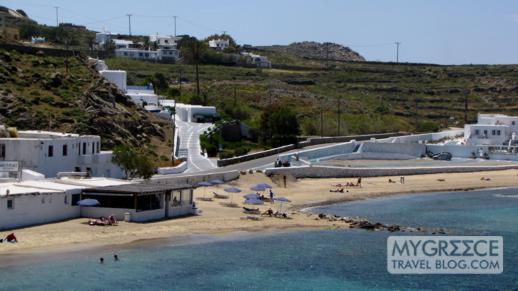 Megali Ammos beach is on the bay behind the famous windmills near Little Venice. Joanna's Niko's Place (left) sits at the end of the beach closest to Mykonos Town, only a 10-minute walk from the Fabrica bus depot.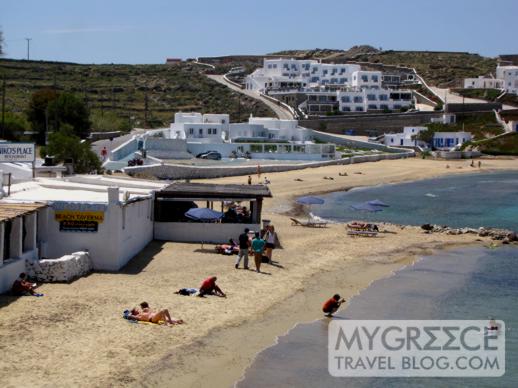 Approaching Joanna's Niko's Place at Megali Ammos beach along the road that leads from Mykonos Town to Ornos beach and Ag. Ioannis beach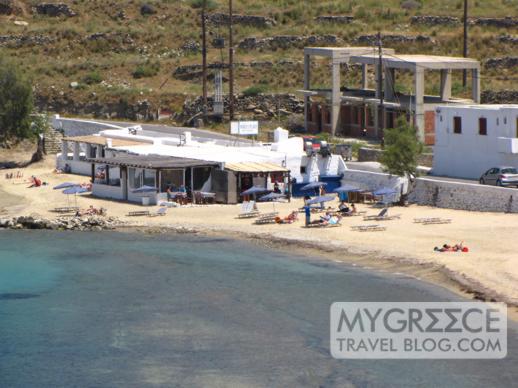 Joanna's Niko's Place viewed from the opposite direction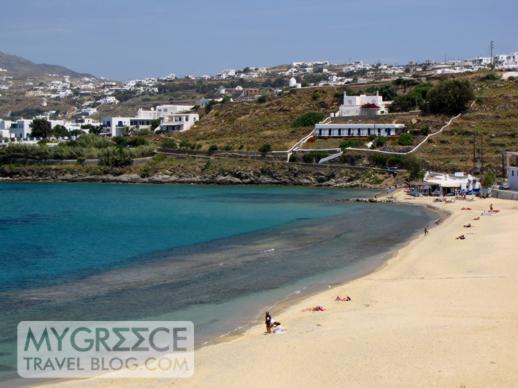 Looking across Megali Ammos beach toward Mykonos Town. Joanna's Niko's Place is at the end of the beach, right at the bottom of the hill.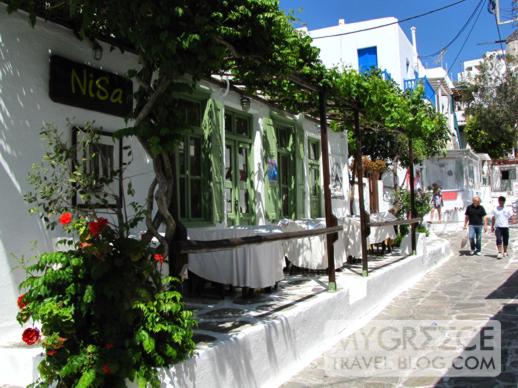 New this year, NiSa restaurant occupies the former Avra restaurant space on Kalogera Street in Mykonos Town …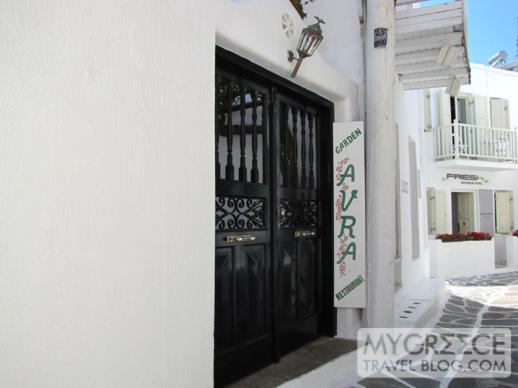 … while Avra has moved two blocks down the street to its new courtyard and rooftop terrace space.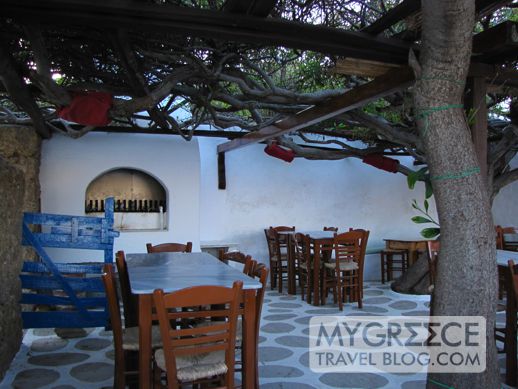 The secluded, tree-shaded courtyard at Kiki's taverna above Agios Sostis beach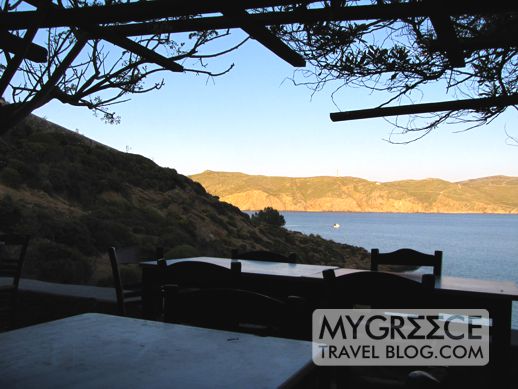 Tables on Kiki's small terrace have views overlooking Panormos Bay, seen here at sunset one evening in May just after the restaurant closed for the day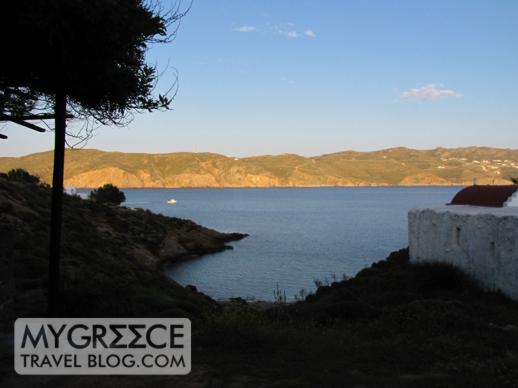 There's a small cove at the bottom of the hill below Kiki's …
… seen again in this photo as a fishing boat passes in Panormos Bay …
… and viewed again here, from another angle on the taverna terrace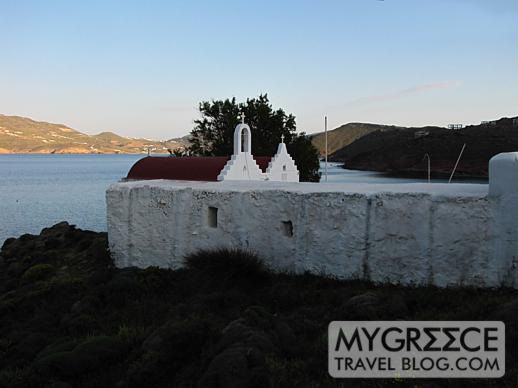 There are two red-domed churches right next door …
… one of which has a small bell tower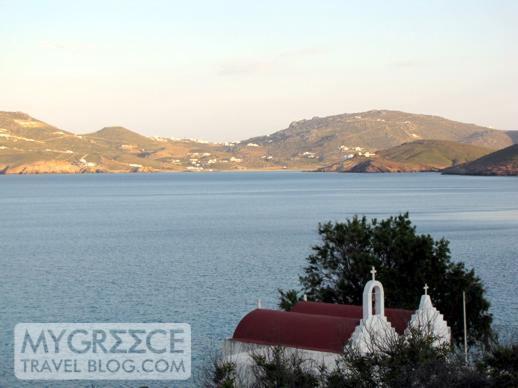 Another view of the churches and Panormos Bay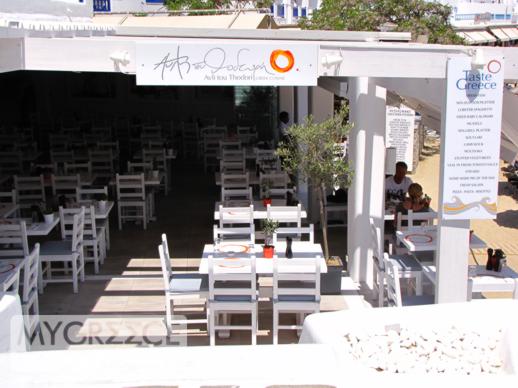 The terrace at Avli Tou Thodori Greek taverna at Platis Gialos beach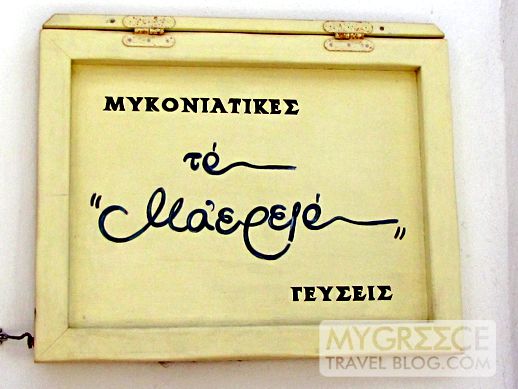 The sign on the outside wall at Maerion (To Ma-ereio) taverna on Kalogera Street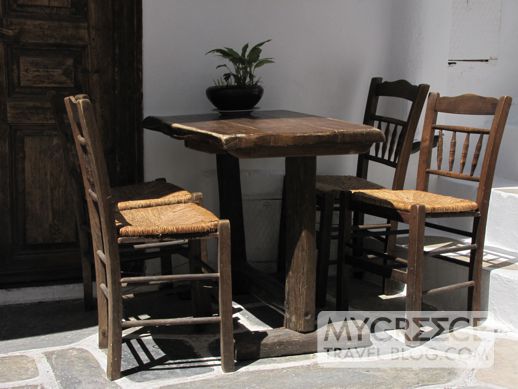 Our favourite table on the step next to the entrance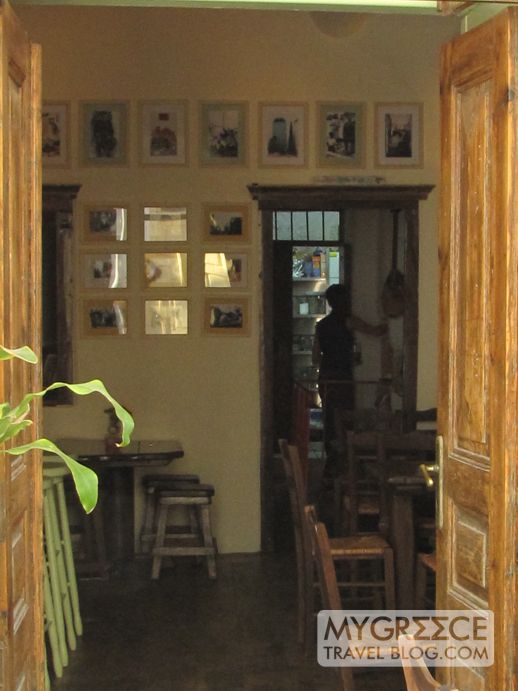 The Maerion interior viewed through the front door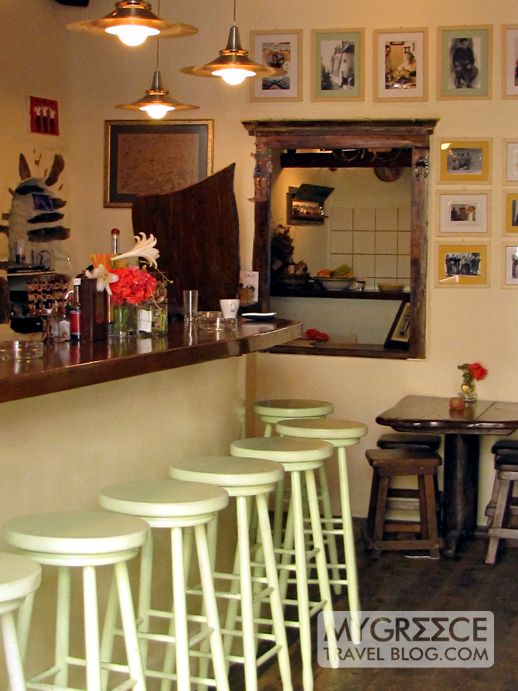 Another peek inside Maerion. There's a small private dining room on the other side of the window, and the taverna kitchen is visible behind that.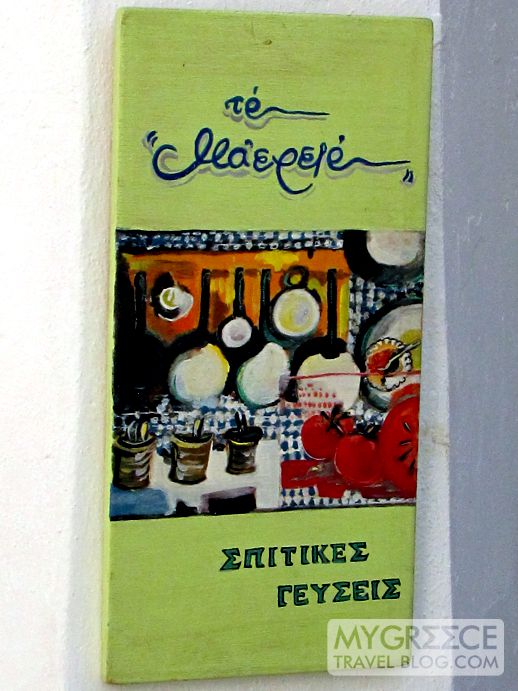 Another sign on the wall at Maerion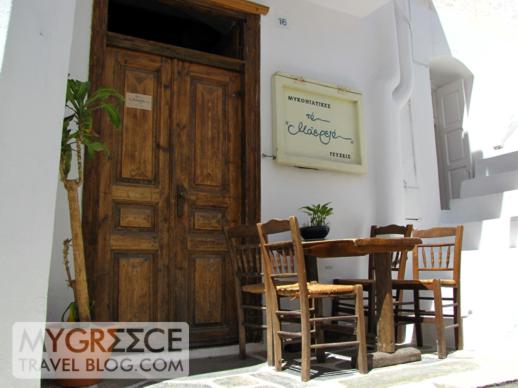 A daytime view of the Maerion exterior. The taverna doesn't open until 7 p.m.