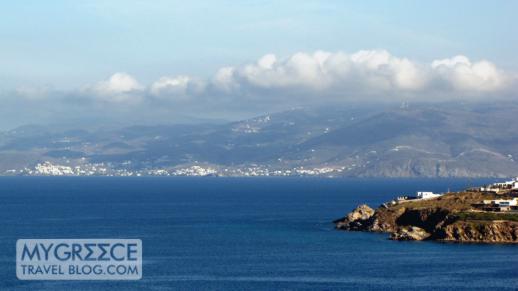 The swimming pool terrace at Hotel Tagoo on Mykonos offers this view of Tinos island, a short ferry ride from the tip of Mykonos (right)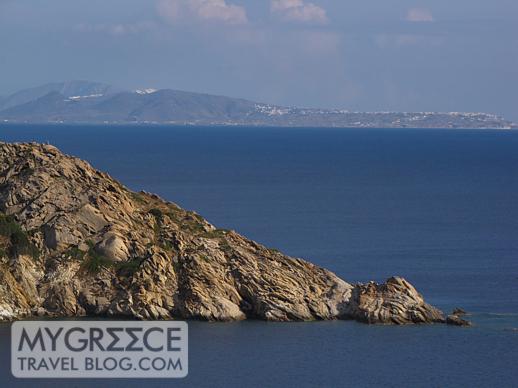 On a clear day, we could see the whitewashed clifftop buildings of the renowned Santorini village of Oia from our balcony at Hermes Hotel on Ios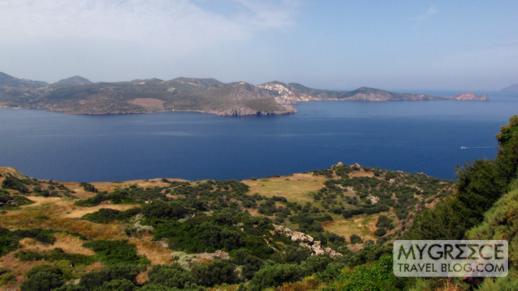 Our terrace at Halara Studios in Plaka, on Milos, gave us this sweeping view of the Gulf of Milos and mountains on the western half of the island.
Three islands, three hotels, three superb views: Last month, our 2011 Greek Island holiday took us back to a favourite hotel on an island we have visited more times than any other place in the world; a different hotel on an island we visited back in 2007; and a hotel on an island we had previously seen only from a ferry. All three gave us superb views.
On Mykonos, we stayed at Hotel Tagoo for the third time in as many visits. We've been to Mykonos so often I can practically picture the views with my eyes closed, and I also never forget the scenery from the balconies and public areas at Hotel Tagoo. (If you've been following my posts about Greek Islands hotel views, you've already seen numerous pictures showing the wonderful views from Hotel Tagoo.) No matter how often I visit, I never get bored of looking at the sea and nearby islands, or the mountains, beaches and coastline of Mykonos itself. For this trip, I requested the same room we stayed in our first time at Hotel Tagoo — the cozy and semi-secluded #19, on the east side of the property — and I was glad it was available for our stay. Although #19 has only a partial sea view, rather than a full-on panoramic sea and island view like many of the rooms positioned at the front of the hotel, I like it because I always sleep exceptionally well in that room. I don't know why, but I always wake up feeling more refreshed after a night in that particular room than in any other. What's more, the afternoon sun doesn't seem as hot or intense on room 19's terrace, like it does on other balconies, so I can spend more time sitting there without feeling like I'm going to melt.
After several days on Mykonos we travelled to Ios for the first time. We had "seen" Ios several times before — through the windows of the FlyingCat 4 ferry en route to Santorini — but we had never set foot on it. We stayed at Hermes Hotel in Agios Ioannis, a hillside area high above beautiful Mylopotas beach, and just a short walk from the island's main town, Chora. Although views from our hotel room balcony were partially obscured by a building in front of us, we could still gaze across the Aegean Sea and, if the skies were clear, see the whitewashed buildings in the village of Oia on Santorini. When we wanted completely unobscured views of Ios scenery, all we had to do was walk up one flight of stairs to the hotel's breakfast room & bar, which had a comfy outdoor sitting area, or down several flights to the huge sea- and valley-view swimming pool terrace. (The pool was just being cleaned and filled during our visit, so we couldn't take a swim, but we did enjoy the terrace for suntanning, taking in the scenery, and watching the hotel's herd of goats in the field below.)
Our third island stop was Milos, which we had visited once before in September 2007. Last time we stayed at a hotel on the edge of the port town of Adamas; this holiday we wanted a complete change of location and scenery, so we stayed at Halara Studios, which is literally on the edge of the mountaintop village of Plaka, the capital of Milos. Being high up and on the edge meant we had outstanding views of farm fields, the Gulf of Milos, and the mountainous western half of Milos. If our visit had been just a few months later in the summer, we would have enjoyed incredible sunset views from the Halara Studios terrace, too.  Nevertheless, we won't soon forget the scenery because on our last full day in Milos the island got thrashed by a vicious thunderstorm, and our terrace provided an excellent front-row seat for watching lightning strikes and the dramatic, dark stormclouds swirling over western Milos.
Below are photos of our views from Hotel Tagoo on Mykonos, Hermes Hotel on Ios, and Halara Studios on Milos.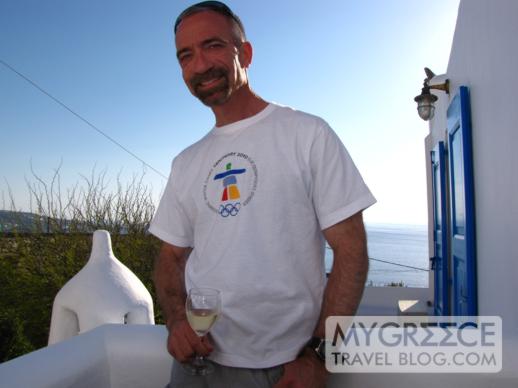 Enjoying a glass of wine on the terrace for Room 19 at Hotel Tagoo Mykonos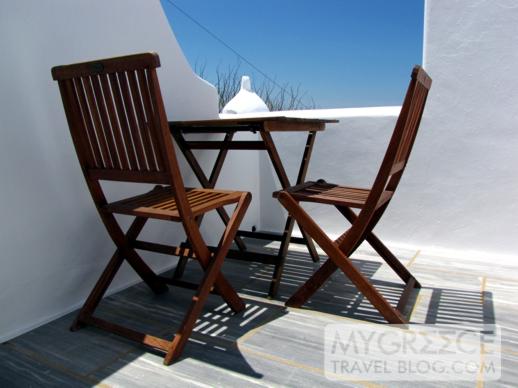 The cozy terrace for Room 19  sits on the east side of the Hotel Tagoo property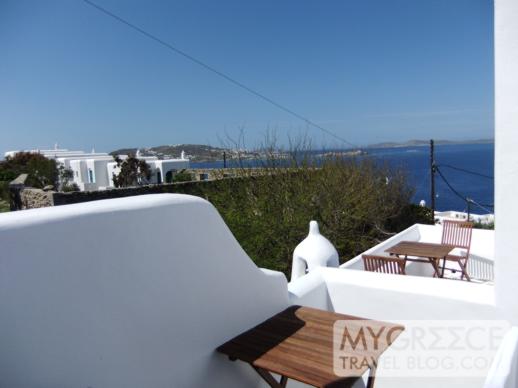 Part of the view from the terrace for Room 19 at Hotel Tagoo Mykonos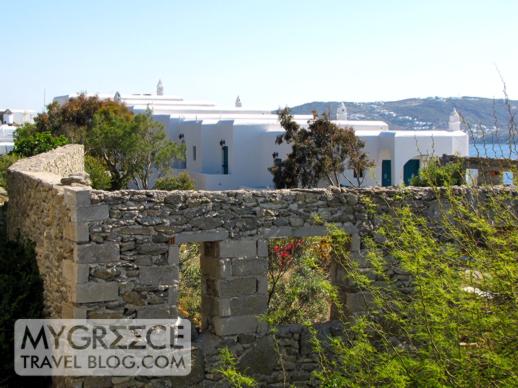 The terrace overlooks another nearby hotel and this old stone wall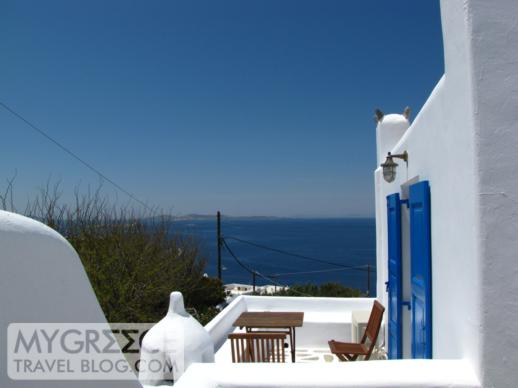 It also overlooks the balcony for the room next door, but still feels fairly private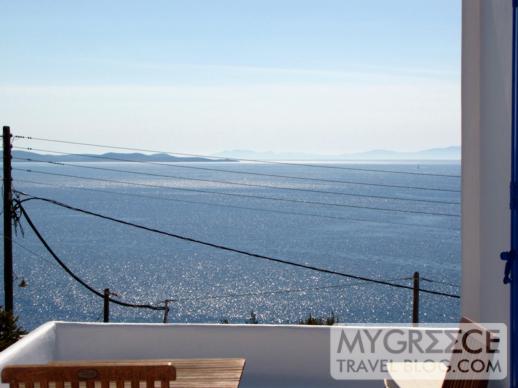 Our terrace at Hotel Tagoo gave us a partial view of the sparkling Aegean Sea …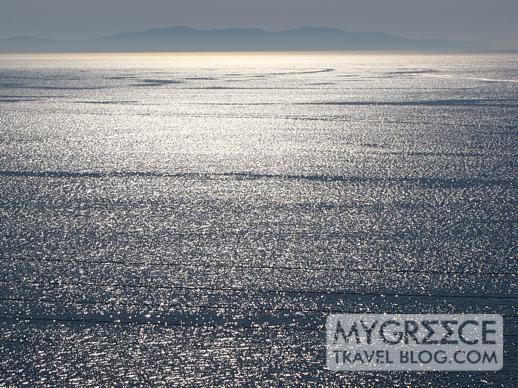 … which is a gorgeous blue in the morning but takes on a molten silver hue under the blazing afternoon sun. Sunglasses are definitely required to enjoy this view — the sunlight reflection is so intense, it's almost blinding!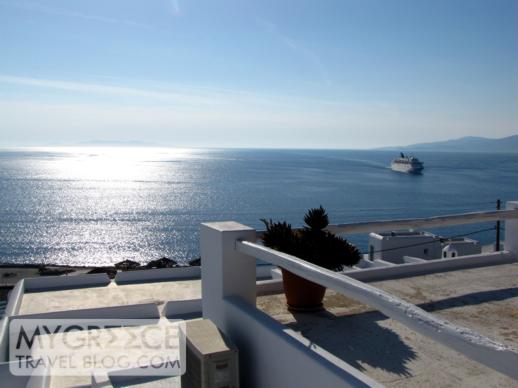 A late afternoon view of the sea from one of Hotel Tagoo's many levels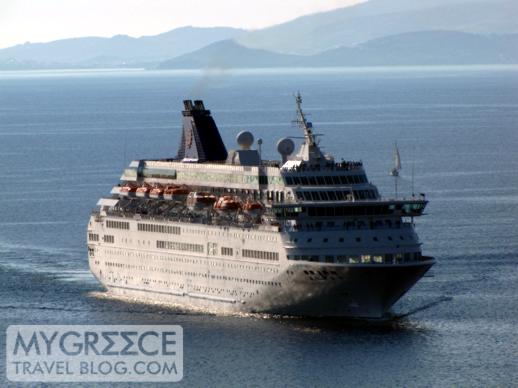 When I'm in the Greek Islands, I enjoy watching cruise ships and ferries come and go … this is a view from the Hotel Tagoo swimming pool terrace of a cruise ship approaching the nearby port of Tourlos (also known as the New Port)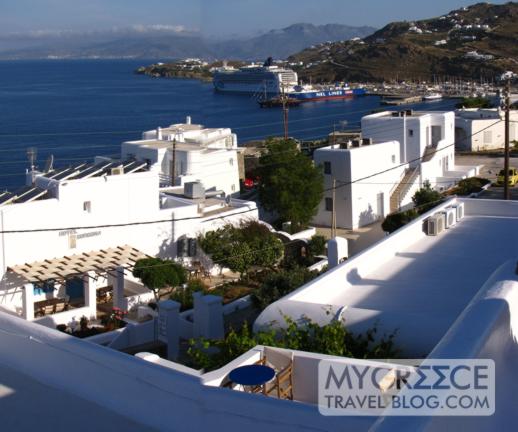 The hotel's pool terrace has a good view of ships docked at Tourlos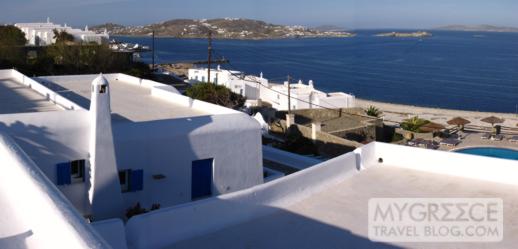 This is the view in the opposite direction, looking towards Mykonos Town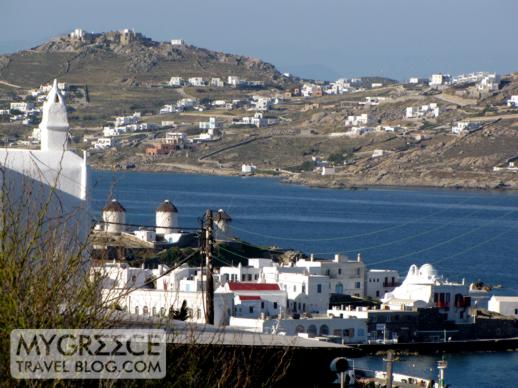 From the pool deck, my camera can zoom in on three of the famous Mykonos windmills and the Paraportiani Church (right) near Little Venice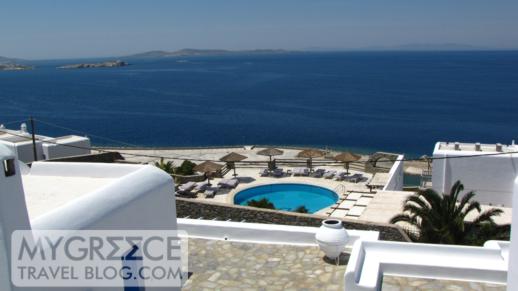 Looking straight ahead, there's a fabulous view of the sea and nearby islands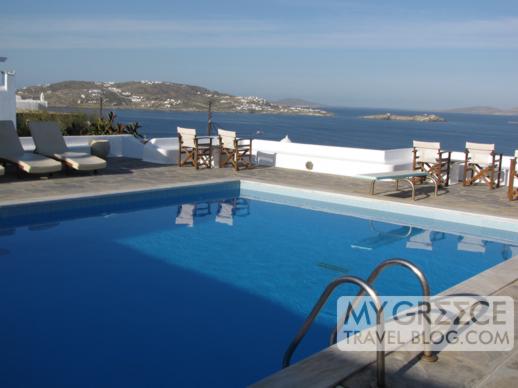 An early morning view from the Hotel Tagoo swimming pool deck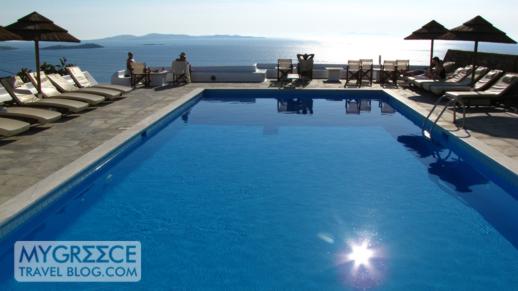 A late afternoon view from the Hotel Tagoo swimming pool deck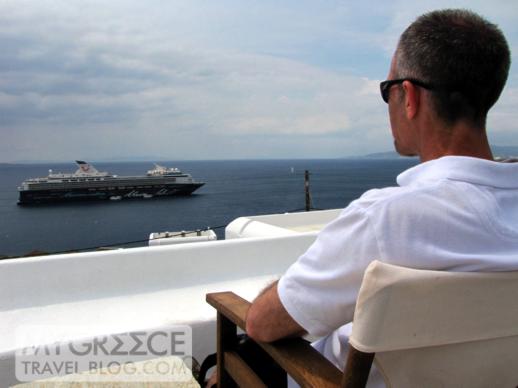 Enjoying one last look at the view before leaving Hotel Tagoo to travel to Ios
At Hermes Hotel on Ios, we could see the Aegean Sea and mountains near Mylopotas beach through our balcony doors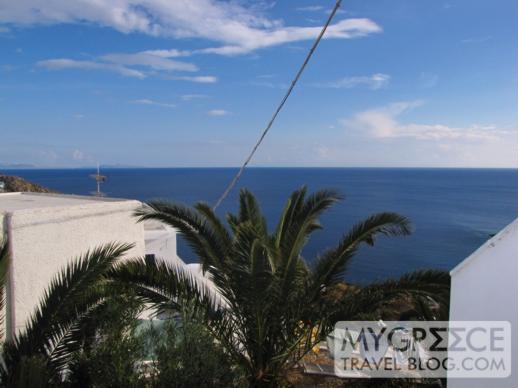 The balcony for our room (Room #2) gave us this view of the Aegean Sea and a graceful palm tree on the hotel grounds below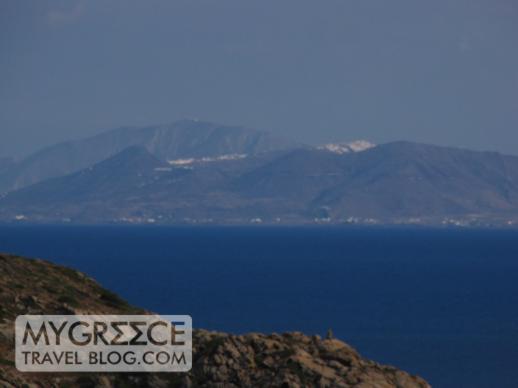 From our Room 2 balcony, our cameras could zoom in on Santorini island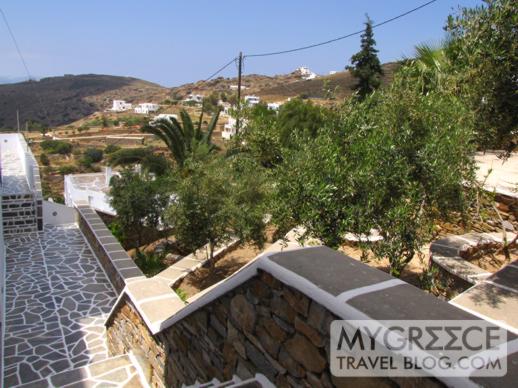 We had this view of the valley when looking out the door to our room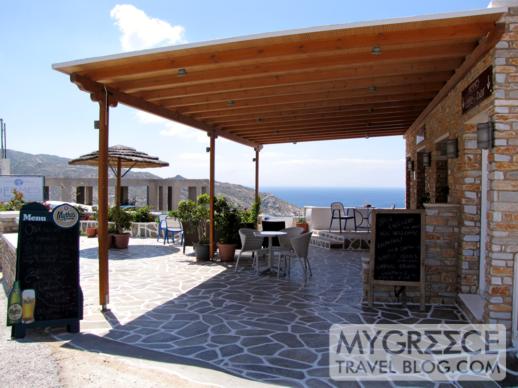 Sitting areas outside the Hotel Hermes reception entrance offered excellent views of the sea and parts of Ios; this was a popular place for hotel guests and other people to enjoy the scenery while relaxing with breakfast or a drink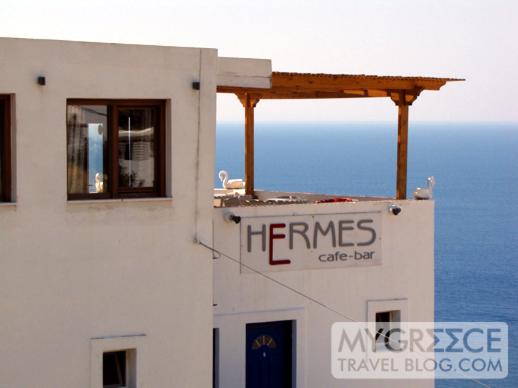 One of the features we loved most about Hotel Hermes was its sea-view outdoor café-bar terrace where we ate breakfast or had an afternoon coffee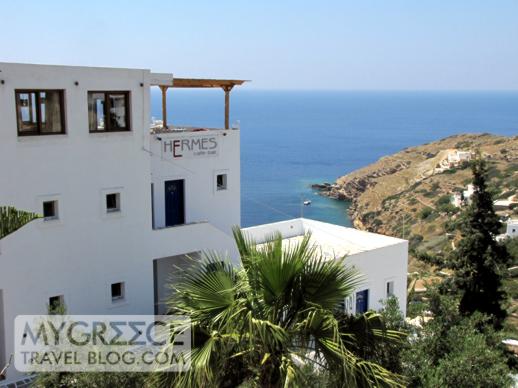 Part of the amazing view from the hotel's café-bar terrace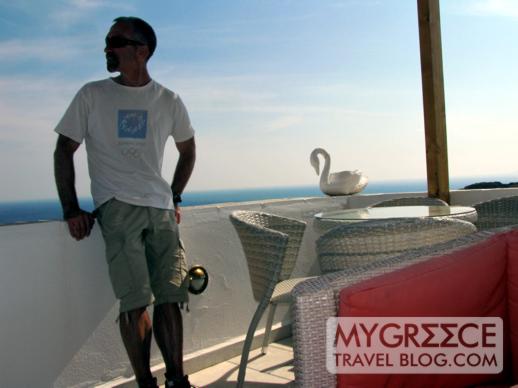 The café-bar deck was my favourite place to take in the views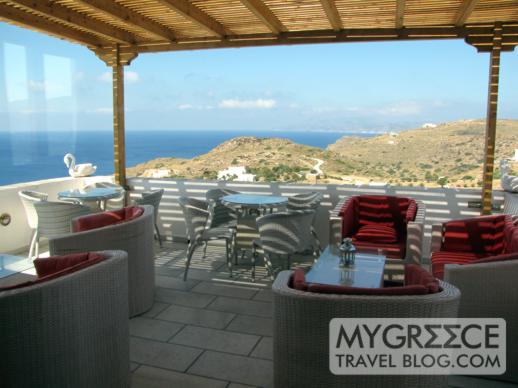 The café-bar terrace overlooked the sea and nearby valley …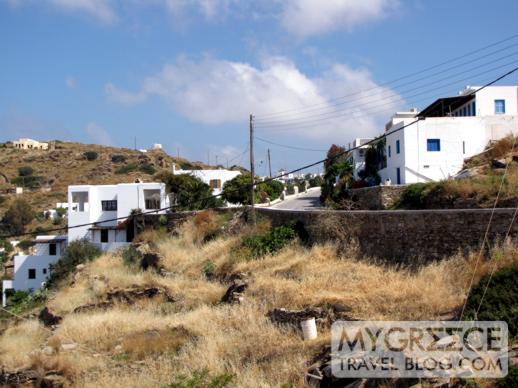 … had this view up the road to Chora, just 10 minutes away by foot …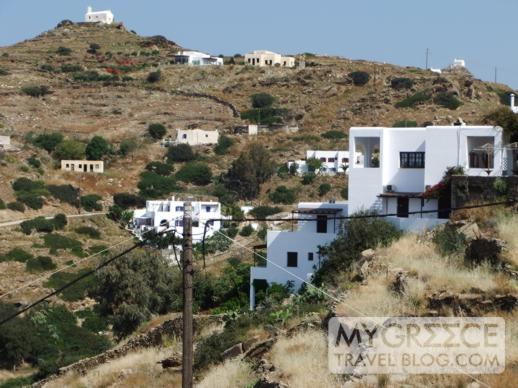 … this view of the upper part of the valley near the hotel …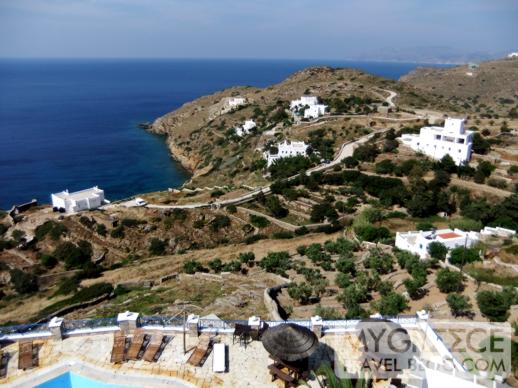 … and this view of the lower valley and the scenic Ios coastline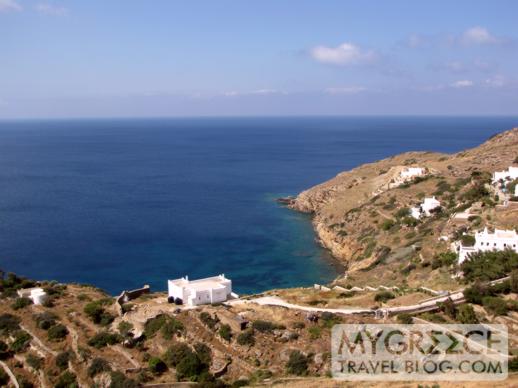 Another view of the coastline far below the Hotel Hermes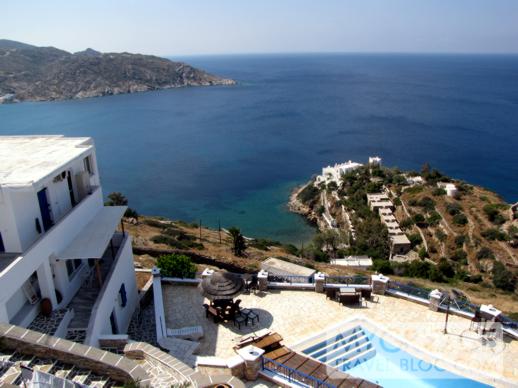 The café-bar terrace had this view  of the mouth of Mylopotas Bay …
… and this view towards beautiful Mylopotas beach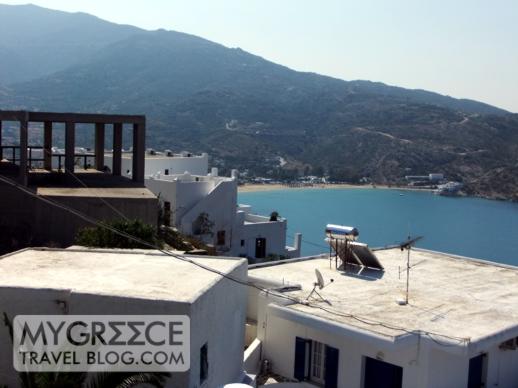 Mylopotas beach is just a 15-minute walk down the hill from Hotel Hermes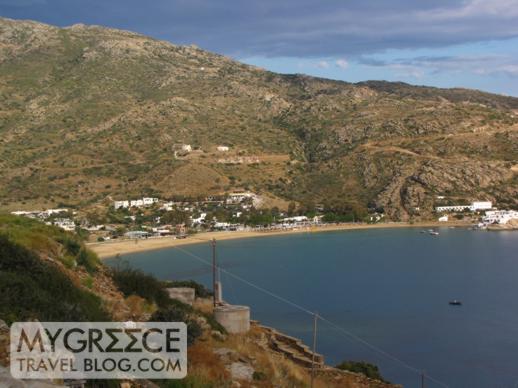 Another view of Mylopotas beach from the café-bar deck at Hotel Hermes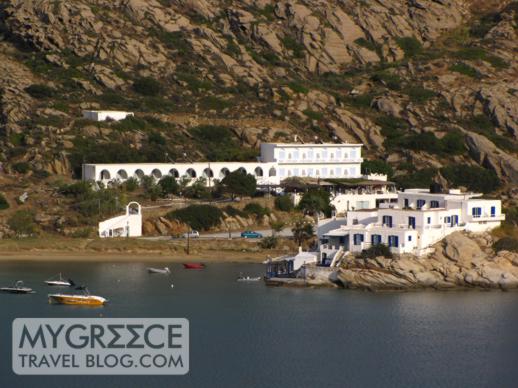 A camera zoom view of our favourite seaside drinking and dining spot at the far end of Mylopotas beach, Drakos Taverna (right)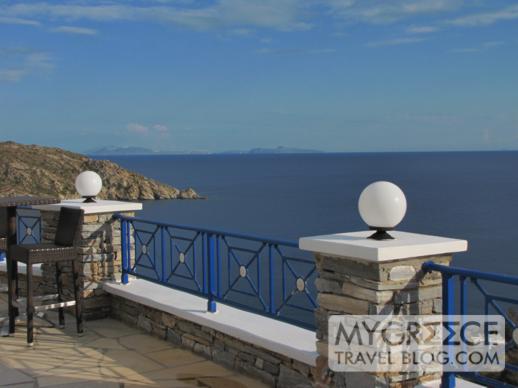 The swimming pool deck had views toward Santorini (visible under the clouds near the upper left corner of the photo) …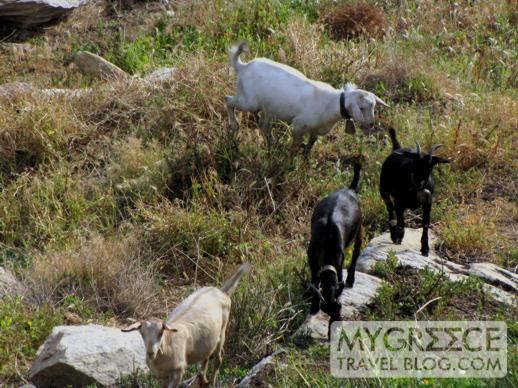 … and was a great spot to watch the goats roaming the hillside below the hotel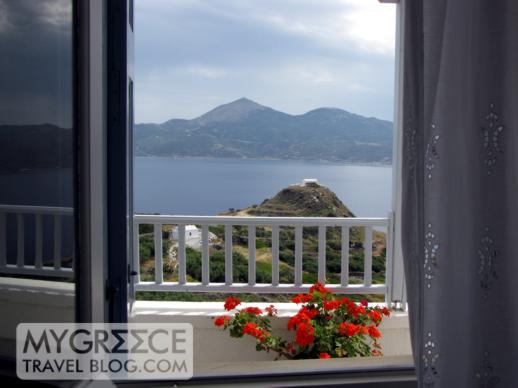 On Milos, the front window to our room at Halara Studios gave us this scenic view toward the western half of the island …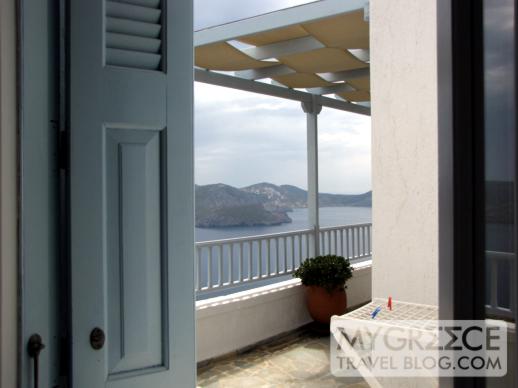 … while the window next to the kitchenette in our studio gave us this view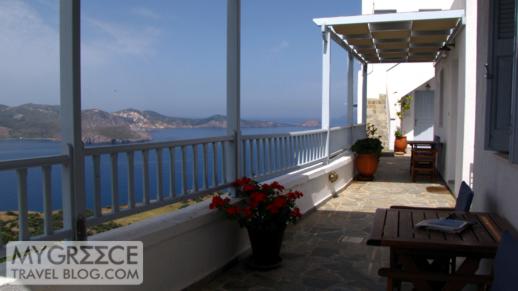 However, the long terrace outside our room had the best views of all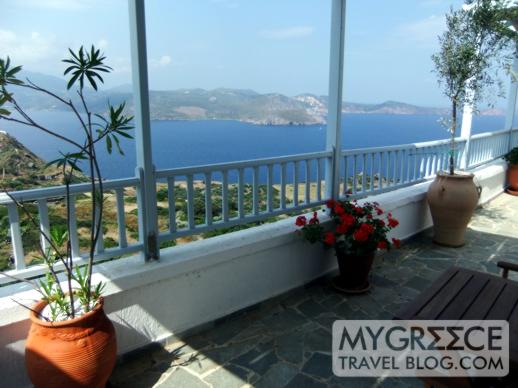 In the morning, we would enjoy the view with a cup of coffee and, in the evening, savour the scenery while drinking a bottle of wine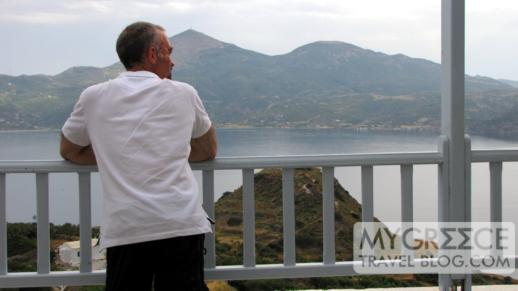 When we weren't hiking around Milos, I spent my time admiring the views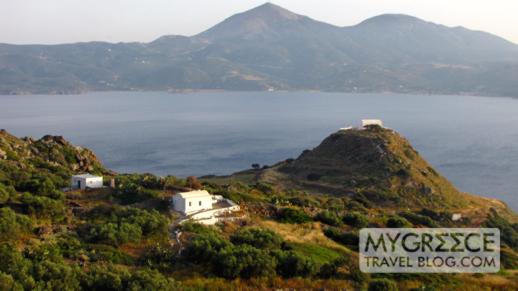 This bucolic scene greeted us when we opened the door each morning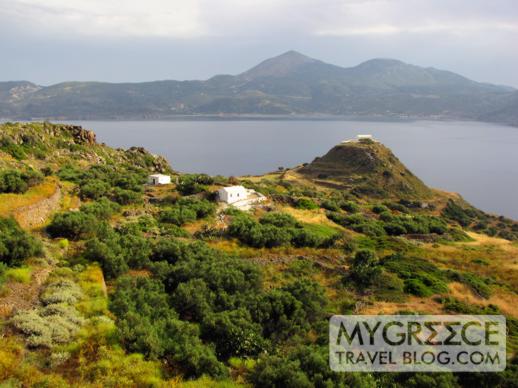 The hillside below us was lush and green, thanks to wet spring weather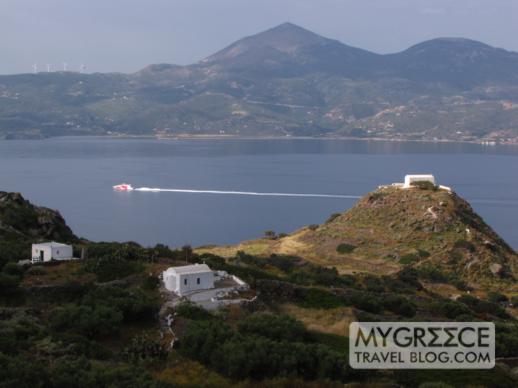 Mount Profitis Elias rises 748 meters on the west side of the Gulf of Milos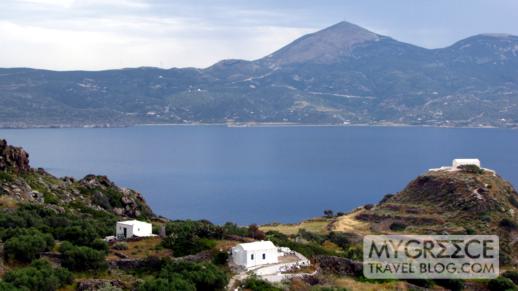 The white building at left is a farmhouse; the other two buildings are churches that we visited during a morning hike to the seaside village of Klima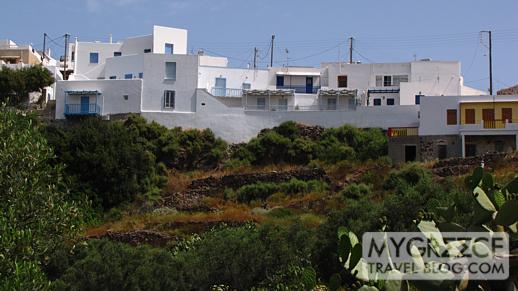 We snapped this photo of Halara Studios while hiking to the churches
Our studio was the one with the light blue-coloured window and door on the lower right-hand side, just above the MyGreeceTravelBlog.com logo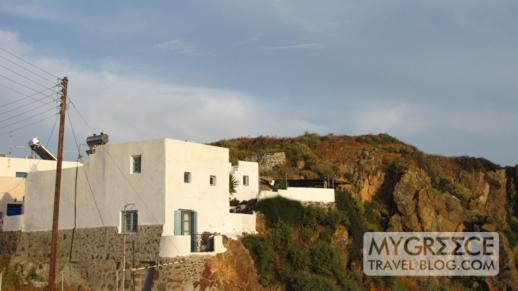 Our terrace view included this hillside house, to our upper left …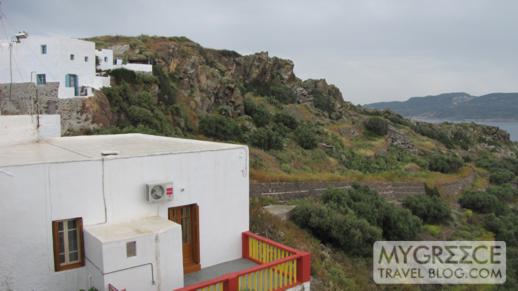 … and this house, just a few feet to the left below our balcony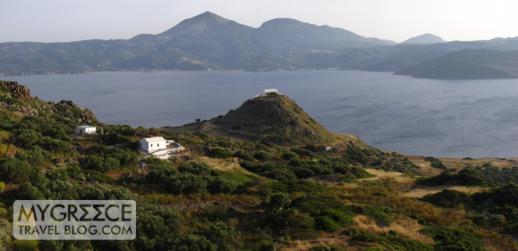 This was the terrace view looking straight ahead across the Gulf of Milos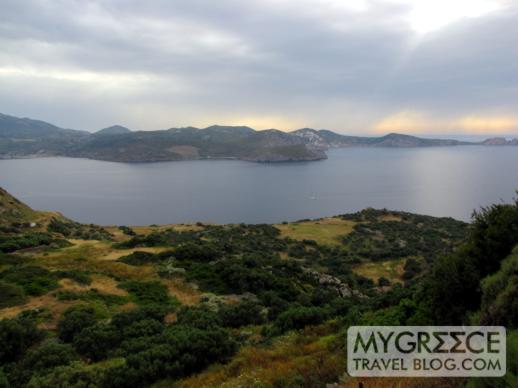 Right below us is a wide expanse of farm fields on the east side of the Gulf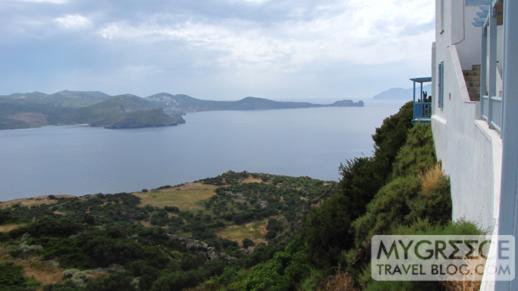 Looking to the right, we could see the west coast of the Gulf of Milos all the way to Cape Vani, the point at the northwest tip of Milos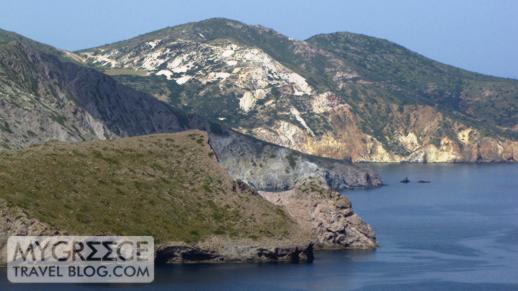 Some of the mountains along the west coast of the Gulf of Milos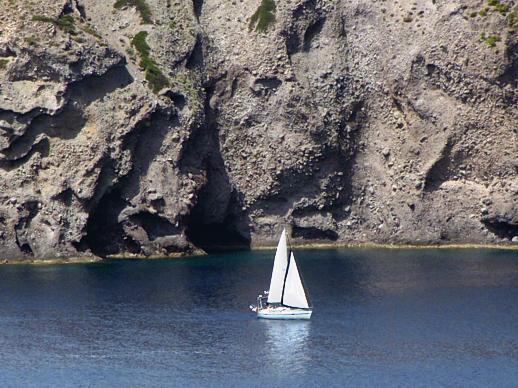 A sailboat passes steep rocky cliffs on the west coast of the Gulf of Milos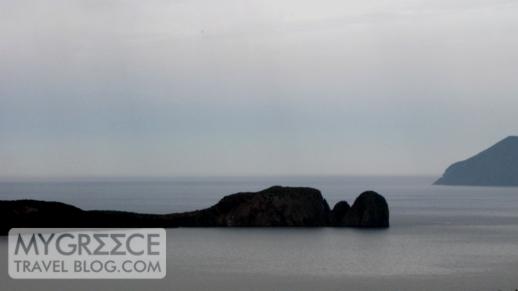 I get a kick out of looking at Cape Vani on the northwest tip of Milos because I think it resembles a semi-submerged hippopotamus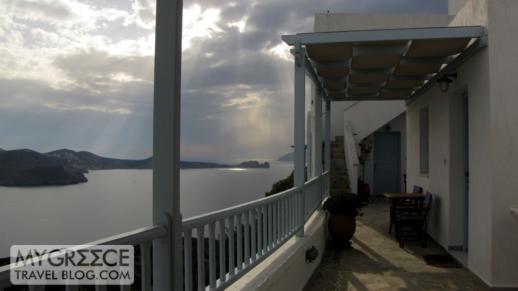 Rays of sunlight stream through clouds above Milos one evening before sunset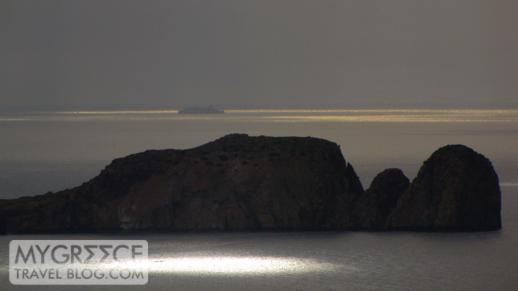 A ship passes behind Cape Vani at sunset on May 24 2011
Another view of Cape Vani at sunset on May 24 2011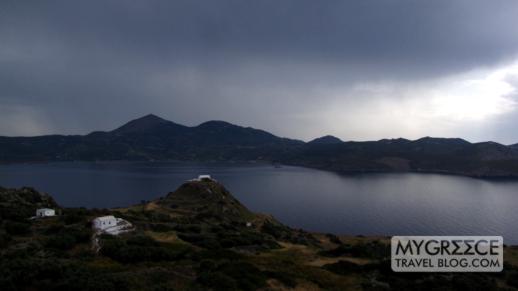 Dark stormclouds threaten western Milos, but we felt only a few drops of rain before the storm system cleared the region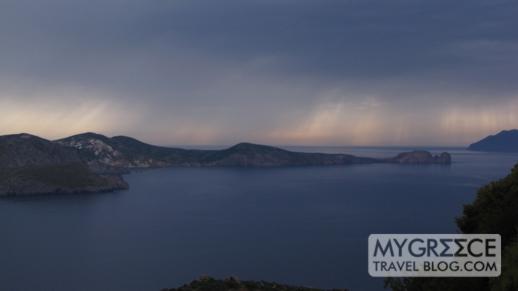 The west coast of the Gulf of Milos at sunset on May 24 2011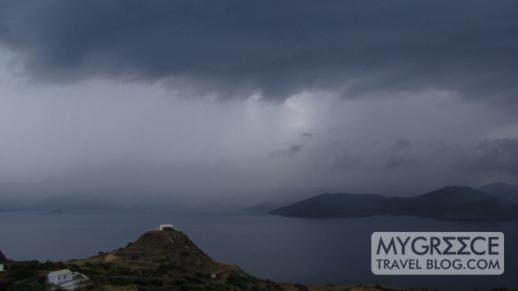 A severe thunderstorm lashes western Milos on the afternoon of May 27 2011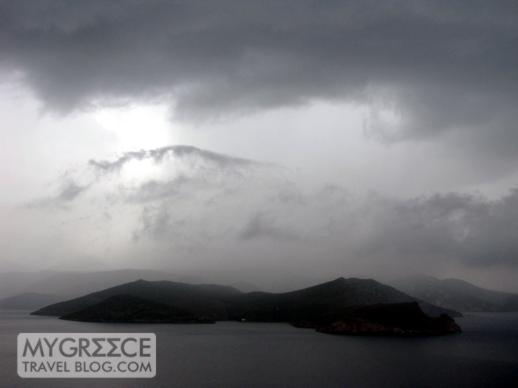 Stormclouds above western Milos on Friday May 27 2011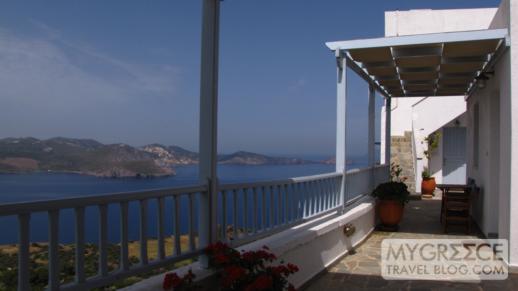 The terrace view I hated to leave when we had to depart for Athens on May 28