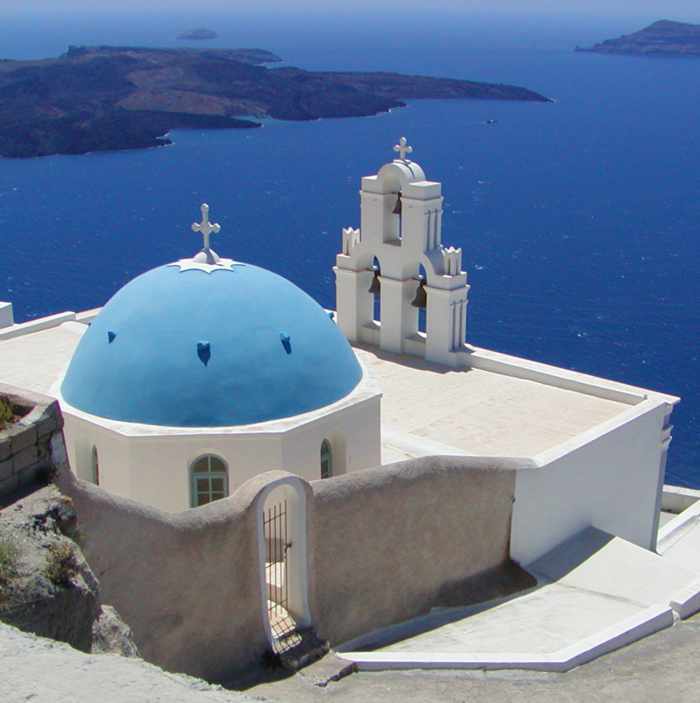 Photos of Agios Theodori Church have inspired countless people to visit Santorini and other places in Greece — or to dream of going there
Greek Islands Icons & Landmarks is a series of occasional posts about curious, unusual and extraordinary sights and places we have seen on our travels in the Greek Islands
Celebrity dome: It's a quintessential image of Greece:  a cute white chapel with a shiny blue dome, accompanied by a white belfry with three bells, sitting high above the sea on Santorini.   
It's called Agios Theodori, but like thousands of other churches in Greece, few people outside the country know its name. Nevertheless, it's a familiar sight to millions around the world, since photos of the church have appeared for decades on travel posters, tour materials and in guidebooks, newspapers and magazines. Along with the Acropolis in Athens, that little whitewashed, blue-domed church is one of the main images people associate with Greece.
I recall seeing pictures of Agios Theodori in the early 1980s, first at restaurants in Windsor, Ontario and Detroit's Greektown, and then at travel agencies and restaurants along Danforth Avenue in Toronto's Greektown, which was just a few blocks from where I was living at the time. That was long before I ever considered going to Greece, but the pictures of that blue-domed church stuck in my mind.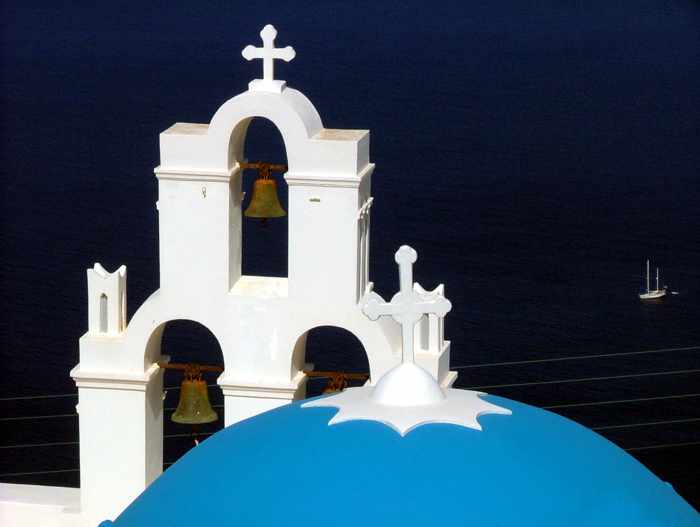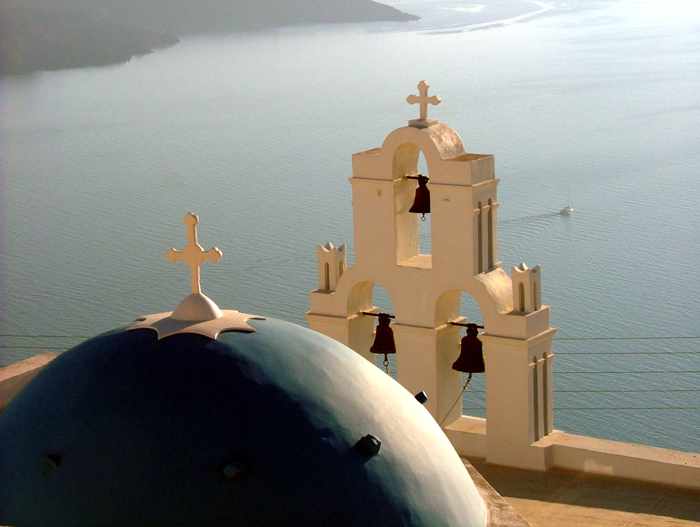 Over 20 years later we finally made it to Greece,  and Santorini was the last stop on our island-hopping holiday. Although I hoped we would see the famous blue-domed church, I didn't know where to look for it. I figured that if we came across it while exploring the island, that would be great, but if we didn't get to see it on this trip, perhaps we would some other time. 
Imagine my surprise and delight when, only minutes after checking in to the Santorini Palace Hotel in Firostefani, we walked to the tip of the caldera cliff nearby to check out the views — and saw Agios Theodori church just a few meters directly below us. I was slightly stunned at first; it felt like the familiar image I had seen in print so many times had suddenly come to life before my eyes. 
So was it as breathtaking and impressive as I had anticipated, after seeing it in photos all those years? You bet! There was absolutely no disappointment here —  the live view was spectacular. And to think the church was only a few dozen meters from the front door of our hotel! Now what were the odds of that happening?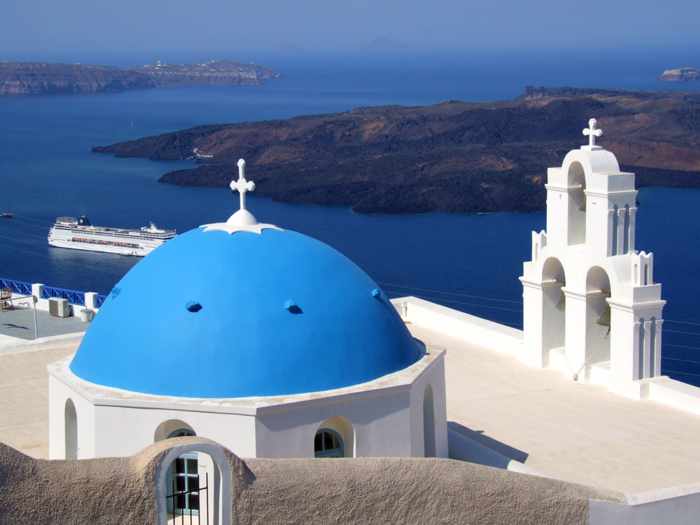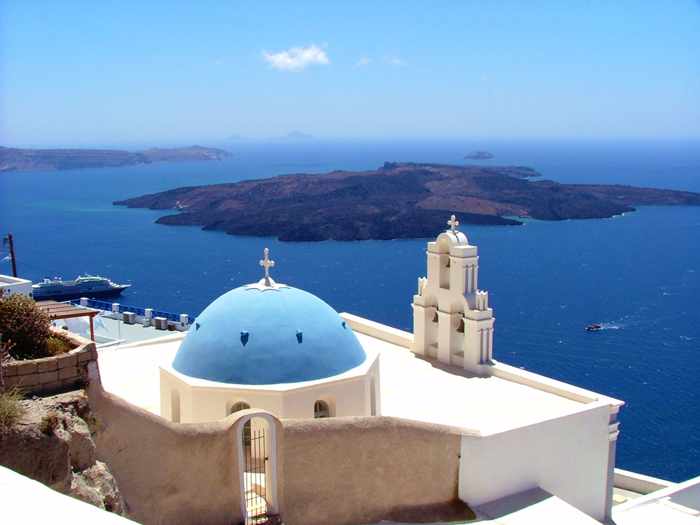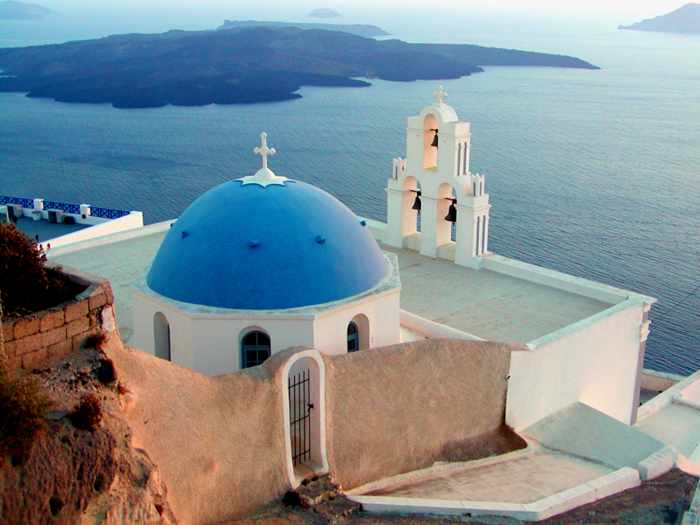 We saw Agios Theodori church again, on each of our subsequent visits to Santorini, and it was still impressive to see. If we ever go back to the island I'm sure we'll pass through Firostefani so we can take another look.
Below are several photos I found online, showing the church from perspectives we didn't manage to photograph ourselves. There's also a map indicating where Agios Theodori is located, should you want to see it in person yourself.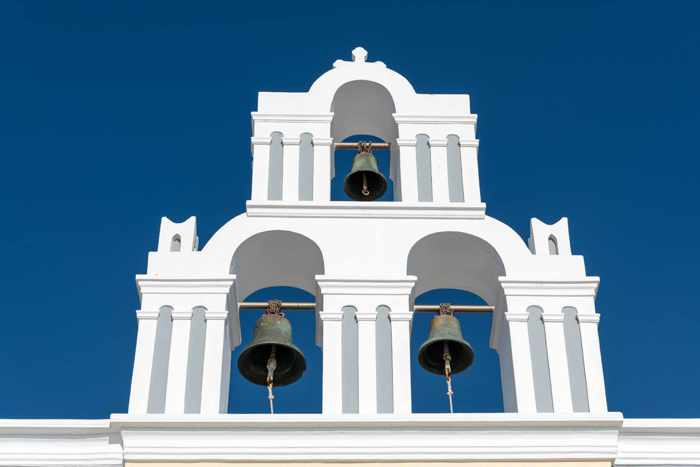 The Agios Theodori belfry is seen in an image from the Petr Svarc Images page on Facebook
The front of Agios Theodori church as seen from "street" level — actually, from the footpath that winds along the top of the caldera between Firostefani and Fira. Ting Lin shared this photo on Google Images.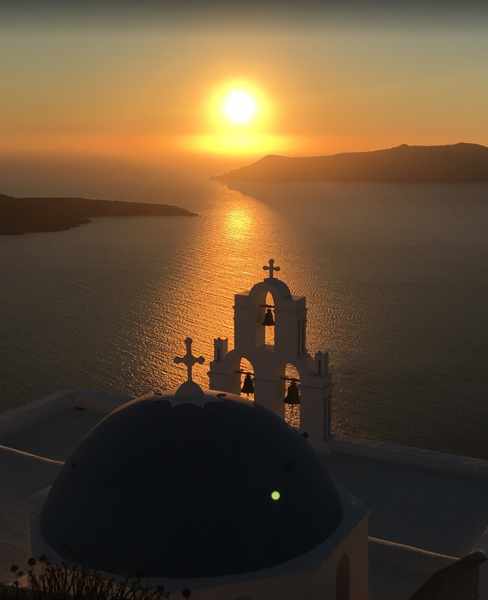 Also from Google Images is this photo by Charles Cheng, capturing Agios Theodori at sunset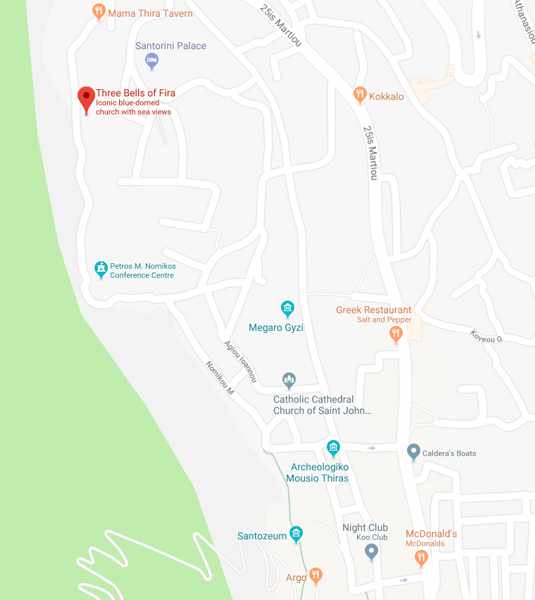 Agios Theodori church is marked as "Three Bells of Fira" on Google maps, but it isn't in the town of Fira — it's a 10- to 15-minute walk away if you follow the clifftop footpath from the cable car station and walk north toward Firostefani (keeping the sea on your left side).  To see it from the "travel poster and guidebook perspective," make your way to the Santorini Palace Hotel. From the hotel entrance, walk up the short slope toward the sea, and head for the low wall at  the edge of the parking area. Look down to your left, and enjoy the view!