Aktaion appealed to us for several reasons. We liked its intimate, cozy space — its outdoor dining terrace only seats about 20 people, while its small interior dining room seats even fewer. We also were impressed by Aktaion's traditional Greek cuisine, featuring local Santorini fare you won't find on other islands (most notably, some delicious white eggplant dishes). And we were glad to see that Aktaion has a focussed (i.e. small) menu. Unlike so many of the tourist trap restaurants on Santorini, Aktaion's kitchen doesn't attempt to cater to fussy tourists by offering a mile-long menu packed with dozens of "mass market" dishes you would find on restaurant menus in Germany, Italy, France, the U.K. and North America. We figured that, with such a limited selection, the food just had to be good. And it definitely was. So good, in fact, that we ate dinner at Aktaion at least twice during each visit to Santorini. And many of the people to whom we recommended the restaurant also went back to Aktaion more than once.
Aktaion's moussaka was always our favourite dish, and we each ordered an individual serving whenever we went to the restaurant (it was so delicious, we wouldn't have been satisfied splitting just one order). We also would order several more items for sharing. My travel journal shows that, during one dinner back in 2005, we ordered the tzatziki, grilled white eggplant and vegetable pie. For a meal in 2006, we tried the eggplant rolls stuffed with feta, tomatoes and fresh basil; a "pie" which consisted of yogurt, cheese and grilled eggplant on pita; and puréed fava beans with olive oil, oregano and sliced red onions. Everything was delicious. And everything was reasonably priced — a refreshing change from the tourist traps that charged steep prices for mediocre meals.
That's probably why Aktaion is so popular. As I mentioned, it has limited seating, so it's common to find people lined up outside, waiting for tables to become available. (They used to accept reservations, so that's an option to consider to avoid a long wait.)
Although Aktaion is situated right beside the clifftop walking trail, its tables don't enjoy a direct sightline of Santorini's fabled sunsets because a row of trees at Firostefani Square partially obscures the view. But there are excellent viewing spots just a few feet from the restaurant, so it's easy for diners to watch the sunset either before or after their meal.
If you do decide to try Aktaion, but wind up unable to get a table because the place is too busy, an alternative is Remvi restaurant on the opposite side of Firostefani Square. We haven't dined there yet ourselves, but have heard good feedback about Remvi from people who have enjoyed it. From what I recall, it's more expensive, but it does have a dining terrace with a direct sunset view. So if you're looking for a romantic spot to enjoy a meal while watching the sun go down, Remvi could be a good choice.
We're not sure when we will next return to Santorini, but we can guarantee that we'll be going back to Aktaion for our first dinner whenever we do.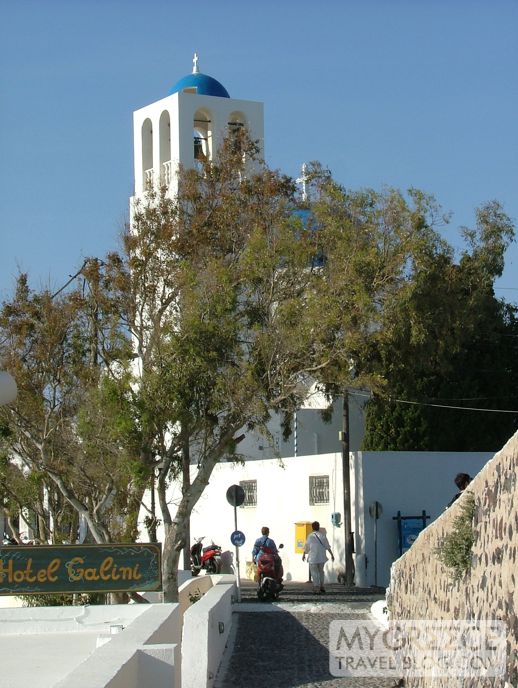 Approaching Firostefani Square from the clifftop footpath that links Firostefani village to the main Santorini town of Fira. Aktaion is just off to the right (not visible in this photo), only steps from the Hotel Galini (left).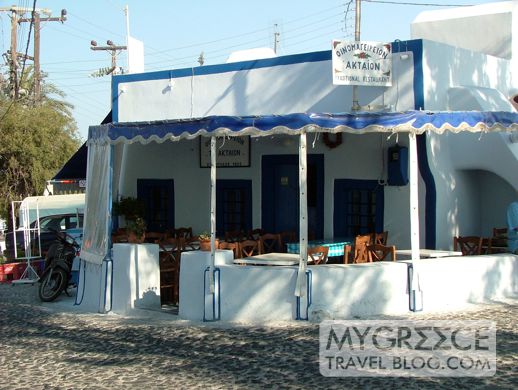 Aktaion taverna seen one afternoon, before opening for dinner. The popular restaurant has limited seating, so evening lineups are common.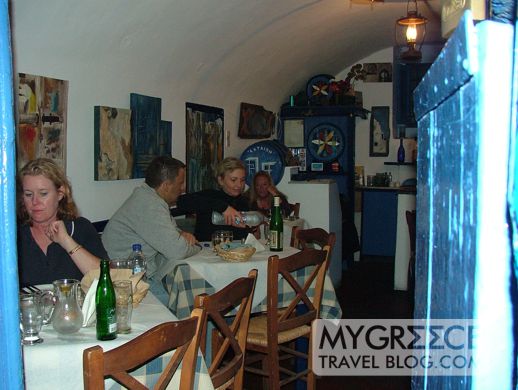 Aktaion has only a few inside tables, and outdoor seating for about 20 people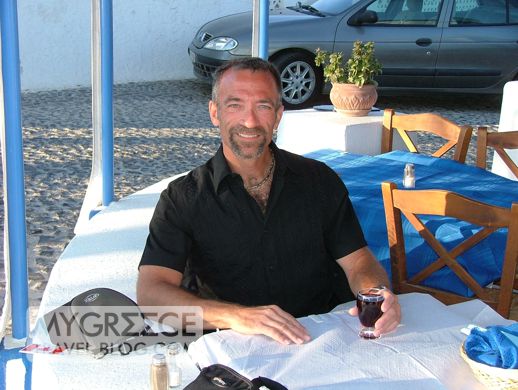 That's me enjoying a glass of red wine before one of our dinners at Aktaion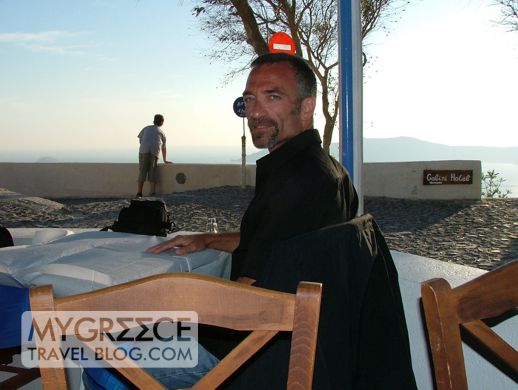 Here's a view in the other direction, looking towards Hotel Galini next to the clifftop footpath. You'll find plenty of spots offering great caldera and sunset views only steps away from Aktaion.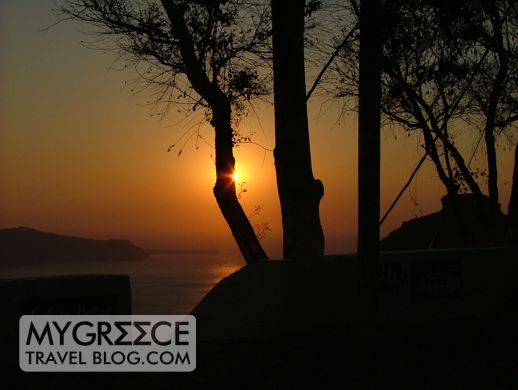 A row of trees along the clifftop side of Firostefani Square partially obscures sunset views from the outdoor terrace tables at Aktaion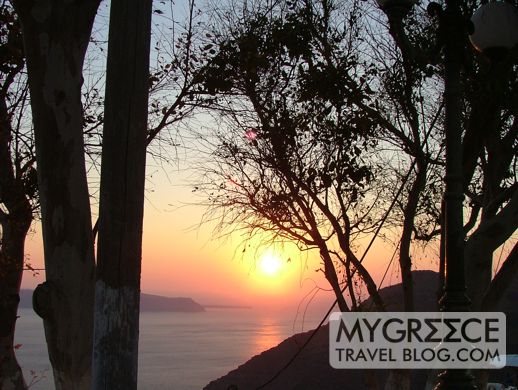 Another Santorini sunset viewed from Firostefani Square, just outside Aktaion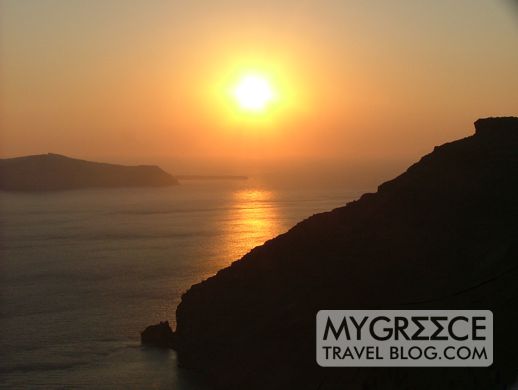 Here's a direct sunset view from the clifftop path just a short walk from Aktaion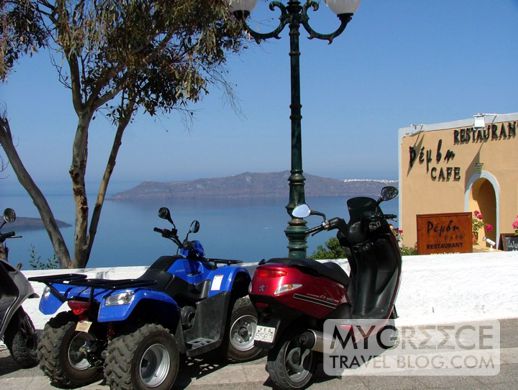 Firostefani Square has views of nearby Thirassia Island. People have told us that Remvi restaurant (right) is worth checking out if you can't get into Aktaion.