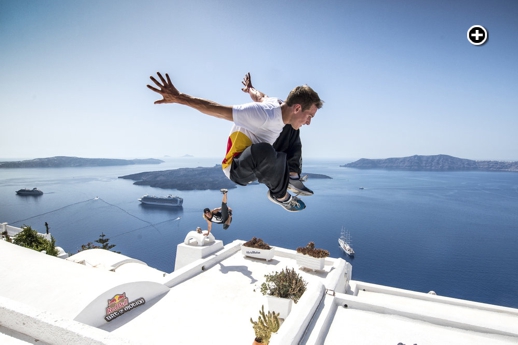 The spectacular Santorini caldera scenery provides a breathtaking backdrop for amazing acrobatic maneuvers by freerunners Ryan Doyle and Bartje van der Linden. Extreme photographer Predrag Vuckovic captured the pair in midair action at Andronis Luxury Suites in Oia during a photo shoot to promote this Saturday's Red Bull Art of Motion 2013 competition
Santorini somersaults: Whenever I book a trip to Greece, I practically bounce off walls with excitement. The thrill of returning to my favourite holiday destination is so strong, I almost have to restrain myself from jumping for joy, shouting from rooftops and turning cartwheels in the street.
Coincidentally, that's exactly what 18 acrobatic athletes will actually be doing on Santorini this coming Saturday afternoon as they participate in the third annual Red Bull Art of Motion 2013 freerunning championship.
Cheered on by thousands of spectators, the young competitors will jump, flip, roll and hurl themselves over roofs, walls, streets and steps on the cliffside of Firostefani village while a panel of judges scores their tricks, stunts and style.
Freerunning is an artistic offshoot of the sport of parkour. Freerunners, also known as urban body artists, creatively express themselves by running, vaulting, tucking, twisting and rolling over objects in their path — which, in Firostefani, will include a series of whitewashed cliffside hotel buildings, steps, paths and walls.
The Art of Motion event was first held on Santorini in 2011, and a second championship took place last September.
This week, competitors were showing off their stunts and style at photoshoots, demonstration events and qualifying rounds held at various places on the island, including the Andronis Luxury Suites in Oia.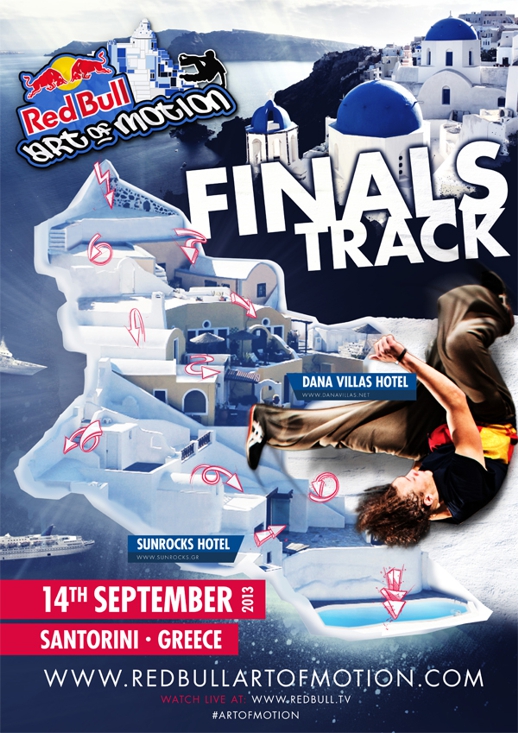 This Red Bull promotional poster illustrates the freerunning course that the Art of Motion competitors will negotiate in Firostefani on Saturday afternoon
CONTINUED ON PAGE 2