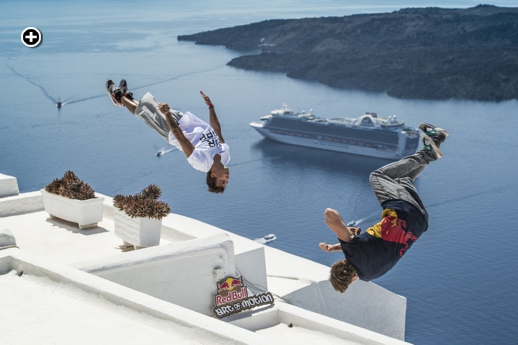 This image, shot for Red Bull by photographer Predrag Vuckovic, shows Marcus Gustafsson of Sweden and Jason Paul of Germany in a training session
The final competition takes place Saturday afternoon at 4 p.m. local time on a course set across the cliffside properties of Dana Villas and the Sun Rocks Hotel.  The athletes will be sure to pull out all the stops to delight the local and international audience and score top marks from the judges.
The event will be broadcast live on Red Bull TV as well as on the SKAI TV Greece.
Below are several videoclips showing highlights from last year's Art of Motion competitions. I got a kick out of watching the clips not only because of the amazing athletics and the beautiful background scenery, but because the course was familiar and brought back some good memories — the action took place on and around the Cliffside Suites Hotel, where we stayed in 2006. (You can see dozens of photos of the hotel and its views in my Cliffside Suites Hotel album on the MyGreeceTravelBlog.com Flickr page.)