~ continued from page 1 ~ 
The Town Hall and Apollon Theater in Ermoupolis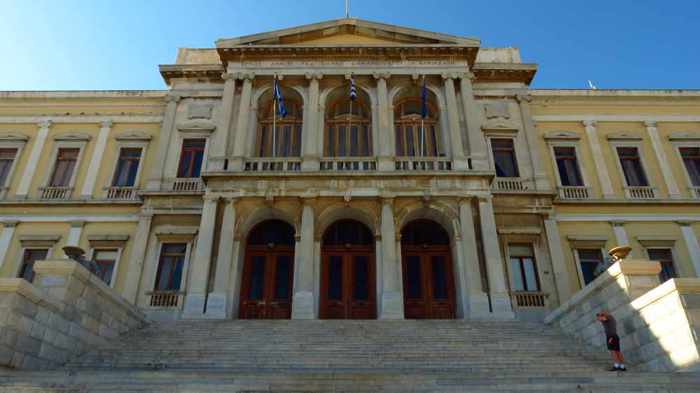 The impressive Town Hall in Ermoupolis, built in 1876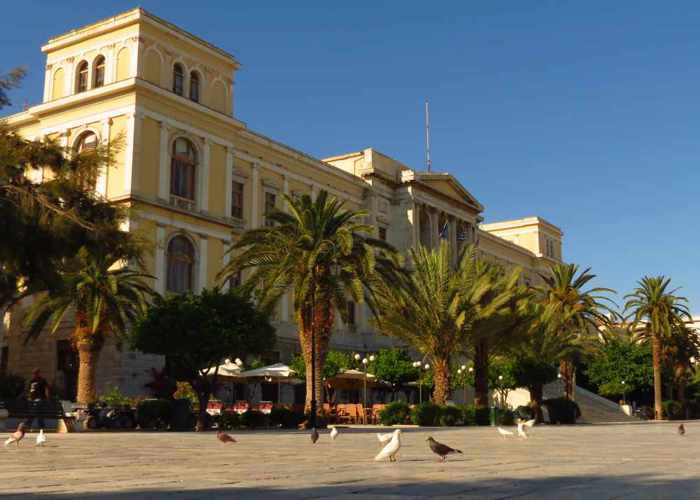 Palm trees at Miaouli Square in front of the Town Hall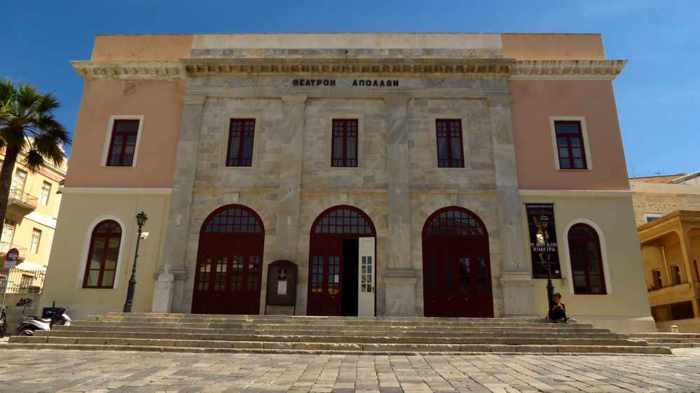 Street view of the island's iconic Apollon Theater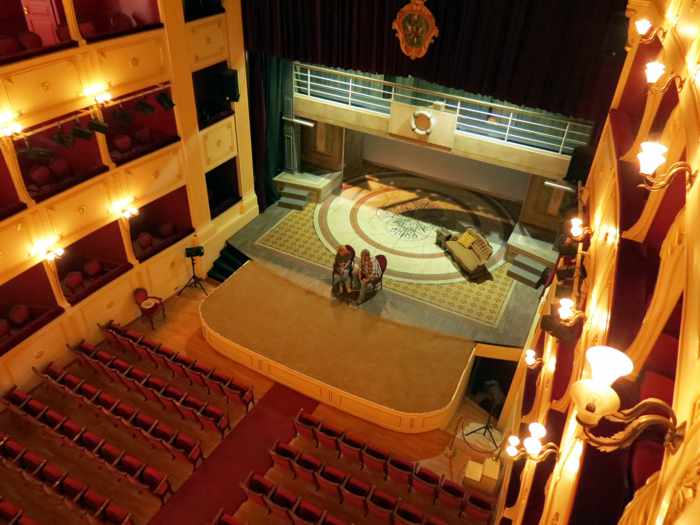 Interior of the Apollon Theater. which opened in April 1864. It was designed by Italian architect Pietro Sambo, who was inspired by patterns and designs from at least four Italian opera houses.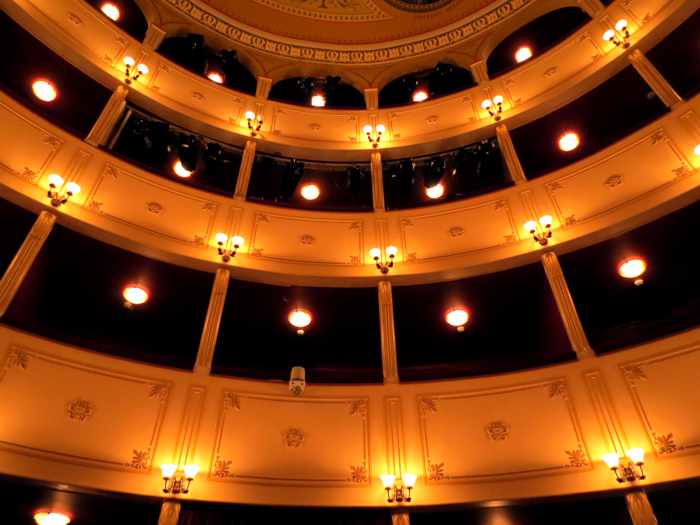 The 155-year-old theater hosts opera and music events throughout the year, as well as the annual Festival of the Aegean, which will take place July 14 to 28 this summer.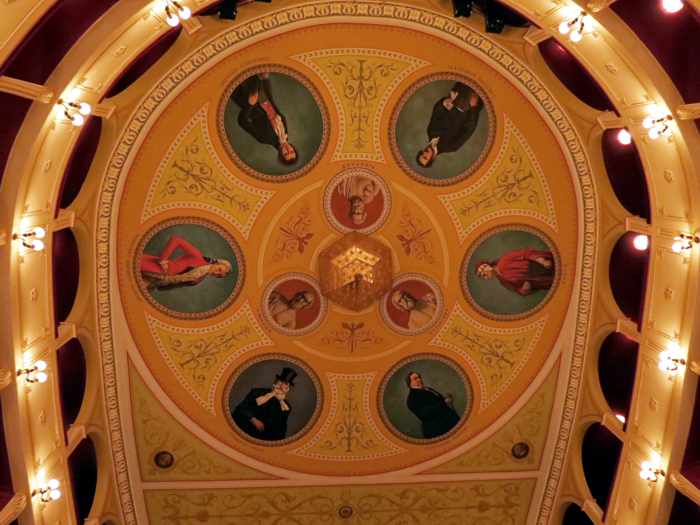 Frescoes on the theater ceiling depict Mozart, Verdi and other musicians in the outer ring, along with the epic poet Homer, and the ancient Greek playwrights Aeschylus and Euripides in the center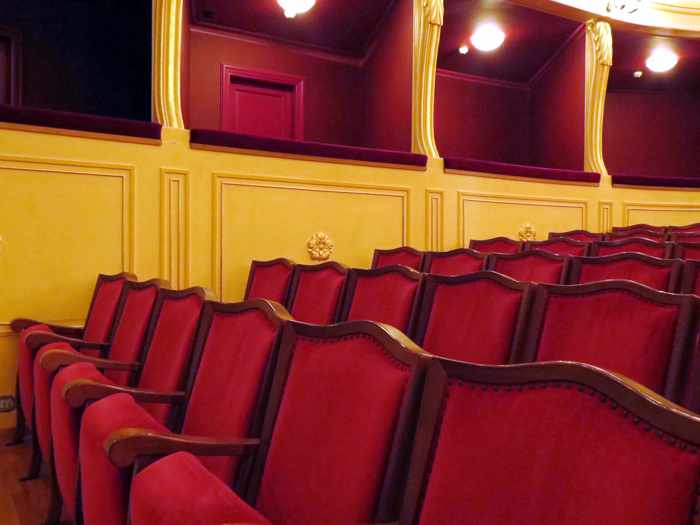 The condition of the theater declined so significantly that the building was deemed dangerous and closed in the 1950s. It underwent a massive renovation during the 1990s, and reopened in 2000.
The Vaporia seafront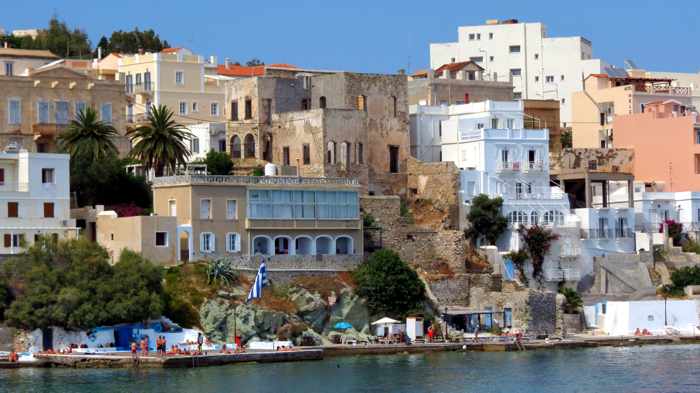 The seafront of the Vaporia neighbourhood is a busy swimming and sunbathing spot for Ermoupolis residents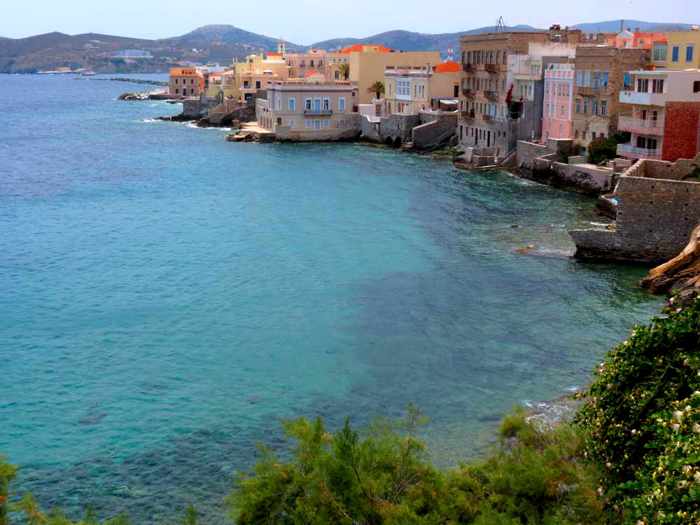 The Vaporia coast is lined with Italianate mansions, some of which are now home to upscale boutique hotels, like Hotel Ploes (we haven't stayed there, but have had a peek at its gorgeous interior and its fabulous seaview cafe-bar terrace) as well as private airBnB accommodations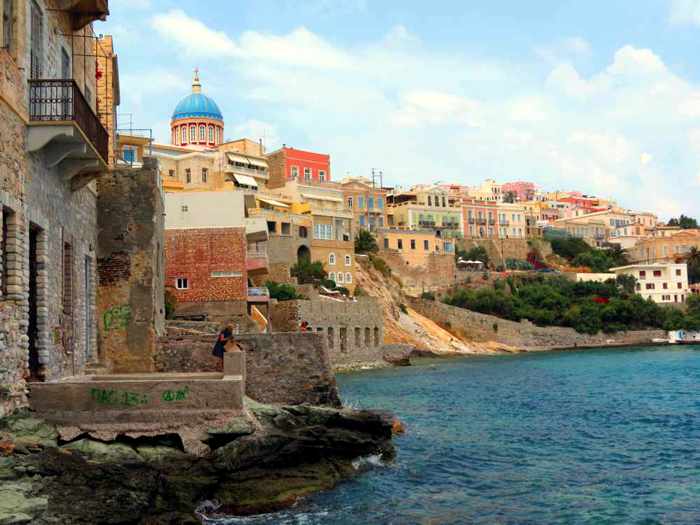 The massive blue dome of Agios Nikolaos Church towers above Vaporia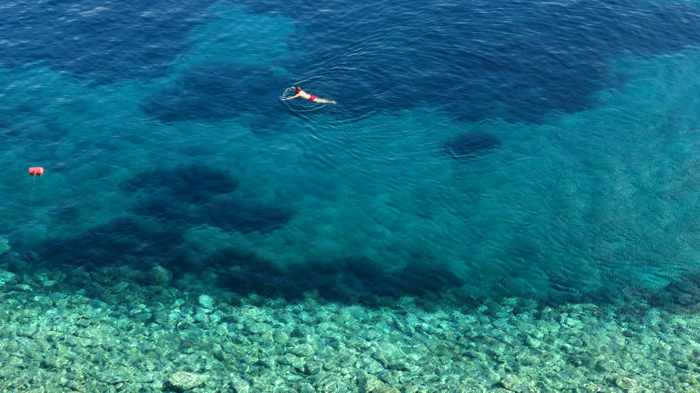 A man swims in the clear sea waters off the Vaporia shore
Ano Syros village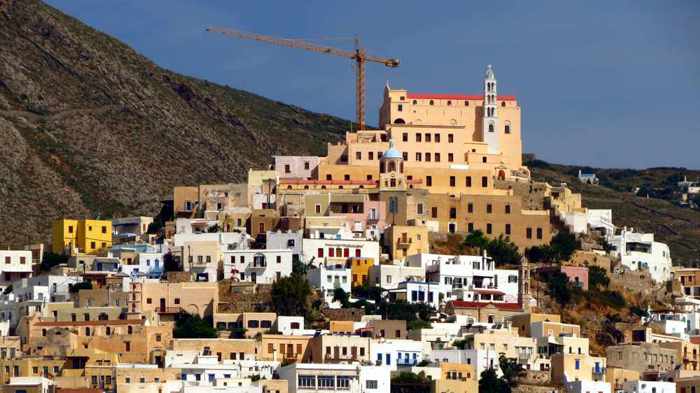 Buildings in Ano Syros village cling to the steep hillsides below the Catholic Church of St. George. The village and the original church building both date from the 13th Century.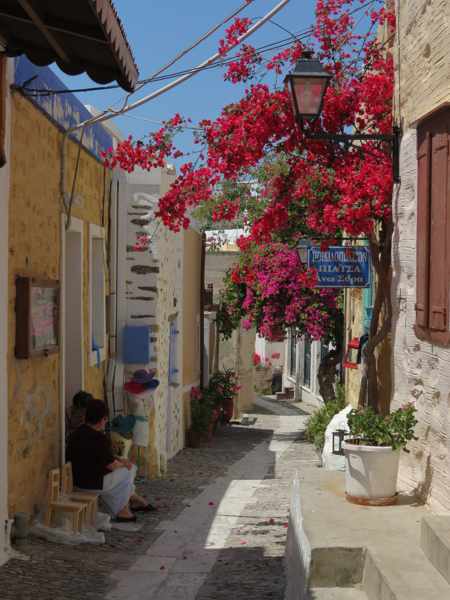 A lane in Ano Syros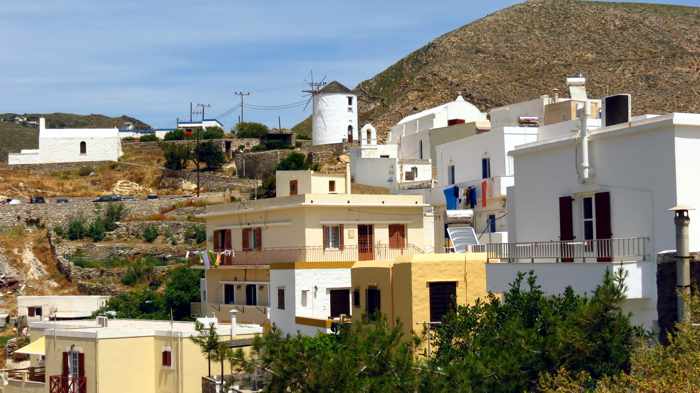 A windmill overlooks churches and houses in Ano Syros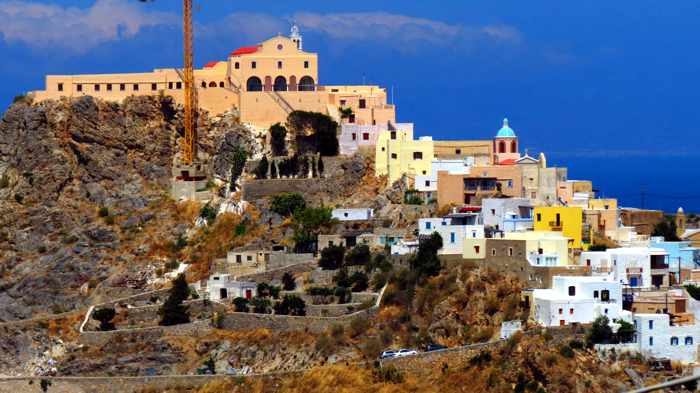 Saint George Church and Ano Syros viewed from the west. The giant crane had been erected to assist with extensive renovation work on the church, but has been removed since our last trip to the island.
The Church of the Assumption of Virgin Mary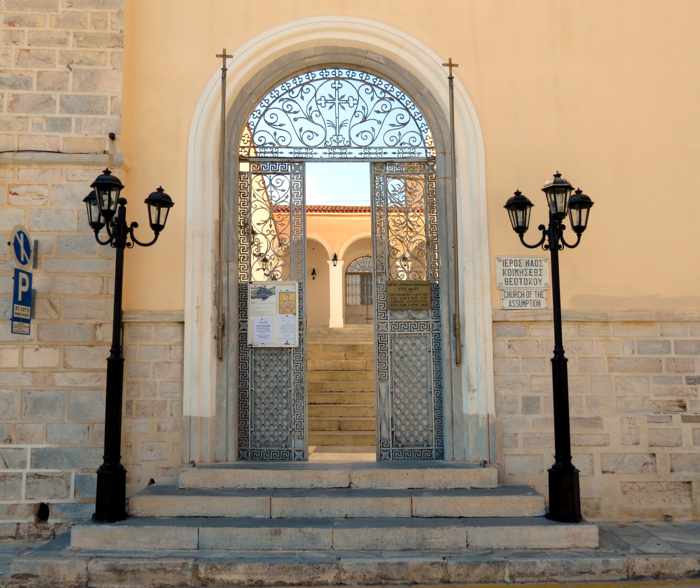 Street entrance to the Church of the Assumption of Virgin Mary.  The church is famous for an icon of the assumption, painted by artist El Greco in the 1500s.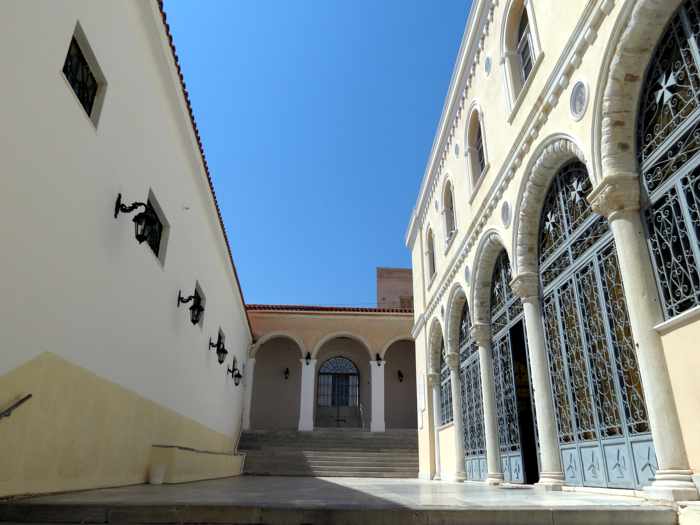 Internal courtyard and the main entrance (right to the Church of the Assumption. The church was built in 1828.
Restaurants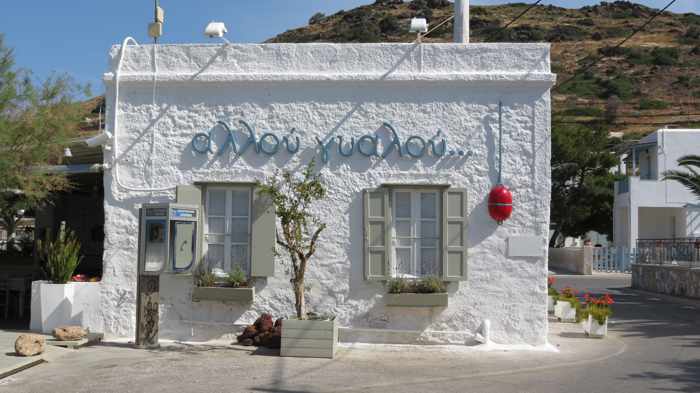 Eleni's favourite restaurant was Allou Yialou, situated at Kini Bay
Allou Yialou is positioned on the seaside between two sandy beaches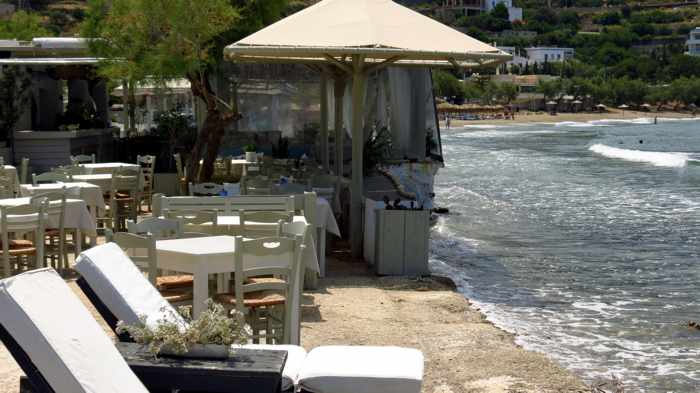 The restaurant has a sheltered veranda as well as a large open-air dining terrace with beach, sea and sunset views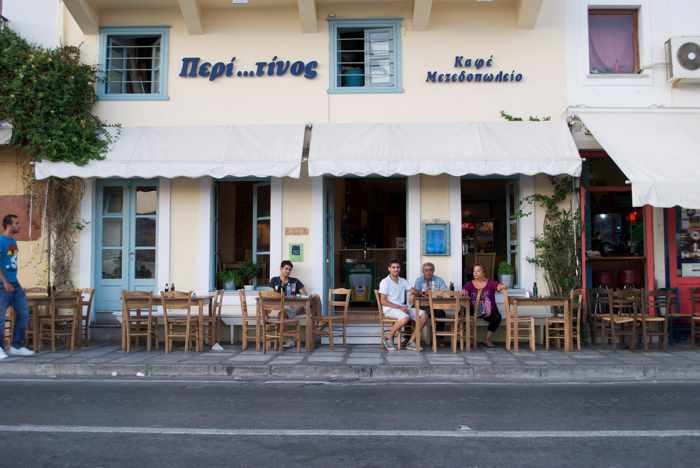 Eleni and her family also dined at Peri | Tinos restaurant in Ermoupolis, where we, too, had a wonderful meal on one of our Syros holidays.  This street view photo of the restaurant is from the Peri  | Tinos page on Facebook.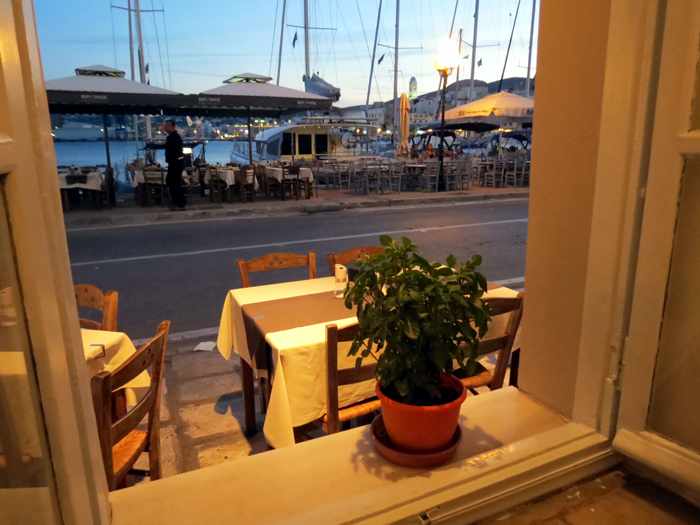 This photo, which we shot while dining inside the restaurant, shows some of the restaurant's tables on the sidewalk out front, as well as on a harbourside patio across the road.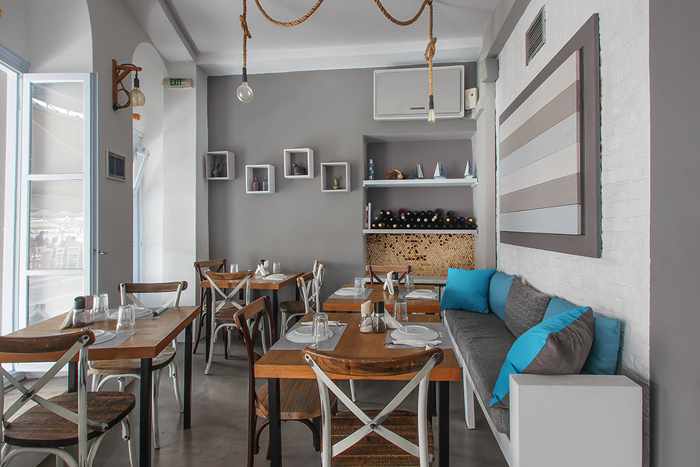 Part of the inside dining room at Peri | Tinos, seen in a photo from the restaurant's website