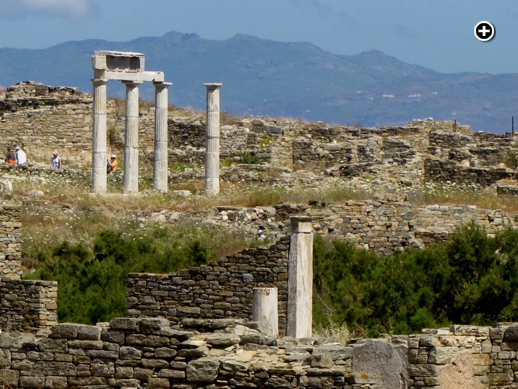 This summer's extended hours and Monday openings mean tourists will enjoy the best opportunity ever to visit the historic ruins on Delos island near Mykonos
 [Editor's Note: See my Visiting Delos in 2016 post for current information about ferry ticket prices and entrance fees for the Delos archaeological site.]
Delos every day: Tourists travelling to Mykonos this summer are in for a big treat — they'll be able to visit the ancient city and archaeological museum on nearby Delos island seven days a week, and even during the early evening for a change.
Delos is one of the most important archaeological locations in all of Greece, and is a UNESCO World Heritage Site.
It's easily reached on a short ferry ride from Mykonos, but restrictive opening hours have long made it difficult for many people to see Delos — especially thousands of cruise ship passengers who visit Mykonos for only part of a day during a short call into port. Indeed, the island is totally off-limits to the public at night, and for years has also been completely closed to tourists on Mondays (as has been the case with most museums and archaeological sites elsewhere in Greece).
But "never on Monday" isn't the case for Delos this summer, thanks to operating hour changes that the Greek government announced several weeks ago for the 2014 tourist season.
As I reported in my March 4 post, Delos is one of 33 major Greek museum and archaeological sites that will be open 12 hours a day, seven days a week, from April 1 until the end of October.
For years, the Delos ferries have departed Mykonos Town at 9, 10 and 11 a.m., making return trips at 12:15, 1.30 and 3 p.m. (In low season and winter, when there is substantially less demand, there is only one return ferry on Fridays and Sundays). When I learned that the government would be extending the visiting hours for Delos, and opening it to the public on Mondays, I contacted Delos Tours to find out what, if any, schedule changes might be forthcoming for excursions to the historic island. (Delos Tours is the joint venture company that operates the boats which are used to ferry passengers from the Mykonos Town harbour to Delos and back.)
New return trip in late afternoon/early evening 

Delos Tours owner Maria Chatziioannou told me that plans were in the works to add an extra afternoon ferry departure; however, she was still waiting for the Greek shipping ministry to officially approve additional ferry trips and couldn't confirm any schedule details for me at that time.
Just this afternoon, however, Maria was able to send me Delos Tours' new summer ferry schedule.
From Tuesday through Sunday, ferries will depart Mykonos as usual at 9, 10 and 11 a.m. and return as usual at 12:15, 1:30, and 3 p.m. The big change is that a late afternoon/early evening return trip has been added to the roster — a ferry will depart Mykonos at 5 p.m. and return from Delos at 8 p.m. That's excellent news for people whose cruise ships or ferries don't arrive at Mykonos in time for them to catch the morning departures (and good news, as well, for anyone already on Mykonos who might happen to sleep in after a late night enjoying the island's infamous restaurant, nightclub and party scene).
However, on Mondays there will be only two ferry trips, with boats departing from Mykonos Town at 10 a.m. and 5 p.m., and returning from Delos at 1.30 and 8 p.m.
Small increase in ferry ticket prices on May 1
As of May 1, prices for return ferry tickets will increase slightly from the current fares, which have not changed in several years.  An adult ticket will cost €18 (up from €17), while the price for children aged 6 to 12 will be €9 (a nominal increase from €8.50 at present). Kids under 6 can travel for free.
Guided tours also are available at a cost of €40 for adults and €20 for kids aged 6 to 12 (no charge for younger children). Guided tours are offered every day, but only on the 10 a.m. ferry departure. Full pricing and schedule information — as well as online advance ticket booking — is available on the Delos Tours website: www.delostours.gr.
For more information about Delos, click on the links below to see some of my previous posts:
♦ Visiting Delos, the sacred cradle of the gods
♦ Visiting Delos: So much to see, indoors & out
♦ Visiting Delos: How to get there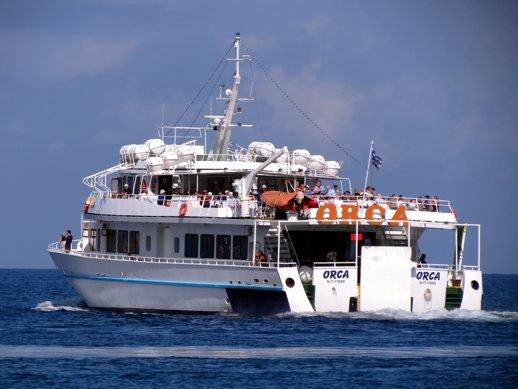 A view of the Orca, one of the Delos ferry boats, as it departs the Old Port at Mykonos Town en route to Delos island