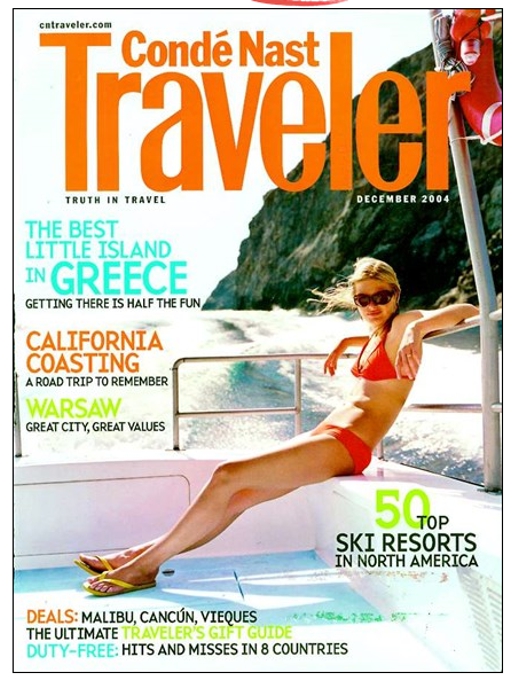 The December 2004 edition of Condé Nast Traveler magazine featured a profile of Folegandros with this cover photo and headline calling it "The best little island in Greece…getting there is half the fun."
Hidden gem?: I always have a good chuckle when I read a travel article describing a "secret," "hidden" or "undiscovered" Greek island that few people are supposed to know about. Usually the island is fairly well-known, both to Greeks and to seasoned island hoppers or anyone who has been to Greece even just once.
Nearly 10 years ago, in its December 2004 edition, Condé Nast Traveler magazine published an intriguing feature story about Folegandros. Written by Adam Sachs, it was entitled Greece's best-kept secret (until now). We had taken our first-ever trip to Greece just six months earlier, and I bought the magazine because I was eagerly researching destinations to visit during a return trip to Greece in 2005. I had heard and read about Folegandros (in fact, it was already on my "must see someday" list), but at that point in time couldn't resist buying any magazine that contained photos or information about Greece. The fascinating account of Adam Sachs' visit to Folegandros made me yearn to see the island even more.
I clipped the Condé Nast article to save in my travel reference files, and re-read it before we went to Folegandros in September 2007. I have perused the article several times since, and have given the link to the online version of it to a number of people during the past six years.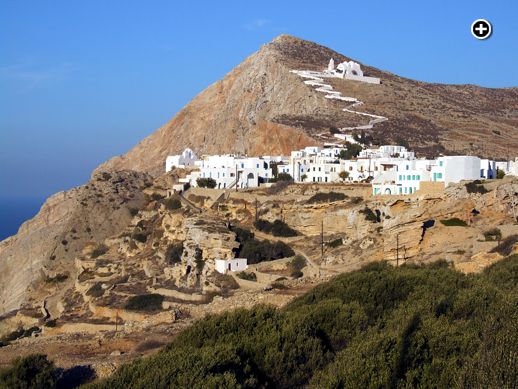 The stunning Panaghia (Church of Our Lady) clings to the steep mountainside high above Chora village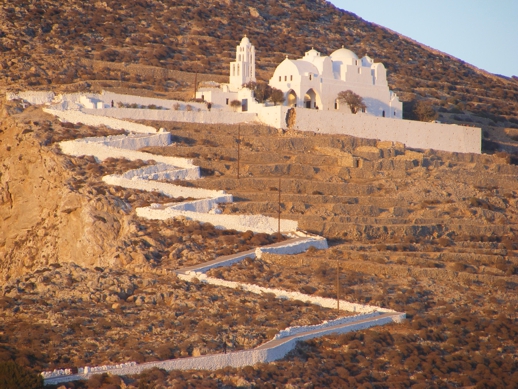 A view of the Panaghia (Church of Our Lady) at sunset. The remarkable white church is one of many mesmerizing sights on Folegandros.
Folegandros photos popular online
I also gave many people the links to my Folegandros pictures on the Webshots.com photo-sharing website where my Greece travel photos had been viewed by more than 2.5 million people before public access to the site was discontinued at the end of 2012. Four separate albums of Folegandros images were among my Top 20 most-viewed albums, and each was seen by more than 20,000 people.
Meanwhile, between 2007 and 2011, I talked about Folegandros in more than three dozen posts on the TripAdvisor.com travel forums, where plenty of people appeared to be familiar with the island. In the three years since then, even more travellers have been talking about Folegandros on TripAdvisor, and one regular Folegandros visitor recently rued the surge in tourist traffic to his favourite island in recent years (he complained that the increase in visitors had led some restaurants to hike their dinner prices, while his beloved nude beach has begun to get too crowded).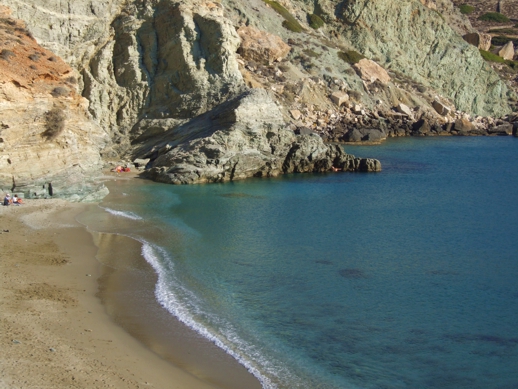 Cliffs soar above Angali, one of the most popular beaches on Folegandros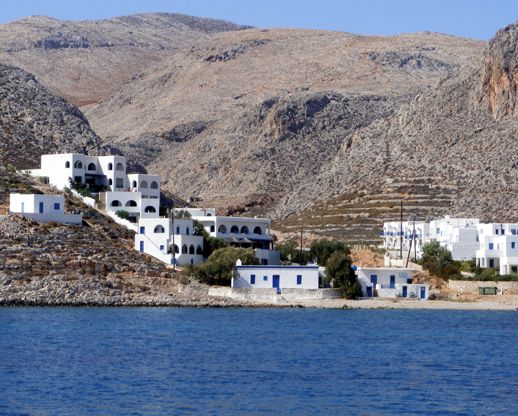 Whitewashed buildings cling to a hillside at Karavostassis, the port village of Folegandros
Folegandros included on Fodor Travel list
So I was more than a little amused earlier this week when I logged into the MyGreeceTravelBlog Facebook page to catch up on news, and found numerous posts on other Facebook pages reporting that Folegandros has been ranked among the Top 15 "undiscovered destinations" in Europe. Each post provided a link to the Huffington Post website, where Folegandros was indeed ranked #12 on a list of 15 Undiscovered European Destinations.
 Huffington Post published the list on April 7, but that was just a reprint of a photo feature with the same title that originally had been published March 11 on Fodor's Travel.
According to the Fodor ranking, Folegandros "proposes a welcomed escape from the hustle and bustle of more popular Greek islands. Perched on a towering seaside cliff, the island doesn't offer much in the way of attractions—but makes up for it with local charm. Visitors can explore untouched beaches, sample traditional food, and spend quiet evenings contemplating the breathtaking, sun-touched cliffs."
Most of that description is spot-on correct, but it's actually just the main village, Chora, that is perched atop a seaside cliff — not the entire island! Grammatical errors aside, Folegandros does boast a spectacular coastline of precipitous and breathtaking sheer cliffs, as well as numerous small beaches that are popular with the thousands of people who visit the island each summer. It also has a pronounced local charm, a generous selection of excellent restaurants, and quiet evenings. But Folegandros is far from "undiscovered."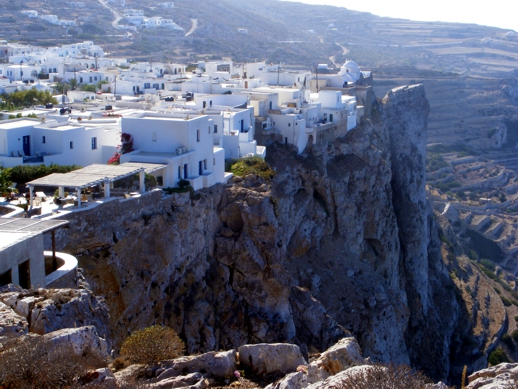 Residents of the historic Kastro section of Chora live literally on the edge — their homes are built atop a sheer cliff that plunges hundreds of feet to the sea
Another view of buildings in the Kastro section of Chora (upper left) and the rugged landscape and coastline on the north side of Folegandros
Tourism surged after the magazine profile
When we finally got to the island in September 2007, staff we spoke to at our hotel and at some of the restaurants in Chora told us that tourism had been booming ever since Folegandros made the cover of Condé Nast Traveler. (Just what you'd expect for any place profiled in a travel magazine read by more than a million North Americans each month.)
One fellow told us that, during August, just one month before our visit, dozens of people with no hotel reservations stepped off a ferry, expecting it would be easy to find rooms — but every bed was sold out.  Locals scrambled to collect blankets and pillows and create makeshift sleeping quarters so the extra travellers would have a place to bed down for the night. Meanwhile, a mini construction boom was underway, with new hotels and private accommodations being built to cash in on the steadily growing traffic. A concrete frame for a new building was under construction right next to Fata Morgana Studios, where we were staying. And ferry companies had begun serving Folegandros with highspeed passenger catamarans to get more travellers to the island faster than the "milk run" car and truck ferries that stopped at multiple islands en route and took all day to get there.
So it clearly was Condé Nast, and not Fodor's, that "discovered" Folegandros — and that was a full decade ago. But enough nitpicking about media hype. Ten years from now, some other publication or website will probably post a gushingly positive profile proclaiming that Folegandros is a "hidden gem" still waiting to be discovered.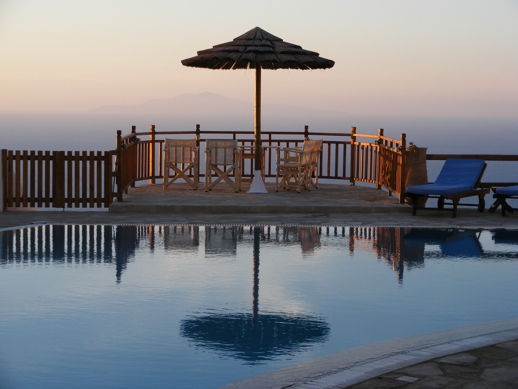 The Fata Morgana Studios swimming pool at sunset. The property has a view of several nearby islands, including Sifnos, which is faintly visible in the distance behind the umbrella.
Add this captivating island to your must-see list
If you haven't been to Folegandros yet, consider giving it a visit. The island truly is as wonderful and captivating as the travel journalists claim. And chances are high that you, like us, will instantly fall in love with the place.
We have long been keen to pay Folegandros a return visit, but just haven't been able to work it into any of our island hopping itineraries because of awkward ferry schedules and connections. Which is a good thing, because as long Folegandros remains off the main beaten path, it should retain its unique charm and character. And that's what we want to experience again when we finally do make it back.
Below are links to two of my Folegandros photo album collections on the MyGreeceTravelBlog Flickr page. The main Folegandros album contains nearly 260 pictures of the island, while the second set features more than 70 photos of Fata Morgana Studios.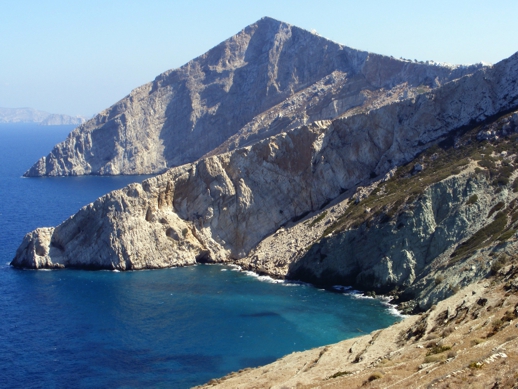 Rugged sheer cliffs on the coastline below Hora village provide some of the jaw-dropping natural scenery that delights visitors to Folegandros. Click here to view more than 250 more photos of the island in my Folegandros album on Flickr.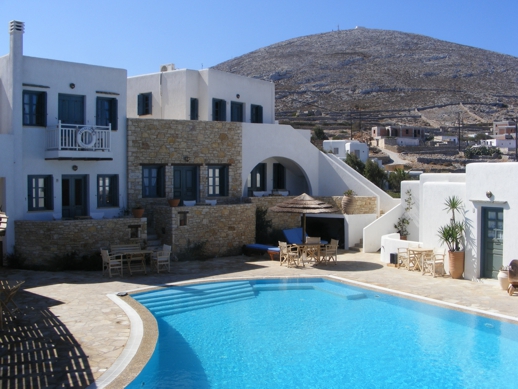 A view of the swimming pool and part of the rental apartment complex at Fata Morgana Studios, where we stayed during our trip to Folegandros. Click here to view my Flickr album with dozens more photos of the hotel.