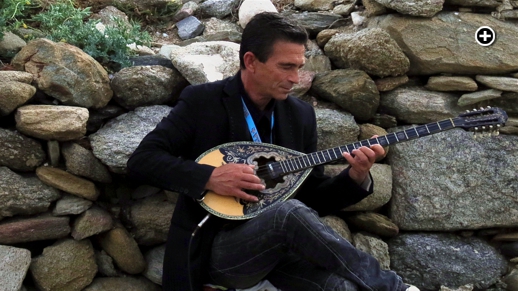 Andreas Tsironis entertains tourists with bouzouki music
My partner and I had been strolling along the Mykonos seafront when we found ourselves surrounded by other tourists as well as groups of passengers from two Louis Cruises ships that were in port that day — the Louis Olympia and the Orient Queen.
A few of the cruisers asked us if they were heading in the right direction to see the Paraportiani Church, and some wanted to know if they might see any pelicans along the way, too.  I told them they were just a one-minute walk from the church, and said there was a good chance they would see one of the Mykonos pelican mascots — one had been wandering around the area when we walked past a short while earlier.
The cruisers followed us around a corner and were delighted when they saw a man playing the bouzouki only a few meters away from the Paraportiani Church. They were thrilled even more when they noticed a pelican preening itself atop the stone wall directly behind the minstrel.
As you could imagine, camera shutters clicked like crazy as the throngs of tourists snapped scores of photos of the bird, bouzouki player, and church, as well as the rustic Mykonos Folklore Museum building nearby.
Below are several more photos of the musician. You can view dozens more photos of the church and pelicans in the Paraportiani Church and Pelican Brief 2012 albums on the mygreecetravelblog Flickr page.
Andreas Tsironis plays bouzouki near the one of the most popular landmarks of Mykonos Town, the historic Paraportiani Church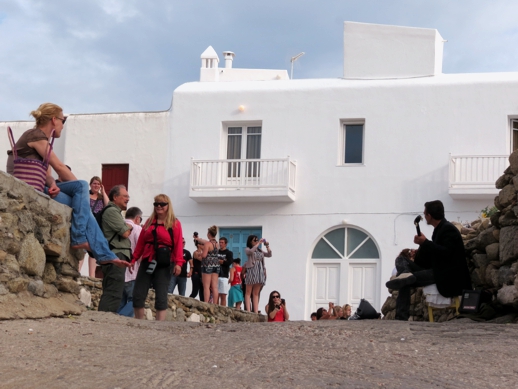 The woman sitting on the wall at left became part of the live entertainment when she started singing along, in Greek, to the bouzouki music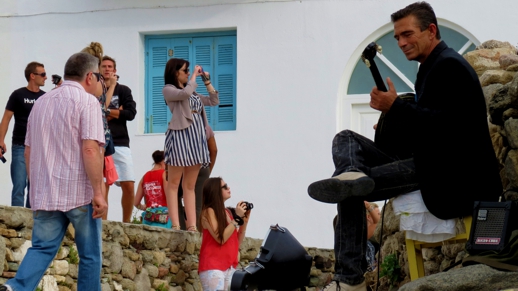 The busker strums his bouzouki while tourists snap photos of the church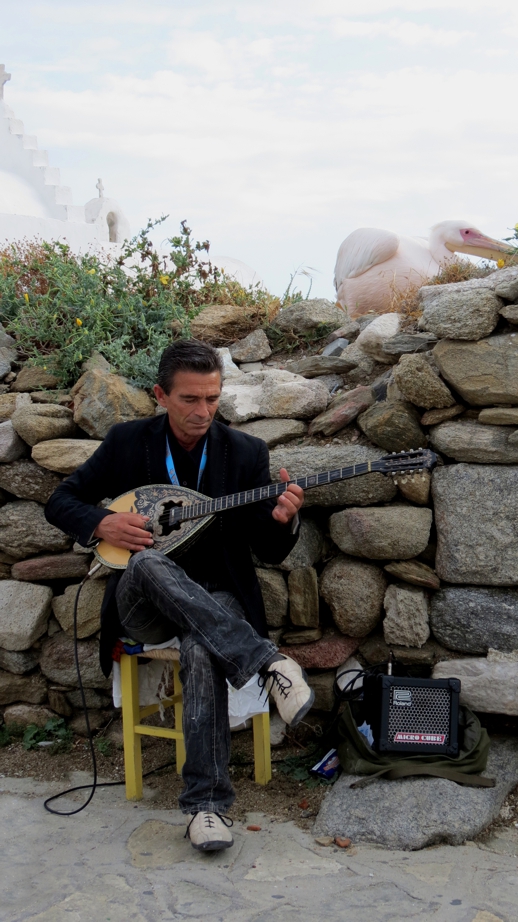 We watched and listened for awhile before moving on. As we turned the corner onto a nearby street, the minstrel began playing the theme from Zorba the Greek.