In fact, I had completely forgotten about Irene's until the day we walked from Chora to Ano Meria and started feeling hungry and thirsty after an hour-long walk in the blazing September sun. The staff at Fata Morgana Studios, our accommodations in Chora, had told us there was only one restaurant in Ano Meria, but we couldn't see a taverna sign anywhere and wondered where it was. We kept walking and turned a corner to see a small white building on our right. There were several pale blue chairs plus two tables with blue and white checked table cloths on the narrow front porch, so we figured it had to be the restaurant. Dan poked his head through the colourful beaded door curtain to make sure it wasn't somebody's private home, then turned around and said, "This is that convenience store you read about."
We ordered the 'macaroni' and meat balls
We walked in to find we had the whole place almost to ourselves. There were no other customers and only Irene was there, working behind the counter. She asked if we wanted something to eat, and said she could make us some salads or cook up some "macaroni with meatballs." Since we had read that Irene's pasta was terrific, we told her we'd like the macaroni. Irene headed into the small kitchen area behind her cash register and started cooking. We took at seat at one of the 10 tables inside the store and rehydrated ourselves with a big bottle of water while we waited for our meal.
Less than 15 minutes later Irene brought us our heaping plates of "macaroni" (actually her home-made eggless matsata noodles) topped with a pair of tennis ball-sized meatballs. The pasta was delicious, and the meatballs were superb. The meal was filling, but somehow we found room for ice cream.
Irene's pasta is famous in Italy
We were just finishing dessert when a good-looking, 30-something Italian couple on a scooter pulled up outside and peeked through the door curtain. The fellow looked at us and asked: "Is this where the lady makes matsata?" When we said yes, he and his girlfriend came in, took a table near ours, and told Irene they'd like the pasta lunch. We struck up a conversation and they told us that Irene's eggless pasta "is famous in Italy"; in fact, they said, Italians will travel to Folegandros specifically to dine at her little restaurant. Which is exactly why they were visiting the island and had driven their scooter to Ano Meria.
They wondered if Irene's was famous in Canada, too, but I admitted that we didn't know about Irene's until I read a travel magazine article. "I don't think there are many people in Canada who have even heard of Folegandros," I said. The Italians thought that was funny. "Almost everybody in Italy knows about Folegandros and Irene," they said.
I would have liked to keep Irene's as a secret from my fellow Canadian travellers, but when we got back home I couldn't stop telling people all about the amazing lunch we'd been served in a little convenience store in the middle of nowhere on a hard-to-reach Greek island.
We haven't been back to Folegandros since, but I've been happy to read on TripAdvisor.com that Irene's is still highly-recommended. Here's hoping we get back soon to taste more of Irene's matsata — at dinnertime, when it's served with rooster.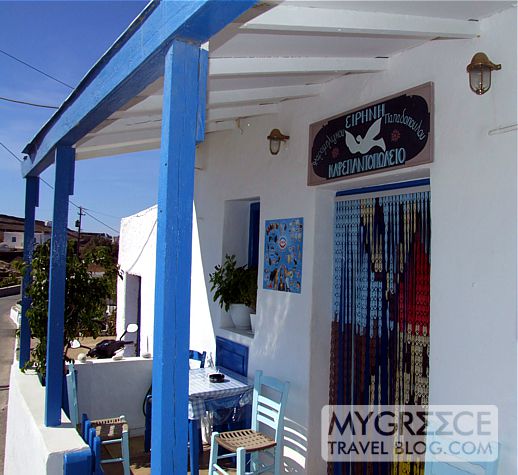 Approaching Irene's along the main road from Chora to Ano Meria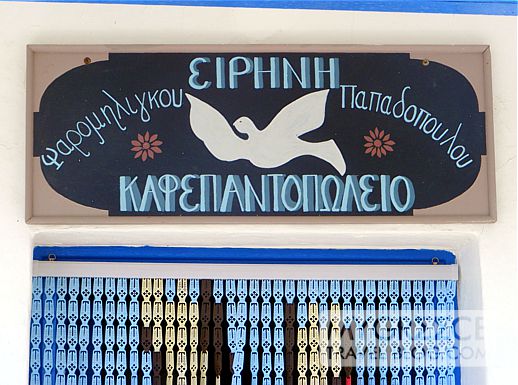 I couldn't read Greek back in 2007 (I know the alphabet now), so I didn't realize that this sign above the door reads "Irene's Kafepantopoleio"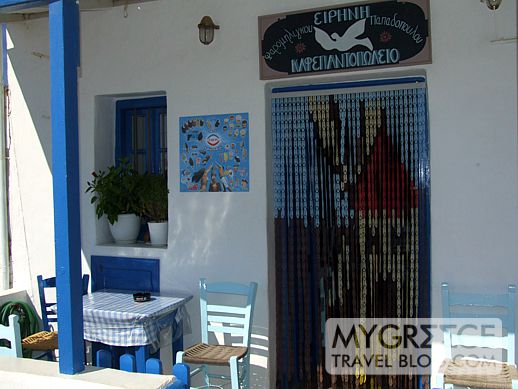 We didn't sit at one of the tables on the front porch because they were in direct sunlight, and we needed a break from the bright sun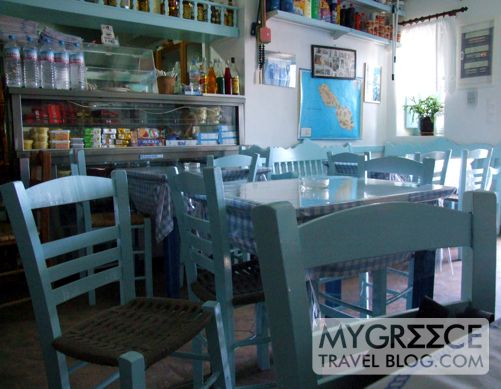 Some of the tables inside Irene's grocery store & cafe on Folegandros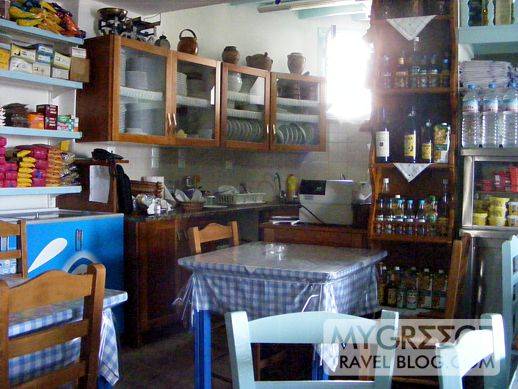 The kitchen occupies a corner inside Irene's convenience store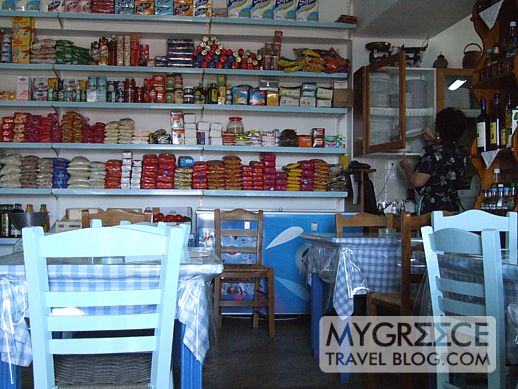 Irene gets some plates from the cupboard as she prepares our pasta and meatball lunch