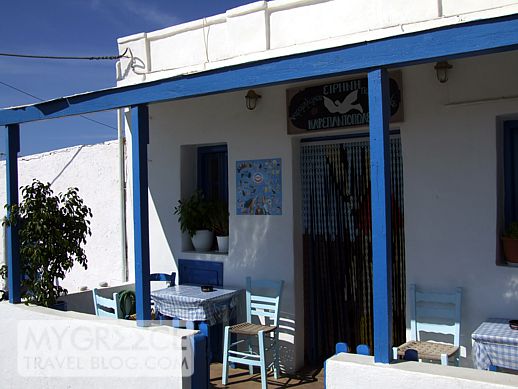 The unassuming exterior of Irene's kafepantopoleio (café and grocery store) on the road that winds through Ano Meria village on charming Folegandros island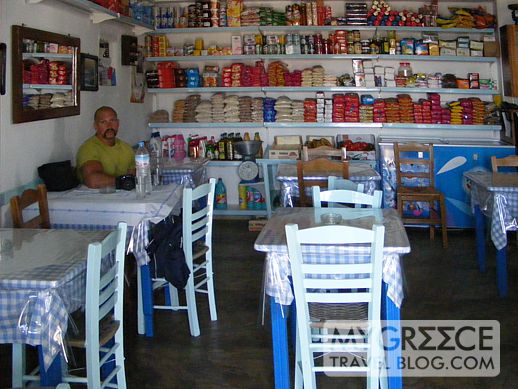 The small inside space doubles as a convenience store and restaurant
Famous food: You probably wouldn't expect a convenience store to dish up some of the most delicious home-made pasta you've ever tasted, but then you probably haven't been to Irene's kafepantopoleio on Folegrandros, either.
I had never heard of Irene's grocery-café until I read Greece's Best-Kept Secret (Until Now), the cover story on Folegandros in the December 2004 edition of Condé Nast Traveler magazine. Writer Adam Sachs described celebrating his second wedding anniversary at Irene's with a dinner meal of matsata — a local pasta traditionally served with rooster. "Irene made the matsata in our presence," he wrote, "and as hoped for, it was a rich, gooey pleasure. It was cut into ribbons, and the texture was somewhere between a noodle and a dumpling. The rooster broth was poured over the matsata, the legs and breasts served on another plate." The filling meal was followed by a dessert of "homemade goat's-milk rice pudding with flecks of orange zest."
I clipped the article and filed it away, not expecting that we would wind up visiting Folegandros three years later.
CONTINUED ON PAGE 2