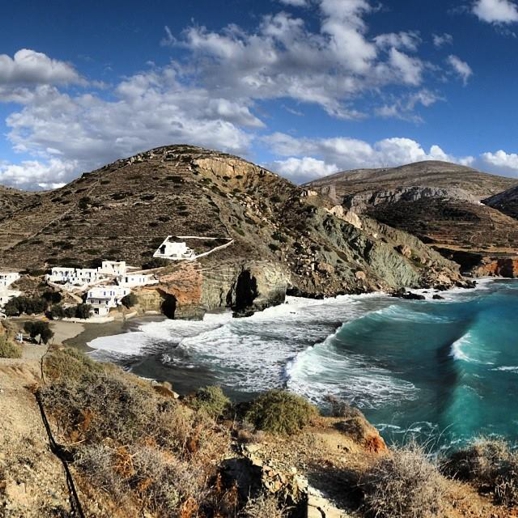 This marvellous photo of massive waves crashing ashore at Angali beach on Folegandros was posted online recently by Instagram member Io2109 …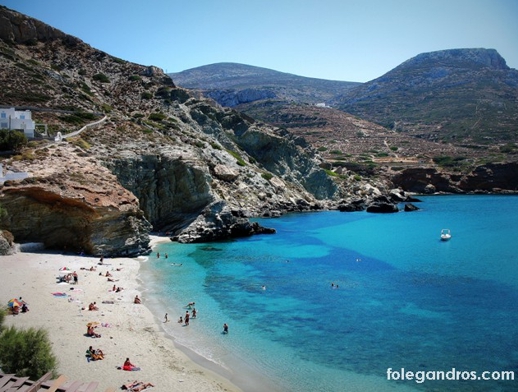 … while this image, which is from a photo gallery on the Folegandros.com travel website, shows the scenic beach and bay in weather conditions far more suitable for enjoyable swimming and sunbathing
Beautiful bay: Every time I see photos of Folegandros, I feel an urge to curse and kick.
I want to curse the wind because that's what caused the cancellation of ferry service during two days of our Greek holiday in 2007, and kept us from spending as much time on Folegandros as we had planned. 
And I feel like kicking myself for not making a better effort to get back to Folegandros for a repeat visit in the years that have passed since our far-too-brief introduction to this charming island in the West Cyclades.
Folegandros is an ideal destination for hikers, and we did a lot of walking during our whirlwind two-day visit that September (we were supposed to have had 3.5 days there, but Mother Nature made certain we saw more of Sifnos instead. No offence to Sifnos, but we really regret getting shortchanged on Folegandros).
One of our walks took us from Chora to Ano Meria village, where we had an unforgettable lunch at Irini's grocery store & café (which I profiled in a June 23 2012 post), and then walked to Angali beach, where we stopped at a hillside taverna to rest with a cold drink while taking in the terrific views of the picturesque bay.
Sunshine, clear skies and a light breeze
It was a gorgeous sunny day with clear skies, a faint breeze and warm temperatures. There were only about two dozen people at the beach that afternoon, and most were either playing paddleball or sunbathing on the sand. The sea was cool but fairly calm, and a few people were taking quick dips and swimming.
I have vivid memories of how peaceful Angali Bay looked on that particular day, so I almost didn't recognize it in a photo I discovered while surfing the web today. The picture that caught my attention is the one at the top of this post — a dramatic image of huge, wide waves breaking ashore as greyish-white clouds sweep across the blue sky above. The striking scene was captured by Instagram member Io2109, and I loved her photo so much I couldn't help but share it. (Check her Instagram page for additional fabulous photos of Folegandros as well as other places in Greece.)
Below are more images of Angali beach and bay. The first picture is from the Travel to Folegandros travel website, while the rest are shots we took back in September 2007. Sometime (soon, I hope) we'll get back to Folegandros to see parts of the island we missed first time around.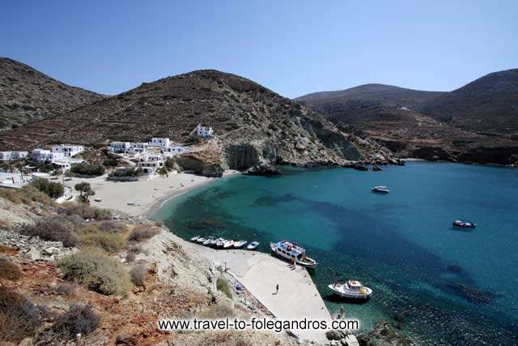 This image, from a photo gallery on the Travel to Folegandros website, shows the boat dock, beach and bay at Angali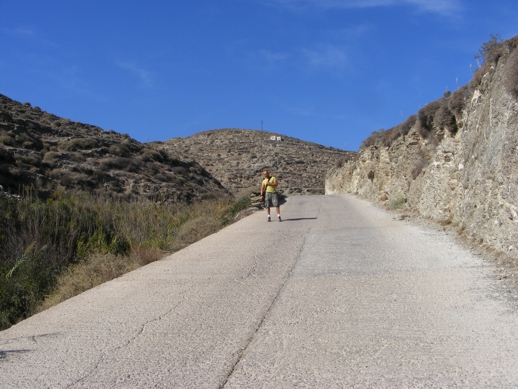 Partway down the steep road that leads to Angali beach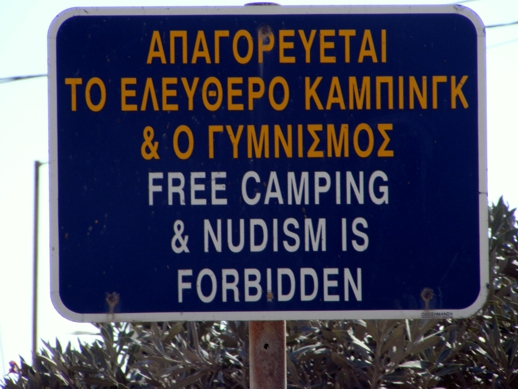 Nudist campers definitely aren't welcome here!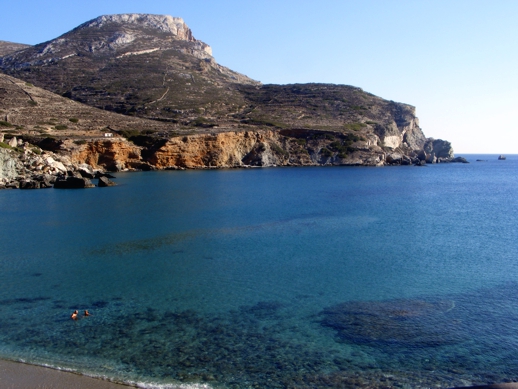 Two visitors (bottom left) take a swim in the bay's turquoise water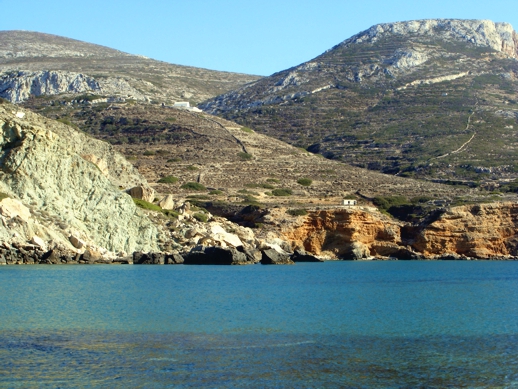 Rolling mountain terrain and cliffs along Angali Bay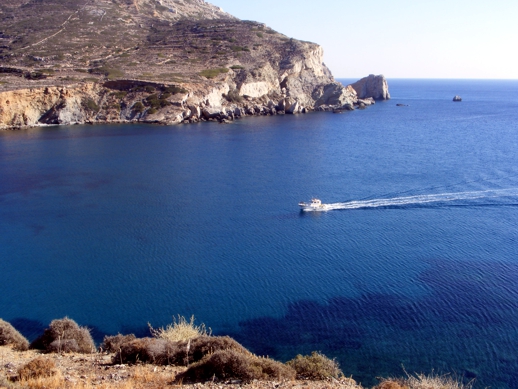 A fishing boat enters Angali Bay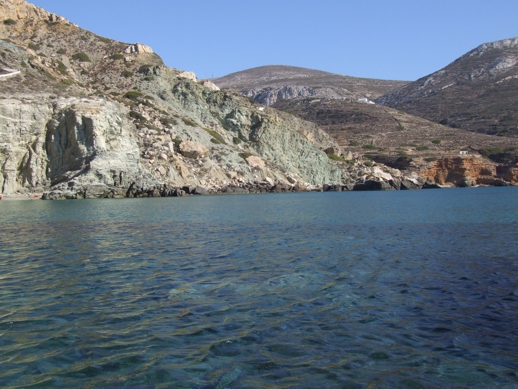 View from the fishing boat quay near Angali beach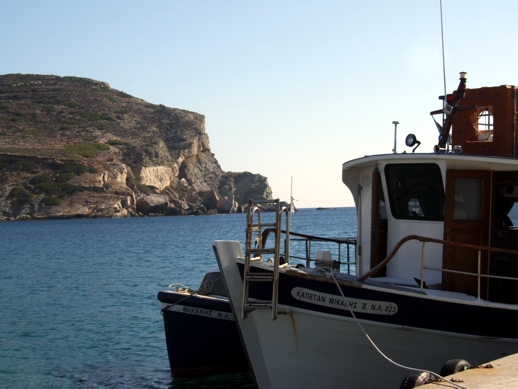 Boats docked at the small quay near the beach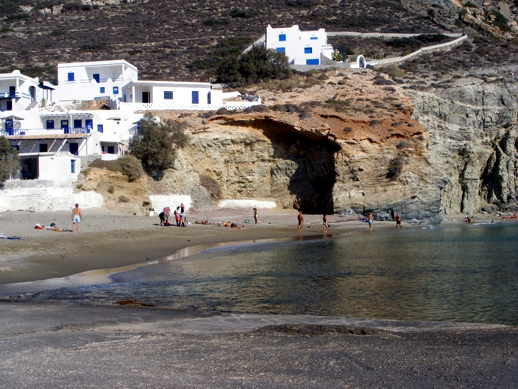 Whitewashed buildings with blue shutters on the hill above Angali beach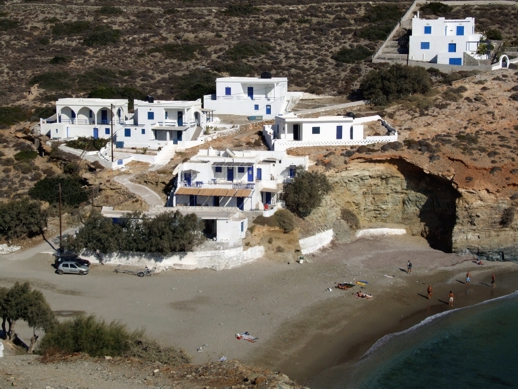 There are a few tavernas and several rental accommodations at the beach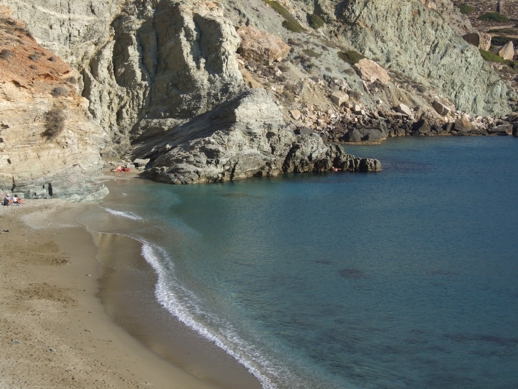 Cliffs rise above the eastern end of the beach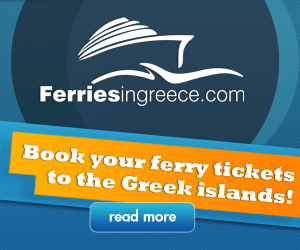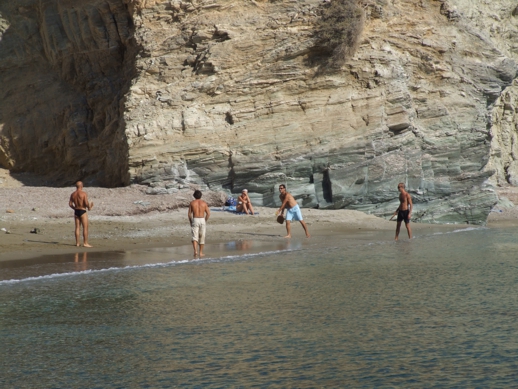 Paddleball game in progress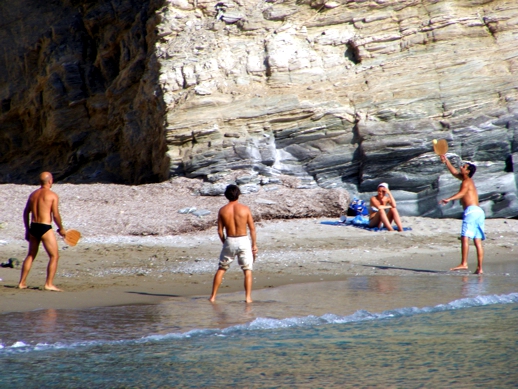 Paddleball players on the beach
Sunbathers on the rocky shoreline to the east of the sandy beach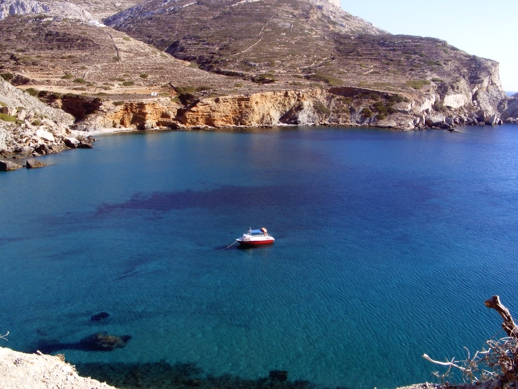 A boat sits at anchor in the middle of Angali Bay