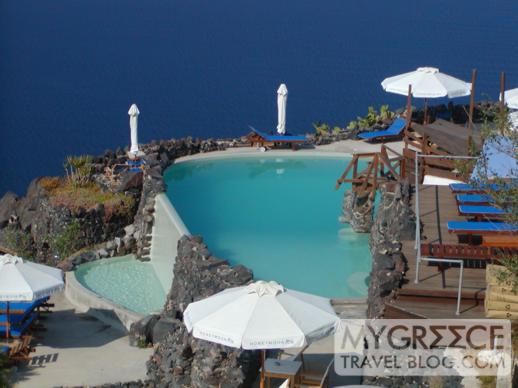 The gorgeous swimming pool at the Honeymoon Petra Villas in Imerovigli is positioned on the Santorini caldera cliffside hundreds of feet above the Aegean Sea …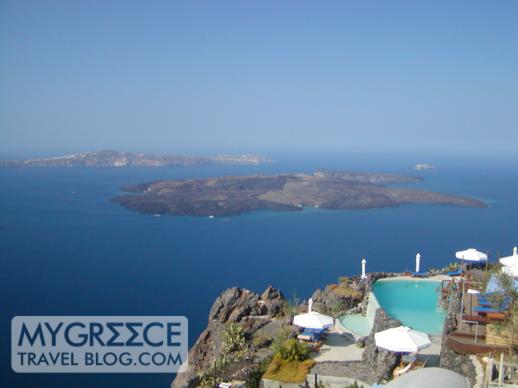 … with spectacular views of Nea Kameni, the volcano island
Deep freeze: There are two great ways to beat the extreme summer heat in the Greek Islands: go for a swim in the sea, or take a plunge in a really cool hotel pool. But depending on the time of season you travel, there's a good chance the pool could be cooler, if not downright frigid. There's also a chance the water in both the sea and the pools could be too cold for swimming altogether. At least, that's been our experience.
We typically travel to Greece in May, and have always encountered hot weather — including brief but brutal heat waves on Naxos and Santorini that sent afternoon temperatures soaring to nearly 40 Celsius. But regardless of how hot the air temperature got, the Aegean Sea has always been too cold for us to swim. In fact, there have been times I couldn't even wade in the water during visits to Mykonos, Naxos, Paros and Santorini because it felt like my feet started to freeze only seconds after stepping in. Even just dipping my toes in the water at Super Paradise beach on Mykonos one May was too painful because the water was so bitterly cold.
Surprisingly, our hotel swimming pools haven't been much warmer. And sometimes they've actually been colder! I could count on one hand the number of times we were able to spend more than five minutes in a pool, and on just one finger the number where we lasted longer than 10 minutes.
Even when we travelled to the islands during the second half of September one year, we got to swim only twice — once in the sea (which was blissfully warm) and once in a pool (which was shockingly cold) — even though Greece had experienced blistering heat waves throughout the summer.
Are we disappointed that we haven't been able to do more swimming in Greece? Maybe just a bit. We've had good times at plenty of island beaches, and we've enjoyed spectacular views from most of our hotel swimming pool terraces. Cooling off with an ice cold bottle of Mythos instead of a swim hasn't been so bad!
I'll tell you more about our pool and sea swimming experiences in upcoming "Chill Out!" posts. For today, however, here are pics of some of the cool swimming pools we've seen during our visits to Santorini.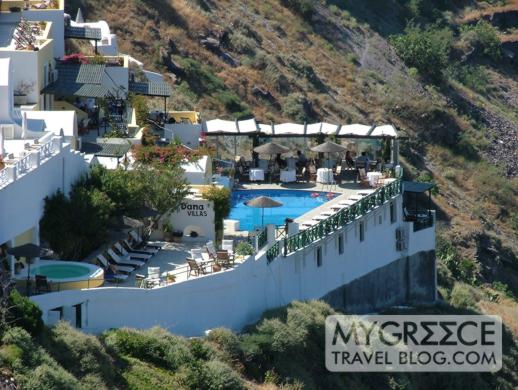 The cliffside swimming pool and whirlpool at Dana Villas in Firostefani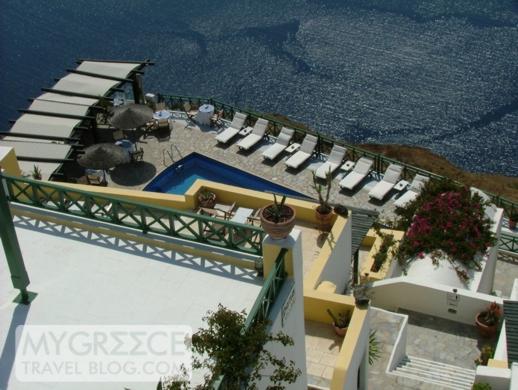 Another view of the Dana Villas swimming pool and terrace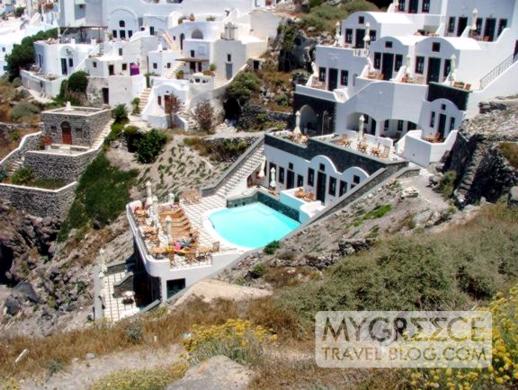 The cliffside swimming pool at Pegasus Suites hotel in Imerovigli …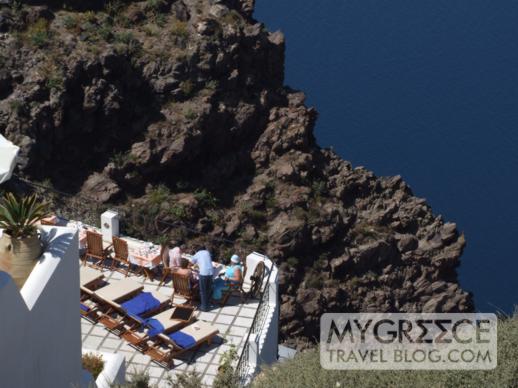 … has a terrace that juts over the island's rugged volcanic cliffs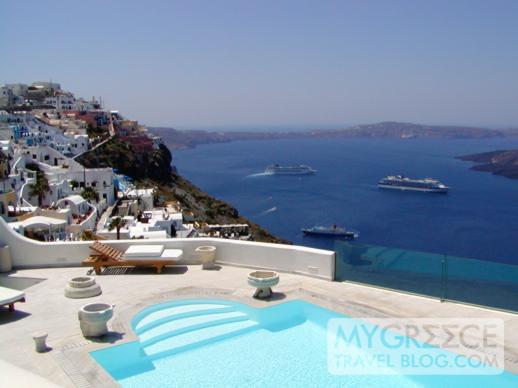 Swimmers can watch ferry and cruise ships come and go from this sea view swimming pool atop the caldera in Firostefani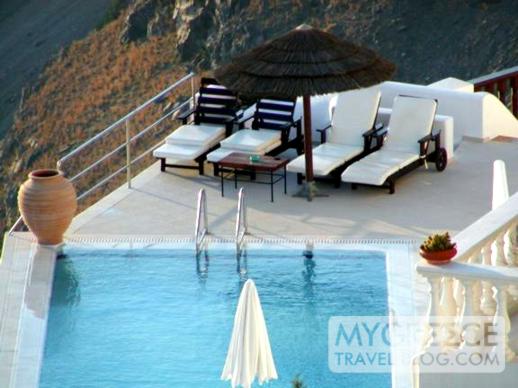 Another clifftop hotel swimming pool in Firostefani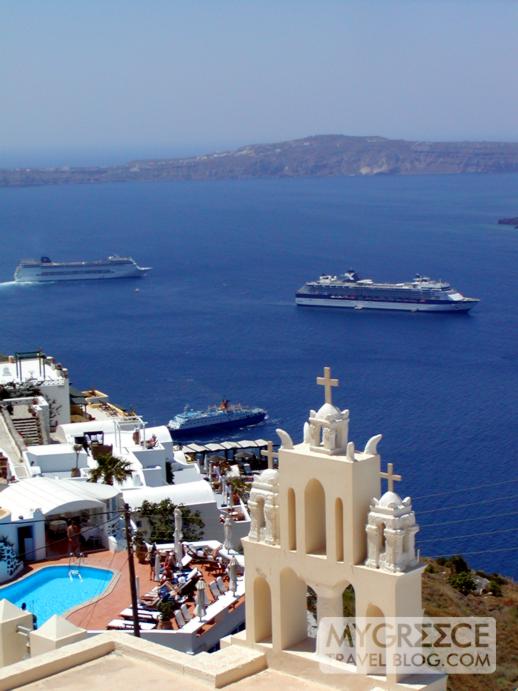 Yet another Firostefani pool terrace with views of cruise ships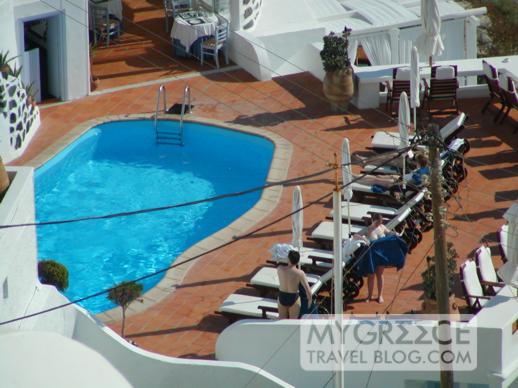 A closer look at the Firostefani pool pictured above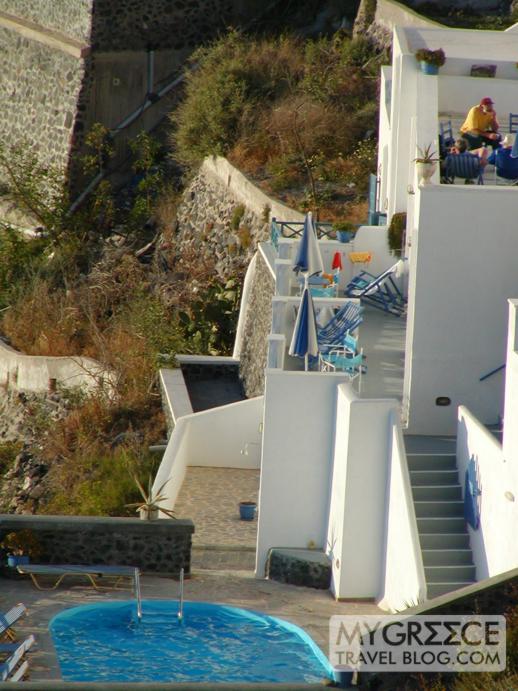 A small caldera-view swimming pool on the cliffside in Fira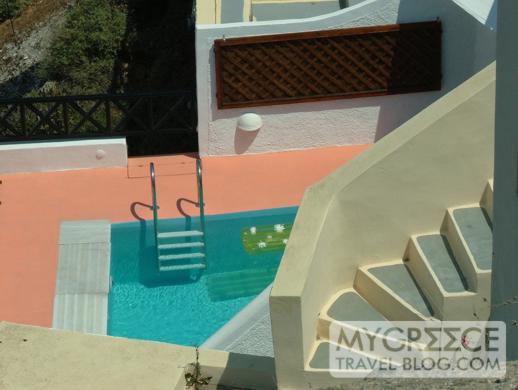 An air mattress floats in a cliffside swimming pool in Imerovigli …

… while lounge chairs on the adjacent terrace overlook Skaros Rock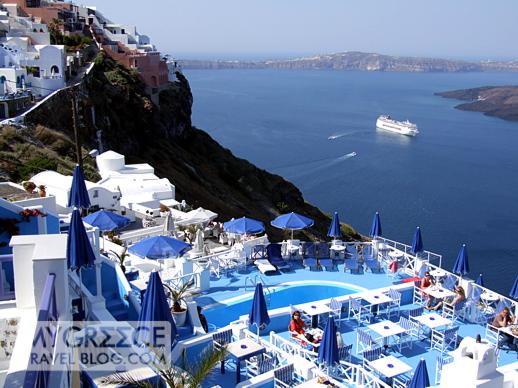 The caldera-view swimming pool at the Kafieris Apartments in Firostefani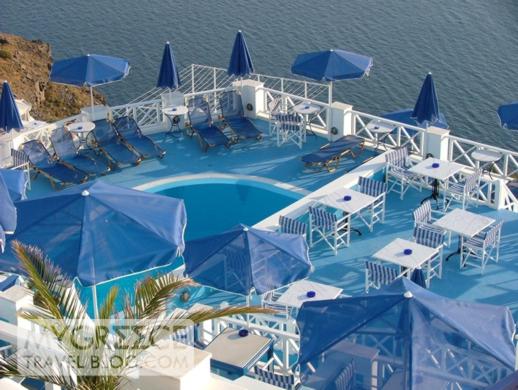 Another view of the pool at the Kafieris Apartments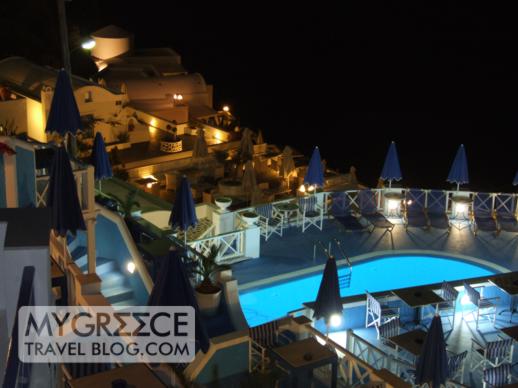 The Kafieris Apartments swimming pool at night
I've always loved the look of this pool and terrace at what appears to be a private villa on the cliffside in Firostefani …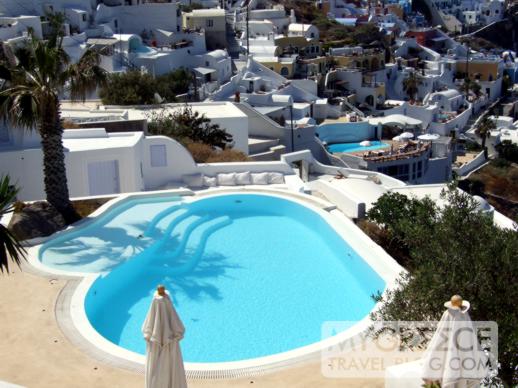 … from above, the pool's shape reminds me of an apple …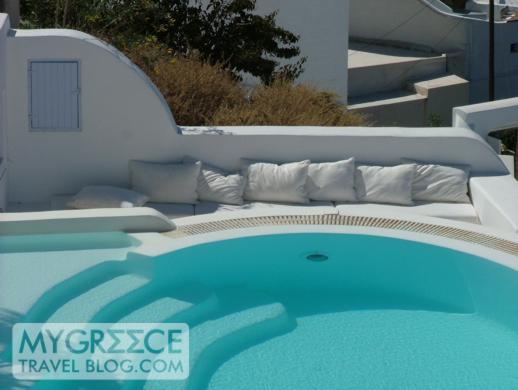 … there's comfy cushions for lounging in the sun beside the pool …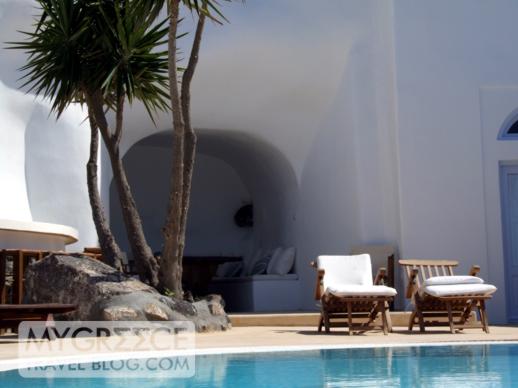 … as well as lounge chairs and a shady nook nearby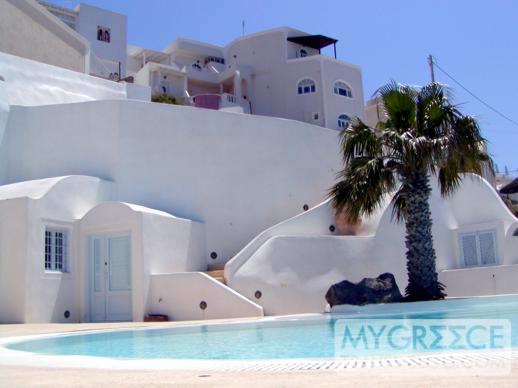 The big palm tree next to the pool draws some attention away from the villa's unique Cycladic architecture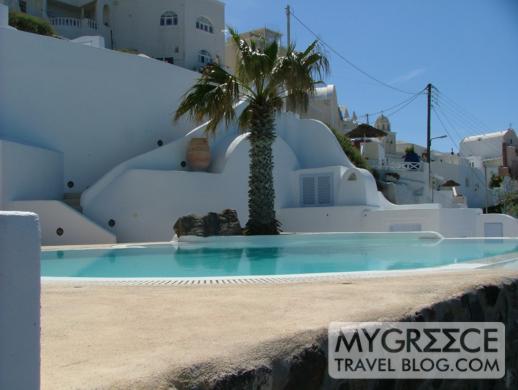 Here's another view of the palm tree and the pool …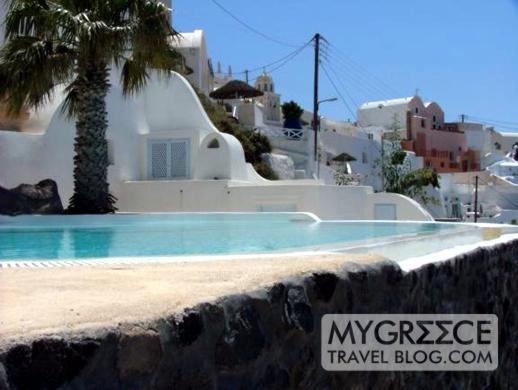 … which has an infinity edge offering great views of the sea far below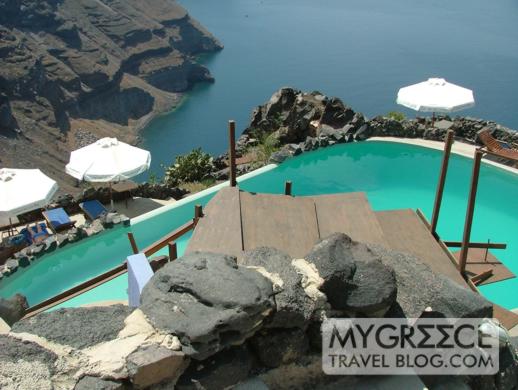 The uniquely shaped and situated pool at the Honeymoon Petra Villas in Imerovigli offers some of the most stunning views in all of Santorini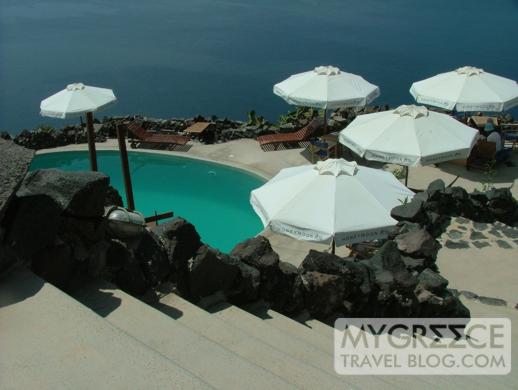 The swimming pool and terrace offer incredible views in several directions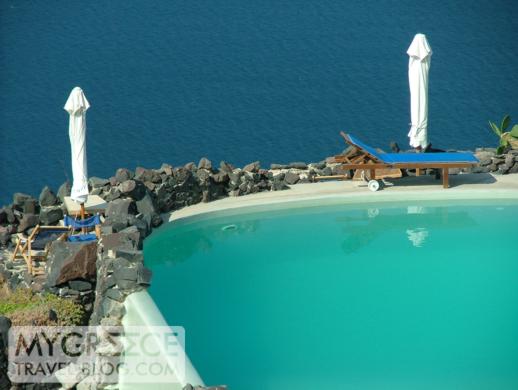 The pool is built into the cliffside hundreds of feet above the sea …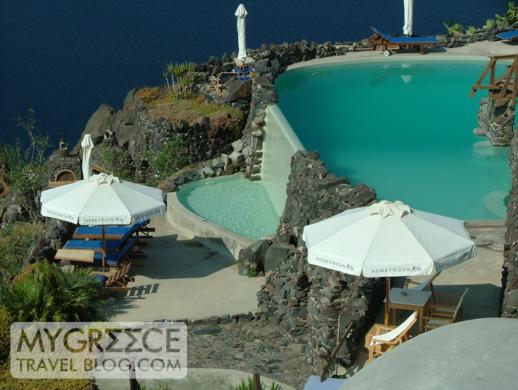 … and has a shallow wading pool on the hotel level below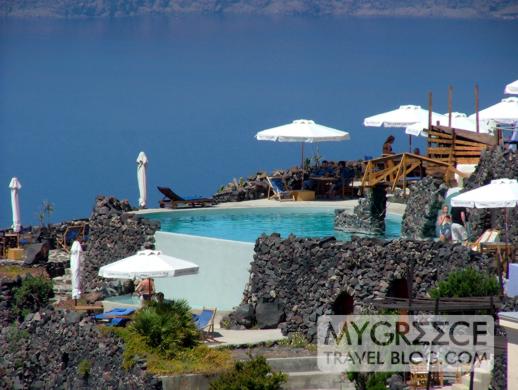 A side view of the Honeymoon Petra Villas pool …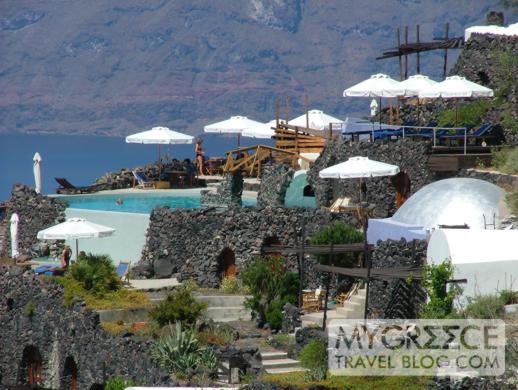 … and some of the apartments built of volcanic rock from the island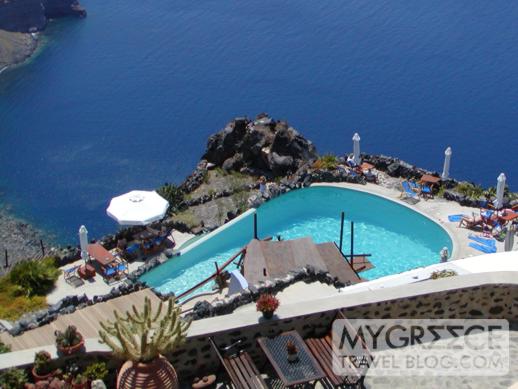 One final view of the Honeymoon Petra Villas swimming pool, this time from the clifftop footpath that leads to Oia in one direction, and to Fira in the other