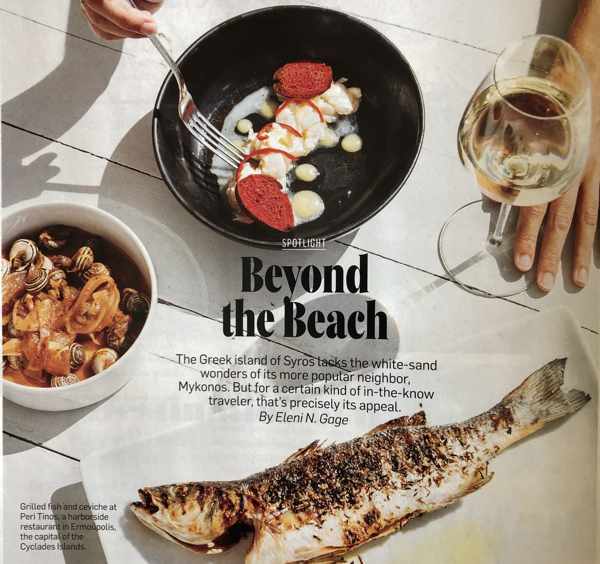 Travel + Leisure magazine spotlights the architecture, culture and cuisine of Syros in its February 2019 issue
Appetizing island: "Island Escapes" is the theme for the February 2019 issue of Travel + Leisure, and Syros steals the spotlight as the only Greek isle on the menu of getaway destinations profiled in the magazine.
In a three-page article entitled "Beyond the Beach," the prolific author /  journalist / travel scribe Eleni N. Gage describes her family's first-ever visit to Syros, an island that doesn't register on the radar for most North American travellers, who tend to gravitate to the tourist hotspots of Mykonos and Santorini.  (The majority of visitors to Syros hail from France and Skandinavia, Eleni writes, and they're drawn by the island's vibrant arts and culture events, its elegant Neoclassical architecture and its "incredible cuisine," rather than the whitewashed villages and scenic beaches that lure the huge tourist crowds to other Cycladic isles.)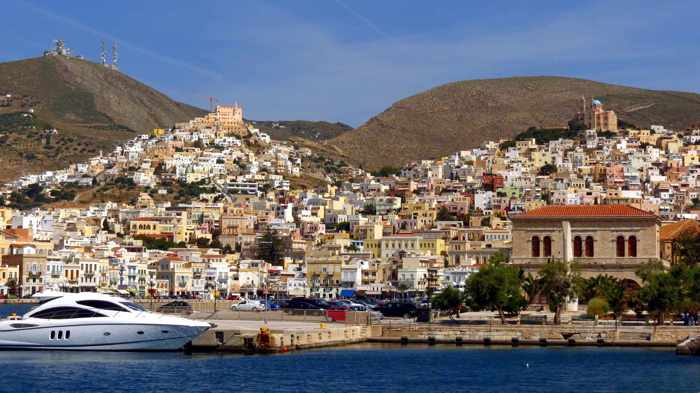 Ermoupolis, the colourful capital and port town of Syros. "The fact that the island has a thriving city by the sea makes it alluring to those interested in life beyond the beach," Eleni notes in her article.
Since Syros is one of our personal favourite places in Greece, I couldn't resist buying the magazine when I saw the island mentioned on the front cover. I was curious to read what kind of impression Syros had made upon Eleni, whose feature articles about a number of destinations in Greece have appeared in top international travel and lifestyle publications.
Not surprisingly, she fell in love with Syros, too.
Island features and highlights described in her article include:
♦ a rich roster of annual arts events and festivals;
♦  stately "aristocratic buildings," including the magnificent Town Hall and Apollon Theater,  in the visually stunning port town of Ermoupoulis;
♦ the seafront of the Vaporia neighbourhood of Ermoupolis, where Eleni had wonderful views of the palazzo-lined shore while she swam in the sea; 
♦ the hilltop village of Ano Syros, which was established during the 1200s; and
♦ restaurants where Eleni and her family dined (they had a memorable meal at one place we thought was excellent, too:  Peri | Tinos, on the Ermoupolis waterfront).
While we're familiar with most of the places Eleni described,  I was glad she did mention a few we haven't seen — they're now on a list of things to do next time we travel to Syros.
My only disappointment was that the article wasn't longer — I really wanted to read more about Syros. Nevertheless, it did made me yearn to go back.
Please click on the link below to turn to page 2, where I have posted some of our photos that show a few of the places mentioned in Eleni's article.
CONTINUED ON PAGE 2