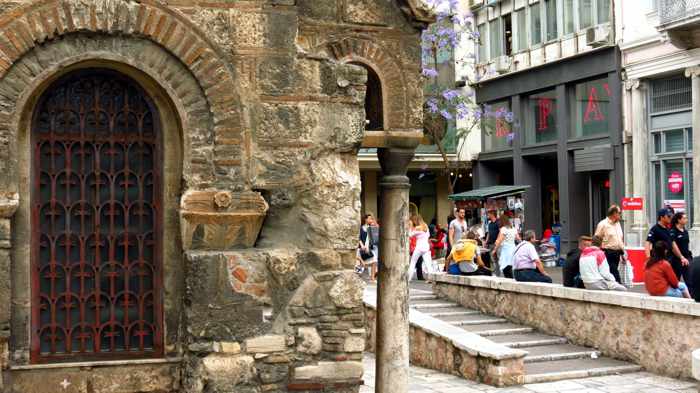 Throngs of shoppers and tourists on Ermou Street pass by the 1,000-year-old Byzantine Church of Panagia Kapnikarea
Gritty, not pretty: After six years of agonizing economic hardship, the City of Athens and its residents appear to be "rebounding" and turning their attention "to the task of building a better future," according to the Canadian national newspaper, The Globe and Mail.
"More and more Athenians are involved in a kind of civic infill activity, re-imagining the town, improvising social services and engaging in what Greek photographer Eirini Vourloumis calls 'a forced renegotiation of Greek identity,'" columnist Robert Everett-Green observes in a feature article published recently in the Globe.
"Now, ambitious plans are afoot to remodel the downtown in more sustainable ways, and to add cultural capital to civic life. Innovative restorations, led by artists and arts organizations, are reclaiming rundown industrial districts. There is a feeling here that creativity is the last and best resource when other resources fail," he notes.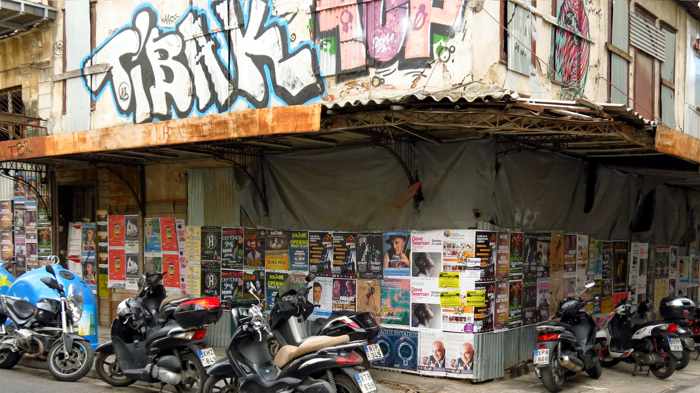 Athens is "gritty," not pretty, with "rampant" graffiti and street art, but arts and culture are leading the city to a "rebirth" as it recovers from the harsh economic crisis of the past six years, The Globe and Mail newspaper observes.
Everett-Green visited Athens last November, and the Globe published his feature story The Energy of Defeat on the front page of its weekend travel section this past Saturday (March 28 2015).
The article also was published on the newspaper's website, where it was retitled Athens isn't pretty, but it's exciting: discover the city's cultural rebirth.
Everett-Green examines how artists are playing a leading role in the revitalization of a city he describes as "gritty, restless and spontaneous." He looks at major cultural projects and initiatives, including:
♦ the new Stavros Niarchos Foundation Cultural Center that will house the Greek National Opera and the National Library of Greece;
♦ the Onassis Foundation's Rethink Athens project, which will transform the city center along Panepistimiou Street with ambitious public realm improvements and beautification;
♦ the Technopolis cultural event hub in the former premises of a coal and gas plant;
♦  the revitalization of the once-industrial Metaxourgio district; and
♦ the National Museum of Contemporary Art, which has opened in a restored brewery building.
Click here to read the full story on the Globe and Mail website.
Click on the arrow to view this 13-minute virtual tour of the Stavros Niarchos Foundation Cultural Center being built in the Kallithea district of Athens, about 4 km from the city center.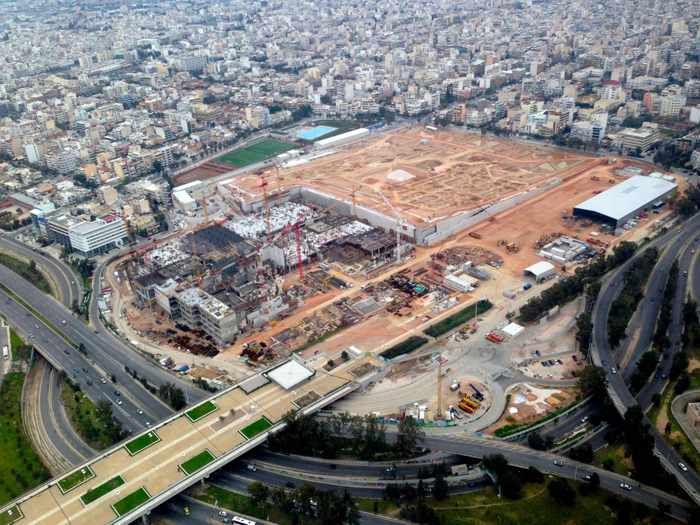 This photo shows an aerial view of construction work on the massive Kallithea site where the Stavros Niarchos Foundation Cultural Center (SNFCC) is being built. Designed by renowned architect Renzo Piano, the center will include a new building for the Greek National Opera, a new National Library of Greece, and an extensive landscaped park. This photo is from the SNFCC project page on the Renzo Piano Building Workshop website,.