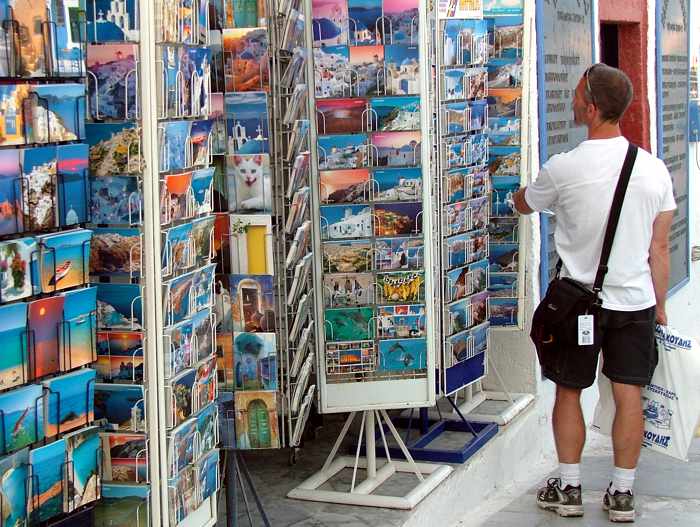 Browsing postcard racks at a souvenir shop in Oia village on Santorini
Travel tradition: Call me old-fashioned, but I still send postcards to family and friends when we're vacationing in Greece. I'm talking paper postcards with handwritten messages, stamped and posted at letter collection boxes in Athens or villages on whatever island we happen to visit.  The real deal that recipients can actually hold in their hands, not a fleeting e-card or email greeting that will momentarily flash on their smartphones or computer screens!
For me, sending postcards is a fun part of our Greece travel experience — especially since I write the messages and address the cards while enjoying a glass of wine on our hotel room balcony or at a taverna with a wonderful view.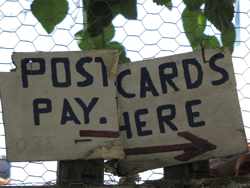 But picking the right card for each particular person on my list can be a bit daunting since the array of postcard choices is so extensive. At some souvenir stands in Athens and on a few of the islands we have visited, the selection has been simply staggering — rack after rack after rack, all packed with dozens if not even hundreds of appealing postcards.
What to choose? Scenes of beaches, mountains, landscapes, churches or villages? Images of monuments, ruins, antiquities or museum artefacts? Photos of cute cats, dogs or donkeys? Pictures of old folks in traditional garb or physically well-endowed young adults clad in skimpy bikinis or Speedos … or wearing nothing at all? (There's usually even a few "naughty" cards with pictures of ancient pottery bearing images of two or more adults engaged in explicit sex acts.) I usually wind up purchasing more cards than I need, and bring the leftovers home as personal souvenirs.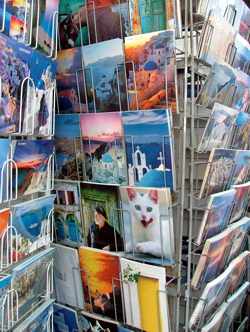 What I particularly like about postcard shopping in Greece is the careful way most of the souvenir shop staff handle the cards I've decided to buy. They always insert the cards (and any stamps I purchase) inside either a small paper bag or a clear plastic sleeve, so the cards won't get scuffed or bent before I have a chance to write and post them. It's touching how some of the shopkeepers appear so grateful and proud that a visitor will be sending postcard pictures of Greece to people around the world.
The only downside to picking postcards is that I inevitably find pictures of spectacular places that I didn't know about, or didn't have time to see. But that just means there will always be new sites and attractions to explore on a return visit.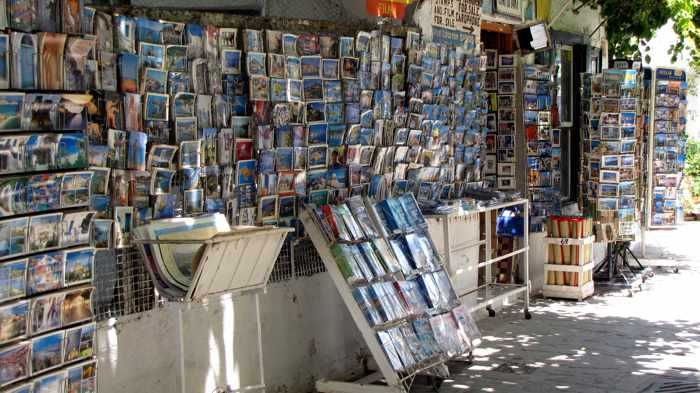 This postcard shop in Kokkari village on Samos had the best selection I've seen anywhere. Besides the cards displayed outside, the shop had hundreds more to choose from inside!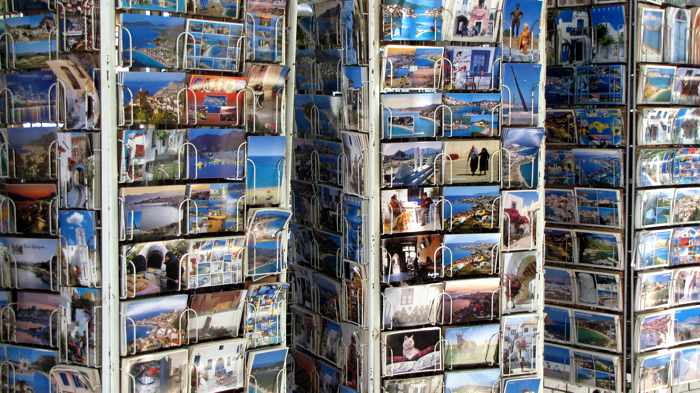 Some of the cards displayed outside the Kokkari souvenir shop.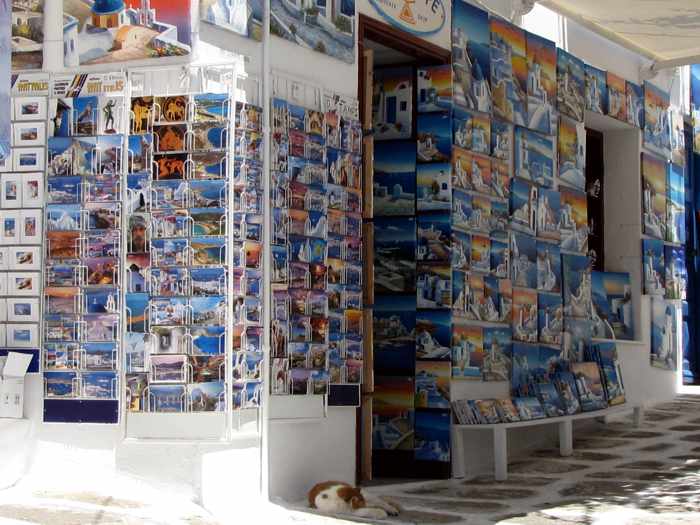 A cat snoozes beneath a postcard display at the Archetype souvenir shop near the Paraportiani church in Mykonos Town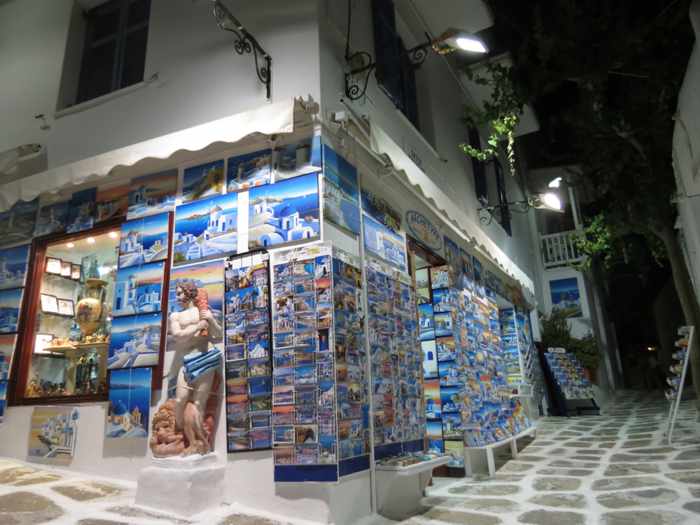 Night view of the Archetype souvenir shop in Mykonos Town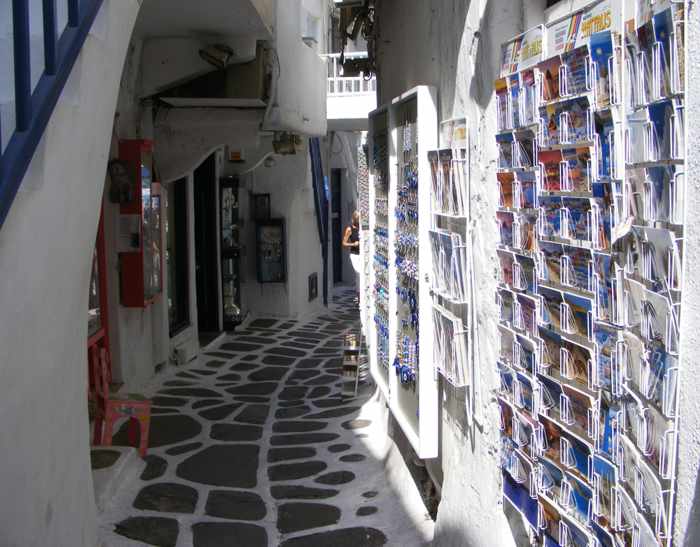 Postcard racks in a narrow lane in Mykonos Town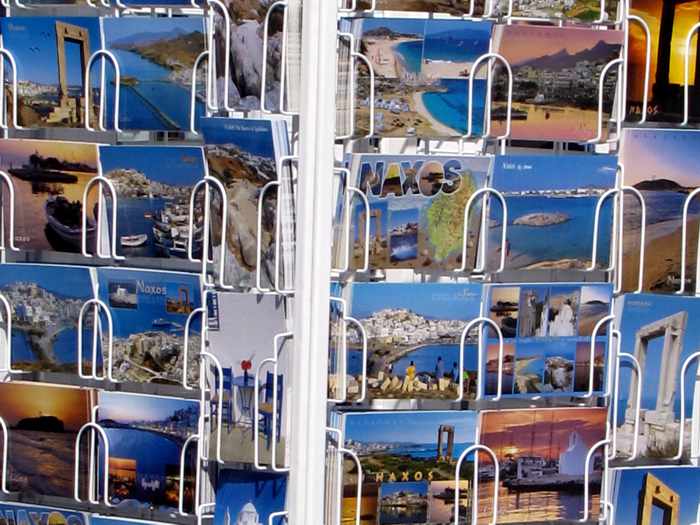 Postcard display outside a shop on the Naxos Town waterfront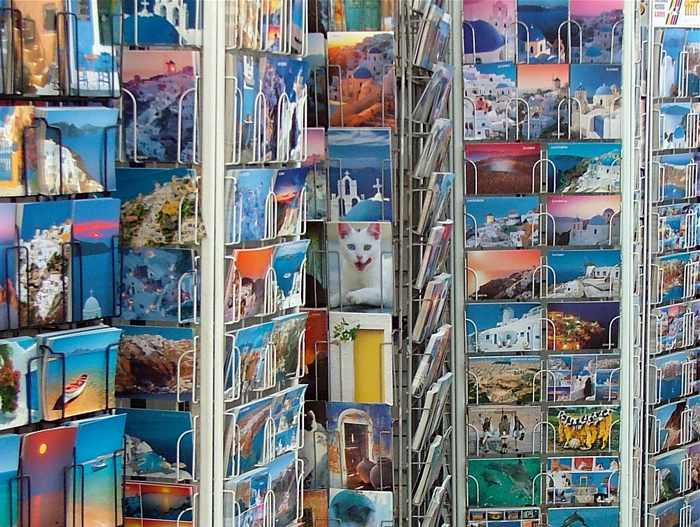 Postcard racks outside a souvenir shop in Oia village on Santorini
Postcards on display in Mykonos Town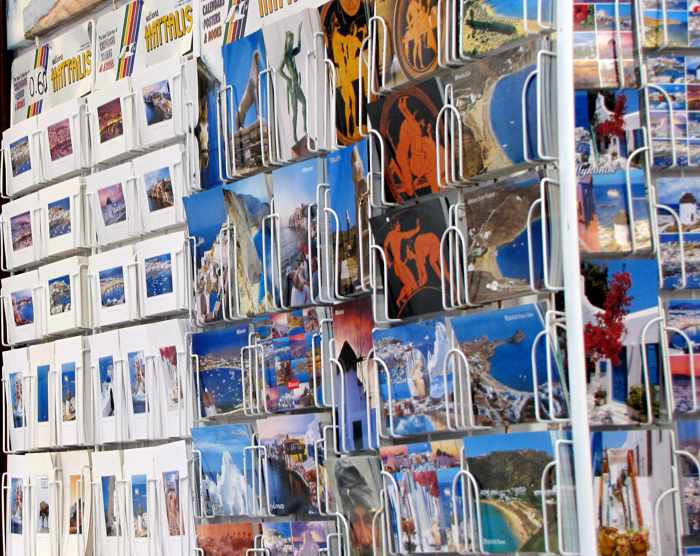 Postcards at a Mykonos souvenir stand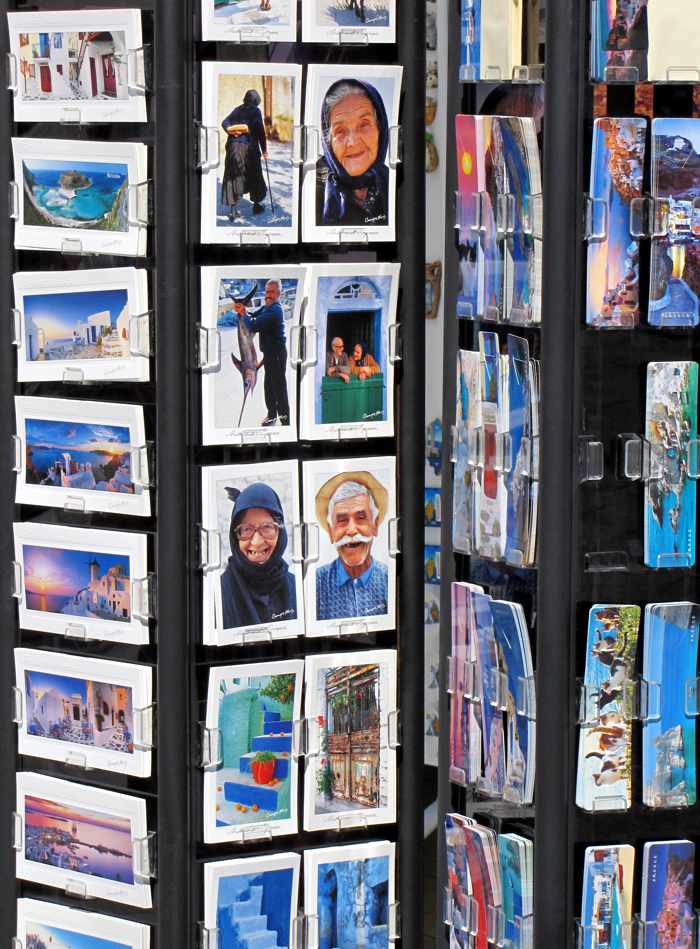 A postcard and bookmark display at a shop in Naxos Town