With help from a mini drone, filmmaker PanoVerino guides you on a quick tour of Hydra island
Quick introduction: If you haven't been to Hydra yet, a recently-released video by PanoVerino will quickly bring you up to speed on the scenic highlights and attractions of the popular Saronic island.
The clip by the Athens-based filmmaker clocks in at just under two minutes, but covers a lot of ground — and air — with its exciting whirlwind pace, showing exactly what you can expect to see in and around Hydra Town, the island's port and main settlement.
We spent a brief but very pleasurable 24 hours on Hydra during our 2016 Greek holiday, and recognized many of the sights and scenes the video spotlights. In fact, it made us instantly remember walking many of the same cobblestone paths, climbing the same flights of stairs, and seeing the same boats, buildings, donkeys, cafes, harbourside, hillsides and coastal scenery.  I find the film enjoyable not just for its exhilarating views and perspectives, but also for its briskness and brevity —  it doesn't dwell on certain scenes for prolonged, drawn-out periods that will make you feel like you have to fast-forward before you fall asleep, as I find happens frequently when I watch drone videos. 
If you have been to Hydra yourself, the film will probably take you on a similar trip down memory lane. For those of you who haven't yet been there, this quick look-around with PanoVerino may encourage you to consider Hydra for a future island-hopping holiday.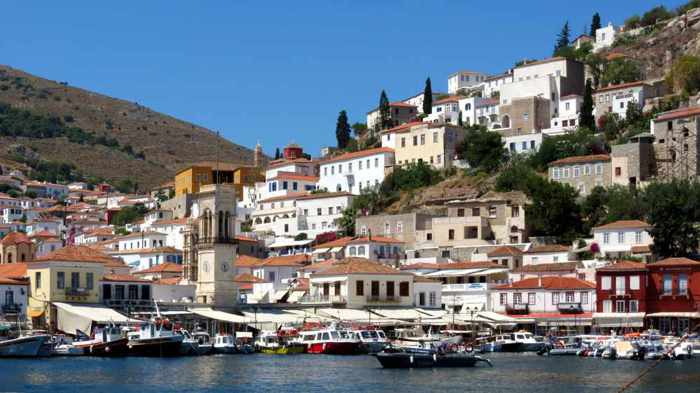 Want to see more of Hydra? Have a look through the albums in our Hydra photo collection on Flickr.