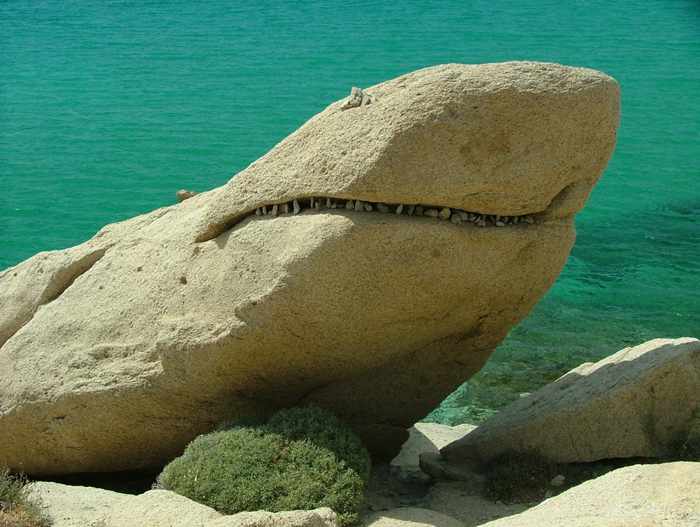 Shark Rock is an amusing attraction on the western coast of Naxos, between Agia Anna and Maraga. We shot this photo of the grinning Great White during our first trip to Naxos in 2005.
This is the first instalment of Greek Islands Icons & Landmarks, a planned series of occasional posts about curious, unusual and extraordinary sights and places we have seen on our travels in the Greek Islands
Rock star: My first close encounter with the most famous fish on Naxos occurred in June 2005, during our first visit to the island. It happened while we were walking along the wide smooth rocks and giant boulders that line the seashore on the southern side of Agia Anna Bay.  From this point there is a sweeping, unobstructed view of the Agia Anna and Agios Prokopios beach resort areas, as well as pyramid-shaped Stelida mountain to the north, so I paused to take some photos. When I turned to continue on my way, I nearly stumbled against the snout of the island's fabled landshark.
I didn't know what it was initially. I thought it was just a big, long, slender rock rising more than a meter above the ground at a 45-degree angle — nothing unusual for a rocky seashore. Then I noticeda row of small stones had been arranged inside the long, narrow crack that curved around the raised end of the rock. It struck me as odd until I took a few steps back and realized someone had cleverly given the fish-shaped rock a toothy grin so it would resemble a Great White shark.  Another stone had been carefully placed higher up the rock to resemble a right eye.  It looked hilarious, and I couldn't stop laughing.
I paid Shark Rock a visit on all of our subsequent trips to Naxos, and it still made me smile and chuckle each time. But last year I was disappointed to see a photo of the landshark that had just been shared on a Naxos fan club page on Facebook. It showed that someone had given Shark Rock a makeover by painting its belly and nose white, and its eye and gills blue. Like other members of the Facebook group, I didn't think it was an improvement — the shark had looked much better au naturel, and didn't need a sloppy paintjob to catch attention. The colours detracted from the subtle, creative humour of the simple stone teeth and eye.  Less is more, right?
I'm hoping that rain, wind and waves wear off the paint by the next time I return to Naxos,  so the landshark looks the way I remember. 
There are additional photos of Shark Rock, and a satellite image showing where it's situated, on page two of this post.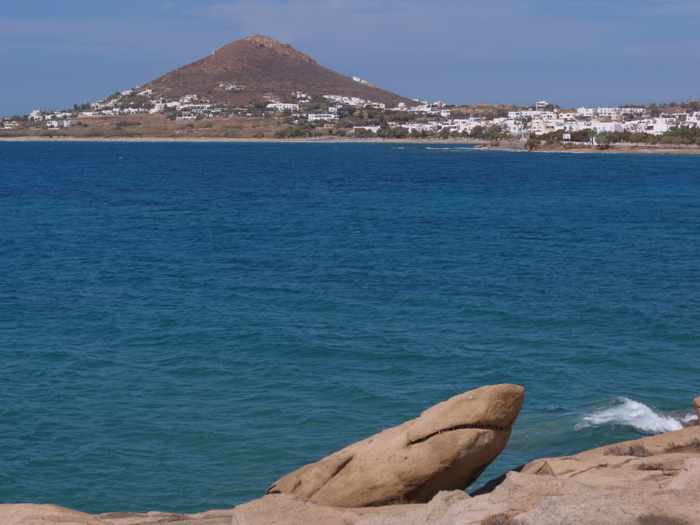 Shark Rock strikes a menacing pose with Stelida mountain and the Agios Prokopios beach resort area in the background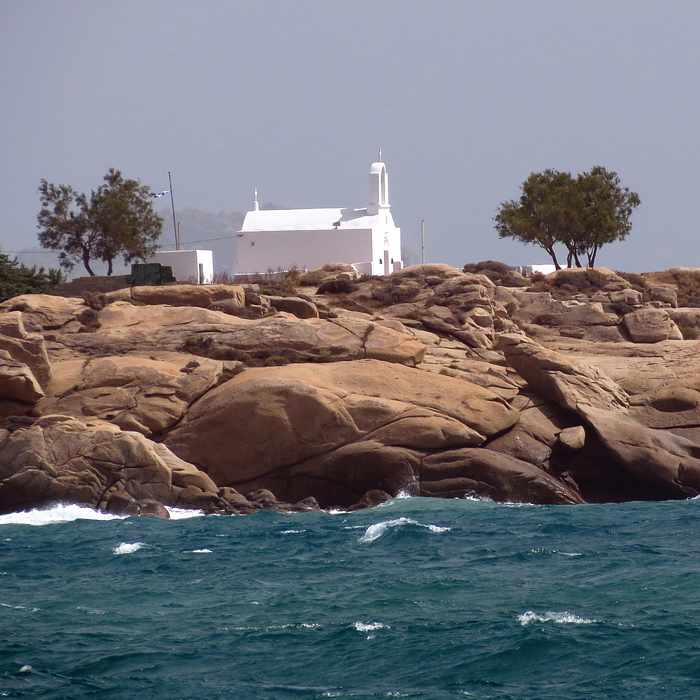 This telephoto picture shot from across the bay shows how Shark Rock blends into the rocky shoreline near Agios Nikolaos church, perfectly poised to surprise passersby. (He's just below the trees on the right side of the hill.)
CONTINUED ON PAGE 2