~ continued from page 1 ~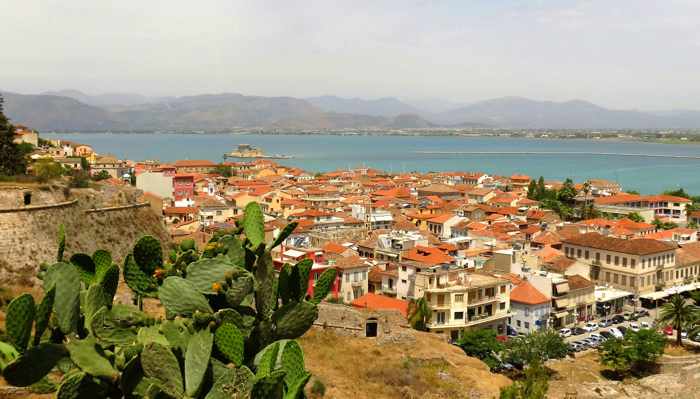 The charming Old Town with its historic attractions and its extensive  views of mountains, hills and sea were some of the things we loved most about Nafplio. You can view hundreds of pictures of the town and surrounding area in our Nafplio photo collection on Flickr.
A feast for the senses
Whenever we visit a Greek island, town or village for the first time, we like to take a thorough look around to get a good feel for our new environment — its energy, its sights, scents and sounds, and of course the tastes of its local cuisine (we do enjoy sampling delicious local food and wine when we're on holiday!).
Nafplio, and its Old Town area in particular, turned out to be a  feast for the senses, since it's absolutely teeming with colour, charm, history and character. Among its noteworthy highlights:
♦  Stone-paved streets and lanes lined with cozy cafes and bars, a diverse selection of shops, and an array of tantalizing restaurants;
♦  Residential, municipal and commercial buildings in a wide variety of architectural designs and styles;
♦  Spacious public squares and calming tree-shaded parks;
♦  Bougainvillea, palm trees, fruit trees and flowers — and vast thickets of cactus plants;
♦  Castles (three of them, right in Nafplio itself), monuments, statues and centuries-old historic sites;
♦  A picturesque harbour, a lovely waterfront with long rows of elegant palm trees, and an extensive coastline along the Argolic Gulf;
♦  Exhilarating vistas and inspiring scenery all around.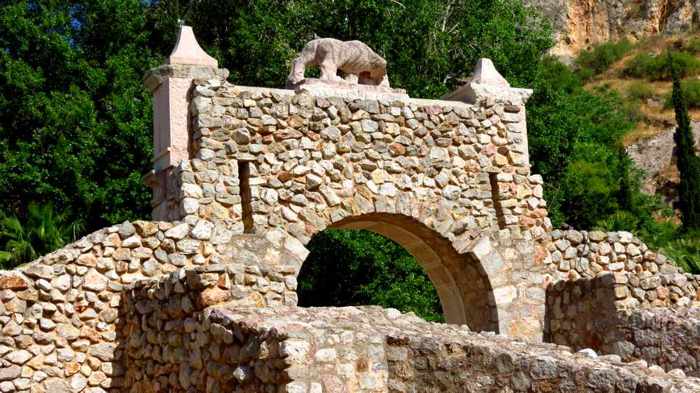 The historic Land Gate is one of many monuments you'll encounter while strolling around Nafplio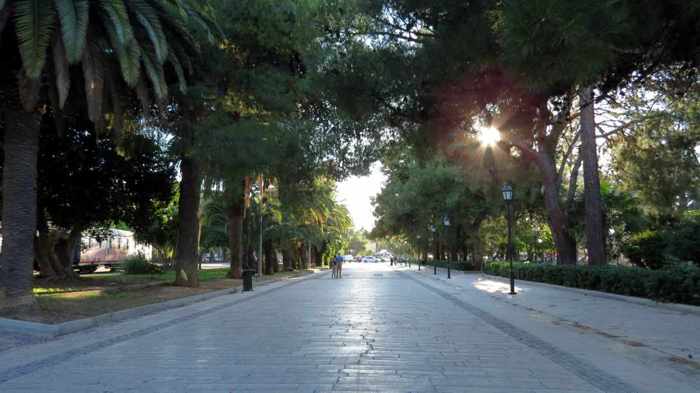 This broad tree-shaded promenade in the OSE Park —  Municipal Odeon is one of many impressive public spaces in and near the Nafplio Old Town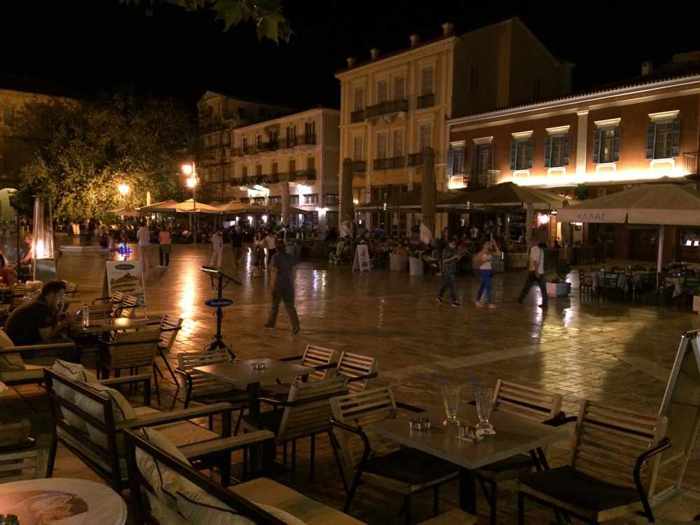 Lined with restaurants, Syndagma Square is a popular gathering place for local families, while the Archaeological Museum at one end of the square is a big draw for tourists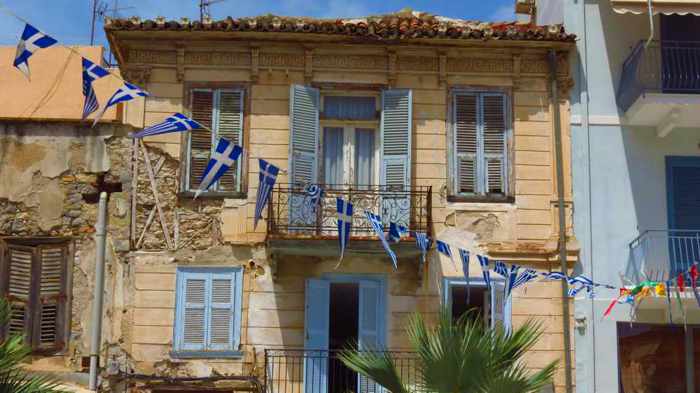 The streets are lined with colourful houses, hotels and commercial buildings …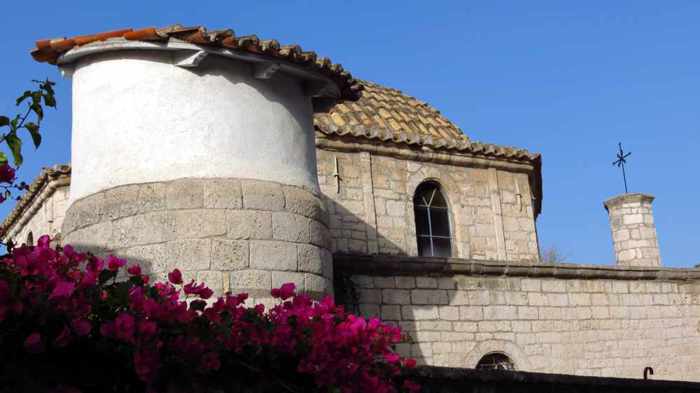 … and you don't have to walk far to pass upon an interesting old chapels and shrines, like the Catholic Church seen here
The Bourtzi sea fortress is a Nafplio icon, featured on postcards, travel guides and websites. Built on an islet in the bay, it's visible from hundreds of vantage points in and around the town.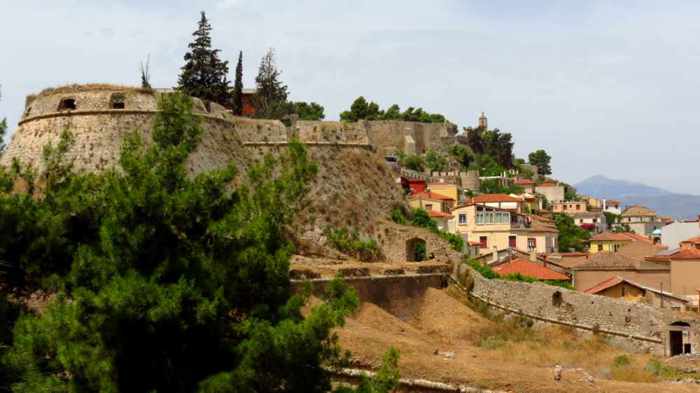 The Acronauplia fortress rises behind Nafplio's Old Town area. The castle site offers great views of the town, harbour, sunset, Argolic Gulf and more.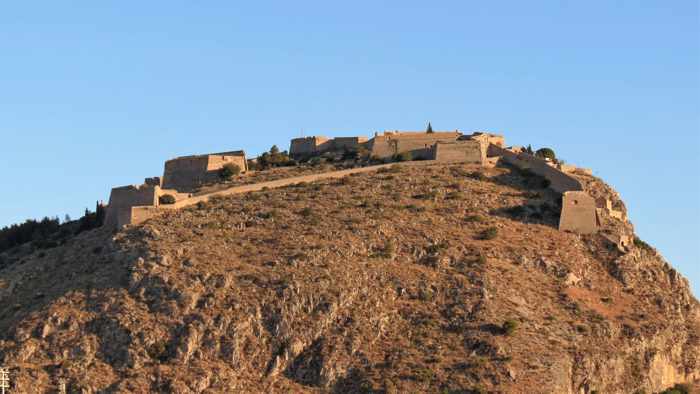 The Palamidi castle looms large above Nafplio from its mountain peak perch. The imposing fortress is visible from many spots in Nafplio and from miles around. As you'd expect, views from the castle are incredible.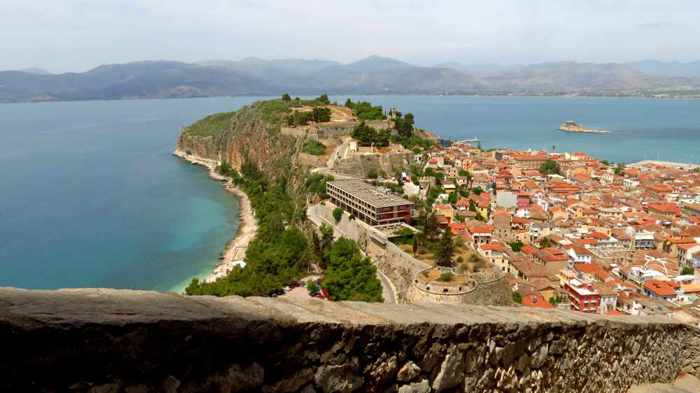 The steps leading to Palamidi castle overlook Nafplio's Old Town, the Acronauplia peninsula, the Argolic Gulf,  and hills and mountains in the eastern Peloponnese 
A scenic paradise for walking enthusiasts
For avid walkers like us, Nafplio is a dream destination. The Old Town's commercial center of tourist-oriented shops, bars, restaurants, museums and squares is an easy-to-stroll area on relatively flat terrain near the waterfront. More challenging to walk are the narrow lanes with dozens of steps that lead to hotels and houses on the steep hillside behind the main streets.  Even higher still, at the top of the Acronauplia peninsula, are fortifications from the Acronauplia fortress, along with the Nafplia Palace luxury hotel complex that overlooks the town and bay. The views from the top of the peninsula are fabulous and not to be missed.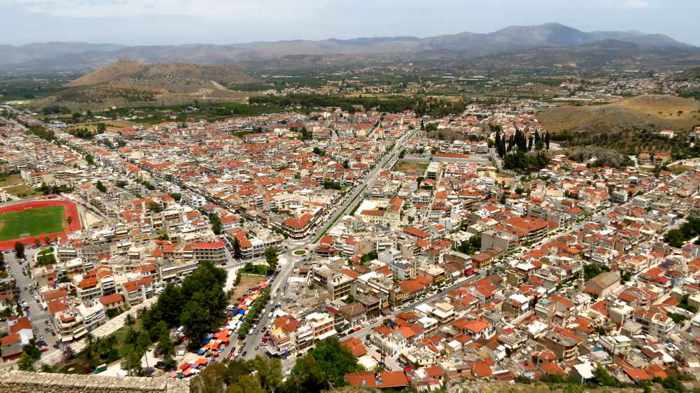 The New Town is the bustling business, shopping and residential hub for Nafplio locals, but many tourists venture here to shop and dine
The Nafplio New Town is only a few blocks away for those who wish to wander into the local population's busy shopping and commercial district, but for people like us who prefer pleasant and scenic strolls away from urban settings and noisy vehicular traffic, the Old Town offers its beautiful waterfront walkway, the Arvanitia waterside promenade, and the coastal footpath to Karathona beach. And, of course,  the famous thigh-burning and lung-busting climb up nearly 1,000 stairs to the Palamidi Castle.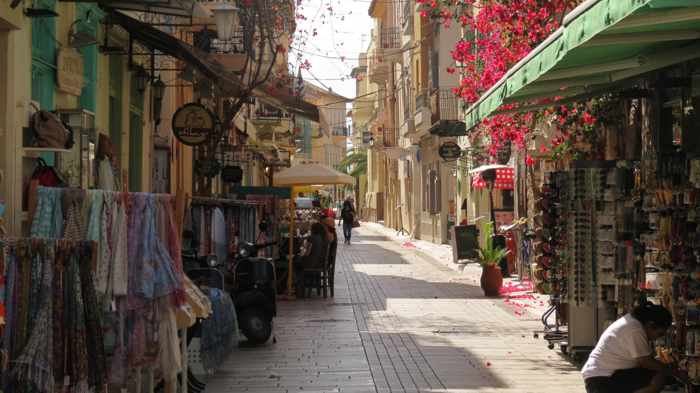 Most of the streets in the commercial area of the Old Town are on flat terrain …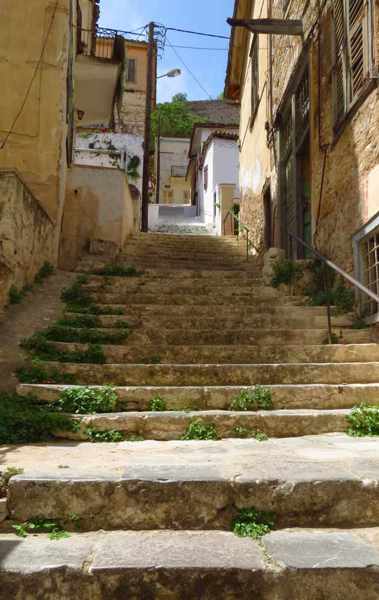 … but your legs will get a serious workout if you want to explore the hillside where many homes and small hotels are situated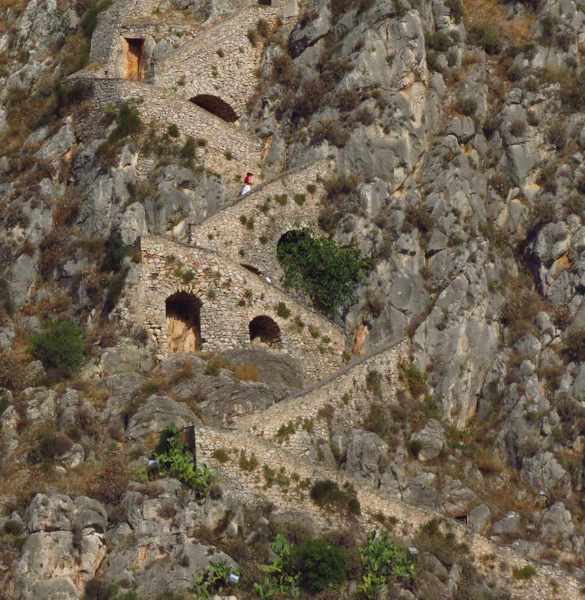 For the ultimate leg and cardio workout,  climb the nearly 1,000 stairs to the Palamidi castle. If  you look closely, you'll see a woman, dressed in red and white, making her way up the zig-zagging steps. (If you don't want to take the stairs, or have mobility issues, you can drive to the castle instead.)
Beaches, coves and coastal swimming spots
To cool off after all the walking and stair climbing, Nafplio boasts several different places to take a dip in the alluring turquoise waters of the Argolic Gulf. Closest to the Old Town is the coastal swimming area some websites call the Banieres, located along the Arvanitia promenade beside Agnanti restaurant. Farther along the promenade, locals and tourists jump or climb into the water at various spots along the coast, some of which are reached by steps descending from the promenade to the seashore. Next up is Arvanitia beach at the end of the promenade, and about 20 minutes' walking distance beyond that are the pebble and stone Neraki beach and several small, secluded coves. A further 20 minute walk from there is Karathona, a very long sandy beach that curves along a broad bay, Even if you don't feel like going for a swim, all of these spots are scenic and worth seeing.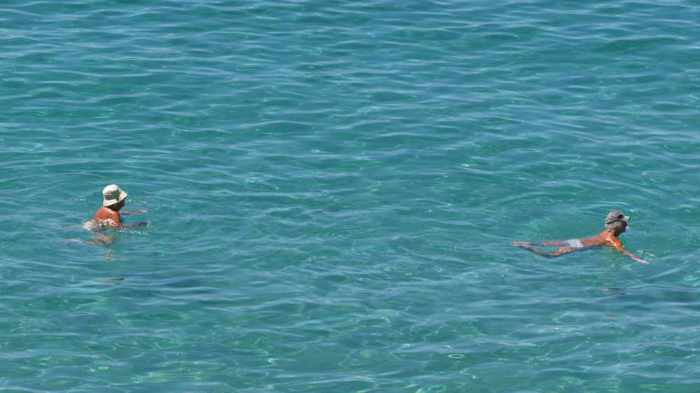 If you fancy a dip in the tempting turquoise waters of the Argolic Gulf, Nafplio has beaches, coves and coastal areas that are ideal for swimming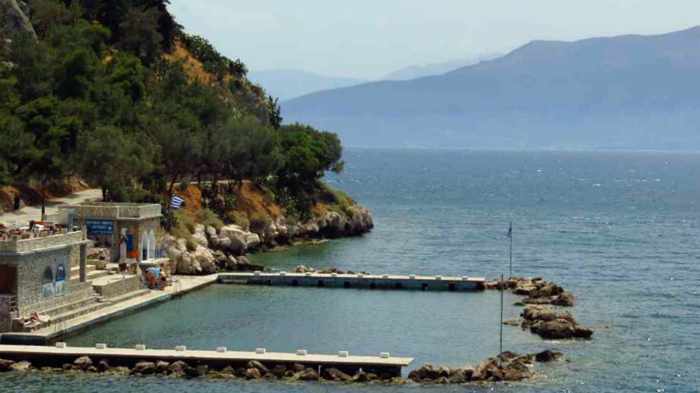 Right at the Old Town is this semi-enclosed natural swimming "pool," which some websites call The Banieres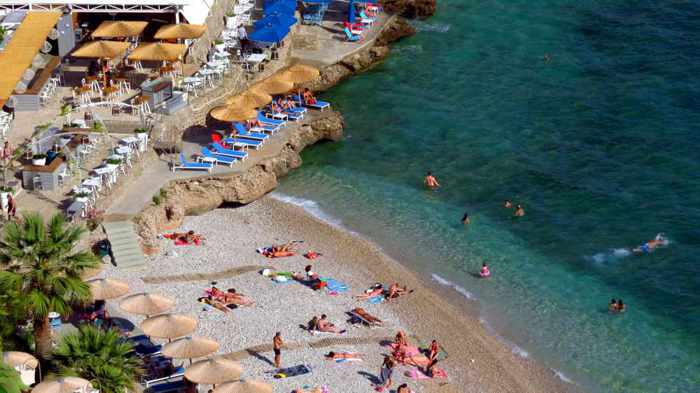 Arvanitia beach is located at the end of the Arvanitia promenade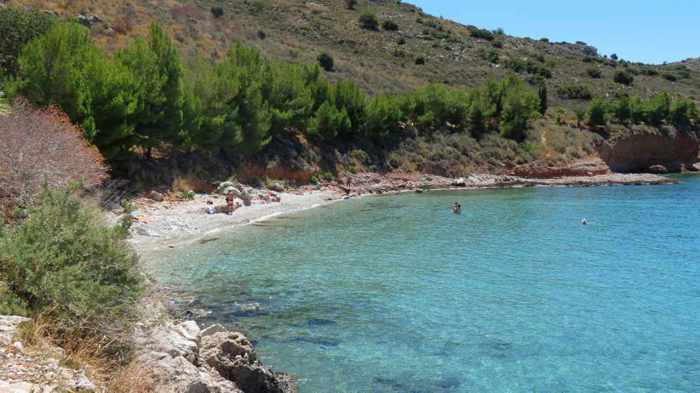 Neraki beach, actually two separate coves, is situated along the trail that leads from Arvanitia beach to Karathona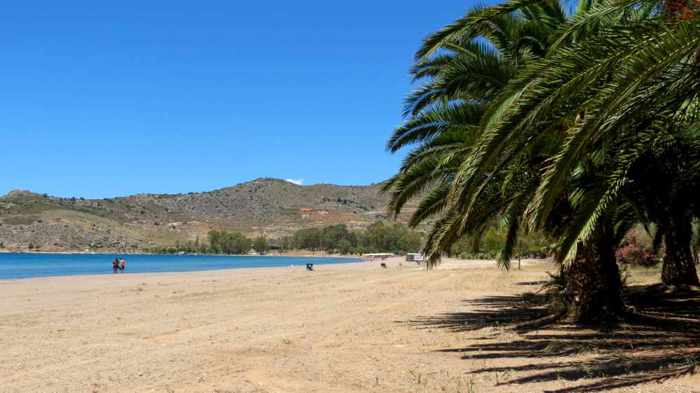 Karathona beach, a 3-kilometer walk or short drive from Nafplio, is a very long brown sand beach offering something for everyone — organized sections with loungers and umbrellas,  drink service and music; beach tavernas and cafes; shade trees; and lots of wide-open quiet spaces.
More than 100 places for wining and dining
When you're feeling hungry in Nafplio, you don't have to look far to find refreshments — there are more than 100 restaurants, cafes and other eateries to choose from. Whether you're looking for sit down or take away, cheap 'n' cheerful or high-end gourmet, a light snack or a dessert treat, you're bound to find the perfect spot for a bite to eat. But beware that you're bound to work up an appetite while you walk around the Old Town and pass the many cafe and taverna tables set out in the narrow streets and lanes. The enticing aromas of food being prepared, and the mouthwatering sight of dishes being served to customers, made us constantly feel peckish.  I couldn't begin to count the number of times one of us said "I want what they're having"  when we saw the meals people were eating.
Below are photos of just a few restaurants and bars we saw in the Old Town, but didn't get to try (I will publish pictures of the places where we did enjoy good food and drink in a separate post). To see a list of 119 Nafplio restaurants that have been reviewed on TripAdvisor, click here.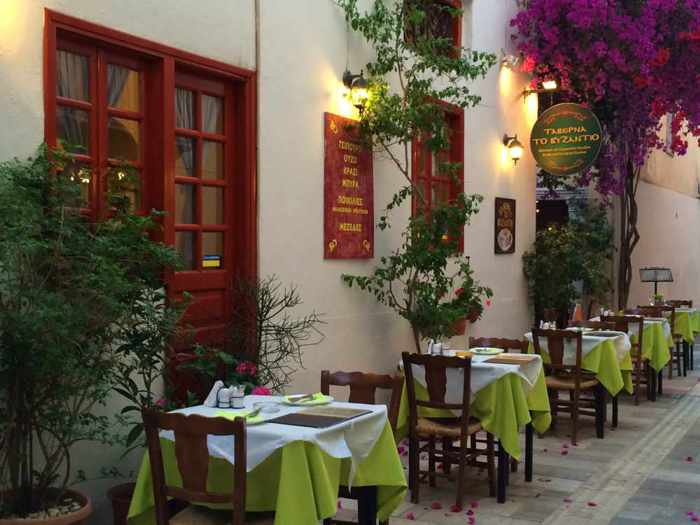 Tables in the street at  Taverna To Byzantio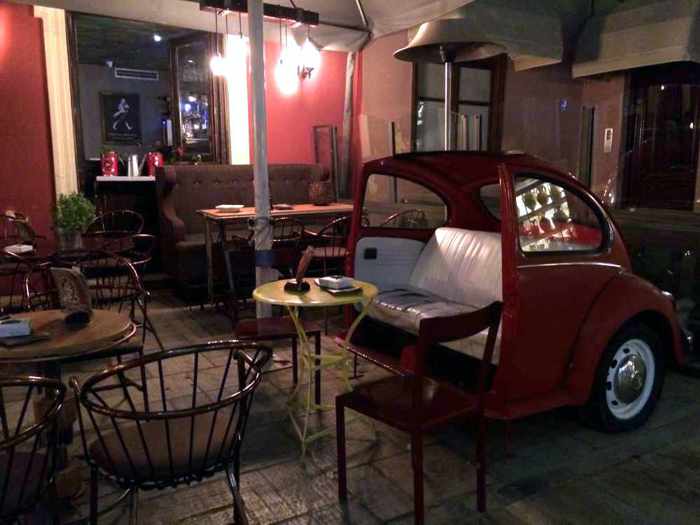 I called this the "bar car" — it's one of the funky & eclectic pieces of furniture on the large open-air patio at Rosso Cafe Bar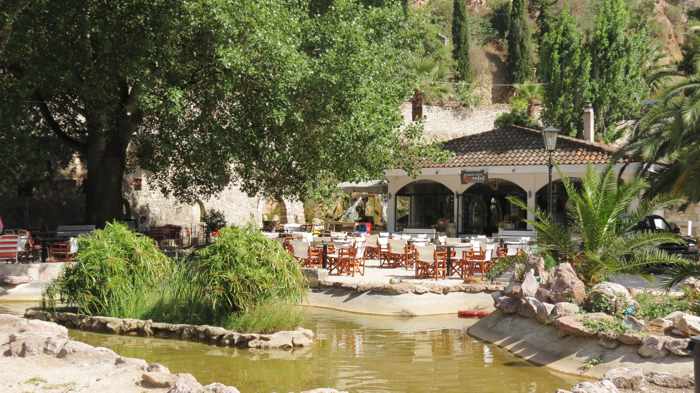 Located near the historic Land Gate as well as the steps to Palamidi castle, Propolis Tsipouradiko is has a lovely outdoor terrace where customers can enjoy a meal next to a landscaped pond 
360 Cafe is a chic restaurant and bar with a contemporary menu. We passed by one night after we'd already eaten at a Greek taverna, and suddenly felt an urge to have a second meal when we saw the scrumptious burgers several customers were enjoying.  (We were too full for a second dinner, though, so we'll have to go back for the burgers another time.)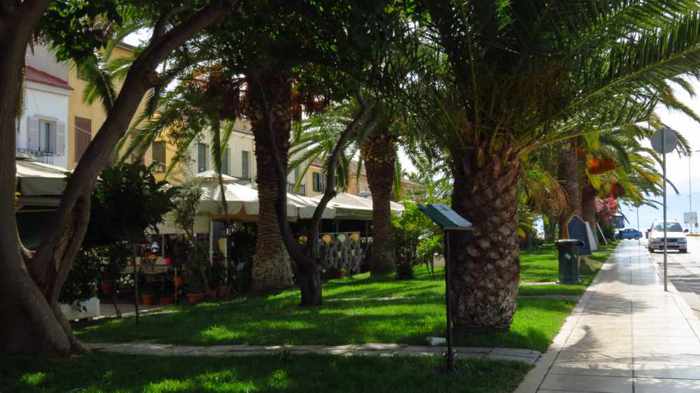 If you arrive at Nafplio by car and park in the lot along the harbour, you'll see a double row of elegant palm trees and a grassy strip on the opposite side of Boumpoulinas Street.  Sidewalks lead across the lawn to a block-long row of restaurants with large outdoor patios and indoor dining rooms.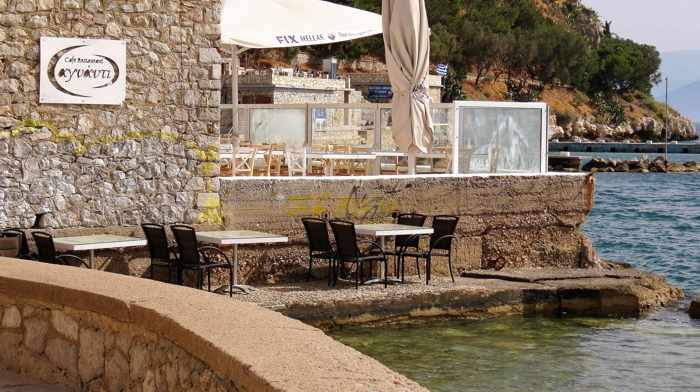 Since pedestrian walkways extend along most of the Nafplio waterfront, there are very few restaurants where you can dine right on the seaside. Several places along the Akti Miaouli waterside walkway, including Kontogiorgos Cafe-Bar, Napoli di Romania, Rendez Vous and Aktaion Mare Cafe-Bar Resto, have terraces only two or three meters from the water. But to us they looked like tourist traps, so we didn't check them out. You can get a table even closer to the sea at Agnanti Restaurant,  shown above, which is located beside the Banieres swimming area.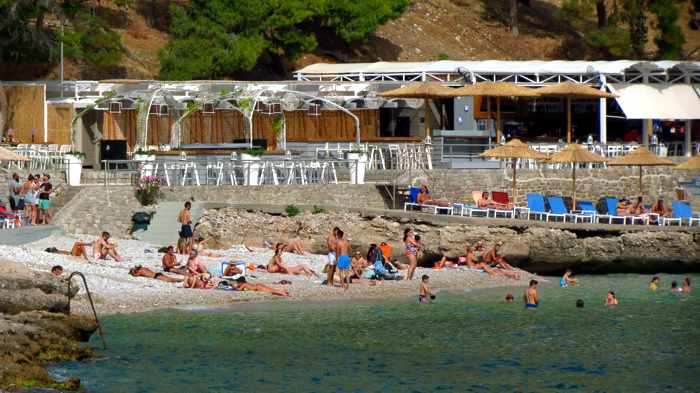 At Arvanitia beach, BluBlanc Beach restaurant and bar has excellent views of the beach, the Acronauplia peninsula, and the Argolic Gulf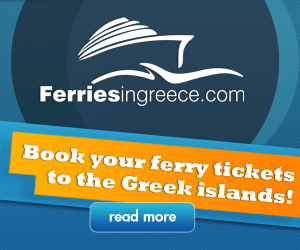 Accommodations for every budget and travel style
We were spoiled for choice when researching hotels in Nafplio — available accommodations include budget-friendly pensions and rooms, moderately priced hotels and guesthouses, stylish boutique and design hotels, and of course 4- and 5-star luxury properties.  We took too long deciding where to stay, and missed out on lovely rooms we were eyeing at several hotels in the Old Town. But since we were staying for a full week, we were determined to pick a room with a good view, so we kept searching. Eventually we found exactly what we wanted at Porto Bello Design Hotel, I will be publishing more photos of it in a separate post.
A cat climbs the steps between the Porto Bello Design Hotel, where we stayed, and the Chroma Design Hotel & Suites next door. If you stay at either, be sure to pack lightly — otherwise you'll really hate lugging your bags up the dozens of stairs you must climb to get there (as we discovered ourselves)!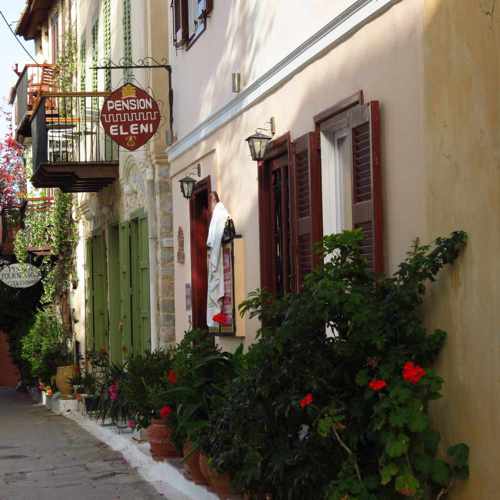 A friend of ours stayed at Pension Eleni in the Psaromachalas area of the upper Old Town, and enjoyed her cozy yet comfortable and very reasonably-priced room.  We got to see it when she was checking out, and the owner (a pleasant Greek woman who didn't speak much English, and who may well have been the Eleni the hotel is named after) gave each of us a hearty goodbye hug. 
Although many of the rooms in Old Town hotels only have street views, the buildings often have pleasant rooftop patios or garden terraces — like this one at Amfitriti Palazzo Design Hotel — where guests can have breakfast or drinks with nice views.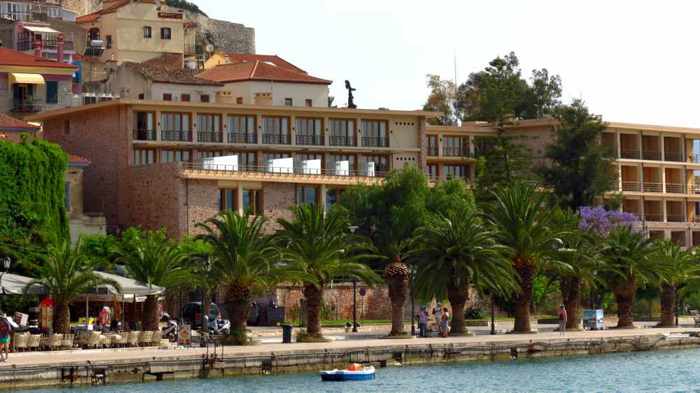 The upscale Amphitryon Hotel is well positioned near the waterfront, and many of its rooms and suites have balconies offering terrific views of the bay and Bourtzi sea castle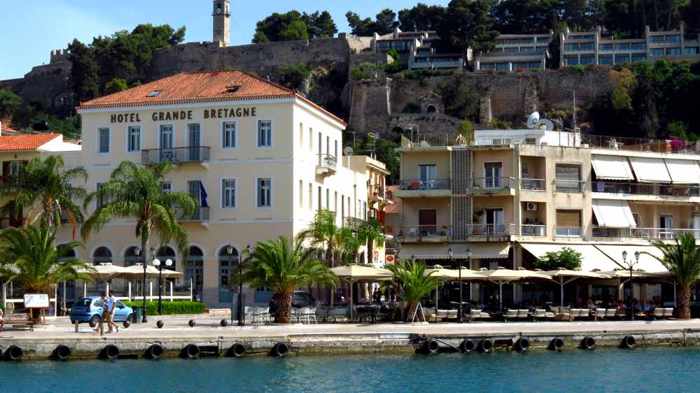 The 20-room Grande Bretagne Hotel has a prime location near the waterfront, at Philellinon Square.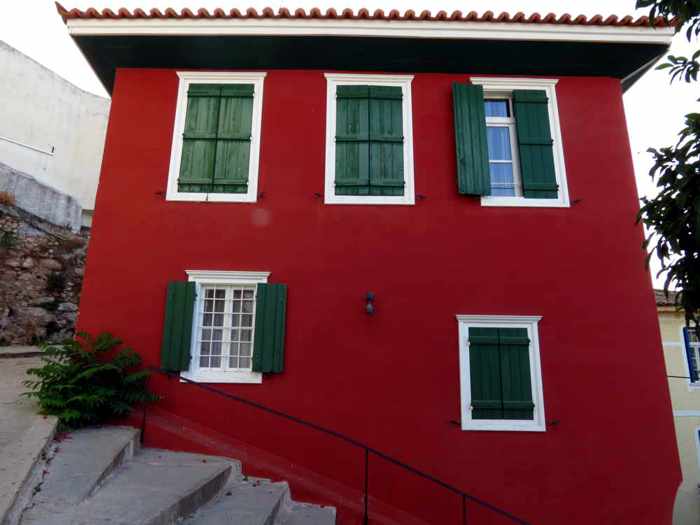 The small design hotel Il Palazzo Rooms & Suites occupies this boldly-coloured traditional building in the upper Old Town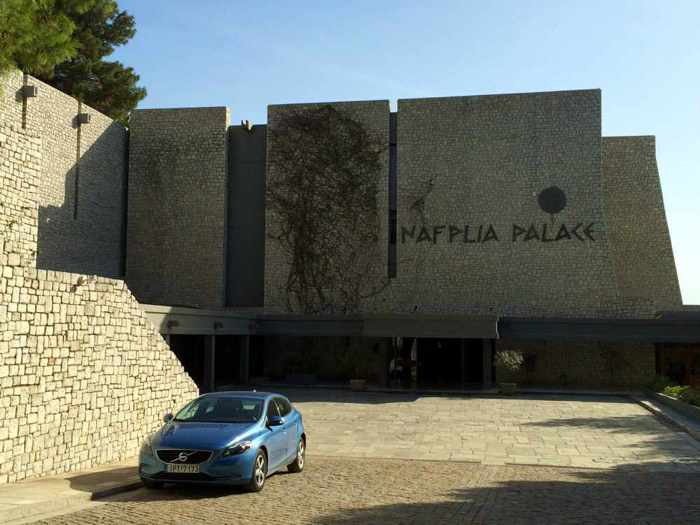 The luxurious Nafplia Palace Hotel & Villas is situated in an enviable position atop the Acronauplia peninsula.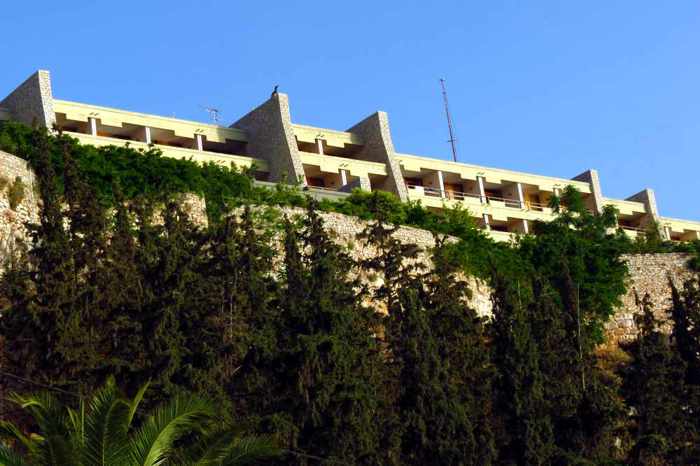 From its hilltop perch, the Nafplia Palace overlooks the Old Town and has amazing views of the Argolic Gulf and the Bourtzi castle.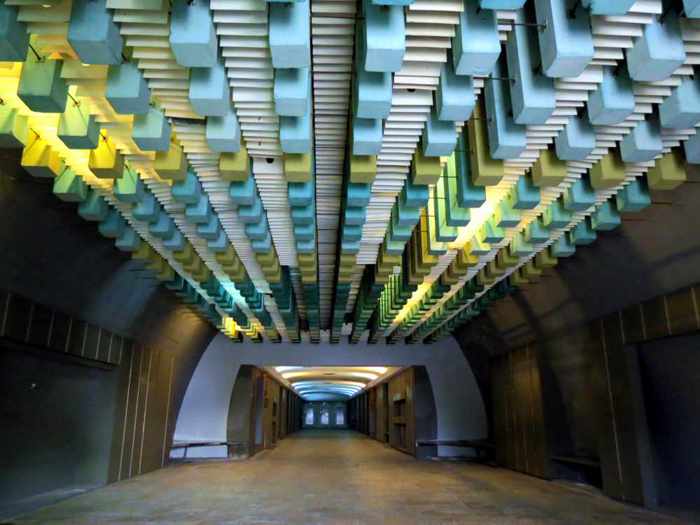 If you don't have a vehicle while staying at the Nafplia Palace hotel, you don't have to worry about climbing dozens of steps to get there from the Old Town (as is the case with so many of the hillside hotels in Nafplio). That's because the hotel has an elevator link to the Old Town, accessed by this cool long passageway which we jokingly called "the James Bond tunnel" since it looked and felt like something you'd see in a spy thriller.  You can check it out even if you're not a guest of the hotel.
Sightseeing and daytrip opportunities galore
Although there's plenty of things to see and do in and around Nafplio, there are many more elsewhere in the Argolida region, including several UNESCO World Heritage archaeological sites, wine regions and beach resorts. Most of these attractions are within reasonable driving distance, making Nafplio an excellent base for daytrips.
If you don't have a vehicle at your disposal while visiting Nafplio, you can reach most, if not all, of the attractions on organized excursions, private taxi tours, or even by using the Argolida KTEL bus system. (Ask any Nafplio taxi driver to see a price list for rides to the top sites. The fares are pricey, but reasonable if split between three or four people. For bus routes and other bus information, check the KTEL Argolida website.)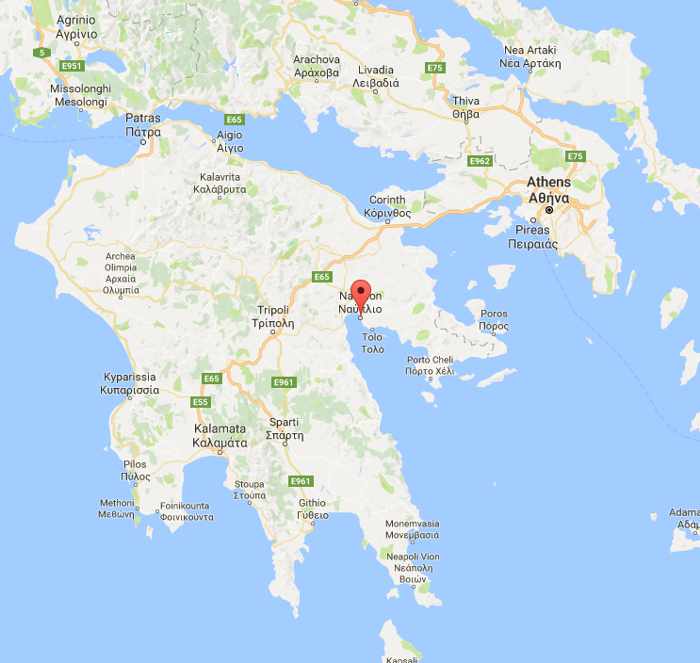 This Google map shows Nafplio's location in the Argolida region of the eastern Peloponnese. Only a 2.5-hour drive from Athens, Nafplio is a good base for exploring major historic sites and wine regions in Argolida. It's also a convenient jumping-off point for travels to the southern and western Peloponnese.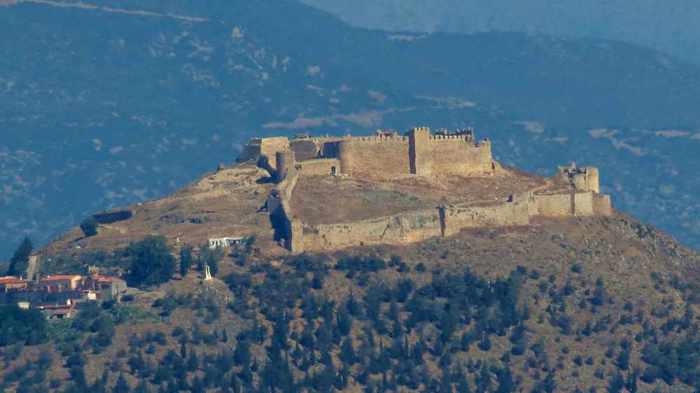 Larissa Castle at Argos is visible from Nafplio (I shot this photo from our hotel room balcony). It's one of several sites worth visiting at Argos.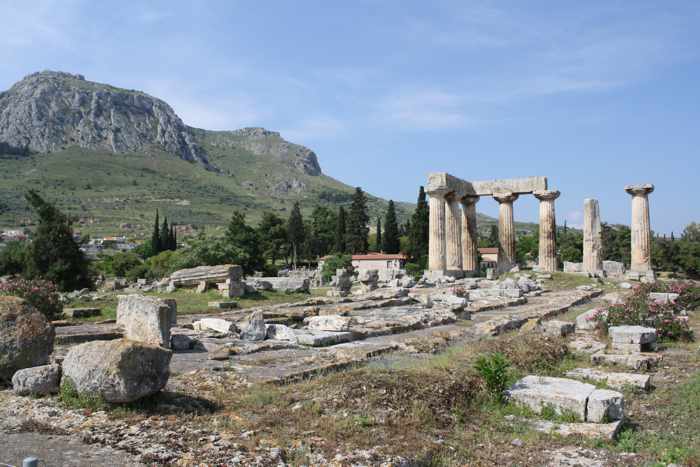 The Temple of Apollo at Ancient Corinth (photo from the Corinth page in the Ancient History Encyclopedia)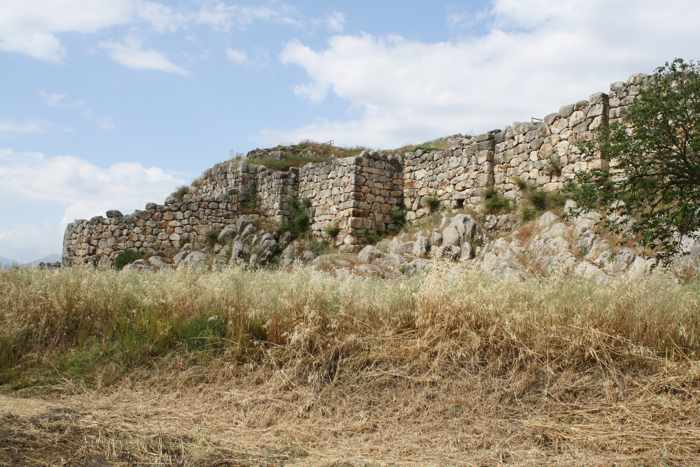 Remains of a Bronze-age citadel wall at Tiryns (photo from the Tiryns page in the Ancient History Encyclopedia)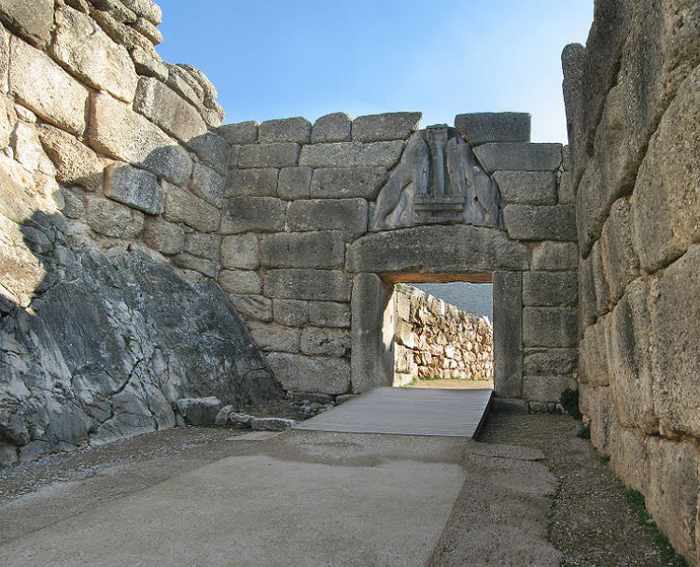 The Lions Gate at the Mycanae archaeological site (photo from the Mycenae page in the Ancient History Encyclopedia)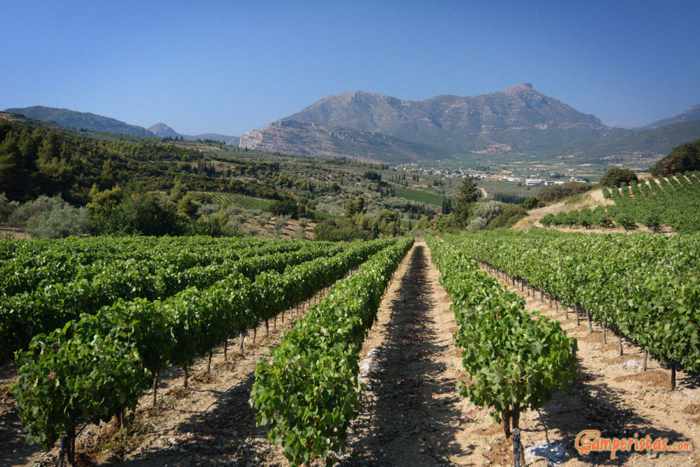 Vineyards in the world-famous Nemea wine region of the Peloponnese (photo from the Nemea: Wine and Archaeology page on Camperistas.com)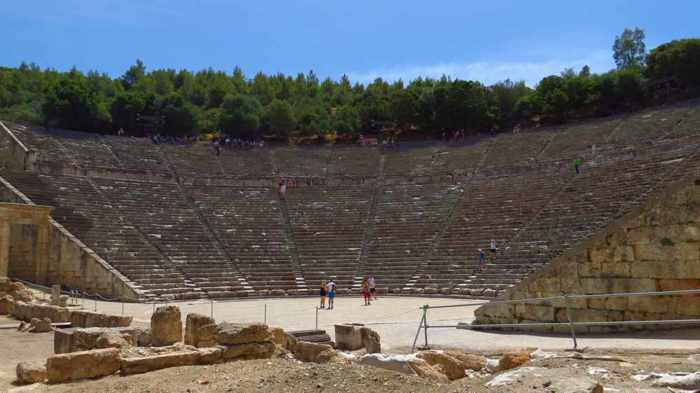 The magnificent Great Theatre at Epidaurus, which we drove to during the second day of our Nafplio visit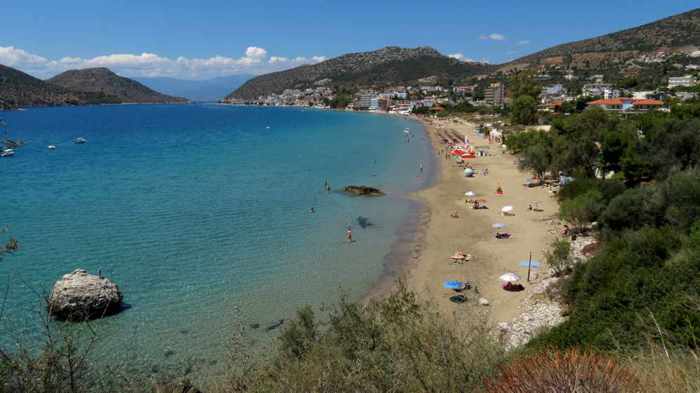 Nafplio has regular bus service to the nearby town and beach resort of Tolo, which boasts a gorgeous long sandy beachfront and two more beaches within walking distance. We took a daytrip to Tolo and liked the place so much, we returned to spend four days there at the end of our holiday.
Nafplio travel links
If I have enticed you to visit Nafplio, or perhaps consider it for a future holiday, here are some excellent websites where you'll find helpful information about both the town and the Argolis region:
♦   Visit Nafplio — a superb non-commercial site packed with photos, descriptions of sites and attractions, and insider tips for everything from beaches to shopping to food.
♦   The Municipality of Nafplio website also features photos and information about top sites and attractions both within the immediate area and within day-tripping distance.
♦   Discover Nafplio offers an in-depth guide to local businesses and events, cultural attractions,and more.
♦   The City of Nafplio website includes a wealth of information about Nafplio's history as well as things to see and do in the town and surrounding areas.
♦   Tour of the Monuments of Argolis contains photos and descriptions of churches, castles, monuments and other historic sites in and near Nafplio.