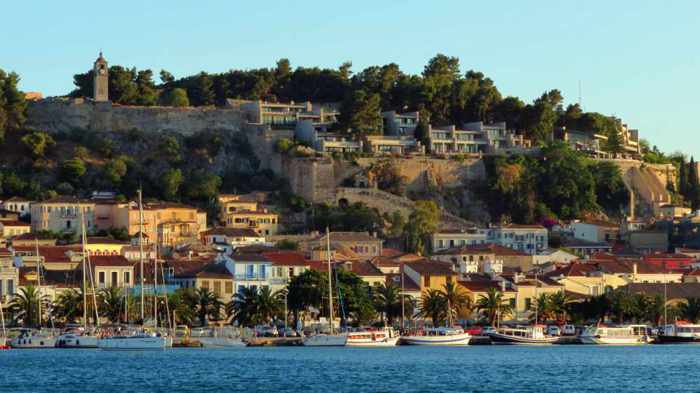 The Old Town of Nafplio rises on the north side of a steep peninsula, directly beneath fortification walls and buildings of Acronauplia — one of three castles situated in the historic town.  Nafplio was the capital of Greece from 1821 until  the country's Parliament relocated to Athens in 1834. 
Fast favourite: It wasn't love at first sight, but it was pretty darned close.
Within minutes of arriving at Nafplio and walking from the waterfront car park into the historic Old Town area, we couldn't help but wonder why it had taken us so long to finally visit what is widely considered one of the prettiest and most romantic towns in Greece.  In person, Nafplio looked more beautiful and impressive than it did in the countless pictures and videos we had seen, and the Old Town's historic ambiance instantly made us feel comfortable and welcome.
As we wound our way down narrow lanes and alleys then up steep stairs to our hotel, we felt eager to drop off our luggage so we could get out and about to explore our scenic surroundings — even though we were sluggish and jet-lagged from our overnight transatlantic flight. Napping would have to wait — we didn't want to waste any time getting acquainted with Nafplio!
After going for lunch with a friend and wandering around the town, we realized we were falling for Nafplio — in a big way. We had been there only a few hours, and yet Nafplio had quickly charmed its way into our hearts. By dinnertime, we were telling our friend how Nafplio had already become one of our favourite places in Greece. We had suspected that we were really going to like Nafplio — she had long assured us we would — but we'd never expected that we were going to love it so much, or so fast.
That was late May 2016 and, after more than a dozen years of island hopping holidays that usually concluded with time in Athens, we were making our first foray into the Peloponnese. We had scheduled Nafplio for the first full week of our vacation itinerary, but were concerned this might be too long. Would there be enough attractions and activities to keep us interested and occupied for seven days?
Although I had read hundreds of online travel reviews and commentaries describing Nafplio as ideal for a daytrip from Athens, an overnight stay, or a weekend getaway, I couldn't recall anyone recommending it for a week-long stay. But we didn't get bored for a minute, and when it came time to depart for our next destination, we realized there were still quite a few sights and attractions we didn't manage to see.  We even felt a tinge of regret to be leaving with so much left unexplored. For us, one week in Nafplio simply had not been long enough.
Now, nearly a year later, we continue to talk about how much we loved Nafplio, and we often discuss what we would like to see and do whenever we go back.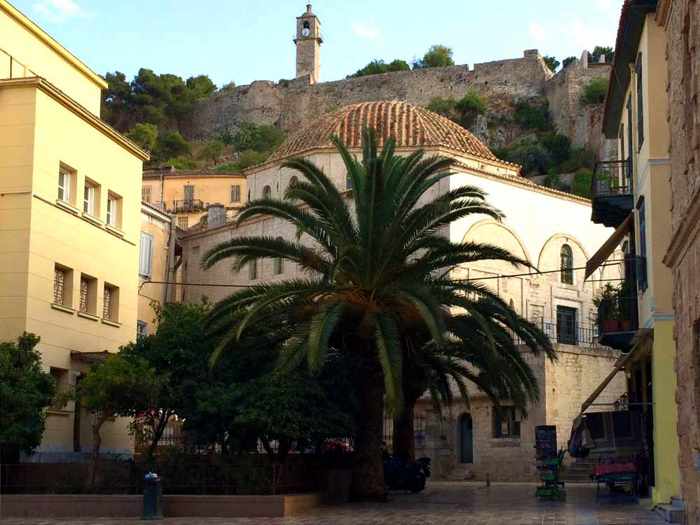 Behind this palm tree at Syndagma Square stands the first Greek Parliament building. Towering above it on the hilltop are the clock tower and a stone fortification wall of the Acronauplia fortress.
So what exactly did we like about Nafplio? It would be difficult to name just one or two main reasons, since there were so many appealing characteristics and elements that combined to make Nafplio such a perfect vacation destination for us.  But I can easily describe the Nafplio features that rank among our favourites.
There's the Old Town, of course, which fascinates with its colourful streets and buildings, attractive parks and squares, historic sites and monuments (including three castles), and an extensive selection of shops, restaurants, bars and hotels. 
We also enjoyed the long waterfront walkways, the scenic coastlines offering plenty of places to swim in the tempting turquoise waters of the Argolic Gulf, and the exhilarating views of hills, mountains, sea and sky.
I describe those features, and others, with a series of photos on page 2 of this post. Click here to see and read more about why we fell for this amazing and enchanting place. 
If you haven't been to Nafplio before, this 10-minute video will show you exactly what you would see if you were to wander the Old Town's charming streets, lanes and squares. The film was published in February 2017 by YouTube contributor Le Monde en Video. 
CONTINUED ON PAGE 2