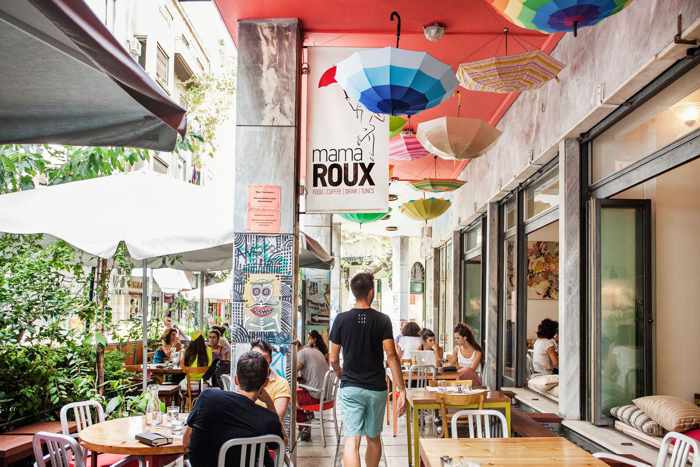 The open-air terrace at Mama Roux is shown in a  photo from the restaurant's Facebook page. Mama Roux is among 10 top Athens cocktail bars & restaurants that expressly forbid smoking on their premises, according to an article from the Greece Is culture and gastronomy website.
Breathe better: From a visitor's point of view, there are very few negative things I can say about Greece. I love going there, and wouldn't publish this website if I didn't. But like any place on Earth, it's not a perfect paradise and it does have some drawbacks. The biggest, from my personal perspective, is the wide prevalence of smoking — not just by locals, but by tourists, too.
I'm seriously allergic to tobacco smoke — it makes me intensely nauseous, and it hinders my breathing. It also stings my eyes and sticks to my contact lenses, leaving them scratchy and uncomfortable. And it doesn't matter if I'm inside a building or outdoors — if someone lights up nearby, the impact of their smoke is just as severe.
It seems I have plenty of company: I've received messages from other people with smoke allergies, and I've spoken to numerous travellers (mainly from the USA and Canada) who have commented on the pervasiveness of smoking even in places where it's supposed to be illegal. 
Happily, I have found cigarette smoke less of a nuisance in recent years than it was during each of our Greek holidays prior to 2009. That was the year Greece enacted legislation to ban smoking in many public places, and though the law has often been ignored since it took effect, I have encountered far fewer people puffing in places where I can't easily escape their smoke, such as in shops, restaurants and hotels, or on public transit. I still have occasional problems, but I breathe much easier in Greece now than I did up to 2009.
Nevertheless, a meal in a restaurant or a coffee break in a cafe can be ruined for me if another customer or someone on staff lights up. No matter how far away I sit from a smoker (and I actually have changed tables to avoid some), their smoke will waft in my direction and give me grief. 
Since I've often wondered if there's anywhere I could go where I could be guaranteed someone wouldn't be smoking at the table beside me, I was glad to find an article entitled Athenian Hangouts Without Smoke, which was published at the end of March on the excellent Greece Is culture and gastronomy.
Written by Maria Coveou, the article profiles 10 Athens restaurants and cocktail bars "which are smoke-free in theory and in practice, and where exceptions are never made."
I haven't been to any of the establishments yet (though I have walked past one — the legendary Zonars restaurant and lounge), but I have bookmarked the article to keep on hand for my next trip to Athens.
If you're planning to visit Athens and you're a non-smoker yourself, click here to read Maria's article and save it for future reference. 
And if you happen to know of other bars and restaurants in Athens (or anywhere else in Greece) that steadfastly forbid tobacco smoking on their premises, please let me and my non-smoking readers know by adding a comment to this post (simply click on the word "comments" under the headline at the top of this article, and write your response in the "Leave a Reply" box.) Those of us with cigarette smoke allergies will be immensely grateful for the information!

One of the city's most famous restaurants and lounge bars, Zonars is another establishment where non-smokers can enjoy a drink or meal in an environment free of tobacco smoke. This street-view photo of Zonars was shared on Facebook by Aspasia Taka Architects.