Click the arrow to view 36 Hours in Athens by The New York Times
On the rebound: As tourists continue pouring into Athens in record numbers, visitor statistics aren't the only things on the rise — so is the city's self-confidence and creativity, The New York Times reports.
That surge in local pride is in turn reflected in the city's burgeoning arts and culture scene, where new shops, restaurants, bars and, museums and cultural venues have been popping up all over Athens, Joanna Kakissis notes in a travel piece published by the venerable American newspaper.
New cafés & restaurants revive city squares
"After years of dreadful press that defined Athens as a broken-down capital prone to fiery riots, the city's self-confidence and creativity are stirring again. Enterprising young fashion and graphic designers are opening shops celebrating the classic lines of ancient Greece and the anarchic wit of modern times. In reviving city squares, there are new restaurants and cafes serving native delicacies like Cretan sausage and sheep's milk yogurt with preserved quince. The five-year-old Acropolis Museum is consistently rated one of the top museums in the world, and the National Museum of Contemporary Art is set to move into a new building later this year. Even rough times have silver linings," she writes in 36 Hours in Athens, published this week.
The article chronicles a weekend visit Joanna paid to the city, describing the various landmarks and tourist attractions she visited, the restaurants and bars where she ate and drank, and the shops and cultural centers she discovered.
36-hour weekend visit
The informative travel feature includes a map showing the locations of places referred to in the article, plus a "details" list of addresses and websites (where available) for the various venues.
The article is accompanied by the video I posted above, which includes insightful brief interviews interspersed with colourful scenes of city streets and attractions. The video was created by the team of Fritzie Andrade, Max Cantor, Chris Carmichael and Aaron Wolfe.
Click here to read the complete article by Joanna Kakissis in The New York Times' online travel section.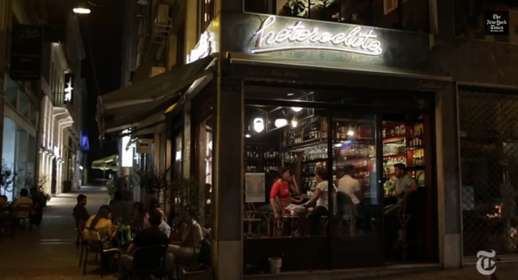 One of the places The New York Times visited was Heteroclito cav & bar à vin, seen here in a screen capture from the newspaper's 36 Hours in Athens video