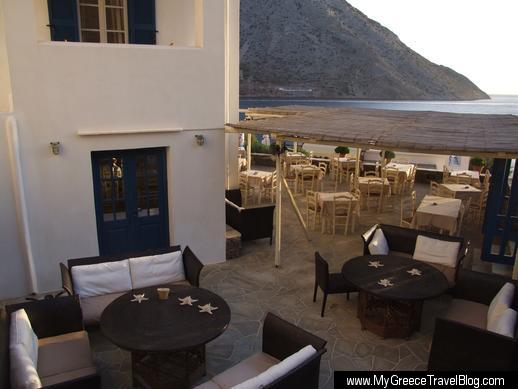 The outdoor dining terrace at the Delfini Hotel on Sifnos. The Delfini restaurant is open to the public as well as to guests of the hotel, and serves excellent home-cooked Greek cuisine and seafood dishes.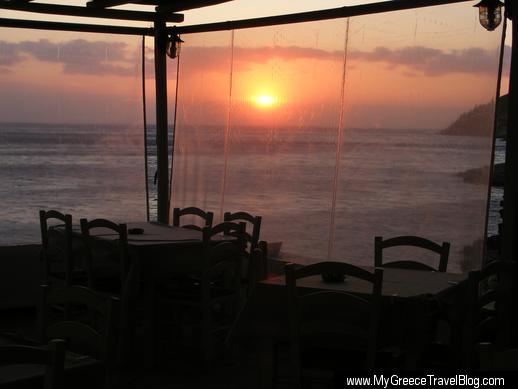 Clear windscreens shelter Delfini restaurant guests on windy evenings, but still allow views of the sunset and Kamares Bay
Fond food memories: An online conversation about Sifnos restaurants a few days ago prompted me to pore through my travel journal and hundreds of photos we shot during our four-day visit to the island back in 2007.
Good food was the topic of our message exchange, and it also happens to be something for which Sifnos has long been famous.
While researching islands to visit on that trip seven years ago, I learned that Sifnos has been well-known for fine cuisine for hundreds of years, largely because the excellent pottery and ceramics produced on the island gave Sifnian cooks an early edge in developing culinary techniques and honing their kitchen skills. I also read that many of the top chefs in Athens and elsewhere in Greece got their training and started their careers on Sifnos.
I don't know how accurate those stories are, but I can confirm that we did eat well on Sifnos; in fact, we still talk about the food we enjoyed there.
Two excellent dinners at Delfini Hotel
Two of those meals were in the restaurant of the Delfini Hotel where we were staying on the far side of Kamares Bay, directly across from the ferry port at Kamares. 
Our room was situated right above the Delfini's seaview restaurant terrace, and the delightful food aromas that wafted from the kitchen through our open windows enticed us to have our first dinner there instead of walking into town for the evening. We had home-made spinach pies, stuffed aubergines, a hearty seafood soup that was chock full of fish and vegetables, wine, and a yummy cheesecake for dessert. The meal cost €42 and was wonderful.
We walked into Kamares for dinner on our second night, and saw a queue outside L'Osteria da Claudio. We recognized several of the people waiting in line for a table — they, too, were staying at Hotel Delfini. They told us they had eaten at da Claudio before (some had been there more than once) and thought the Italian cuisine was amazing. The waiting time for a table inside the small dining room would be about an hour, but they said it would be worth it.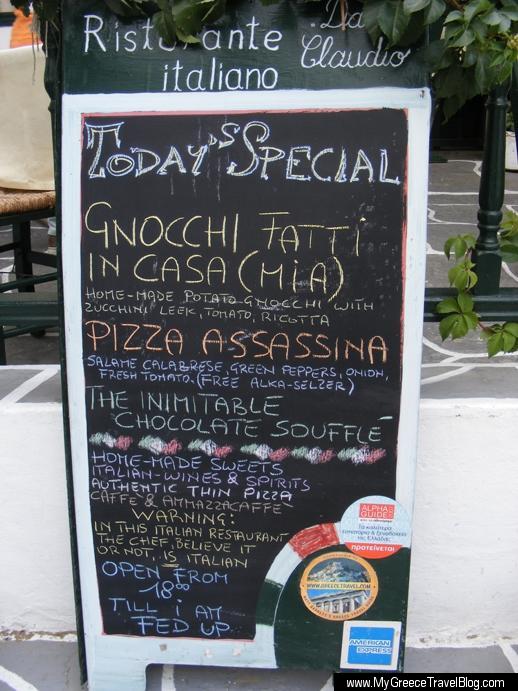 A sign at L'Osteria da Claudio, on the main street in Kamares. The popular Italian restaurant had many repeat visitors when we stayed on the island.
Please click on the link below to continue reading and to view more photos on page 2 of this post.
CONTINUED ON PAGE 2