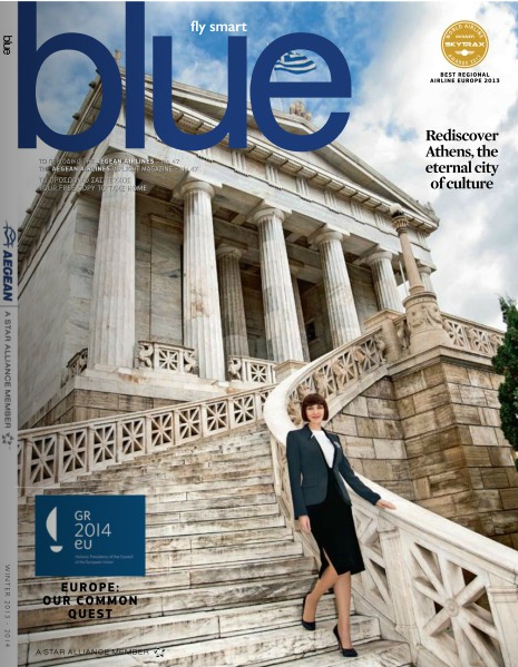 Greek actress Maria Nafpliotou descends the Renaissance-styled staircase at the National Library of Greece in Athens in the cover photo for the Winter 2013-2014 edition of Blue, the in-flight magazine of Aegean Airlines.
No flight required: If you haven't been to Athens before, or haven't spent much time there, the current issue of the Aegean Airlines in-flight magazine presents plenty of good reasons why you should book a first-time or a longer repeat visit to explore "the eternal capital of culture."
With its "Rediscover Athens" cover feature, the Winter 2013-2014 edition of Blue magazine explains "why we love Athens" and shines the spotlight on the city's top cultural attractions — Athens' history, museums, architectural landmarks and monuments; its city squares, hills, mountains and landmark streets; its wealth of cultural activities and its exciting culinary landscape; and its extensive, vibrant seafront.
Photos of world-famous Athens attractions
The feature includes a fashion photo shoot in which acclaimed Greek actress Maria Nafpliotou poses at some of the city's outstanding landmarks, including the fabulous Acropolis Museum, the Panathenaic Stadium where the first modern Olympic Games were held in 1896, the Temple of Olympian Zeus, the Stoa of Attalos, the Byzantine and Christian Museum, and the Monastery of Kaisariani.
Maria also poses at the enormous construction site for the Stavros Niarchos Foundation Cultural Centre, a spectacular new complex which will ultimately be home to several new Athens cultural attractions — the National Library of Greece, the Greek National Opera, and the Stavros Niarchos Park. The immense size of the building site, as well as the cluster of at least eight tall construction cranes towering above it, grabbed my attention when we passed by last October. Considering the severe financial crisis that has firmly gripped Greece for the past five years, I had not been expecting to see such a vast construction area with so many cranes in one place. But it's a promising, bright sign that Athens remains one of Europe's top cultural centres despite Greece's economic woes.
Blue magazine's "Rediscover Athens" profile also includes an "Insider's Athens" report in which Maria describes her favourite city hangouts.
Don't fret if you're not taking an Aegean Airlines flight in the near future — the seatback pockets on Aegean's aircraft aren't the only places to find a copy of Blue magazine. The full 228-page winter edition is available online in e-book format, so you can read the feature story and peruse the ads and other articles wherever you may be. Click here to view the issue.