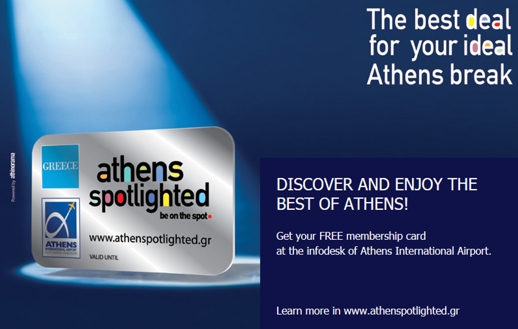 A promotional image for Athens Spotlighted, a city card discount project initiated by Athens International Airport and Athinorama, the Athens city guide magazine
Big savings: Next time you fly into Athens International Airport, there's something you should be sure to pick up before leaving the terminal (besides your luggage!).
The airport, in partnership with the Athens city guide magazine Athinorama, has launched Athens Spotlighted, a new city discount card program that offers significant savings at participating Athens shops, restaurants, nightclubs, galleries, museums and other cultural attractions.
The discount cards are free, and can be obtained from the Central Information Counter on the arrivals level of the airport terminal.
Savings on food, shopping & entertainment

So far, 22 restaurants are participating in the program, offering either 20% discounts on meals or special menus at special prices. Vassilenas in Piraeus, Kuzina in the Thissio district, Orizontes on Lycabettus Hill, Hytra in the Psirri district, and Aleria in the Metaxourgio area, are among the noteworthy restaurants involved in Athens Spotlighted. Seven different delis and food stores, including the Mastiha Shop in Central Athens, also provide cardholder discounts.
Four major entertainment venues — the Greek National Opera, the Greek National Theatre, the Onassis Cultural Centre and the Pallas Theatre — offer discounts of 15 to 20% on tickets purchased at the box office for each venue.
Nearly 20 major galleries and museums, including the Benaki Museum, the Museum of Cycladic Art, the National Gallery and the National Museum of Contemporary Art, also offer discounts on admission (from 10% to as much as 50%).
Deals for car rentals and city tours
More than 60 shops will provide discounts varying from 10 to 20%, depending upon the establishment, while over three dozen service providers — including car rental agencies, nail and hair salons and spas, and city tour companies — also offer cardholder savings, usually 20%. This includes Athens Walks, the independent local tour company that I personally recommend.
The Athens Spotlighted website contains full details about the program along with a list of participating businesses and attractions that you can download and print from your computer. (The listing includes information about any conditions or restrictions applicable to any product or service provided under the discount card program.)
I've made a note to pick up a card when I fly into Athens International Airport in a few weeks' time. If I do get to use it (I'm not sure if I will be spending time in Athens yet), I'll report back on my experience.