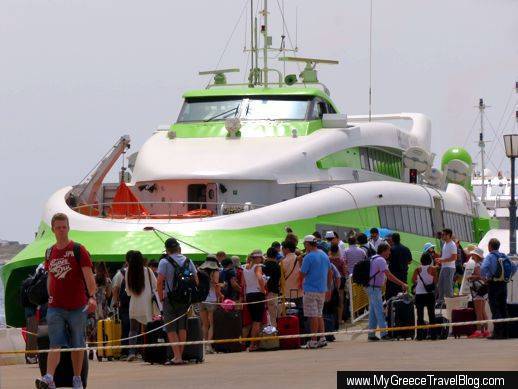 Passengers wait to board the Hellenic Seaways FlyingCat4 highspeed ferry in Mykonos for their journeys to Paros, Santorini and the city of Heraklion on Crete. Olympic Air is now offering a fast but more expensive alternative to the Greek ferries for travel between Mykonos, Santorini and Heraklion.
More convenient transfer times from Mykonos to Crete
Tourists wishing to travel from Mykonos to Heraklion, for instance, could take an 08:35 flight to Santorini, then continue onward with the 09:35 flight from Santorini to Heraklion. That would put them on Crete around 10:10, with virtually a full day ahead of them — plenty of time to check into their hotel and then hit the beach or go sightseeing. By comparison, a tourist travelling the same route by the Hellenic Seaways Highspeed 5 ferry would have to wait until midafternoon for the 14:55 departure from Mykonos, and would not arrive at Crete until 19:30. That would leave no time for the beach and little time for sightseeing before dinner.
Flights from Heraklion leave at either 10:35 or 11:15, depending upon the particular day, and put passengers onto Santorini either shortly past 11 a.m. or just before noon. Two days a week that gets people to Santorini half an hour sooner than the Highspeed 5 ferry; on Wednesdays, the flights will arrive 10 minutes later than the boat. But passengers heading onward to Mykonos will arrive during the noon hour, well over two hours sooner than they could have gotten there by ferry. The air travellers would be able to check into their hotels and finish a long leisurely lunch before people on the boat even approached the Mykonos Old Port.
Flights much more expensive than ferries
Of course, the speedier inter-island travel does come with a steeper price. I checked Olympic for fares and available flights from Mykonos to Santorini, and Santorini to Heraklion, this Friday (July 26). Cheapest available fare was €85 for each flight, meaning it would cost €170 to fly from Mykonos to Crete that day. By comparison, economy fare would have cost €68 for the Highspeed 5.
But for travellers who are pressed for time, or who dislike ferry travel because they're prone to seasickness, the Olympic Air flights will be well worth the higher price.