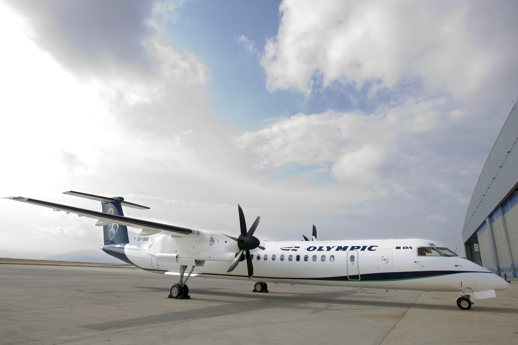 An Olympic Air media photo of one of its De Havilland DHC-8-402Q aircraft. The airline flies smaller prop planes to Naxos and several other islands.
Carry small!: Here's a tip for those of you (especially from North America) who tend to travel with a large carry-on bag, particularly one of those 22-inch hard-sided cases with wheels and a pull handle. If you're going to be flying Olympic Air to or from islands like Naxos, Paros, Milos, Syros or Kastelorizo, your case probably won't fit in the overhead bins. So travel with a smaller bag instead, or be prepared for the possibility your carry-on may have to be checked in at the gate when you're about to board.
Olympic Air uses Bombardier Dash 8-100 aircraft on its routes to a number of Greek islands with small airports. Although the 37-passenger propeller planes are ideal for serving destinations with short runways, their compact interior space isn't so convenient for passengers since the overhead bins are shallow and significantly smaller than the ones on Boeing and Airbus planes.
Carry-on cases may have to be checked at the gate
Several Americans waiting for our Olympic Air flight from Athens to Naxos last month were taken aback when airline personnel approached them in the lounge at our gate and advised that their bags were too big to be taken on board. The cases were tagged and given to ground crew for delivery to the aircraft luggage hold.
When we got on board, we thought our knapsacks — which held fragile laptops and camera equipment, along with travel paperwork and other personal belongings we couldn't afford to lose — might wind up being checked, too. The knapsacks easily fit under the seats on the Dash-8's we have flown from Milos, Paros and Naxos in the last three years, but for this particular flight we were assigned bulkhead seats in Row 1. That meant there was no seat in front of us under which we could slide our carry-ons, so they had to go somewhere else. But they each were about an inch too wide to scrunch into the narrow overhead bins. Luckily for us, the flight attendant offered to store them in the lavatory for take-off and landing. But she could just as easily have insisted they be checked into the hold.
Brilliant carry-on advice from Condé Nast Traveler
Next time we travel, we'll prepare in advance for the possibility our carry-ons might get gate-checked — using advice I read in an online Condé Nast Traveler magazine article just the other day.  The #1 item in the magazine's list of The 12 Biggest Travel Mistakes You Think You're Too Smart to Make recommends putting important valuables "in a thin pack or pouch inside your carry-on" so that, in the event you're required to surrender the case at the last minute, "you can remove the smaller bag and keep an eye on it beneath the seat in front of you."
Brilliant suggestion! To which I'll add one of my own: Tell the check-in staff you don't want a front-row bulkhead seat!
Note: If you're travelling to Greek Islands like Mykonos, Santorini, Rhodes or Kos on Aegean Airlines, you'll be flying on an Airbus jet aircraft, not a prop plane, and the overhead bins should be big enough to accommodate your carry-on. But it will still be a good idea to be prepared as Condé Nast recommends.
Click here to see the allowed baggage limits section of the Olympic Air website, and click here to view the Aegean Airlines baggage allowance chart.