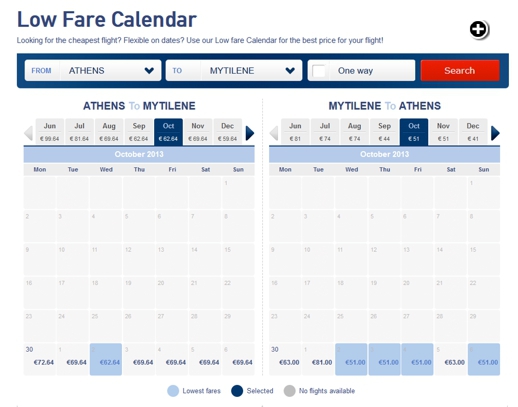 Above is a screenshot of the Aegean Airlines low fare calendar, showing prices for return flights between Athens and Lesvos island in early October of this year. Click on the image to view a more readable full-size picture.
The new website services will make it easier for visitors to budget and plan their vacations in Greece, especially if they would prefer to save time by flying to island destinations instead of taking ferries. The calendar also shows if flights are full on any particular day.
But if you're planning a trip to the Greek Islands next spring, you won't find the lowest fares on the calendars just yet. Today, Aegean's calendar showed fares for Athens to Santorini flights only as far ahead as Sunday March 2 2014, while Olympic's displayed fares up to Saturday March 29 2014. If you're planning to travel later than those dates, you'll have to keep checking back to see if prices have been added. (The airlines do advise that their calendars only offer "up to" 11 months of fare data.)
Despite the incomplete (at this time) information for some routes, the calendars will certainly come in handy for people trying to figure out where they would like to go in Greece — a difficult task in the best of circumstances, given the country's vast number of appealing destinations.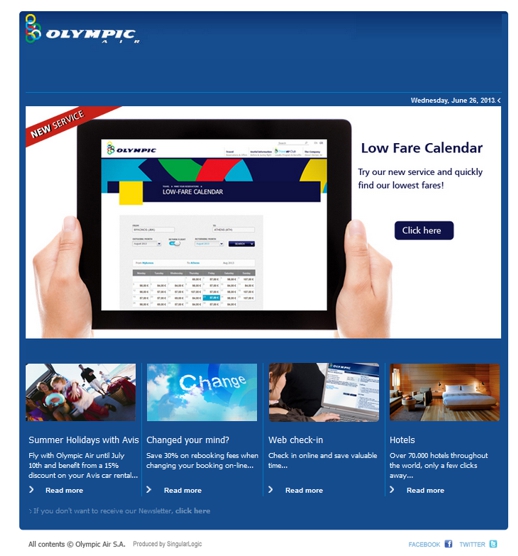 A screenshot of the Olympic Air low fare calendar announcement I received in an email from the airline today.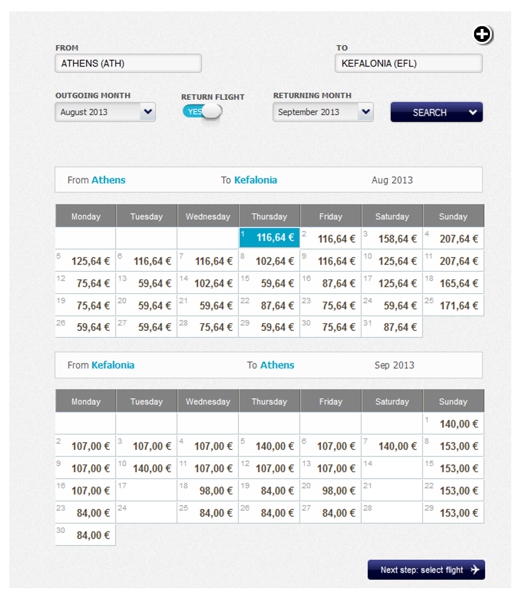 A screenshot showing Olympic Air prices for return flights between Athens and Kefalonia during August 2013. Click on the image to view a full-size photo.