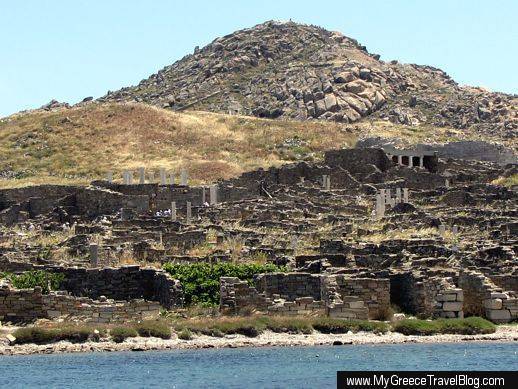 Ruins extend across a vast area at the base of Mt Kynthos on Delos island
Ferries from Mykonos operate daily except Mondays
Delos is open to the public every day except Mondays. Ferries from Mykonos depart from a quay in the Old Port area up to three times per day at 9, 10 and 11 o'clock in the morning, and return at 12 noon, 1:30 and 3 in the afternoon. The ferry rides take up to 30 minutes, depending upon weather and sea conditions. (During low and off season, only one return trip may be offered. That was the case this spring and during the first three days I was on Mykonos this past May — only a 10 a.m. departure was offered. However, by the time I left Mykonos May 18, two return ferries were operating and full service of 3 boats per day was imminent.)
Guided tours are not included in the ferry ticket and admission prices. Those fees merely get you over to the island and into the archaeological site. Once inside the entry gate, you're completely on your own to explore the ruins and the archaeological museum (free to enter).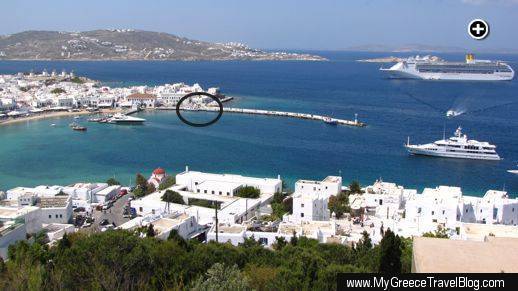 A view of the Mykonos Old Port. The black circle indicates the location of the Delos island ferry ticket booth. The ferries depart from and return to the long narrow quay that extends across the center of the photo.
Guided tours cost €40 and up for adults

Guided group tours are available, and can be purchased either at the ticket booth situated on the excursion boat quay (it's only steps from the Mykonos Town Hall), or from travel agencies in Mykonos Town. Prices are €40 for adults, €20 for children aged 6 to 12, and free for kids under 6. These fees include the ferry transportation, entrance charge and the tour with an authorized guide (so a guided tour essentially costs only €18 more for adults than a do-it-yourself walkabout).
These tours typically involve large groups of up to several dozen people. Visitors who prefer a private guided tour for smaller groups can arrange those, too, but they usually have to be booked in advance through a travel agency, and they're much more expensive  — prices can range from €50 to €60 per person.
If you take the ferry over to Delos for a do-it-yourself look around but decide once you get there that you'd prefer to take a group tour instead, simply approach any of the guides and ask if you can join them. If their groups aren't too large, they often will accept additional people for fees as low as €10 per person.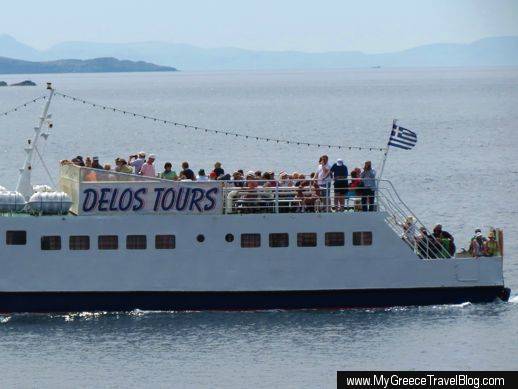 The ferry boat Margarita arrives at the Mykonos Old Port on its return trip from Delos island. The Margarita is one of three ferries that provides transfers between Mykonos and Delos.
Bring a good guidebook or read the Delos e-guide online
If you want to explore Delos on your own, be sure to bring along a good guidebook so you'll be able to identify and understand the significance of the ruins you will encounter as you hike around the island. The annual Greek Island Hopping travel books by Thomas Cook Publishing have decent Delos guides, while the John S. Latsis Public Benefit Foundation offers a detailed 462-page online Delos e-guide that I recommend travellers read in advance.
Also be sure to bring along bottled water, snacks, a hat and sunscreen, and wear sturdy walking shoes or hiking boots. There are very few places to find shade on Delos, and though there is a small café next to the museum, its prices are expensive. Consider packing a picnic lunch to enjoy at the top of Mt. Kynthos — it's a thigh- and calf-burning hike to the top, but well worth the effort for the fabulous views of the Aegean Sea and surrounding islands. 
Excursions from Naxos and Paros also are available, for prices starting around €45 this year.  The Naxos Star excursion boat makes trips to Delos and Mykonos on Tuesdays, Thursdays and Sundays, while the Alexander tour boat sails to Delos and Mykonos on Tuesdays and Fridays. Check with travel agencies on Naxos and Paros to confirm prices and schedules from those islands.
Signs outside a travel agency in Naxos Town advertise day tours on the Naxos Star and Alexander excursion boats. Click on the photo to view a larger image.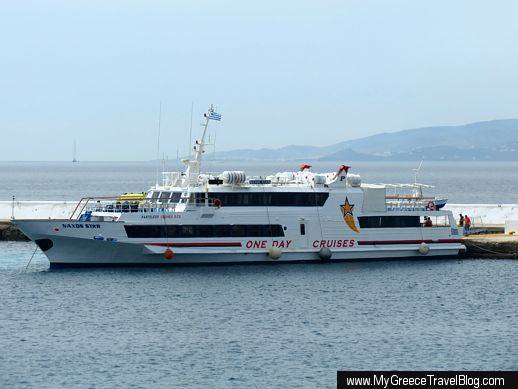 The Naxos Star tour boat at the Mykonos Old Port on May 16 2013