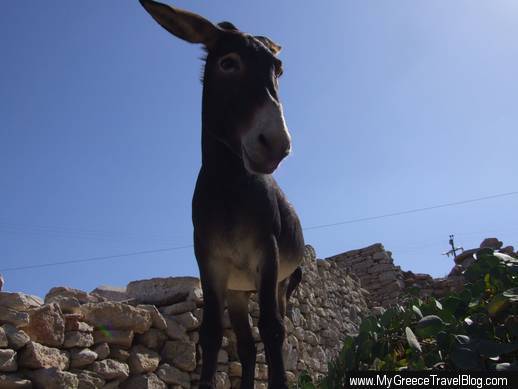 This curious donkey quietly came up behind us and peeked over our shoulders while we were taking photos near Chora village on Folegandros
A funny fright on Folegandros
Shortly after we reached Folegandros and checked into our accommodations at Fata Morgana Studios, for instance, we went for a walk to take some pictures of Chora, the island's scenic clifftop village, and the stunning Church of Panaghia that clings to the steep mountainside high above the town. We were standing on the edge of a road, next to a low stone wall, when I suddenly sensed movement near my right shoulder. When I turned and discovered a big donkey head hovering mere inches away from mine, I got so startled I stumbled and almost fell over. The animal had quietly come up behind us from the other side of the wall, and had craned its neck to peer over our shoulders as if it were trying to see the images we were lining up in our camera viewfinders! The donkey's actions, and my reaction, were hilarious, and we cracked up laughing. The beast calmly stood there, eyeing us curiously, then turned and walked away after we took its photo.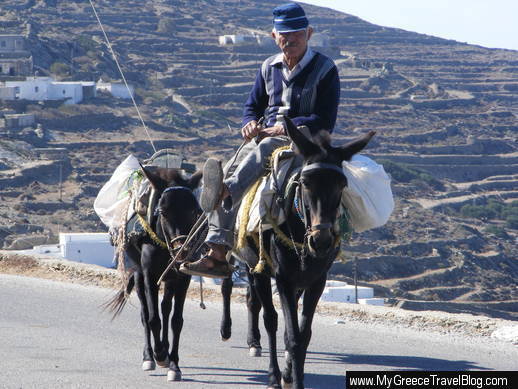 We passed this man and his mules while walking to Ano Meria village on Folegandros
During our walk to the village of Ano Meria the next day, we passed a man who was riding a mule while two donkeys followed right behind. We took some photos as he approached but, as he got closer, he began muttering and we could see that he looked angry. He kept repeating what sounded like "moolah," the American slang for "money," and we wondered if he was demanding payment for being photographed. He didn't speak any English, and we didn't understand his Greek, which seemed to annoy him even more. He and his mules headed on their way, and we continued on ours. Someone later told me that the old fellow was more likely asking if either of us wanted to pose for a picture with one of his donkeys, but we certainly didn't get the impression he was trying to welcome a pair of tourists to Folegandros.
 We have passed local residents riding or walking with donkeys on other islands, including Astipalea, Naxos and Sifnos, but none of them asked for "moolah" or looked miffed when we took their photos (a man riding a donkey on Naxos, and an elderly woman walking with one on Astipalea, both stopped and obligingly let us snap some pics).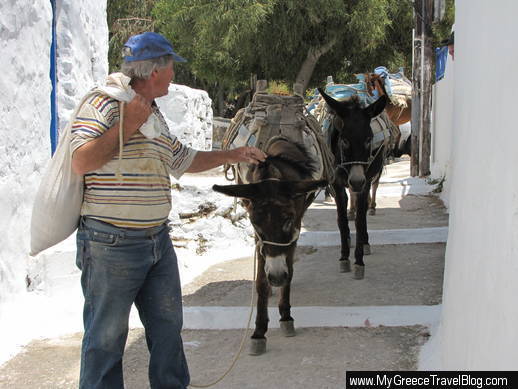 When this pack of mules suddenly approached us on a narrow path in Lagada village on Amorgos, their handler stopped the animals so we could take their photo …
… then he urged me to move behind the animals so Dan could get me in one of the shots
Three separate times while we were hiking on Amorgos, we encountered local men leading two or more donkeys along the path. On two of the occasions, the men stopped their mules and, in broken English, encouraged us to take photos. One even motioned for me to get behind his donkeys so Dan could include me in the picture, too.
On Patmos, we watched a pack of mules carry bales of hay on a farm near Stavros beach, while on the outskirts of Chora we met a friendly donkey who shared a large, walled-off yard with a horse. From their vantage point on the hillside, the animals enjoyed an incredible view of Skala port town, as well as sweeping views of the sea and island scenery to the east, north and west.
Most of the other mules we have seen were simply grazing in fields or in yards behind houses.
Below are photos of some of the donkeys and mules we've seen during our travels, along with a link to my online Mule Tidings Flickr album containing dozens more pictures in full-size format.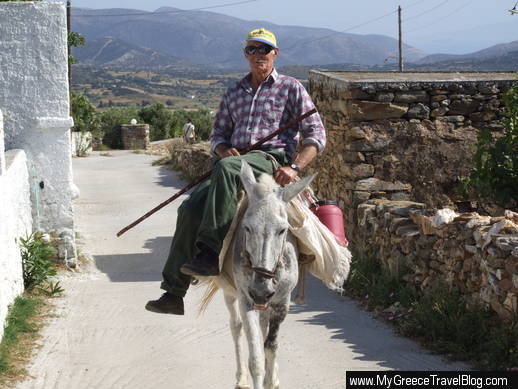 A man rides a donkey up a road near the Demeter Temple on Naxos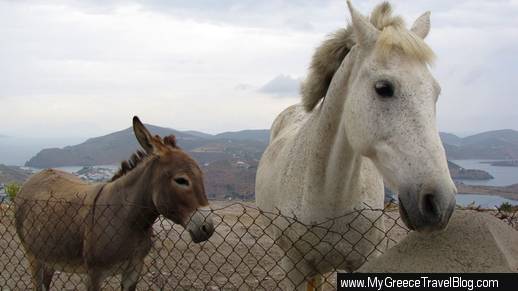 A donkey and a horse in a yard on a hill near Chora village on Patmos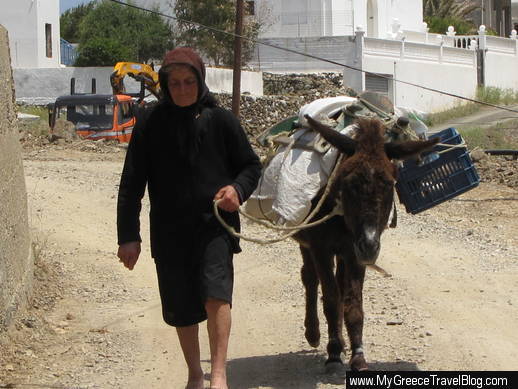 An elderly woman walks with her donkey in the Livadi area of Astipalea
A mule munches on spring wildflowers in a yard next to a house in Tripiti village on Milos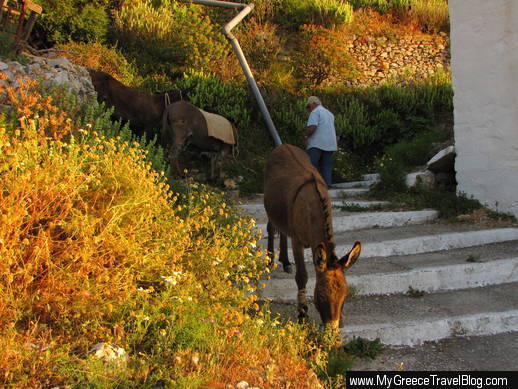 We encountered this man and his three mules while we were walking up a mountain path to the Potamos villages on Amorgos …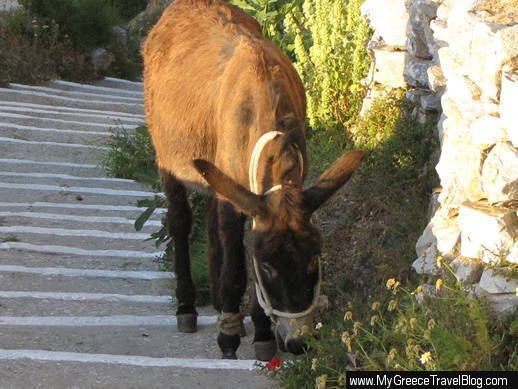 … he gave the animals a moment to graze on weeds and flowers along the path …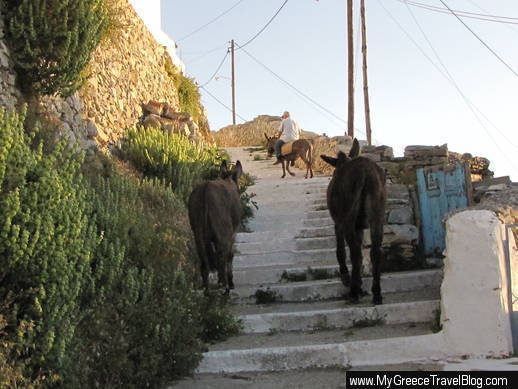 … then climbed atop one and led the others up the path ahead of us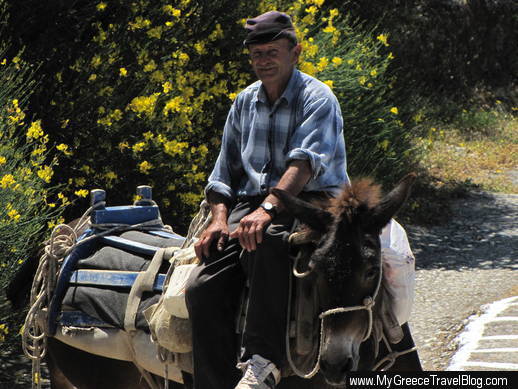 This man stopped his mule on a path near Potamos so we could take their photo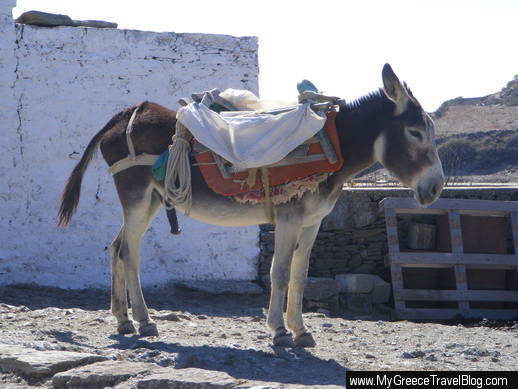 Something had obviously aroused the attention of this mule we saw standing outside a farm building near Ano Meria on Folegandros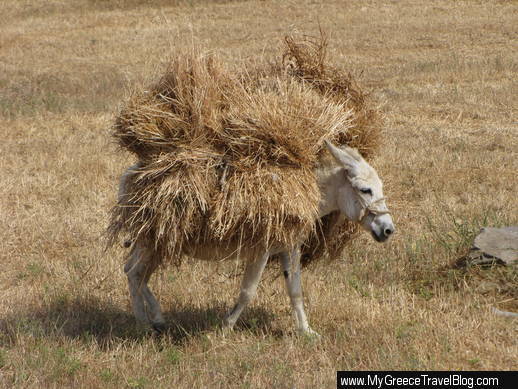 A donkey carries bales of hay on a farm near Stavros beach on Patmos …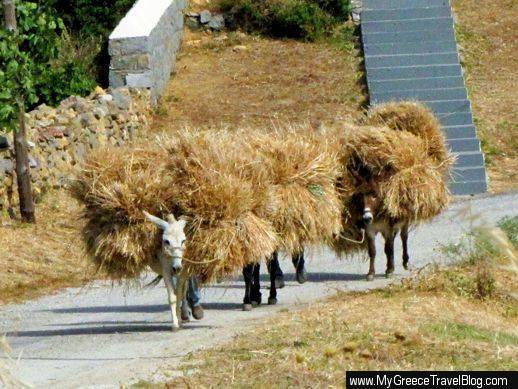 … it was one of three mules we saw hard at work with two farmers whose legs and feet are partially visible in this picture.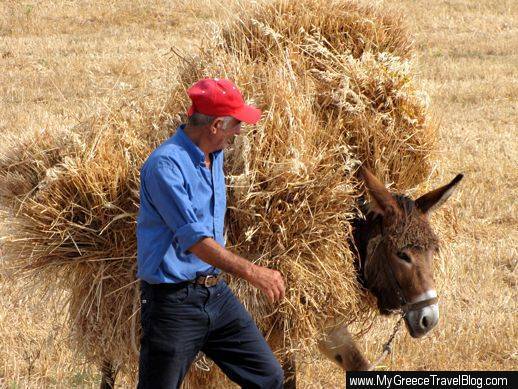 One of the farmers walks alongside the mule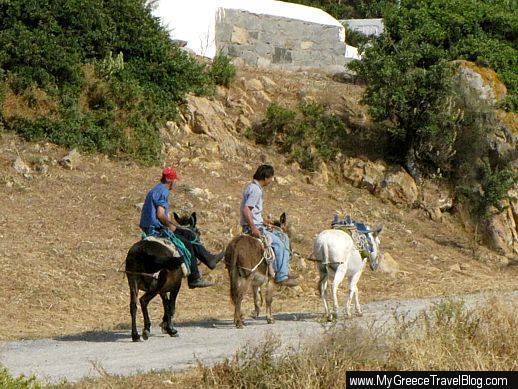 The team heads back up the hill to collect more loads of hay to spread in their field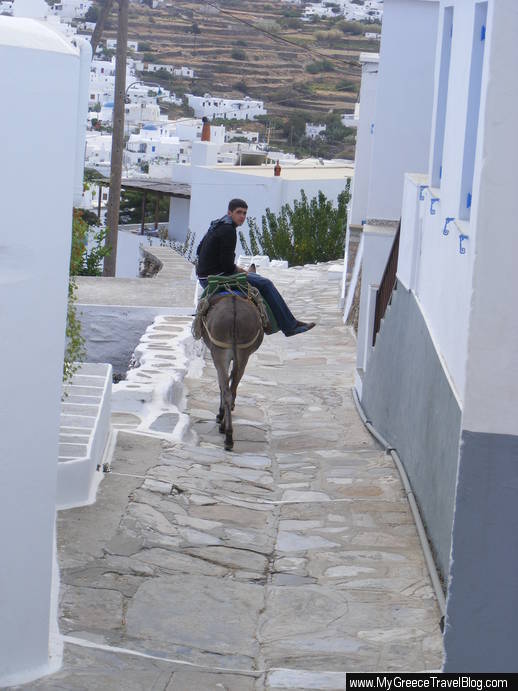 A young Sifnos man rides a donkey down a lane near Artemonas village
 Above is my Mule Tidings album on Flickr, with more than 60 photos of donkeys in the Greek Islands. Click twice on the image to enter the album and view the full-size photos.