The castle is centrally located next to the Kos Town harbour and seafront, so it's within easy walking distance of all major monuments and tourist attractions in Kos Town. From an elevated walkway that extends along the inside perimeter of the castle walls, visitors can enjoy good views of Kos Town, the harbour and ferry port, and even the coast near Bodrum Turkey.
Below are several more photos of the castle, along with a link to an online album containing dozens more.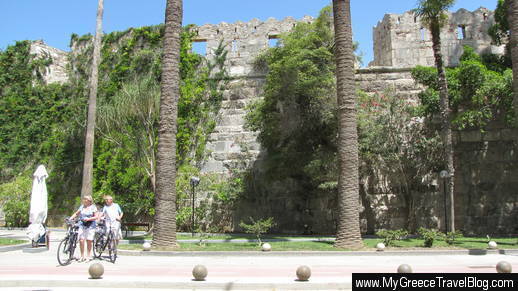 Tourists on Finikon street outside the Castle of Neratzia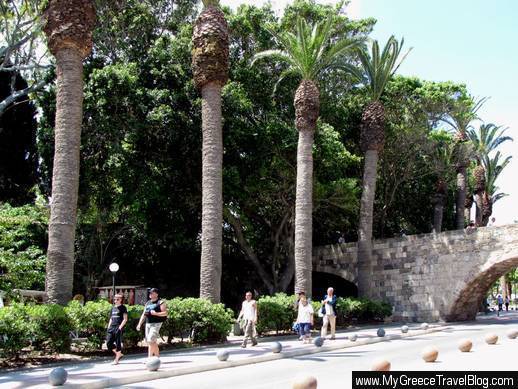 Entry to the castle is via an elevated walkway that passes above Finikon street. It originally was a bridge that passed above a moat where the street is now located.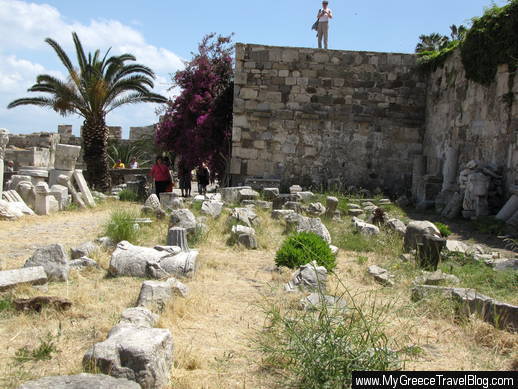 Antiquities abound inside the castle walls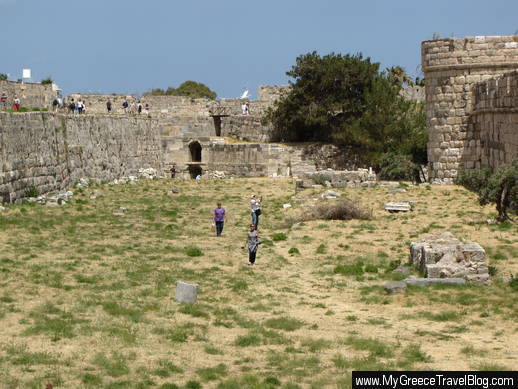 Tourists stroll across one of the huge fields between the original castle (right) and the outer wall that was built over 50 years later. Other tourists can be seen walking on a passageway that winds along the inside of the outer wall, three storeys above the ground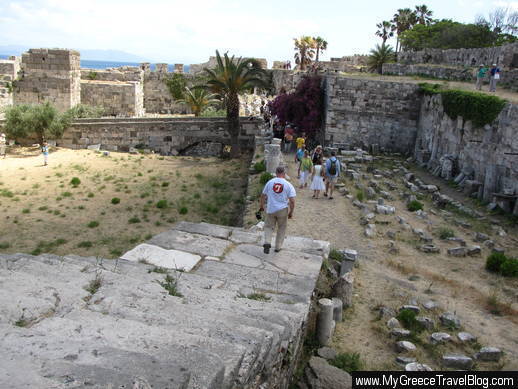 A visitor walks down a flight of stone steps that leads to the elevated walkway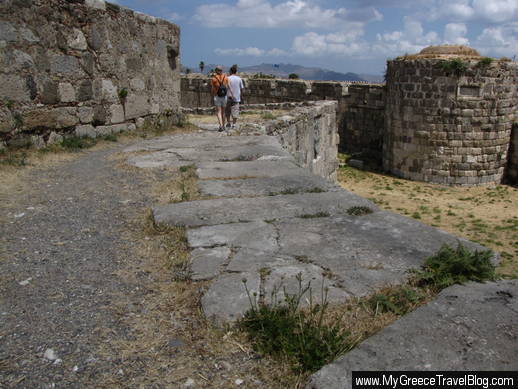 Visitors stroll along the elevated walkway next to the outer wall. There are no safety railings or handrails anywhere, so visitors must keep a careful eye on where they are stepping.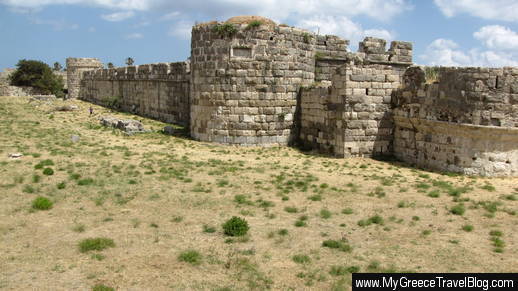 Looking across the field to one of the round towers of the original castle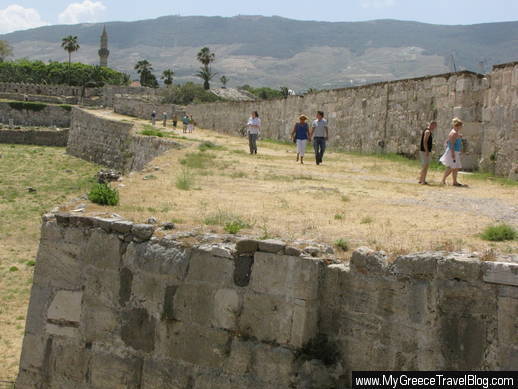 A glance down the walkway gives a good idea of the immense size of the castle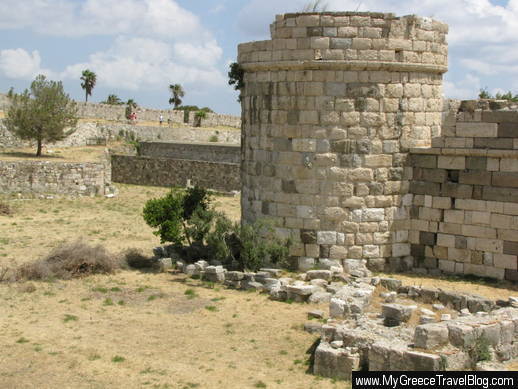 Though there are trees and bushes at different locations inside the castle, there aren't many spots offering shade on a sunny day. If you visit the castle, be sure to wear sunscreen!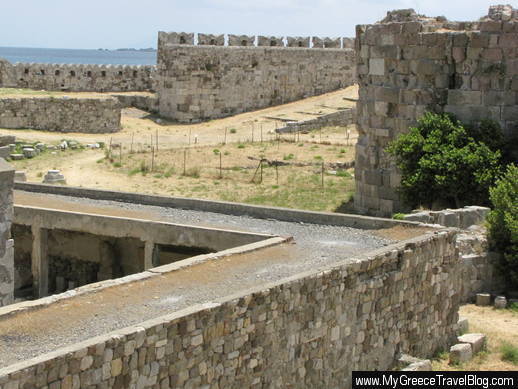 The castle has numerous different levels and sections …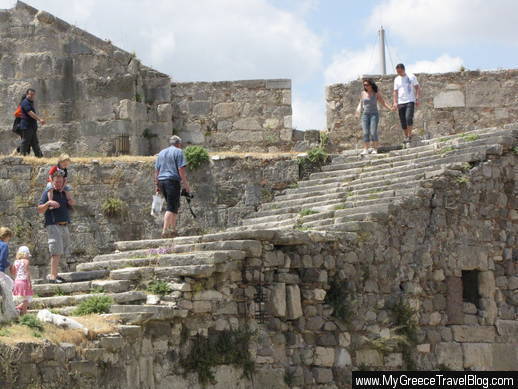 … and of course that means visitors will encounter stone stairs every now and then. Travellers with mobility problems will not be able to see much of the castle since step climbing and a lot of walking on uneven surfaces is required to get around the site.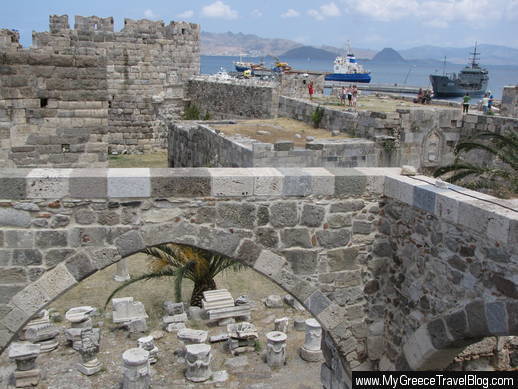 From the castle's upper walkway, visitors can see ships anchored near the port — and the coast near Bodrum, Turkey in the distance.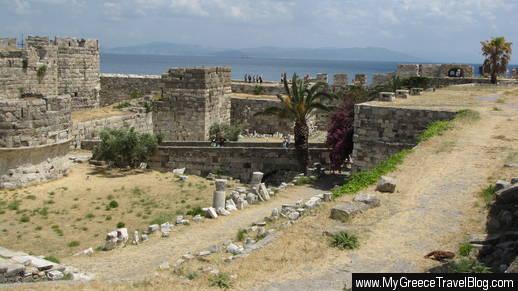 This view shows only one-quarter of the castle's vast interior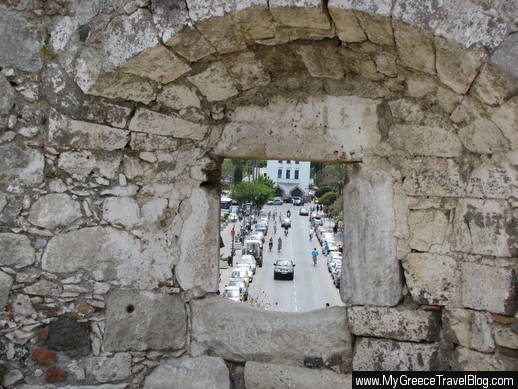 A castle window offers a peek at Akti Miaouli street on the Kos Town seafront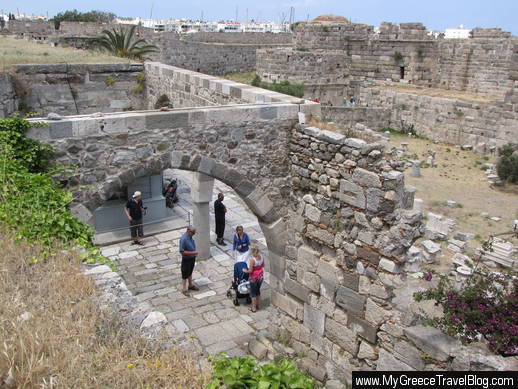 Looking down at visitors standing near the castle entrance area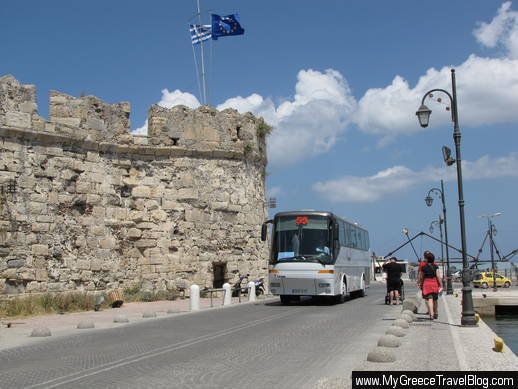 A tour bus passes the castle as it leaves the Kos Town port
Above is my Castle in Kos Town photo album on Flickr, which contains more than 100 photos of the Castle of Neratzia. Click once on the image to view a small-format slideshow, or click twice to access the album directly and view full-size photos with captions.