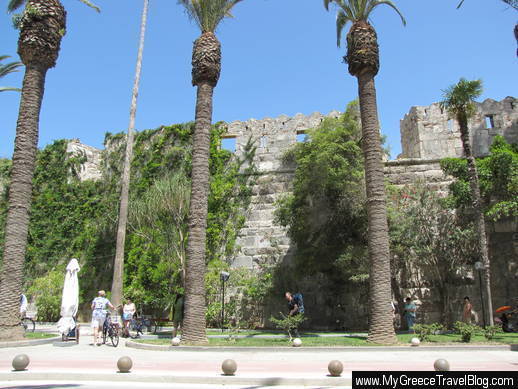 The exterior wall of the Castle of the Knights of St John, viewed from the opposite side of palm-tree-lined Finikon street in Kos Town …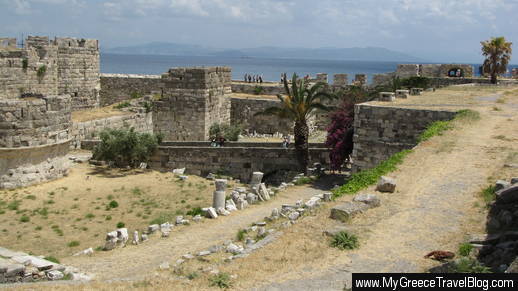 … and part of the castle interior, viewed from the elevated walkway that extends along the perimeter of the castle's tall stone walls. Visible in the distance is the Bodrum area of Turkey.
Seaside stronghold: When I was a little kid, my friends and I used to build makeshift forts and treehouses and compete for control over the territory. "I'm the king of the castle, and you're a dirty rascal" was a familiar taunt back in those days. It's too bad our parents never took us to Kos, because we would have had the time of our young lives visiting the Castle of the Knights in Kos Town.
One of the most popular tourist attractions in Kos, the castle was constructed sometime in the 15th Century by the Knights of St. John, who used stones and marble recovered from the ruins of an ancient city that was devastated by an earthquake. It took them more than 120 years to finish building the stronghold, which was the second castle to be built on the site. (The first one was built in the early 1300s and later got completely destroyed). There actually is a castle within a castle — the outer wall was built between 1495 and 1514 to provide extra fortification for the original castle built more than a half century before.
CONTINUED ON PAGE 2