One of the sandy beach coves at Kolimbithres on Paros
Cozy coves: As things turned out, May 24 2012 was not a good day to hit the beach on Paros. Although it was sunny when I went for breakfast, a rainstorm gave Naoussa a brief but thorough soaking in late morning before strong winds blew the clouds out to sea. It turned sunny again, but the winds refused to let up. Because of the blustery conditions, it wasn't a good day for cycling, either. But since it was my last full day on the island, I decided to rent a mountain bike from a cycle shop in Naoussa regardless, and rode off to see two beaches on the far side of the bay.
The mainly downhill bike ride to from Naoussa to Kolimbithres took only 15 minutes, and I arrived to find the area completely deserted. I shouldn't have been surprised — it was just too damned windy near the water! In fact, when I stopped riding and hopped off my bike, I nearly got blown over by a fierce gust of wind that sprayed me with a light mist of salt water. Since I had come all that way, though, I thought I would tough it out for awhile and see if I could at least take some photos and videos of what people have told me is one of their favourite beaches in the Greek Islands. I could see why they liked it so much.
Smooth brown sand and crystal-clear turquoise water
Kolimbithres "beach" actually is several cozy coves nestled between grey and brown coastal rock formations that have been buffed smooth by centuries of wind and waves. From certain angles, the smooth-sided stones on one of the long rock outcroppings looked organic, resembling the body of a giant beast like a rhinoceros or a dinosaur that had collapsed face-first into the water. Each cove has a beach of hard-packed soft brown sand (with some pebbles in places) leading into the crystal-clear shallow waters of the bay, with excellent views of Naoussa, farms and hillsides.
If it had not been so windy, Kolimbithres probably would have been packed with people that day. The beach and the gorgeous greenish-blue water looked so inviting, I was tempted to take a dip, but I knew better than to challenge the fast-moving waves. As it was, my ears were throbbing from the relentless blasts of wind, and it actually felt cool  standing near the water's edge. I had to pull on my windbreaker to keep from getting a chill, and the steady gusts of wind made it difficult to hold my camera steady to take photos. It took several attempts to take short videoclips, which I have published in the post below this one.
Only three other people showed up — and promptly left
At one point a man and woman arrived at the beach on a scooter, and started climbing the rocks near the coast.  But they hopped back on the bike and disappeared only five minutes later. A woman arrived next, and waved at me as she claimed one of the empty lounge chairs close to the seaside. But she didn't look comfortable as she lay in the sun, fully clothed in sweatpants, running shoes and a hoodie. She gave up and left soon after, too. I found shelter from the wind in a few nooks and crannies in the rocks and boulders beside the beach, but those weren't comfortable places to sit in the sun, either.
After about half an hour, I left the beach to continue my bike ride down the coast. I considered myself lucky to have seen Kolimbithres while there was some sunshine and only a few clouds. Just 20 minutes after I rode away, heading to Agios Ioannis beach, dark-grey stormclouds started streaming over the island, and the wind grew even stronger — and cooler. I cut short my bike ride and raced back to Naoussa, reaching the shelter of a café terrace mere minutes before a massive thunderstorm pounded Paros with heavy rain, thunder and lightning for over an hour and a half.
Kolimbithres truly is a beautiful beach area. Be sure to check it out if you're ever on Paros. Just don't go there on a windy day!
Below are several photos of Kolimbithres. You can view an online album containing dozens more pictures on the mygreecetravelblog.com Facebook page — even if you don't have a Facebook account. To access the pics, just click on ths link: Paros 2012: Kolimbithres beach.
Waves of turquoise water wash against the soft brown sand in one of the coves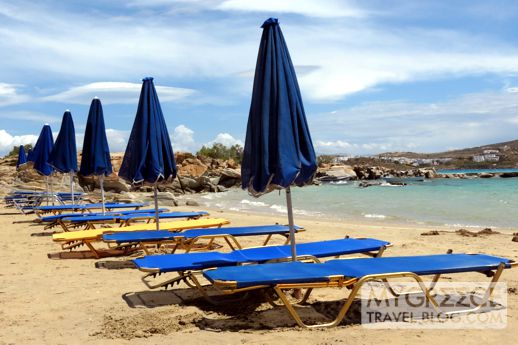 No problem finding a vacant sunbed on this extremely windy day!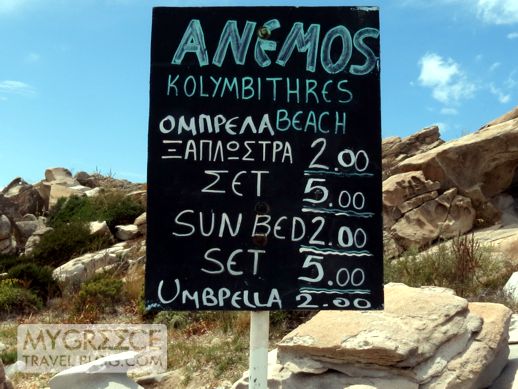 Lounge chairs and umbrellas are inexpensive to rent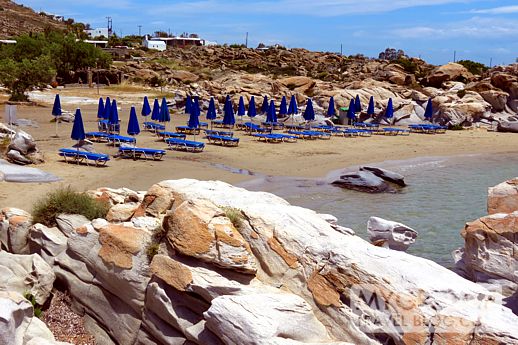 A view of one of the beach coves from a rock formation that juts into the bay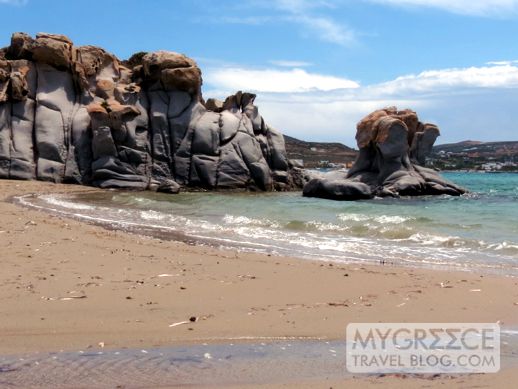 I thought this particular rock formation looked like giant beast that had collapsed on the sand, its face and head plunged into the water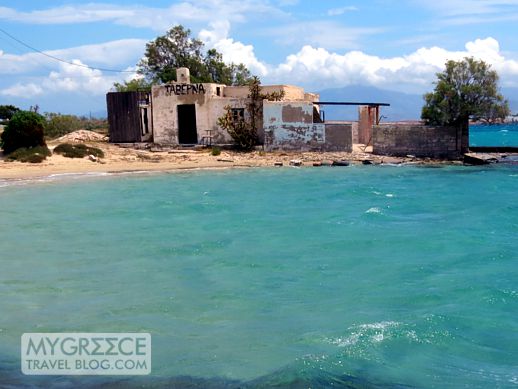 A dilapidated beach taverna building on one of the coves. There are several tavernas nearby, including one on the hill leading down to the beach, and more along the main road.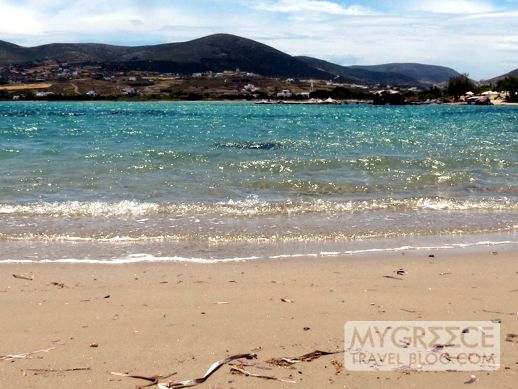 The view across the bay from one of the sandy coves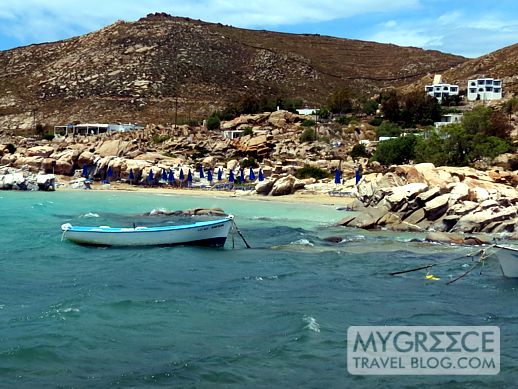 A boat bobs in the waves between two of the beach coves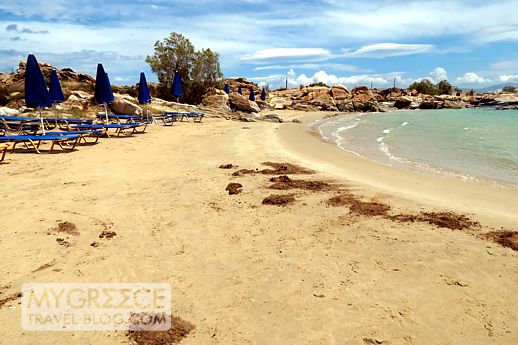 The soft sand and shallow waters make Kolimbithres a perfect beach for families with young children to spend a day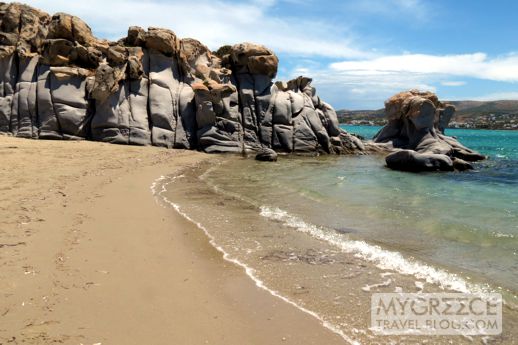 Another view of the rocks that resemble a giant dinosaur body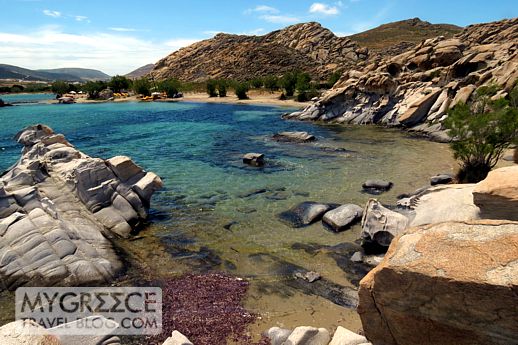 Crystal-clear water in a bay off to the right side of the beach coves. Another sandy beach is visible in the background. The bay is popular for waterskiing and other water sports activities.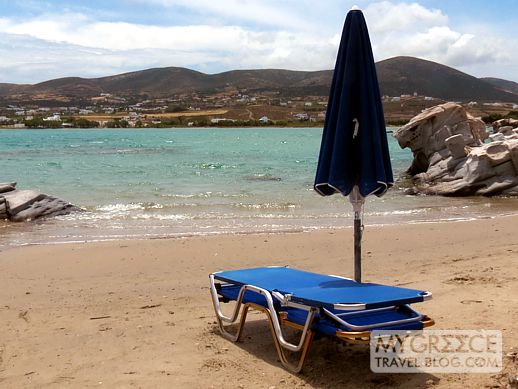 Sunbeds with a great view across the bay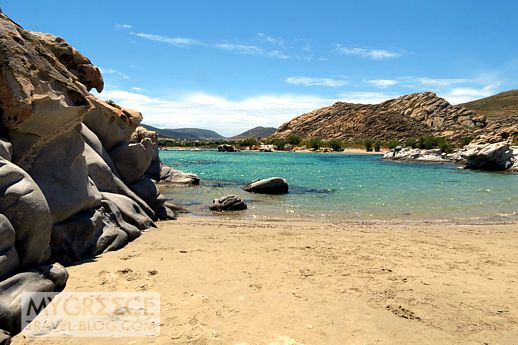 The view from one of the beach coves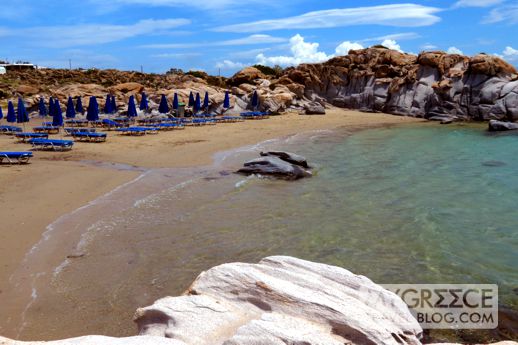 Half an hour after I snapped this photo, the blue sky completely clouded over with dark clouds as a thunderstorm moved across the island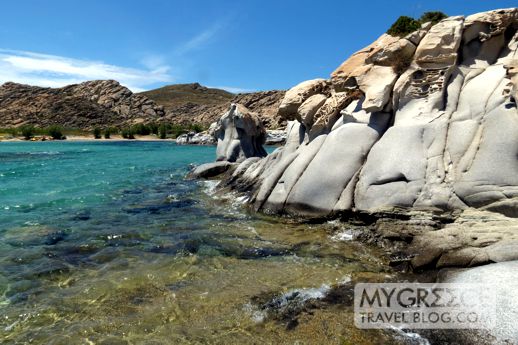 Wind- and wave-smoothed rocks along the coast at Kolimbithres