Lunar landscape looks like swirls of meringue
Actually, many people who have been to Sarakiniko describe it as having a surreal "lunar landscape," and compare its breathtaking terrain to giant swirls of meringue or frozen yogurt. And when you walk on and around the remarkable pumice rock formations, you sometimes do feel like you're visiting an alien world.
The beach itself is fairly small; a narrow strip of pebbly and soft light brown sand at the foot of a zig-zag-shaped shallow bay with gorgeous turquoise water. But many beachgoers prefer to lay their mats and towels on slight slopes or flat sections of the surrounding "hills" so they can enjoy the scenery and views across the sea to nearby Kimolos island.
Sublime topography, mine tunnels and a shipwreck
And there's more than just sunbathing and swimming to keep Sarakiniko's visitors entertained. Besides the striking, sublime topography, there's a warren of abandoned mine caves and tunnels accessible from the narrow gorge behind the beach, and even a rusty shipwreck on the rugged coast.
However, getting to Sarakiniko can be a bit of a challenge if you don't rent a car or motorbike while you're visiting Milos. When we went to Sarakiniko on May 26 last year, there was limited bus service to the beach from the port town of Adamas — only two scheduled bus trips, in fact, at 11 a.m. and 1 p.m. (those buses returned from the beach at 11:10 and 1:10 respectively). We actually walked to Sarakiniko from our hotel in Plaka, and had planned to catch the bus to Adamas instead of making the long trek there on foot. But the 1 o'clock bus never showed up. Luckily, two congenial German tourists offered us a lift to town in their rental car, so we didn't have to make the gruelling walk up the long hill from Sarakiniko to the main road to Adamas. (We did pass a few other people who were heading back on foot, though, once they realized the bus wasn't coming.)
Below are more photos of Sarakiniko. To view more than 200 larger-size pictures of the beach and surrounding area, check out my Milos 2011: Sarakiniko album on the mygreecetravelblog.com Facebook page. (You don't have to sign up for Facebook to view the pictures.)  Enjoy the photos but remember:  you really must visit Milos sometime to see Sarakiniko in person!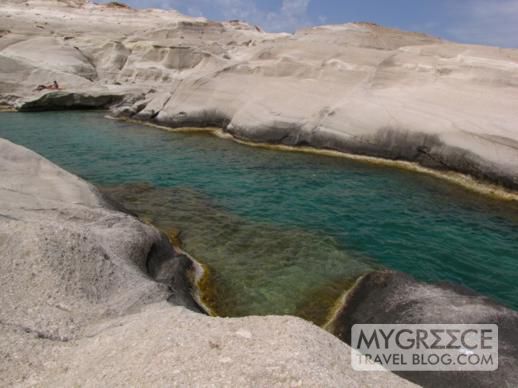 Rounded pumice rock formations surround both sides of Sarakiniko Bay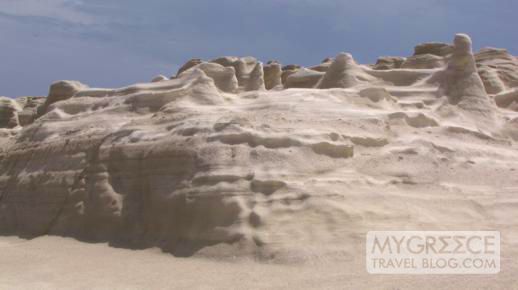 Some people think the rock formation resemble swirls of meringue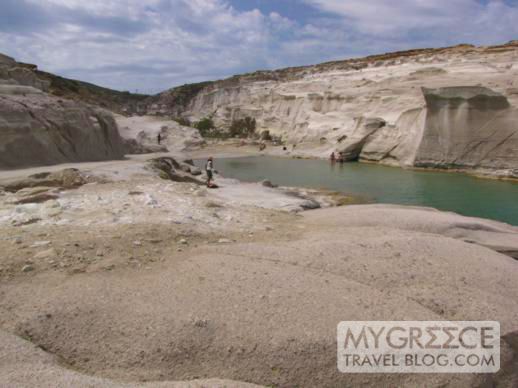 There's a small sandy beach at the foot of the bay …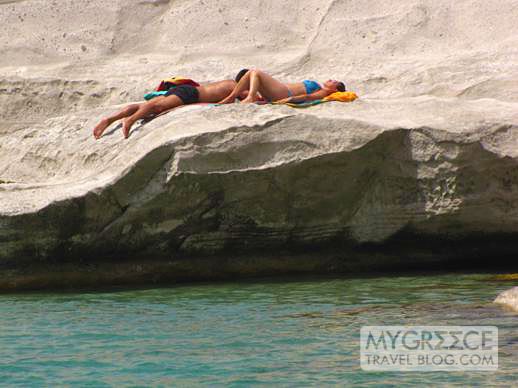 … but some sunbathers prefer to lay on the rocks above the water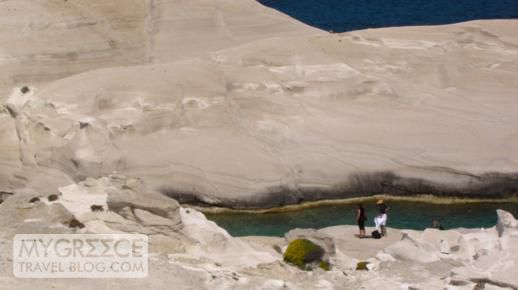 Two visitors overlook the bay from the hillside path to the beach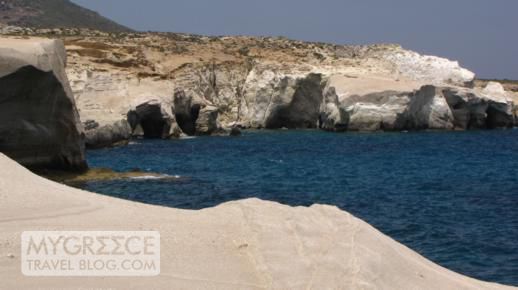 Milos is famous for its spectacular coastal topography, including the dramatic seascape at Sarakiniko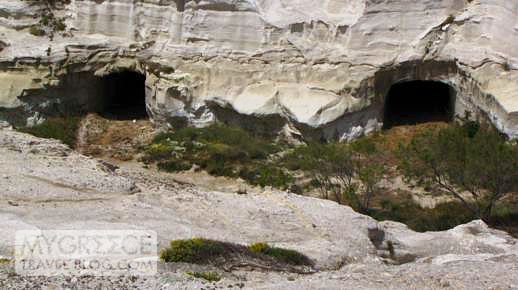 These "caves" in the gorge behind the beach actually are entrances to old mine tunnels; you can explore them if you're not afraid of the dark!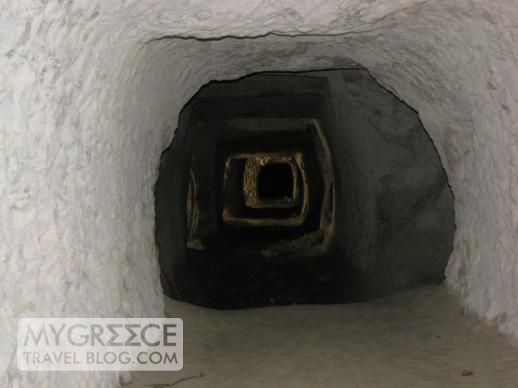 Inside one of the mine tunnels near the beach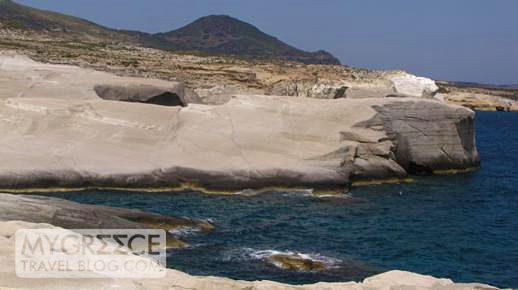 A view of the rugged coastline at the mouth of Sarakiniko Bay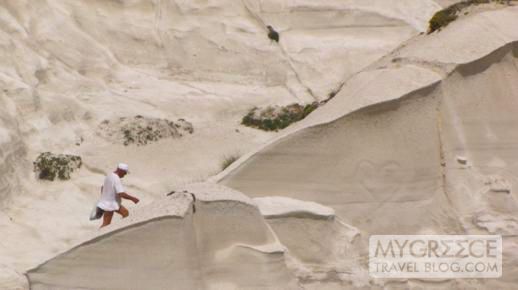 A man climbs one of the rock formations above Sarakiniko beach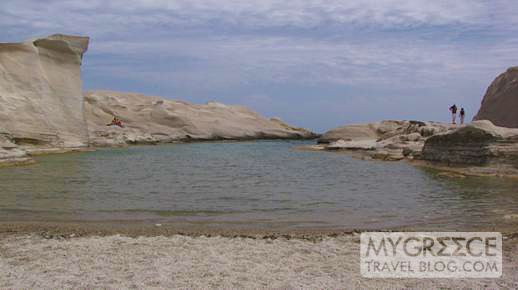 Beach view of Sarakiniko Bay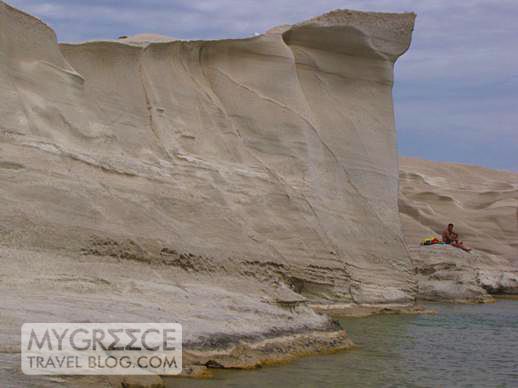 The giant rock formations dwarf sunbathers sitting on the rocks above the bay …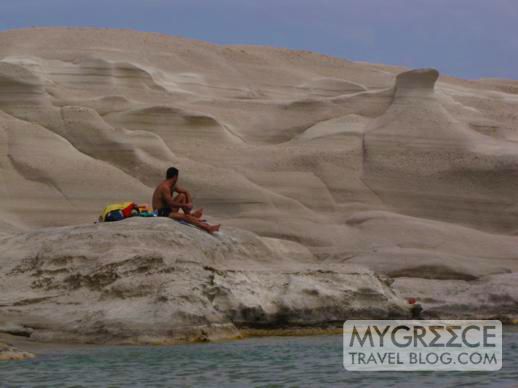 … but they've still got great views of the intriguing scenery all around them
Most visitors are mesmerized by the incredible landscape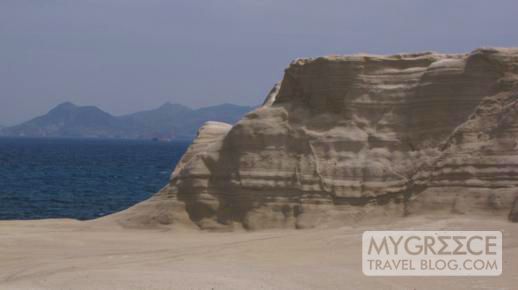 Sarakiniko has views toward nearby Kimolos island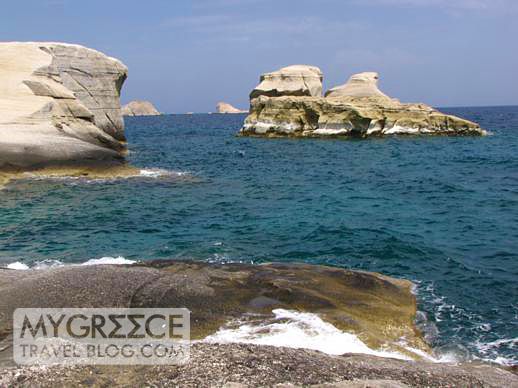 A giant rock in the sea near the Sarakiniko coast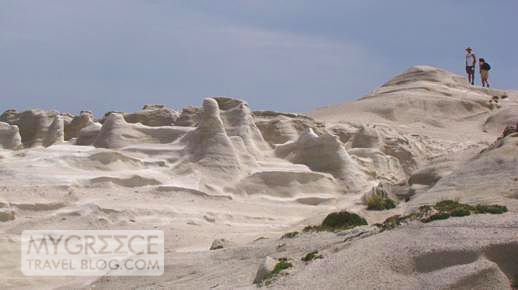 Two tourists take in the views from the top of one of the "meringue" hills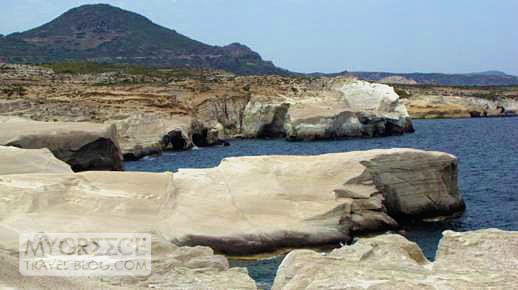 Another view of the stunning coastal scenery at Sarakiniko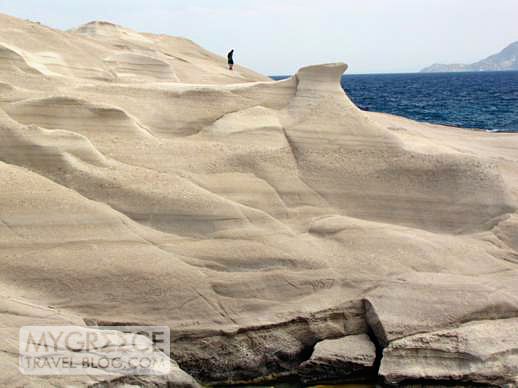 A visitor walks along one of the hillsides above the beach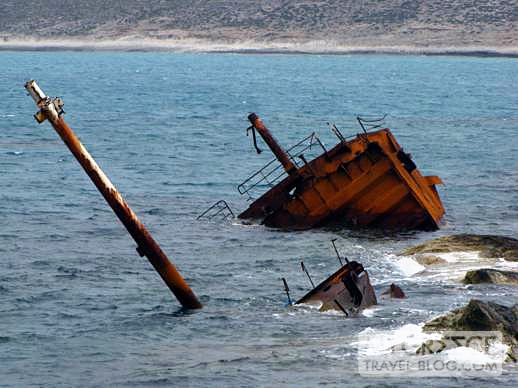 This rusty shipwreck is just a short walk along the coast from Sarakiniko beach