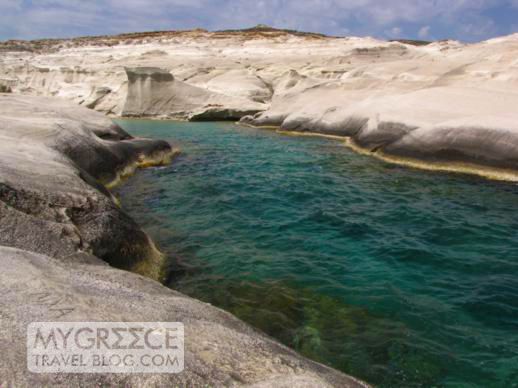 Spectacular landscapes surround Sarakiniko beach and bay …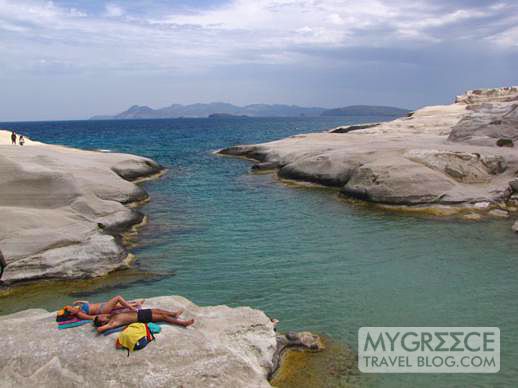 … which have great views toward nearby Kimolos island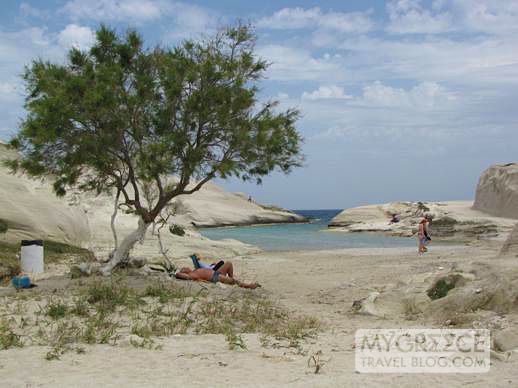 There's a small sandy beach with a shade tree at the foot of the bay…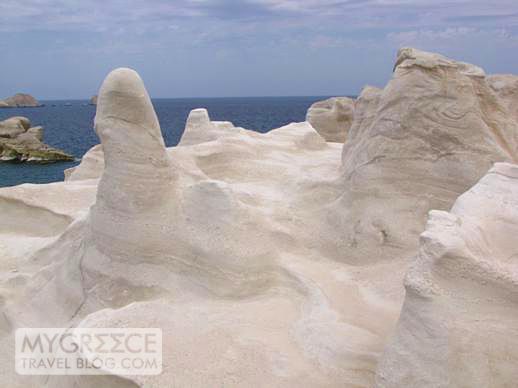 … and incredibly fascinating, unusual terrain all around

Beyond compare:  I've got to say at the outset that photos simply do not do justice to Sarakiniko beach on Milos. You truly have to see it to believe it and fully appreciate the grandeur of what, to me, is one of the most extraordinary coastal swimming areas I've ever seen.
I've been to dozens of beautiful beaches elsewhere in Greece, as well as in North America, the Caribbean, Central America and Hawaii. While Sarakiniko isn't a palm tree-lined crescent of soft white sand like some of the postcard-perfect beaches I have visited in other places, its remarkable landscapes and seascapes offer a unique sensory experience that seems almost out of this world.
Actually, many people who have been to Sarakiniko describe it as having a surreal "lunar landscape," and compare its breathtaking terrain to giant swirls of meringue or frozen yogurt. When you walk on and around the remarkable pumice rock formations, you sometimes do feel like you're visiting an alien world.
The beach itself is fairly small; a narrow strip of pebbly and soft light brown sand at the foot of a zig-zag-shaped shallow bay with gorgeous turquoise water. But many beachgoers prefer to lay their mats and towels on slight slopes or flat sections of the surrounding "hills" so they can enjoy the scenery and views across the sea to nearby Kimolos island.
CONTINUED ON PAGE 2