Day 1 dinner: Stamatis taverna
After we arrived on Patmos and checked in to the Hotel Golden Sun, we took a walk around the Grikos Bay area to get a feel for the location and check out the restaurants that were open for business. Annoula and Stavros, our hosts at the Golden Sun, told us we had a choice of five places to eat, all of which they assured us served good food at reasonable prices.
I was already determined to eat at Flisvos because TripAdvisor.com member GreecefanOttawa had recommended it, specifically mentioning their signature roasted chickpeas. (Her comment, "I still dream about the chickpeas," had stuck in my mind.) Flisvos was the first taverna we found during our walkabout, and I stopped in to ask if they still had the chickpeas on the menu. Yes, they did, the restaurateur told me, but his wife had not made any that day and so it wasn't available. I felt tremendously let down until he quickly added: "But she will make chickpeas tomorrow. Come back tomorrow." We said we would, and continued on our walkabout.
We decided to have dinner at Stamatis taverna, where we sat on the terrace at a table offering views across bucolic Grikos Bay. We watched some fishing boats slowly motor into the adjacent harbour while we drank a bottle of Boutari red wine and made acquaintance with several cats that wandered by. For dinner, we ordered a large Greek salad, white beans in skordalia, and moussaka. The salad was good (in Greece, we've never had a Greek salad we didn't enjoy), the garlicky beans were even better, and the moussaka was delicious and quite filling. We had a great dinnertime conversation with the couple sitting at the next table, two locals who lived somewhere on the other side of the island. They told us we had made a good decision to stay at Grikos, and promised we would love the island and want to go back (they were absolutely right about that!)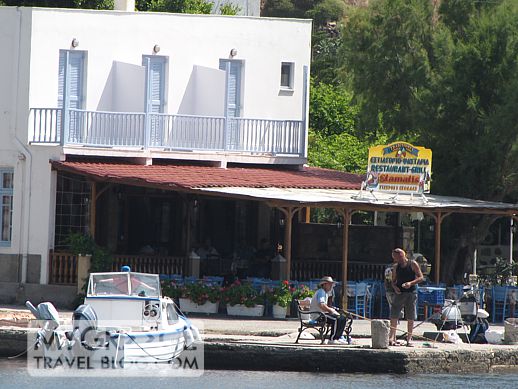 Stamatis taverna has tables on a large sheltered terrace overlooking the pier and small fishing harbour at scenic Grikos Bay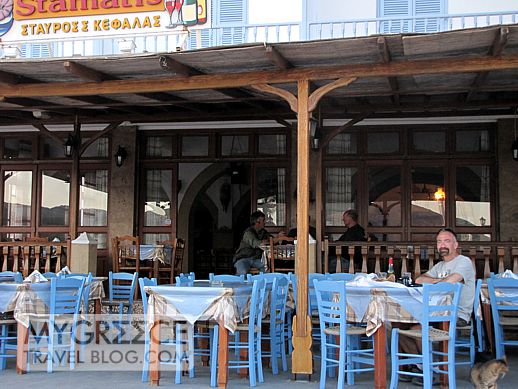 That's me on the Stamatis terrace, with one of the cats that dropped by to say hello (and patiently wait for any leftovers we were willing to share)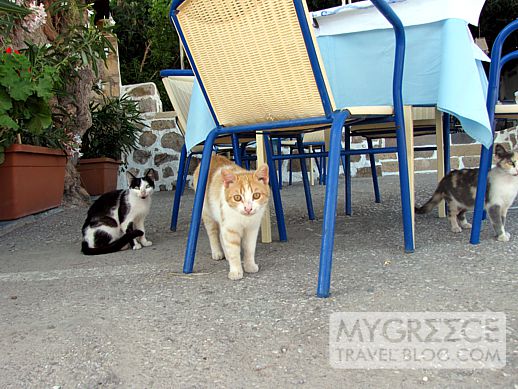 These three cats were part of the Grikos Bay welcoming committee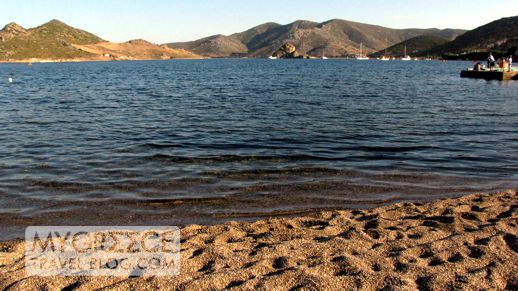 South view across Grikos Bay from a sandy strip of beach near the taverna
Day 2 dinner: Flisvos restaurant
After a busy day exploring Patmos, we had worked up a big appetite and couldn't wait for dinner. So off to Flisvos we went. When we arrived at the outdoor dining terrace, the owner greeted us with a smile and news that the roasted chickpeas were available, as promised. So that, of course, is what we ordered, along with a Greek salad, green beans in a tomato sauce, and chicken souvlaki. Everything was delicious, but the chickpeas were outstanding — we understood exactly why GreecefanOttawa kept dreaming about them! We also knew we would have to come back for more.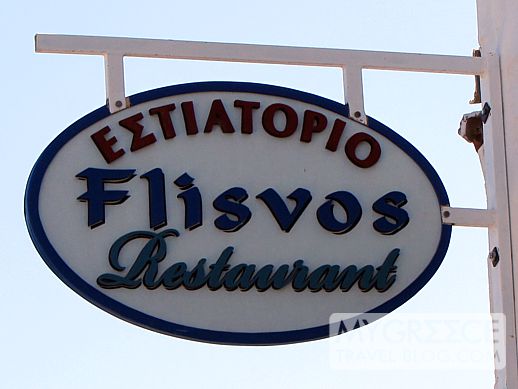 The Flisvos restaurant sign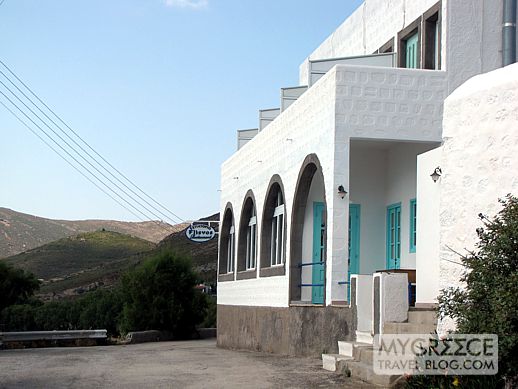 Approaching Flisvos taverna along the road from Grikos to Petra Bay. Rental studio apartments above the restaurant building have views of Grikos Bay.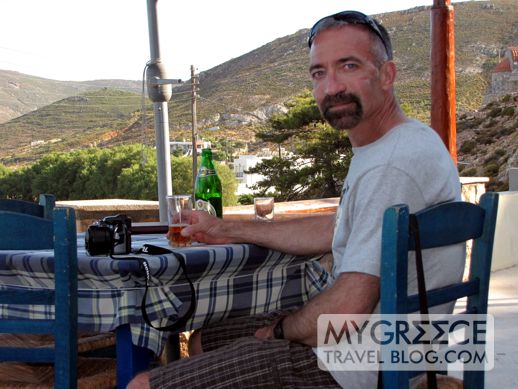 We had a drink on the outdoor terrace at Flisvos the day before we went to the restaurant to try its famous roasted chickpeas.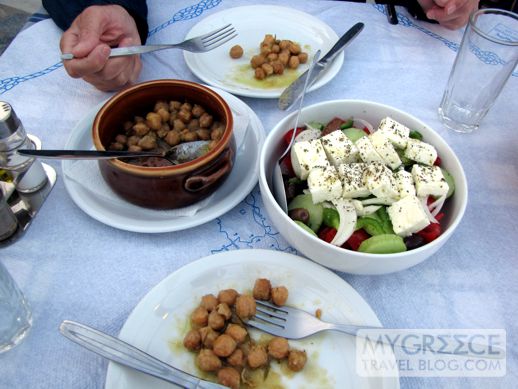 Our delicious oven-roasted chickpeas and our crisp Greek salad. Yum!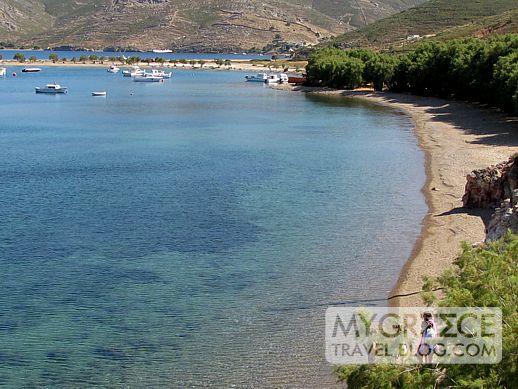 A view of Grikos beach from the road outside Flisvos restaurant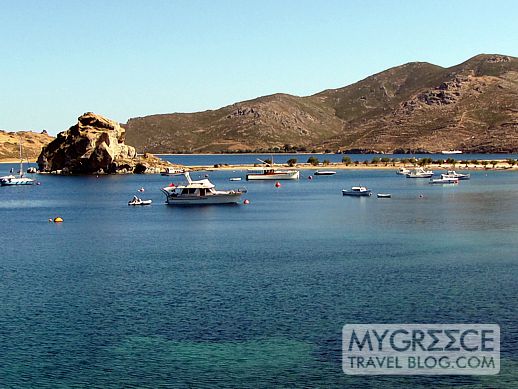 A view of Kalikatsou Rock (left) and boats in Grikos Bay. Petra beach and bay is on the far side of the narrow strip of land that separates the two bodies of water.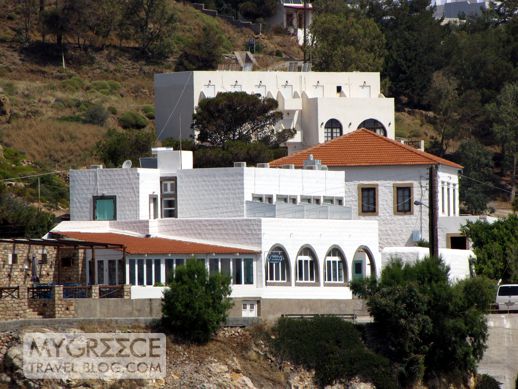 I took this shot of Flisvos from Kalikatsou Rock on the other side of the bay
Looking along Grikos beach toward Flisvos on the top of the hill
<>
<>
Day 3 dinner: Ktima Petra
Ktima Petra restaurant is a short walk past Flisvos, on the road to nearby Petra beach and bay. It was called "the best rural taverna on Patmos" in my copy of the Rough Guides book, "The Dodecanese & East Aegean Islands" (4th Edition), and I had read elsewhere that most of the organic vegetables it served were grown in greenhouses adjacent to the restaurant.  We ordered a Greek salad and an eggplant and tomato appetizer for starters, along with moussaka and a roasted goat that was the special of the day. We enjoyed our dinner (the appetizer was terrific and the goat was amazing), but we thought the portions were small for the price (it was our most expensive meal on Patmos, and we felt hungry by the time we got back to the hotel).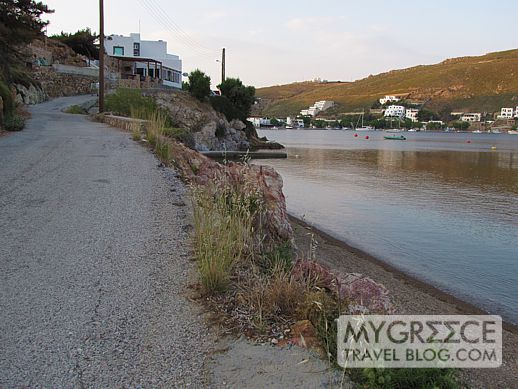 The road that passes beside Flisvos restaurant (top) winds its way down the hill to Ktima Petra restaurant and on to Petra beach and bay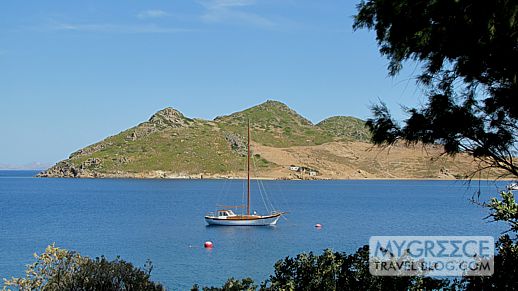 A view of Grikos Bay and Tragonissi Island from the roadway between Flisvos and Ktima Petra restaurant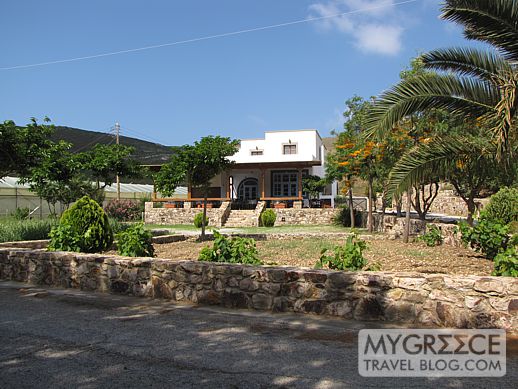 Ktima Petra restaurant is set back from the road, and has a large outdoor terrace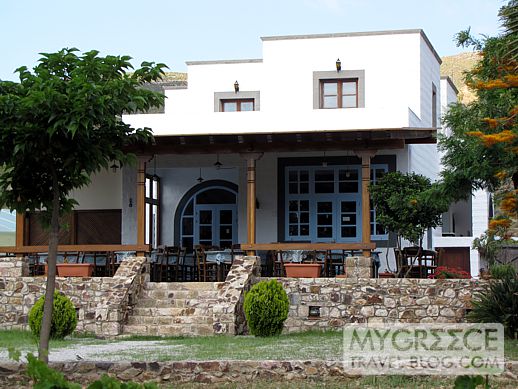 A morning view of Ktima Petra restaurant. Their roasted goat was wonderful.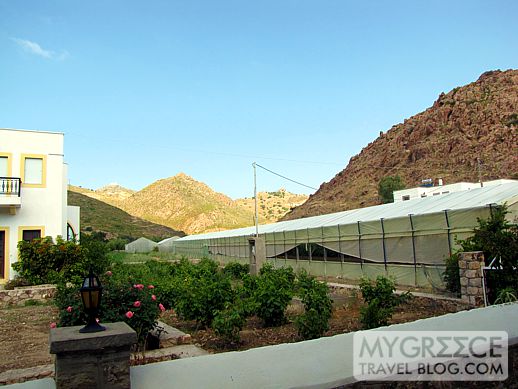 Greenhouses provide Ktima Petra with its own organic vegetables
Day 4 dinner: Flisvos
For our final meal on Patmos we went back to Flisvos, where of course we ordered the roasted chickpeas, along with a Greek salad, chicken souvlaki, and a roasted goat dish (after enjoying the goat at Ktima Petra so much, I wanted more). Again, the chickpeas were divine, and everything else was wonderful. We couldn't have ended our visit to Patmos on a better note.
Our only regret was that we didn't have an extra day on the island so we could have tried the Oasis taverna. It had been recommended by GreecefanOttawa, too, but we'll have to wait for a future visit to Patmos to see how its cuisine compares to the other places nearby. Oasis has tables right on the sandy beach near the Grikos harbour, and has a reputation for excellent grilled meats and seafood. (We would have gone there for our first dinner; however, all the tables on the beach were occupied by a large group at the time, and we didn't want to crash what appeared to be a private barbecue party. So we walked a short distance down the bay to Stamatis instead.) The fifth restaurant at Grikos, by the way, was a small place that served spaghetti and other pasta dishes. It's yet another restaurant we'll have to try next time we return to Grikos.
A special thanks to GreecefanOttawa for the Patmos travel advice and dining recommendations she gave me prior to our trip. I now dream about the Flisvos chickpeas, too!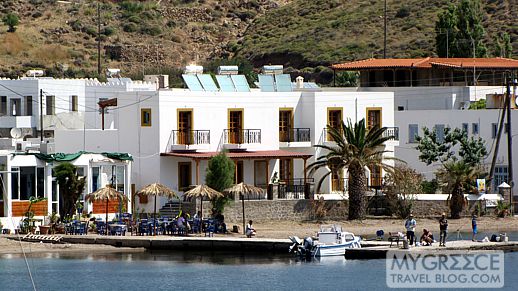 The one we missed: Oasis taverna. We heard many good comments about the food at this restaurant, and will check it out next time we return to Patmos.