As we approached a multi-level white building with blue shutters at the end of the beach, we could see chairs and tables on a long seaside terrace, just a few feet above the water. With unobstructed views of Mylopotas bay and its curved golden sand beach, we sensed that Drakos would be the perfect place for a long, leisurely lunch. It was. We took a table at the very end of the terrace, where we could look toward nearby Sikinos island and the broad mouth of Mylopotas bay in one direction, and see Mylopotas beach in the other.  We ordered some Mythos beer, a basket of bread and a Greek salad, and spent the next ninety minutes relaxing beside the water and chatting with our server, Chrisa.
Two days later we found ourselves back at Mylopotas. Feeling thirsty in the hot sun, we decided to go to Drakos for a midafternoon drink, and this time took a table in the shade, overlooking the beach. While enjoying ice cold Mythos along with the beautiful views, we talked about the restaurants we had dined at so far during our trip. Dan commented on how disappointed he had been with the mediocre meal he had been served at a Mykonos restaurant, and said: "I'm still craving a good home-made moussaka. If this place has it on the menu, we're coming back here for dinner tonight." But Drakos is a traditional fish taverna specializing in seafood meals, and moussaka wasn't listed. When Chrisa brought the bill for our drinks, we asked if the restaurant ever serves moussaka. Chrisa said it's often available as a special during the main tourist season, but this was just the third week of May so it wasn't offered yet. Much to our surprise, however, Chrisa said: "You want moussaka? I'll make moussaka! Come back tomorrow night." Deal!
We went back on May 23 — our final night on Ios — and, sure enough, Chrisa had prepared moussaka. We took our favourite table at the end of the terrace and ordered dinner (besides the moussaka, we chose tomato balls, grilled calamari and Greek salad), then sat back with a glass of red wine to enjoy the scenery, serenity and sunset. The beach, bay and sunset views provided an incomparable setting and atmosphere for our meal, which was delicious and satisfying; Dan really enjoyed Chrisa's moussaka. Our only disappointment was that we had to leave Ios the next day, but we were glad our final dinner on the island had been outstanding.
You can be sure you'll find us at our favourite table at Drakos next time we visit Ios!
Below are some photos we took of Drakos Taverna and its views. More photos can be viewed in the Drakos Fish Taverna album on mygreecetravelblog.com's Facebook page.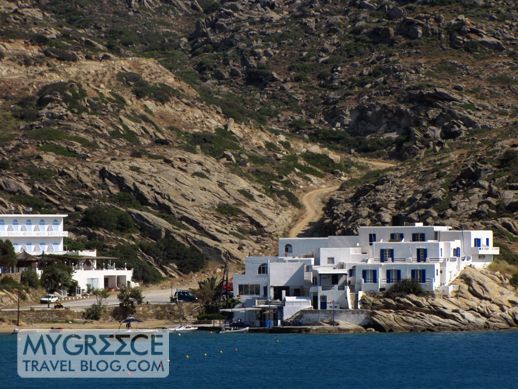 Drakos Taverna is located on the lower level of the white building at the far end of Mylopotas beach, right at the water's edge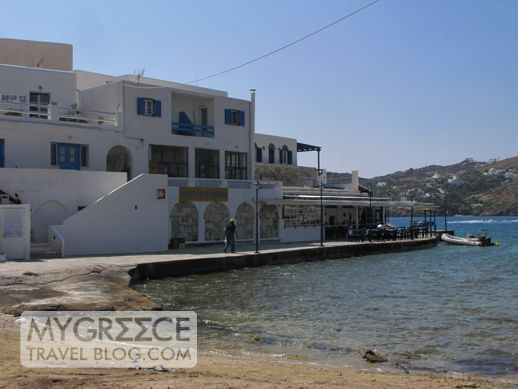 The seaside taverna is situated in the same building as Psili Ammos Rooms (which are operated by other members of the Drakos family).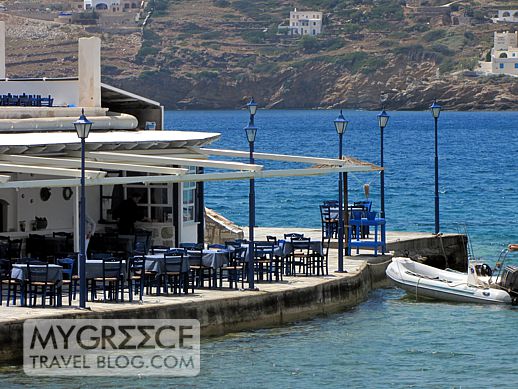 Drakos has a row of tables on a terrace just a few feet above the water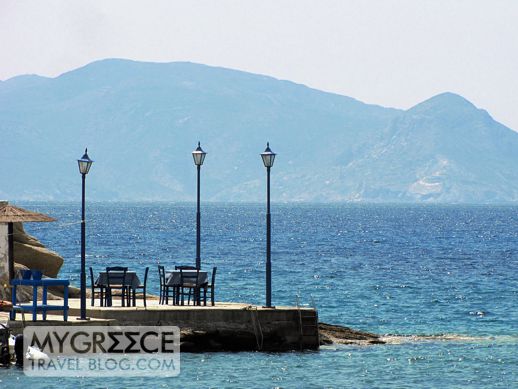 Being able to sit so close to the water, with amazing views of Mylopotas beach, bay and beyond, is what drew us to Drakos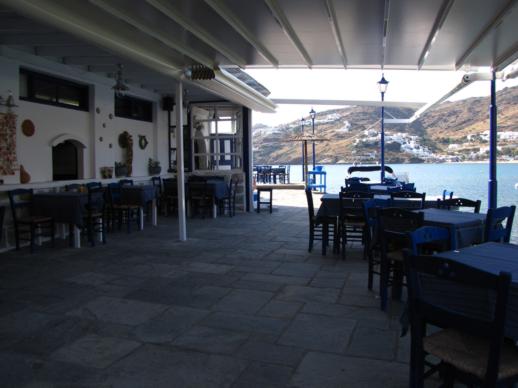 Drakos Taverna has an indoor dining area as well as an outdoor terrace. These outside tables are sheltered from the sun, and overlook Mylopotas beach.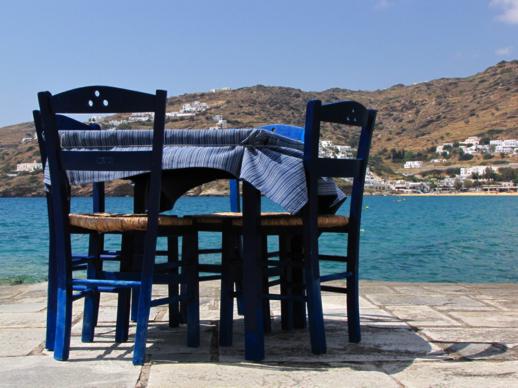 Our favourite table was next to the water at the end of the terrace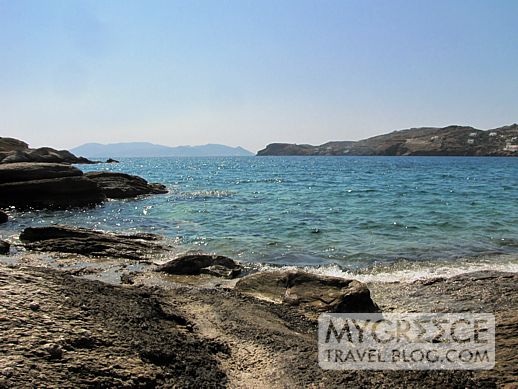 From the rocks at the end of the terrace, we could see Sikinos in the distance …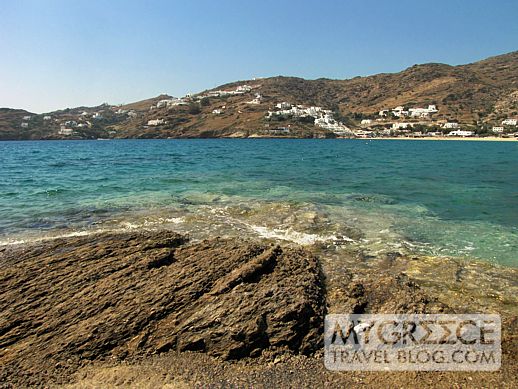 … and we could see right across the turquoise waters of Mylopotas Bay …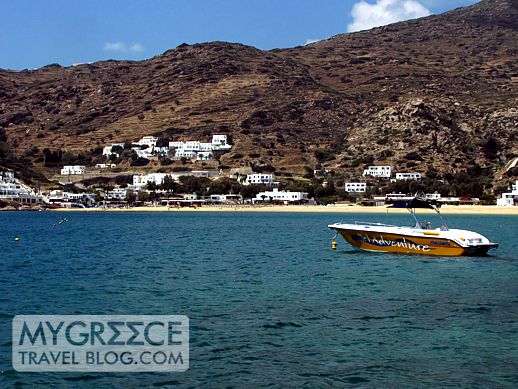 … and we could see the sweeping curve of golden sand on Mylopotas beach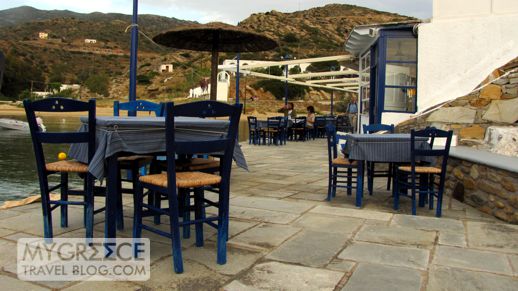 Some of the tables on the outdoor stone terrace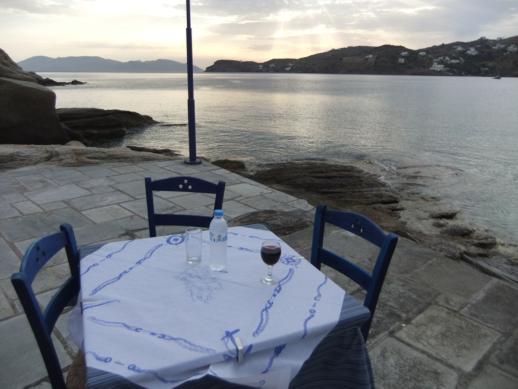 Looking down the bay toward Sikinos from our favourite table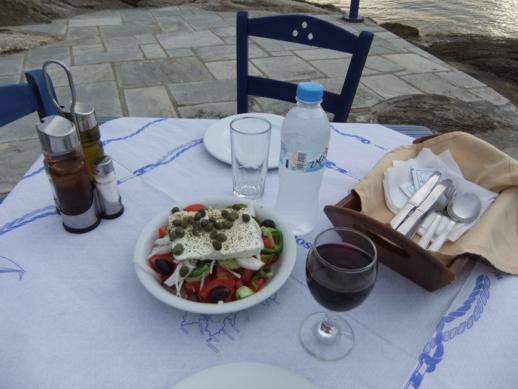 One of the delicious Greek salads we enjoyed at Drakos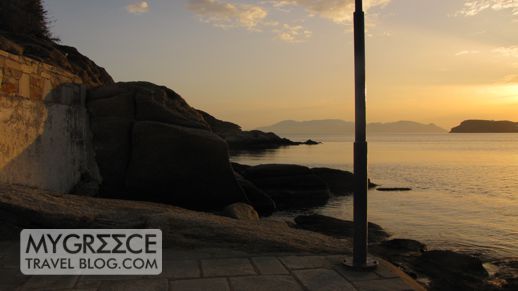 Our table's view of Mylopotas Bay during sunset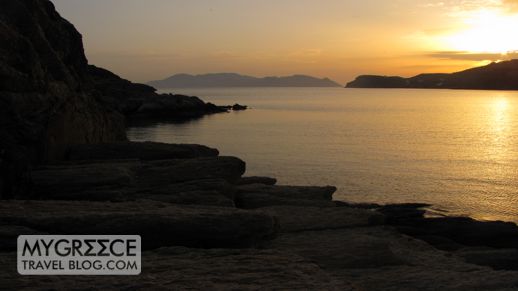 Another sunset view of Mylopotas Bay from the Drakos terrace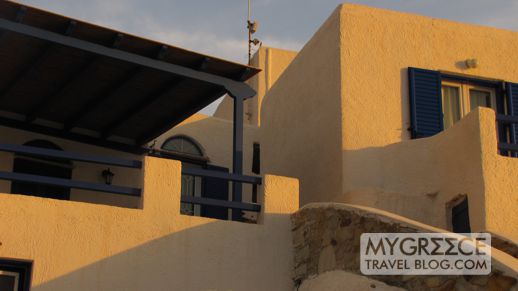 Some of the Psili Ammos Rooms above the Drakos terrace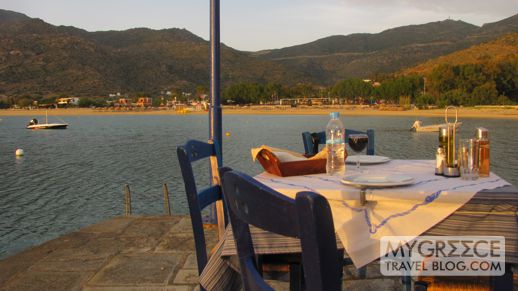 Mylopotas beach viewed at sunset from the Drakos terrace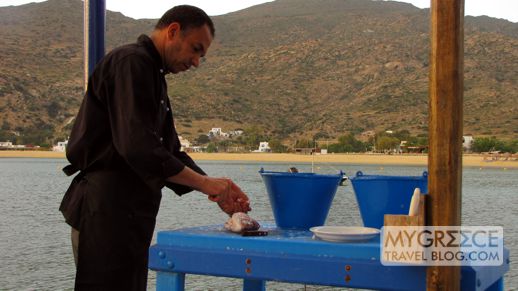 Drakos is a traditional Greek fish taverna serving fresh seafood cooked to order. Here, one of the staff cleans a fish that will be grilled for some customers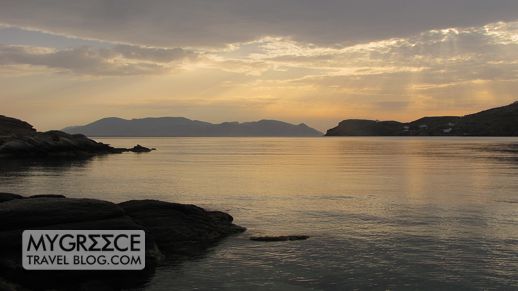 A gorgeous sunset with amazing views set the scene for our delicious dinner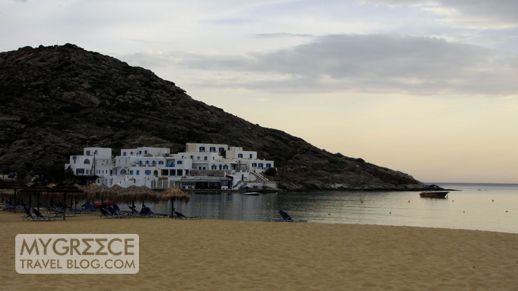 Looking towards Drakos Taverna from Mylopotas beach at sunset
»