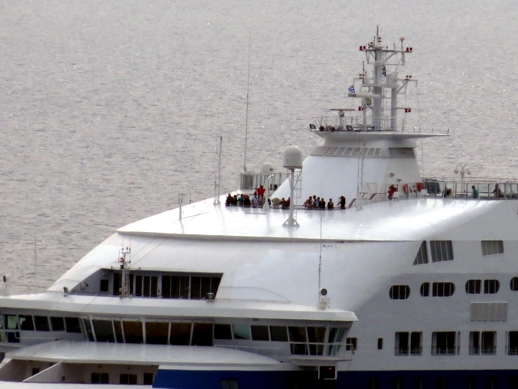 I shot this photo of passengers an upper deck of the Louis Cristal as the ship (below) approached Mykonos for a port stop a couple years ago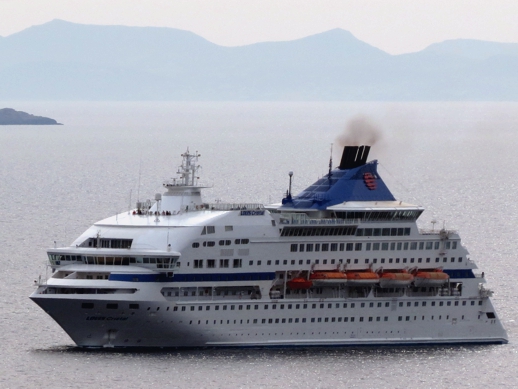 New ports & themes: Louis Cruises has added seven new Greek islands to the roster of destinations travellers will be able to visit on tour itineraries being offered this year by the Cyprus-based cruise operator.
Louis Cruises has long offered popular 3- to 8-day tour packages that take travellers to Istanbul and Kusadasi in Turkey as well as to the Greek islands Mykonos, Santorini, Patmos, Rhodes and Crete.
For 2014, the company has expanded its roster of destinations to include two more ports in Turkey — Bodrum and Cesme — along with seven new Greek island stops: Syros, Ios and Milos in the Cyclades island group, Kos and Symi in the Dodecanese, and Samos and Chios in the East Aegean.
New themed cruises available
Besides the new ports of call, Louis will be offering 60 specially-themed cruises with itineraries based on: gastronomy, wine & spirits; culture & heritage; history & archaeology; and music.
Representatives of the cruise line told a recent press conference in Athens that bookings for its cruises are up significantly so far this year — over 20% higher than in 2013.  The company is expecting to carry 820,000 passengers during 2014 on its ships the Cristal, Olympia and Aura.
Full details about itinerary themes and destinations, as well as the ships, are available on the Louis Cruises website.
Passengers enjoy the cruises & island itineraries
Although we haven't yet taken a Louis cruise ourselves, we have spoken to dozens of people who have. Almost all of our flights to and from Greece have been on Air Transat, whose sister company, Transat Holidays, offers Louis cruises in many of its organized island hopping vacation packages. Dozens of the passengers on each of our flights have taken the cruises, and their feedback about the experience has been overwhelmingly positive, with everyone reporting that they fully enjoyed the ships and the islands they visited.
And while we were in Athens last October, we spoke with two friends who had just taken a Louis Cruise that included stops at Kusadasi, Patmos, Crete and Santorini. Both are very well-travelled in Greece, and raved about how much they enjoyed their cruise. They told us their rooms were comfortable, the crew were friendly and helpful, and the food was delicious. They highly recommended the cruise and, in fact, urged us to take one on a future trip to Greece. It's a suggestion we will seriously consider in light of their comments.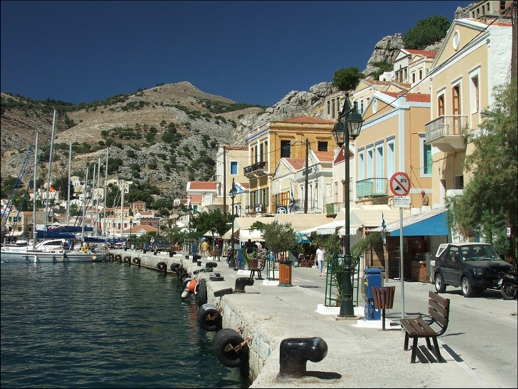 This photo of a waterfront scene on Symi is from The Symi Visitor website, an online guide that's packed with pictures and travel information about the island