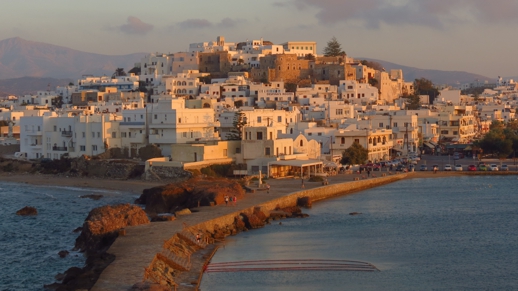 A view of Naxos Town during sunset on October 12 2013
Return trip: When a friend was asked why she travels to Greece every year, she replied: "Because you can never get enough of a really good thing."
That's exactly why we're making a return trip to Naxos tomorrow — the island that we named our Destination of the Year for 2013 is calling us back to experience more of "a really good thing."
This will be our sixth visit to Naxos so far, and we're thrilled to be going back. We can't wait to see some familiar faces and favourite places, and we're looking forward to exploring parts of the island we haven't yet seen (there are plenty, and we probably won't even get to them all).
Want to see why we love Naxos so much? Click here to check out our Naxos photo collection on the MyGreeceTravelBlog Flickr page. The collection includes a whopping 37 albums from our October 2013 holiday, 8 from our visit in May 2013, 6 sets showing the hotels we have stayed at, and several more individual albums.
I hope you enjoy viewing the pics as much as we enjoyed taking them!