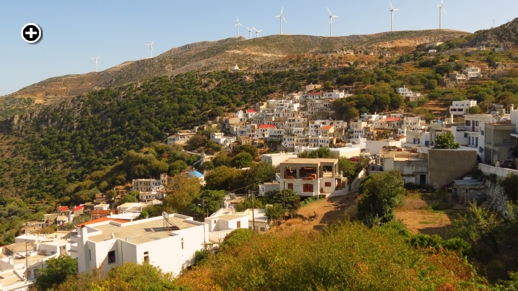 Koronos is built on the horseshoe-shaped slopes of a mountainside 30 km east of Naxos Town. The village descends hundreds of feet into the valley, and most homes are accessible only on foot.
Stair masters: I have three very specific and vivid memories of our brief visit to the Naxos mountain village of Koronos last October: a taverna tout, a man with a gun, and stairs. Lots and lots of stairs.
I'll tell you the stories about the restaurant promoter and the guy with the gun some other time. For now I'll stick to the stairs to keep with a common theme I've been posting about this week — walking around mountain villages on Naxos.
In my May 15 post I published a videoclip from our visit to Filoti, while my May 13 report included film of our walkabout in Apeiranthos. We had to climb a lot of stairs in both villages, but the workouts we got there were nothing compared to the stairclimbing challenge that awaited us in Koronos.
Popular tavernas are located far down the hillside
This village is built in a horseshoe shape on a mountainside, and descends deep into the valley. Koronos has several cafes and restaurants that are popular with tourists — including Taverna Platsa Matina & Stavros (which friends and other travellers have urged us to visit) and Taverna Dalas. The "downside" to both of these places, no pun intended, is their location on lower levels of the village. To reach them, you must walk down dozens of stairs. That's the easy part. Getting back up to your car or the bus stop after a meal or drink will require a lot more effort as you can probably imagine.
Below are several photos showing just a few of the many sets of stairs we encountered while walking around Koronos. Those are followed by three videos. I shot the first clip while walking along a lane that wasn't as far down the valley as the two tavernas. I filmed the next video while walking up one "street" that was basically a long, steep staircase. Dan took the third video of me walking up the steps while I was filming my climb.
We're physically active and do a lot of walking and stair climbing whenever we're in Greece, but I felt more winded than I expected by the end of that uphill hike. I would not want to walk all those stairs after a big meal and a few glasses of wine!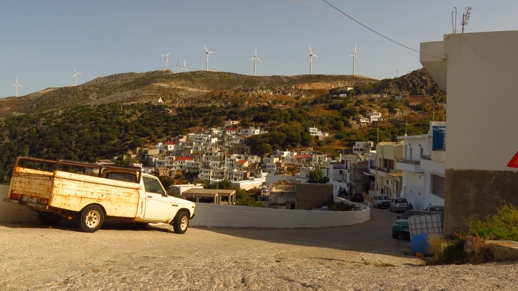 View of Koronos from the side of the highway where the Naxos bus dropped us off. This sloped road leads only part way into the village, perhaps 30 to 50 meters. Then the fun stair climbing begins!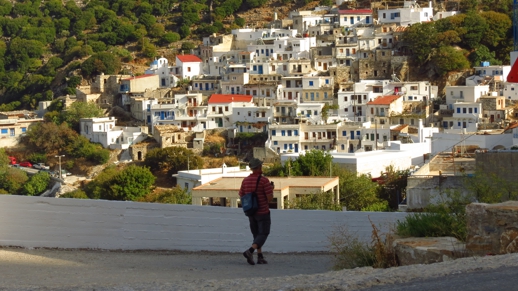 A tourist strolls down the road leading into Koronos. One series after another of thigh-burning stair climbs awaits him.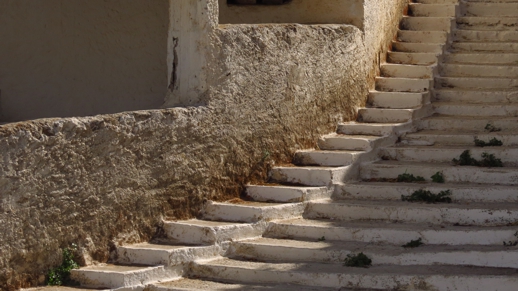 This was the first set of steps we walked down. We climbed back up a short time later after we finished exploring the left-hand side of the village.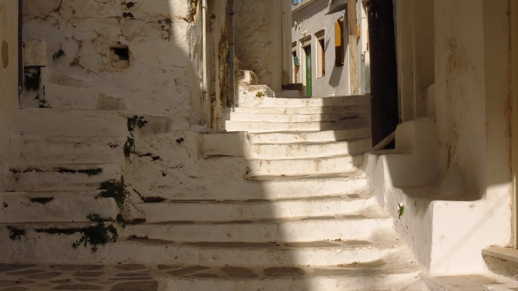 A streak of sunlight illuminates a set of steps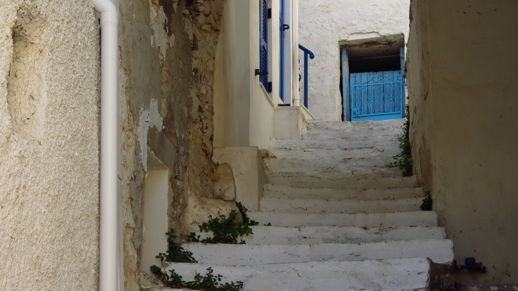 Yet another flight of steps in Koronos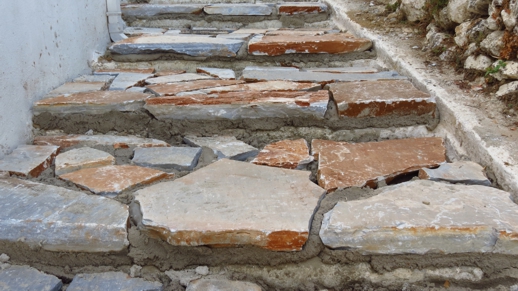 Several flights of steps were under renovation on the day we visited Koronos. Workers had closed off two lanes while they laid stones in place. Work on this particular staircase wasn't complete, but it had been reopened to traffic.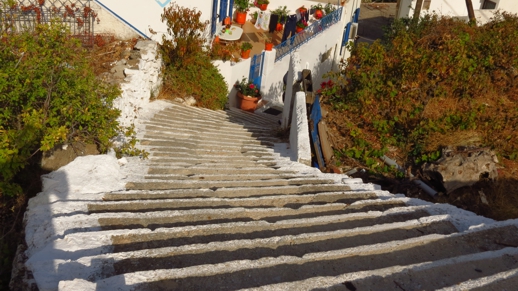 Looking down a long, curving set of steps. This was the last staircase we climbed on our way to the Koronos bus stop to catch our ride back to Naxos Town.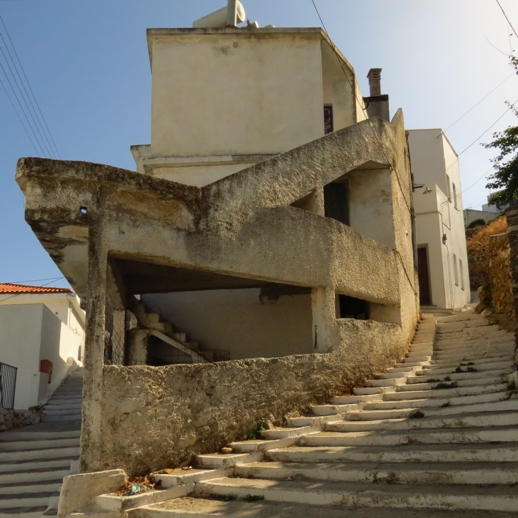 These buildings were surrounded by stairs on two sides
I filmed this clip while walking along one of the streets in Koronos
I shot this clip while climbing a long flight of stairs. I counted 102 steps during the minute and 20 seconds it took me to walk up.
Dan filmed me going up the stairs while I was filming my climb. You don't need to go to a gym to get exercise on Naxos … just visit a mountain village like Koronos and you're guaranteed a rigorous cardio workout!