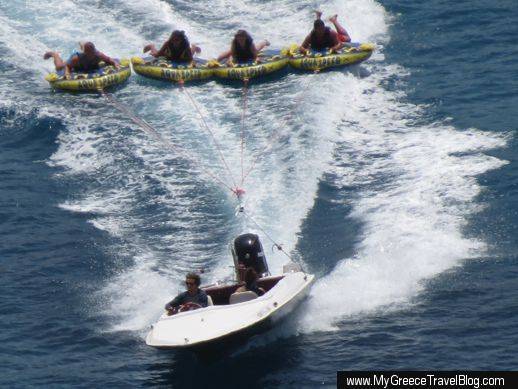 Thrillseekers take a wild tube ride at Mylopotas beach on Ios
Take the tube: Going for a swim in the sea is the time-honoured traditional way to cool off and seek some relief from the searing summer sun in Greece. Activities on the water can help beat the heat, too, with tube rides and sports like kitesurfing and wakeboarding offering a wet 'n' wild workout for people seeking a much more active and exciting adventure.
But if you're too timid to skim across the sea under sail or motor power, you can still have a blast watching a novice try one of the sports for the first time, observing experienced participants honing their skills, or seeing a professional make even the most difficult maneuvers look almost effortless.
Windsurfing, canoeing, sea kayaking, sailing, and stand up paddle boarding (SUP) are among the mainstream watersports offered at beaches on some of the islands in the Cyclades (as well as in other island groups and many places along the coast of the Greek mainland).
For people seeking more speed and excitement, alternative activities include jet skiing, waterskiing, wakeboarding, water tubing and banana boat rides. In some locations, kite surfing is available for enthusiasts eager to experience the thrills and adrenalin rush of an extreme water sport.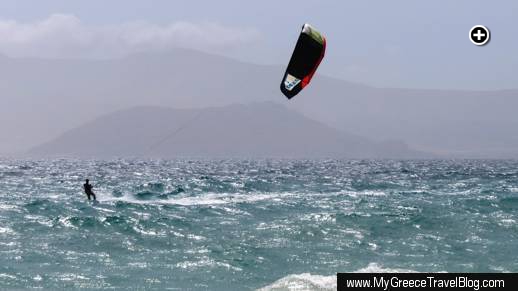 Mountains on nearby Paros island provide a backdrop to this kitesurfer skimming the choppy surf off Agios Prokopios beach on Naxos
CONTINUED ON PAGE 2