After our group stopped for lunch at the fishing village of Piso Livadi, our guide informed us that our bus wouldn't be stopping in Petaloúdes after all. The driver had telephoned the park to find out if the butterflies had arrived in full force; apparently they show up as early as May in some years, while in others they don't flutter in until closer to July. That turned out to be the case in 2005; someone at the park told the driver it wasn't worthwhile stopping in because there were barely any butterflies around.
When we got back to our hotel (the Yria near Parasporos beach) a few hours later, we took a walk around the resort's beautifully landscaped grounds — and immediately spotted a butterfly. Then another. Then a few more. They weren't the famous tiger moths, but seeing them flying around the hotel gardens made up for our aborted visit to Petaloúdes.
Paros isn't the only Greek island that boasts a Valley of Butterflies, by the way — there is also one on Rhodes, roughly 27 km from Rodos Town near Theologos village, where the tiger moths gather to reproduce every August. We have been to Rhodes only once — way back in 2004 — but that was in early June, and we didn't get anywhere near Theologos. Nor do we recall seeing any butterflies on Rhodes. But in May 2009, we did see quite a few butterflies while we were walking along the seaside between Agia Anna and Plaka beaches on Naxos, including the one pictured above.
Below is a photo of one of the butterflies we saw the Yria Hotel on Paros, along with a few more pics of the butterfly that posed for pictures on Naxos three years ago.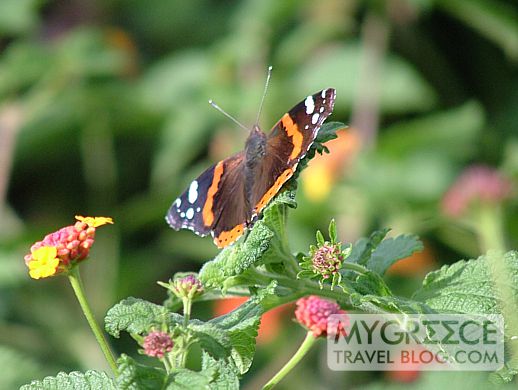 One of the Painted Lady butterflies we saw at the Yria Hotel on Paros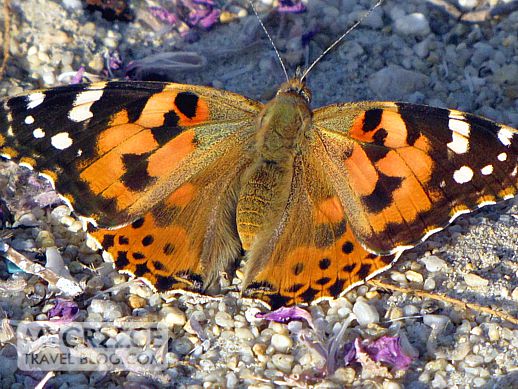 The Painted Lady butterfly I encountered near Agia Anna beach on Naxos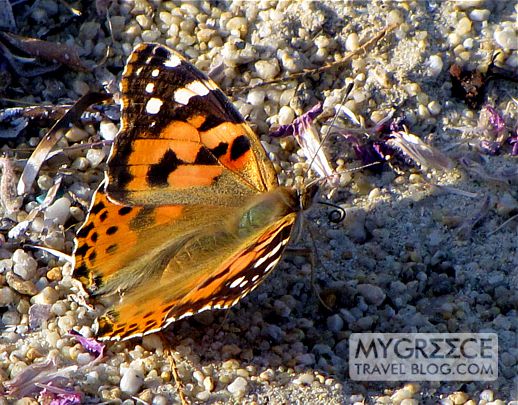 This Painted Lady butterfly landed on the beach near my feet, and patiently posed for pictures for a minute before fluttering away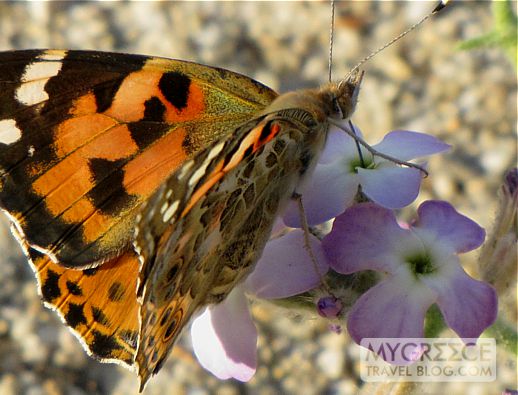 The butterfly feeds on a flower before moving along