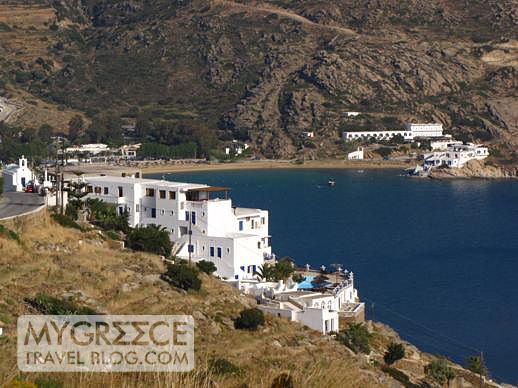 Hermes Hotel is conveniently located at Agios Ioannis on Ios, short walking distance from Chora and  gorgeous Mylopotas beach and bay
Comfortable and convenient: In my post on August 17 2011, I described arriving at Ios for the first time, and getting a brief glimpse of the island's port area, Yialos. Here, I'll pick up where I left off.
It was late afternoon and clouds were slowly starting to dissipate as a major thunderstorm system moved across the Aegean. It had been unseasonably chilly and windy when our ferry left Mykonos several hours earlier, and the highspeed catamaran was thrashed with driving rain almost the entire trip to Ios. Things looked bleak, especially when we stopped en route at Paros. Rain was pelting against the ferry windows so hard we could barely see the port village of Paroikia, but we did see incessant lightning strikes and hear thunder booming ferociously. Fortunately, by the time the Flying Cat 4 entered the harbour at at Yialos port on Ios, the storm system was clearing and the weather held better promise for our five-day stay on the island.
CONTINUED ON PAGE 2