We had already booked our accommodations at the family-operated Hermes Hotel, a 25-room property situated at Agios Ioannis — a location roughly midway between the main Ios village of Chora, and the island's world-famous golden sand beach, Mylopotas. (The hotel had been recommended by one of my facebook friends, who also happens to be one of the destination experts for Ios on TripAdvisor.com. We got a bargain early season rate by making an online reservation through www.hostelbookers.com, where the Hotel Hermes had impressive customer service approval ratings above 90%.)
Nick, one of the sons in the family that owns the hotel, met us at the Yialos ferry pier and said he would drive us up to the Hermes after two guests arrived on the Highspeed 5 from Santorini in several minutes' time. The short wait gave us a chance to check out the scenic views from Yialos beach. The Highspeed 5 arrived and departed but the two guests Nick was expecting were nowhere in sight, so he loaded us into his van, along with a local woman and her daughter and the cute two-month-old puppy named Roxy that they had just adopted on Santorini. Nick drove up the mountain highway to Chora, where the other passengers got out with their new pet, then continued onward to the hotel, about two minutes past the village. The views along the way were interesting, with the highlight being our brief glimpse of the four churches perched atop the rocky mountain that rises above Chora.  When we arrived at the Hermes, the views of the sea and nearby valley were equally amazing. We liked what we saw, and had a good feeling that we were going to like Ios.
Nick led us down a flight of stone steps and unlocked the door to Room 2, which would be our home away from home for five nights.  It was perfect: bright and spotlessly clean, with twin beds and side tables, a small desk, TV and refrigerator, a clothing storage cabinet, bathroom with stand-up shower, and a private balcony with views across the sea to Santorini. The room also had air conditioning and Wi-Fi service.
After we got settled, I took my passport upstairs to reception, where Nick's mother took care of the registration paperwork while Nick gave me an island map and pinpointed beaches and other places of interest. Nick apologized that the hotel swimming pool wasn't yet open. It was still being cleaned and prepared for the summer season and would soon be filled with water, he said, but probably wouldn't be ready for swimming during our visit. No worries there; based on our past experience with ice-cold swimming pool water in May, we doubted that we would have wanted to take a dip anyways.
With the check-in formalities out of the way, it was time to explore the rest of the hotel and the island itself.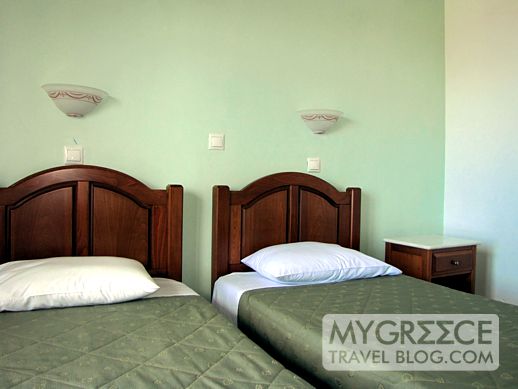 Just like most other hotels in Greece, our room at Hermes Hotel had twin beds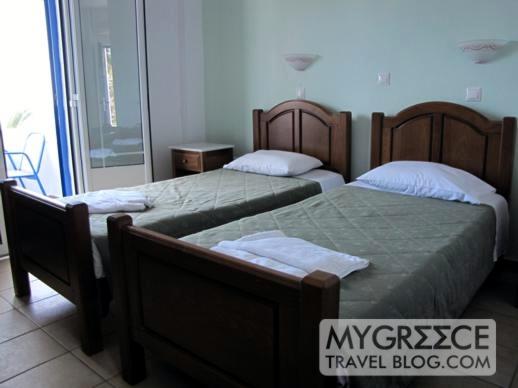 The room also had air conditioning and reliable Wi-Fi service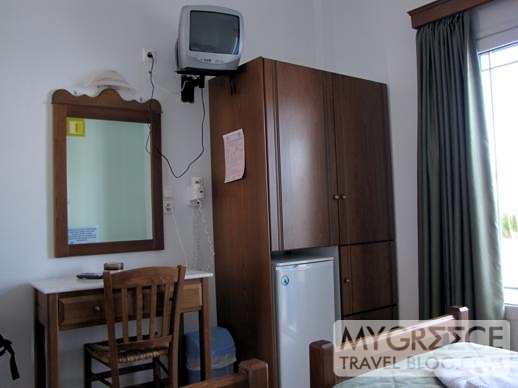 Desk, TV, fridge and clothing storage cabinet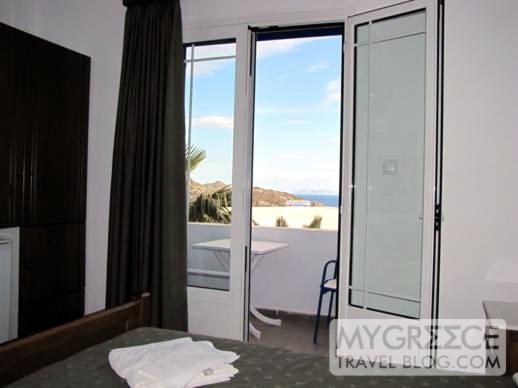 New glass & metal doors to the private balcony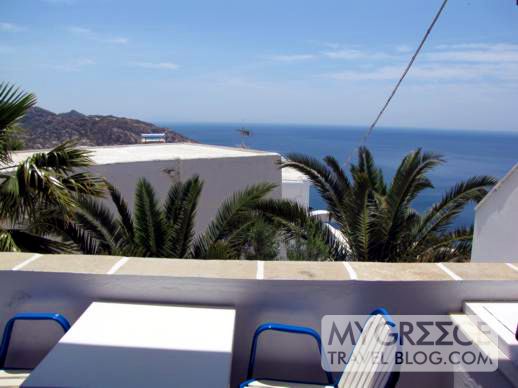 The balcony had a table and two chairs, but we didn't spend much time there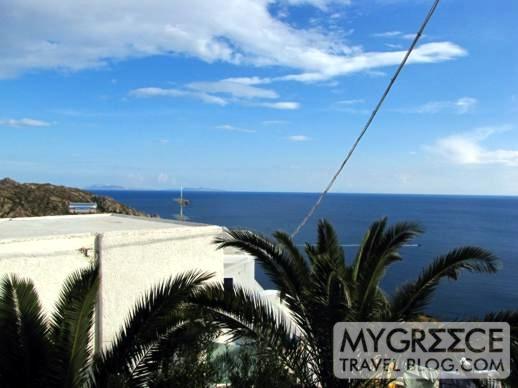 Another building right next door to the one we were staying in blocked us from seeing beautiful Mylopotas beach and bay …
… which are just out of sight to the left  …
… but we could still look across the Aegean Sea and, if the sky was clear, get decent views of Santorini …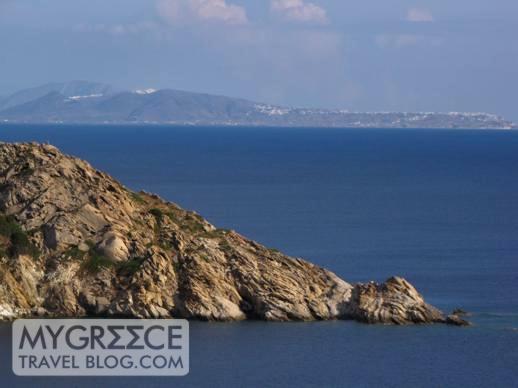 … including white buildings in the village of Oia (top right) …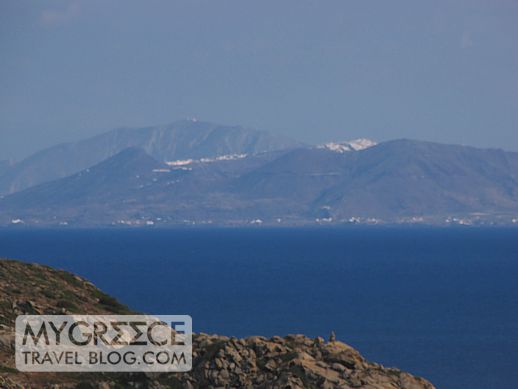 … and more white buildings in the village of Imerovigli (center)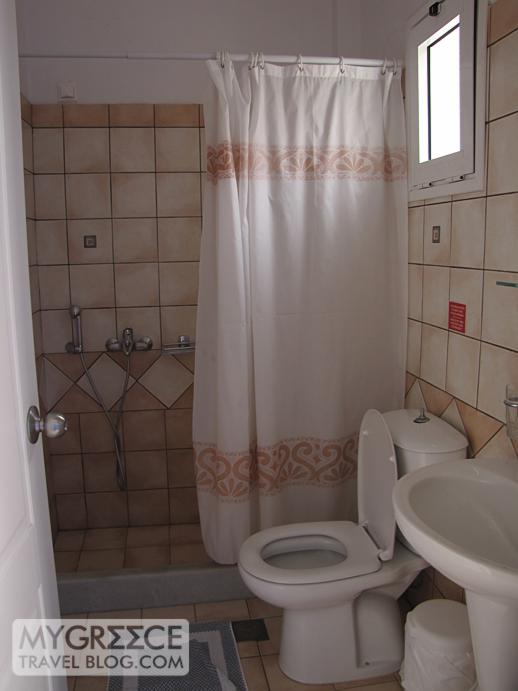 Our bathroom always had plenty of hot water and strong water pressure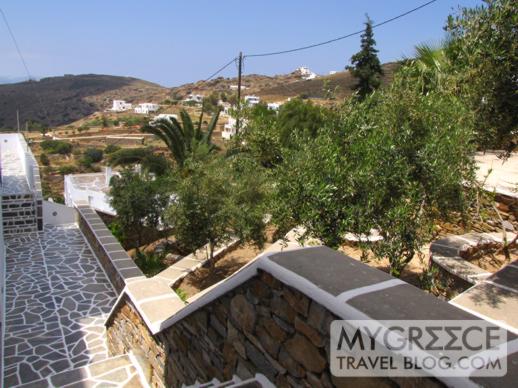 This stone path outside our room led to the hotel's huge swimming pool terrace
XX