Dan and I both ordered the moussaka, while Sarah thought the grilled octopus sounded appetizing. However, in terms of presentation and taste, it turned out to be anything but. When the waiter brought our meals and placed Sarah's dish in front of her, the three of us looked at each other incredulously. The large dinner plate was completely covered with slices of raw white onions topped, in turn, with a surprisingly small portion of grilled octopus pieces. The dish looked horrible and totally unappealing — the kitchen staff must have chopped at least three or four large onions just for this plate alone! But when Sarah asked the waiter about the enormous bed of onions, he insisted that's how the Greeks serve grilled octopus. Sarah wisely avoided eating any of the onions but was even more dismayed that the octopus didn't taste very good. She picked at her dinner but didn't eat much because it just wasn't enjoyable. We were disappointed, too, because our moussaka was mediocre at best — nowhere near as good as we had enjoyed at some of the other Greek restaurants nearby.
We never went back and were glad when we noticed a few months later that the restaurant had closed. But I couldn't get Sarah's dinner out of my mind, and kept wondering why anyone would ever want to eat octopus Greek-style. Until we finally travelled to Greece.
As we quickly discovered, octopus and calamari (squid) are two items listed on the menu of practically every Greek taverna that serves seafood, especially in the Greek Islands. In fact, it's common to see octopus hanging to dry outside tavernas in fishing villages or on streets close to harbour areas. After Sarah's experience, I wasn't keen to eat octopus in Greece, but I always watched to see how it was served whenever somebody else ordered it. I saw plates of octopus that had been marinated and then grilled, fried or boiled, and served with a shot glass of ouzo. I also saw octopus served in salads and stews. But I never saw it served on a plate piled high with raw onions. And though we have ordered calamari many times, and loved it, we still haven't warmed up to octopus. But one of these days we just might give it a try.
If you happen to be an octopus afficionado yourself, and love to cook, here are links to recipes for charcoaled octopus, octopus in wine sauce, marinated octopus, flame-grilled octopus, and octopus and onion stew (although the latter recipe uses a LOT of onions, they're cooked in a tomato sauce — not served raw!).
Below are some octopus photos we've shot on several islands in the Cyclades.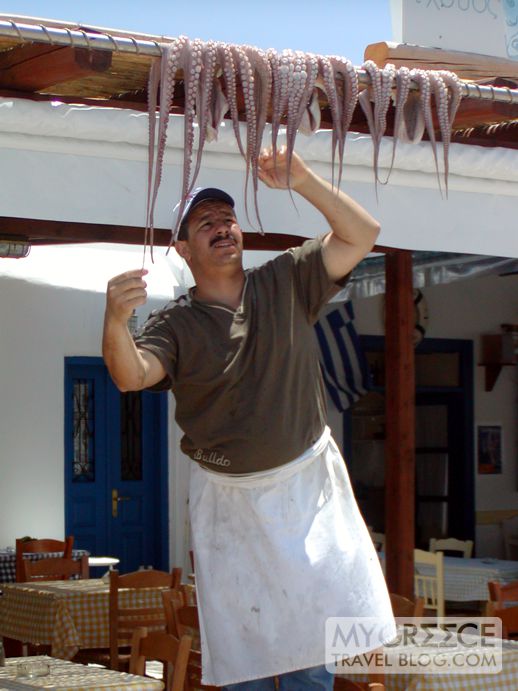 A chef hangs octopus outside his taverna near the harbour in Naoussa, a very charming and scenic fishing village on Paros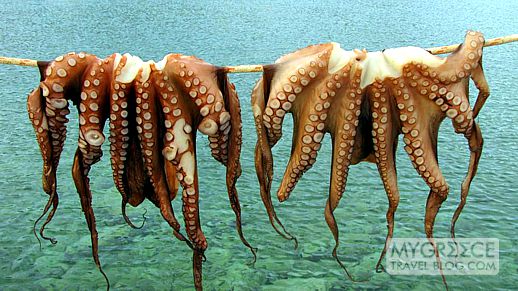 Octopus hanging on a line at Drakos Taverna at Mylopotas beach on Ios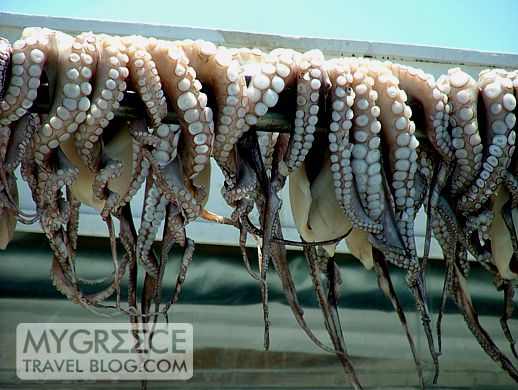 Octopus outside a harbourfront taverna in Naoussa on Paros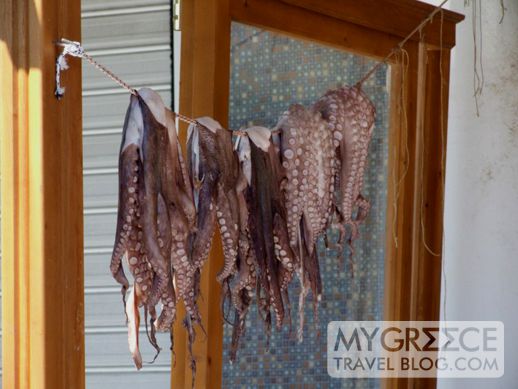 Octopus hanging outside a doorway in Naxos Town on Naxos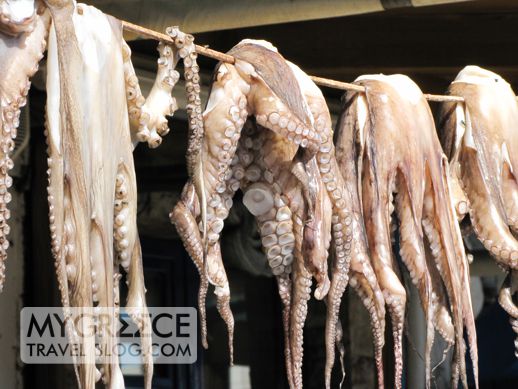 Octopus outside a taverna on the waterfront in Naxos Town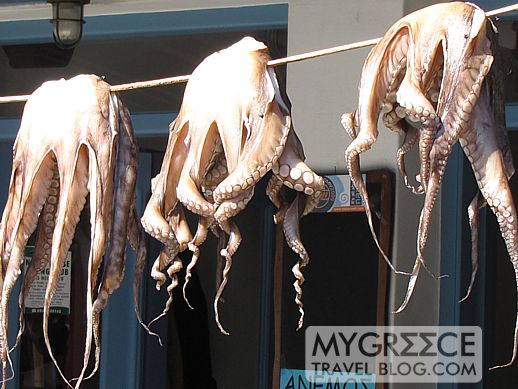 Catch of the day at a taverna in Naxos Town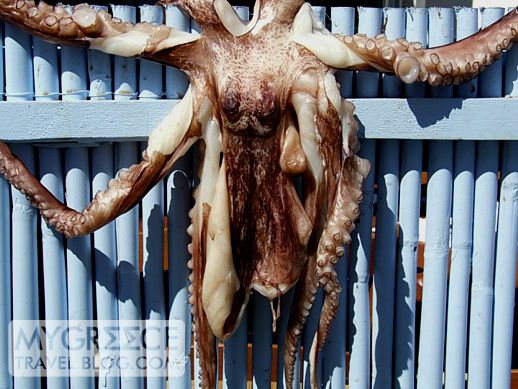 An octopus draped over a blue fence in Mykonos Town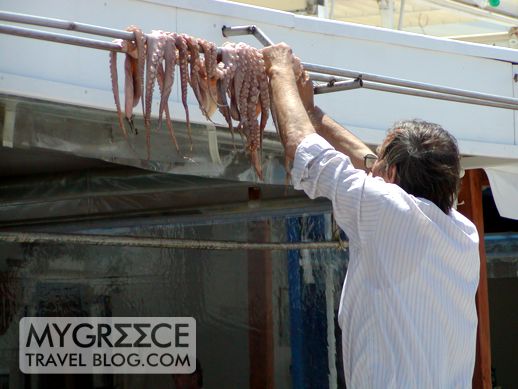 A taverna owner arranges octopus outside a taverna in Naoussa on Paros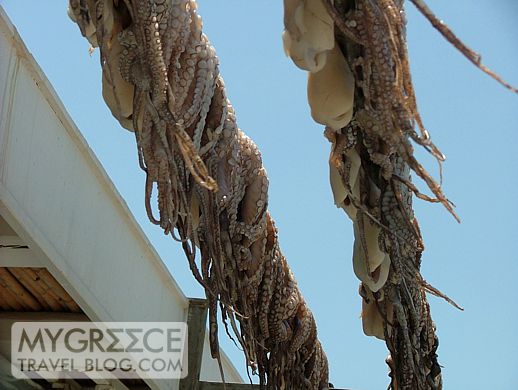 Enough octopus to feed a small army of tourists at this taverna in Naoussa on Paros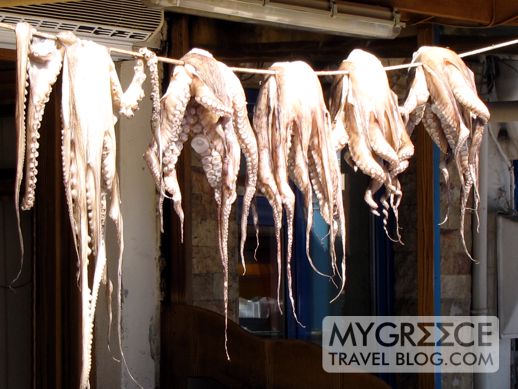 Tonight's seafood special at a taverna in Naxos Town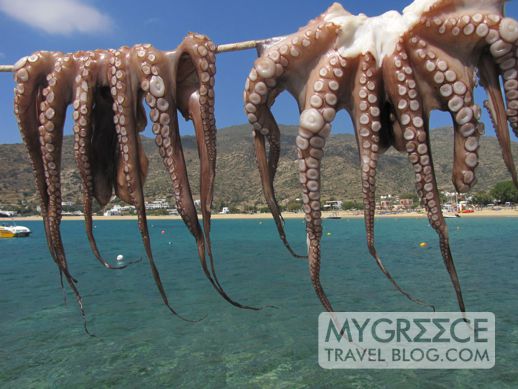 These octopus will delight diners at Drakos Taverna on Ios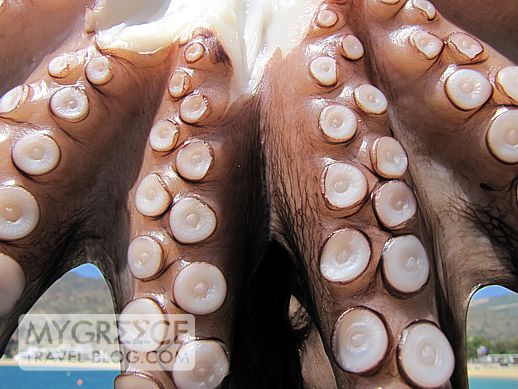 Cooks often tenderize octopus by beating it against a rock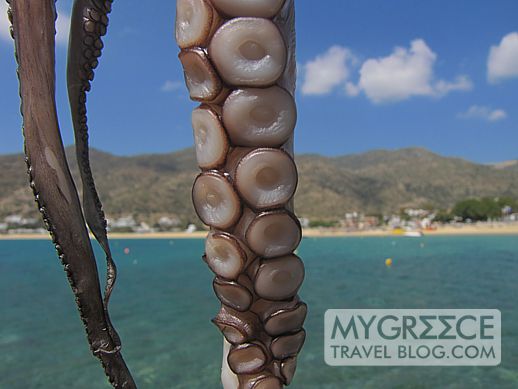 Octopus is sometimes served raw as a meze; typically, it is cut into slices and drizzled with olive oil and lemon juice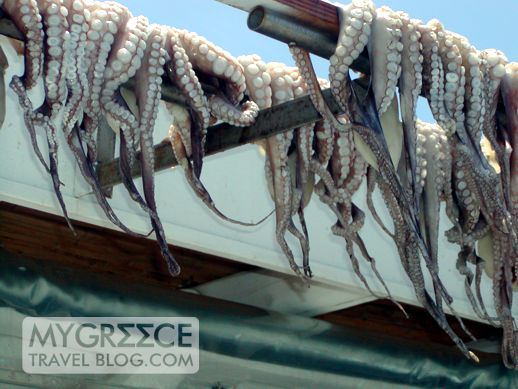 More octopus hanging in the harbour area of Naoussa village on Paros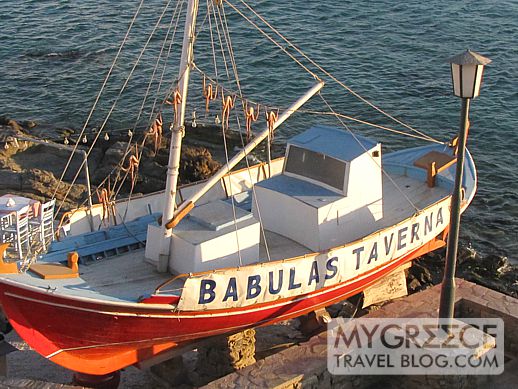 Octopus strung up in the sun are a popular tourist attraction at Babulas Taverna on the water's edge at the harbour in Mykonos Town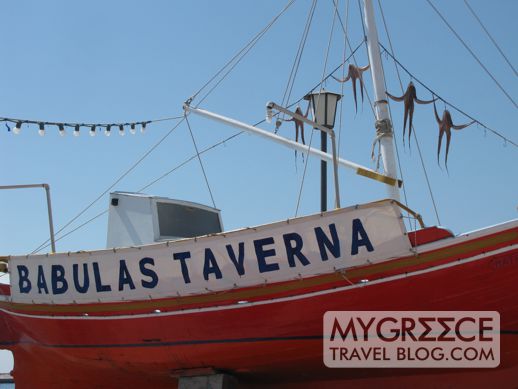 Tourists walking between Mykonos Town and the island's Old Port area will see octopus outside Babulas Taverna most afternoons
Tourists stop to look at the octopus hanging on the boat at Babulas Taverna